Everyone Wants a South Facing Window
Lauren Iacoponi
MFA Thesis Exhibition
May 1-5, 2018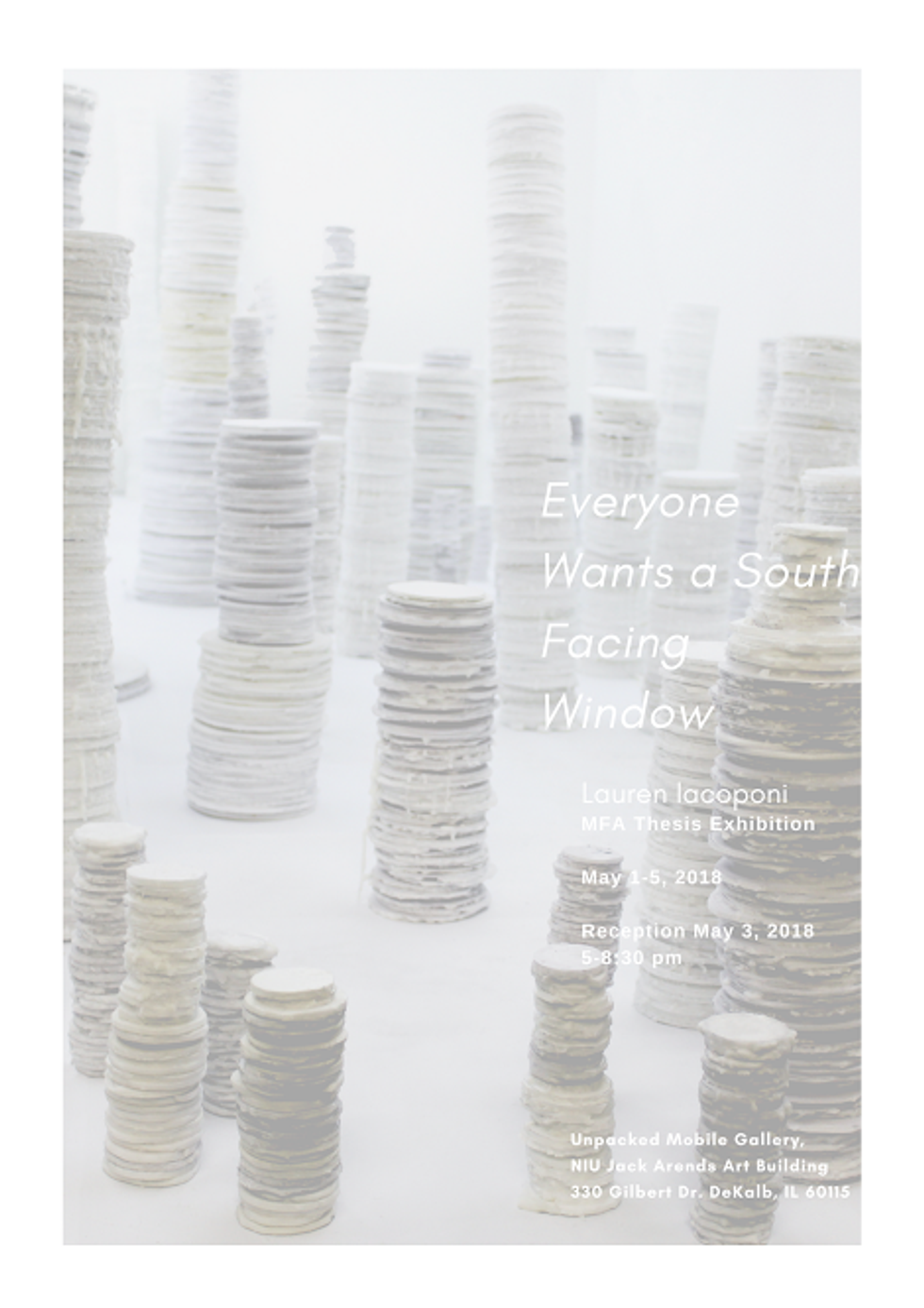 Lauren Iacoponi co-founded Unpacked Mobile Gallery with colleague Shane Bowers this past year due to a growing interest in different models of mobile museums and galleries for contemporary art. Those who founded Unpacked wanted to mobilize in a literal way – bringing their vision out into the world and into different communities. Unpacked expands the domain of what is conventionally considered an appropriate space to showcase art - the bed of a moving truck. Unpacked's installation sites vary from the typical museum/gallery context, by traveling to public and institutionalized locations on university campuses, art districts, museums, and public parks. Each install presents its own concepts on diverse subject matter. Iacoponi's installation art featured in Everyone Wants a South Facing Window creates a complex indoor environment that engages viewers in an actor-participant role.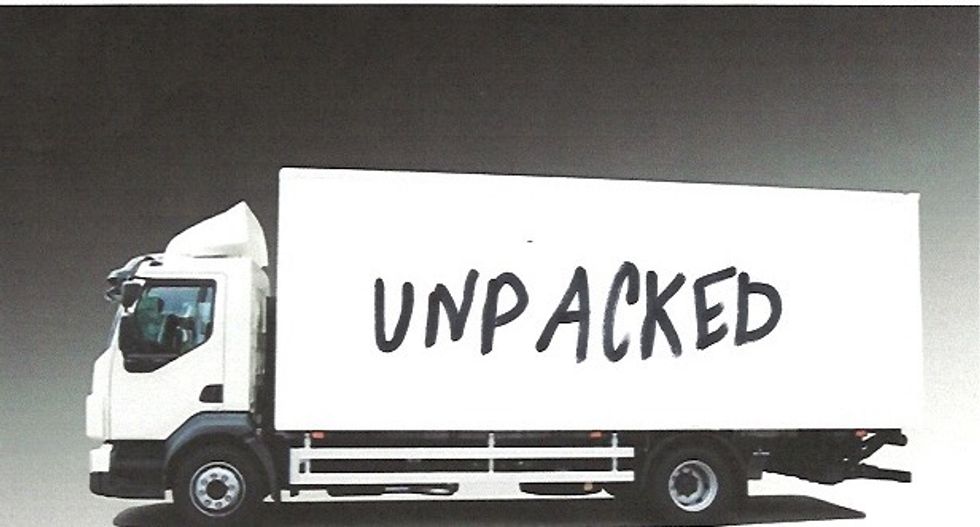 Everyone Wants a South Facing Window focuses on themes of repetition and fixation. Iacoponi's thesis work applies serial composition, reference to the body, and a blurring of the boundary between painting and sculpture, utilizing artwork to shape the viewer's spatial environment. The installation of wax stacks within the truck bed of Unpacked creates engagement with the physical-phenomenological dimensions of space, body and self.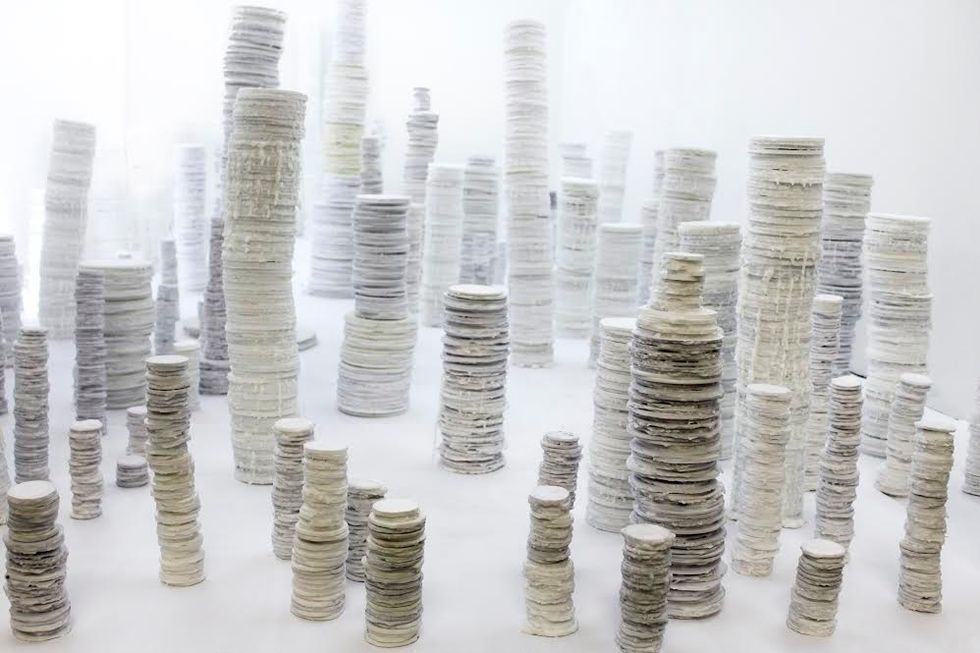 May 3, 2018

Everyone Wants a South Facing Window

Lauren Iacoponi
MFA Thesis Exhibition

Reception: Thursday, May 3rd
5-8:30 pm Unpacked Mobile Gallery
Jack Arends Art Building Parking Lot
330 Gilbert Dr. DeKalb, IL
Free and open to the public.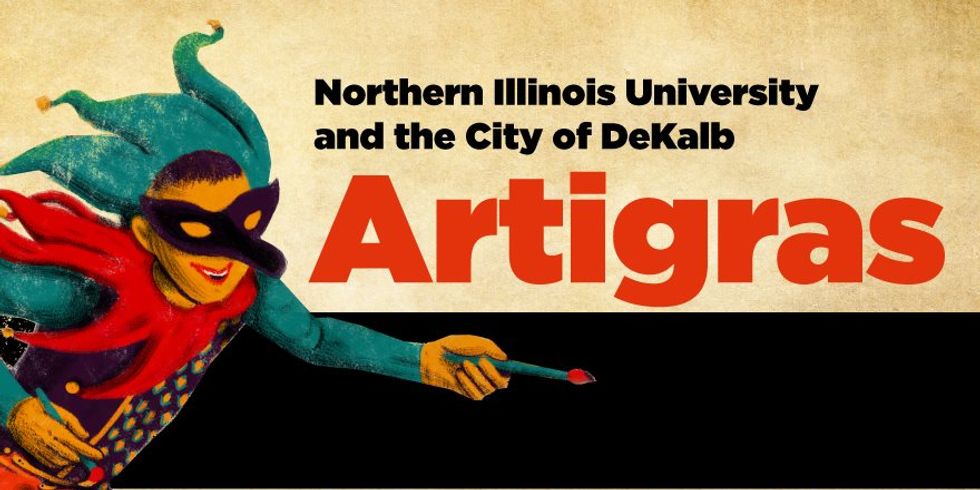 Unpacked is exhibiting in Northern Illinois University and the City of DeKalb ARTigras' annual Spring Celebration and Art Walk Friday, May 4th and Saturday, May 5th.
May 4, 2018
The city of DeKalb will host the kick off to Artigras weekend on Friday, May 4th. Participating downtown businesses open till 8 pm.
5-8 pm Unpacked Mobile Gallery
135 N. 2nd Street - Parking Lot across from Egyptian Theater, Downtown DeKalb
May 5, 2018

ARTigras continues on Saturday, May 5th, starting with NIU School of Art and Design undergraduate and senior students' art exhibitions opening on campus as well as in two downtown locations. The Olson and 214 Galleries on NIU campus will be open between 3 to 8 pm to all wishing to visit and view the exhibitions. Kishwaukee Symphony Orchestra will finish the Arts Celebration with their annual spring performance.
3-6 pm Unpacked Mobile Gallery
Jack Arends Art Building Parking Lot
330 Gilbert Dr. DeKalb, IL
6-8 pm Unpacked Mobile Gallery
Gallery 215 Parking Lot
215 N. 4th Street, Dekalb, IL