https://www.youtube.com/watch?v=rWGmqlfkYhA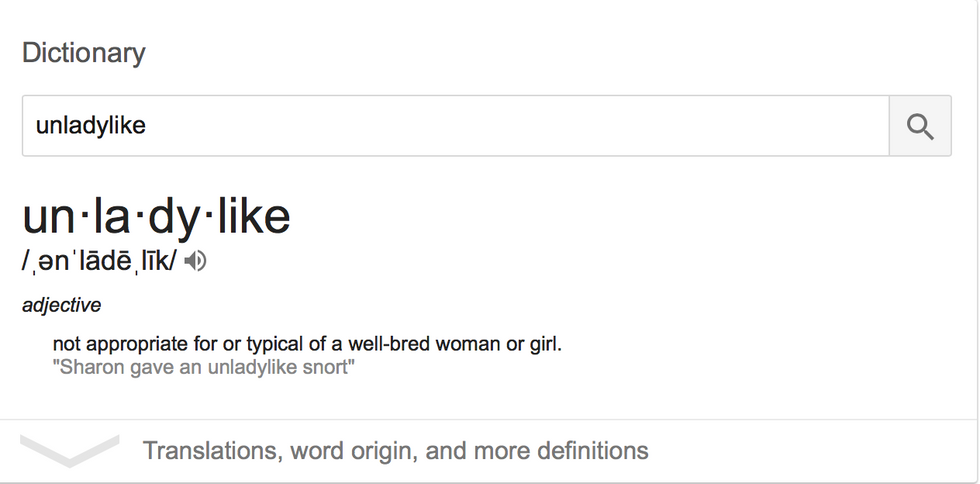 Genius recently released a video about "unladylike" women winning in 2017. The list of these women ranges from Cardi B to Jhene Aiko, even to Rihanna who is famously known as unapologetic as f***. She even has an entire album dedicated to being unapologetic. The article went further into detail about other women in entertainment who tried to be "unladylike" and how these moves failed desperately, even if these women were only being themselves. They show examples of Brandy lying about her marital status to maintain the young "teeny bopper" image she worked so hard to build. We also see that Mariah Carey had issues with how she would dress and the constant scrutiny she would face from other media outlets as well as other women in particular (yes Wendy we see you throwing shade once again). The narrative that women are only supposed to be classy and reserved are false. We are multifaceted and have many qualities tied to us. So why is it that the women we look up to and support in the industry are supposed to live up to this standard of ladylikeness? Why is it that when we stray from this "standard" we are called "hoes," "sluts," or "thots"? Why are women taught to degrade other women for living their life and being their best possible selves?
For example, seeing a woman like Cardi B get to number one on the Billboard Hot 100 and win awards like Hustler of the Year should be an omen to young girls that no matter where you come from, no matter what you've done in life, you can still prosper to get the life you've always wanted without compromising yourself throughout the way. These accolades don't give you permission to post older pictures from her past (that she isn't even afraid of). People tried to make her feel ashamed for something that she was never ashamed of. Cardi B can have fun, be goofy, and sexy while also being elegant and composed at the same time.
Rihanna can wear lingerie out in public, troll you on Instagram, and date whoever she wants to, all while being a successful entrepreneur and philanthropist at the same time. Her personal life shouldn't dictate whether she can be successful or not. Rihanna should be an inspiration to all.
This is for women who feel like they should only show one side of themselves to be accepted or get the respect they deserve. No one ever tells an artist like Drake that if he keeps on dating multiple women that his career will be negatively impacted. Or that his shirtless photos are gravitating the wrong attention and that he should keep them more "manly" otherwise he'll be called a hoe. To all the women, you don't have to close yourself up anymore. Genius was right about one thing; "Unladylike" women are winning in 2017 and they're going to keep winning. Cardi B and her persona resonated with a lot of women and that's why she is where she is today. She wouldn't have the number one record in the country if she didn't have people that related to her Instagram posts, viral moments, and her as a person in general.
We need to keep showing off women like Rihanna and Cardi B. We need to let young girls know that they don't have to be perfect all the time. We need to be more accepting of "unladylike" women and not put them in a box. What we have now is great, but it can always be better. Next year I want to see twice as many Cardi B's and Rihanna's. I want you to remember: "Change is inevitable. Change is constant." -Benjamin Disraeli
You might not be ready for this now but it will eventually happen, and it will come in full force.
Don't be that person that is still stuck in the 60's. Being unladylike is the new normal.