The University of Oregon Student Labor Activism group made several provocative banners recently and hung them in areas around campus with high levels of foot traffic. The banners shamed the University for its use of prison slave labor and exploitation of prisoners.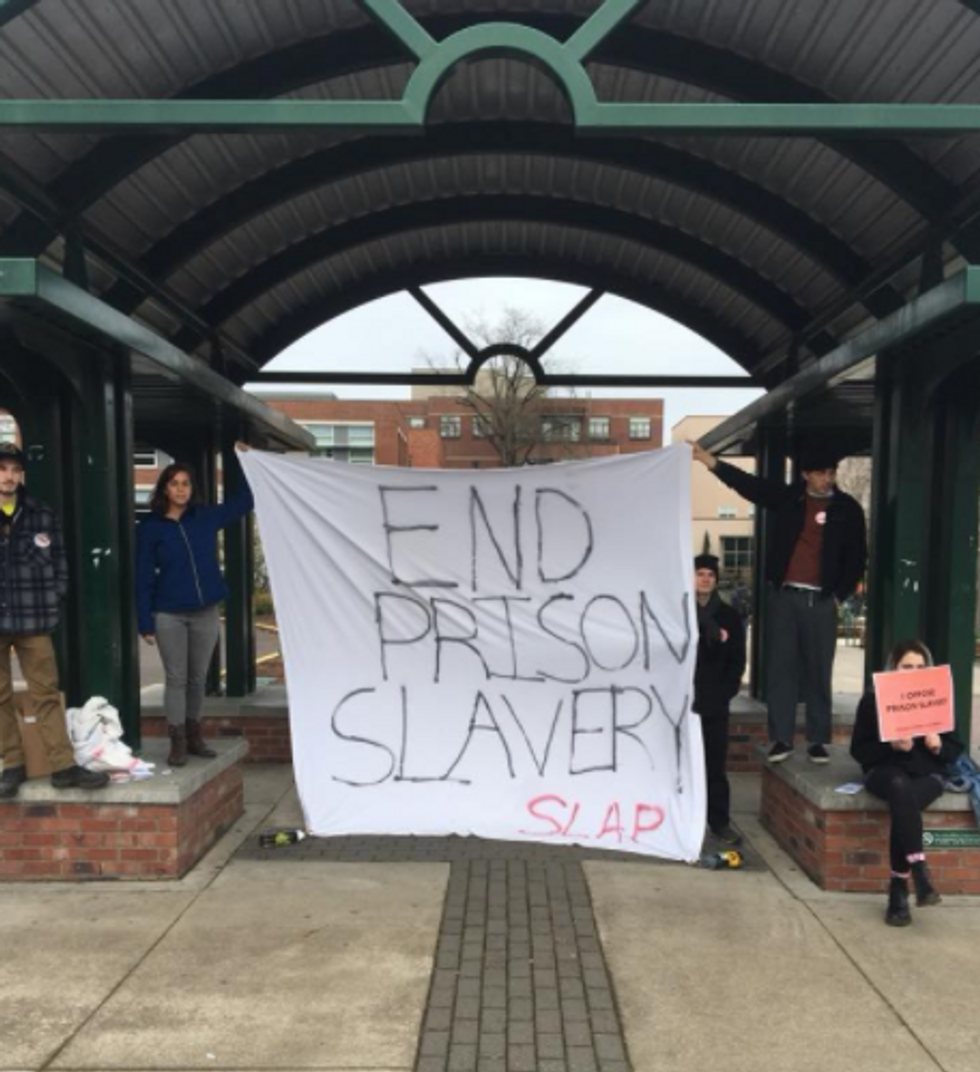 Campus police immediately confronted the students and forced them to take their signs down.
The student-run organization later released a statement on Facebook that reads as follows:
*UO EXPLOITS PRISON SLAVE LABOR*
Today, members of SLAP engaged in a series of coordinated banner drops around the University of Oregon campus in protest against the University's use of slave labor via its unethical dealings with Oregon Correctional Enterprises - a semi-state agency that uses prison labor to produce furniture and signage for the University. Multiple of our members were harassed by administrators and threatened with arrest by pigs. The University of Oregon and its organs are trying to silence student voices. SHAME ON THE UNIVERSITY OF OREGON for exploiting incarcerated workers!
By connecting the University of Oregon to its use of prison labor, the UO's image as a progressive and egalitarian institution was tainted.
The University loves to claim that it is an institution that adheres progressive values and promotes civil rights, fostering a safe environment for all identities. However, as our feminist and black panther queen Angela Davis claims: the slavery to carceral system exploits black people in the name of capitalism.

If you want to learn more about this theory click here or here or here.
The University of Oregon's connection to this exploitative system slanders its prized label of a "liberal and egalitarian institution," exposing it for the racist and classist entity that it is.
The irony of this week's events is highlighted when we examine past actions by the UO campus. During the fall term of 2017, a pro-life organization was allowed to the University of Oregon campus, exposing the student body to violent and graphic imagery and language shaming female students.
The UO claimed they could not turn away the provocative and incendiary group because they valued freedom of speech over the security and safety of their female students.
However, this week when peaceful student protesters choose to speak out in a respectful and passive manner, they were silenced and harassed by campus police.
This confirms my suspicions that the UO exploits the progressive narrative to lure students to the institution and engender a certain image for itself, but in reality, does not value these things and will continue to abuse and profit off of the liberal agenda as well as its own students in order to remain financially affluent.