From waterfalls to ghost towns. From something to leave you speechless to something that will make you repeatedly say "wow." Pennsylvania has it all. Take a trip this year to some of the most beautiful places you've ever seen in the state of PA.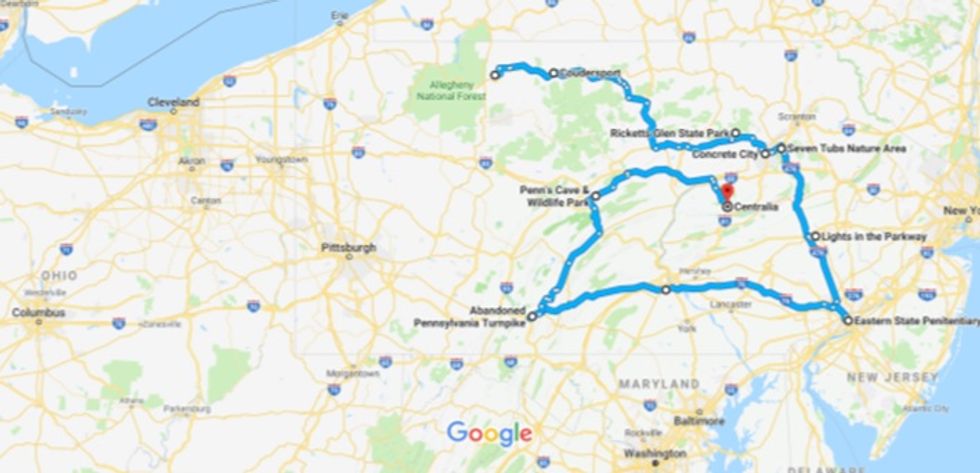 1. Kinzua Bridge
This bridge had been in use for many decades, but one unlucky year while in the middle of construction, a tornado hit the bridge. Surprisingly, some of it is still intact and you can go visit it. You can stand right out on the edge of the bridge and look out at the amazing view.
2. Coudersport Ice Mine
You can probably figure out just what this is from the title. It is quite literally a mine that has been taken over by ice. You may not be that amazed by ice, however, this ice forms in the warmer seasons and disappears in the winter. It sounds crazy, but you'll just have to check it out yourself and prove me wrong.
3. Ricketts Glen State Park
Ricketts Glen has some of the most beautiful waterfalls in all of Pennsylvania. If you're in need of a breathtaking view, this is surely one that will take your breath right away. Looking at waterfalls isn't all that's involved. You could camp out, go on a picnic, or even take a hike.
4. Concrete City
I should start off by saying that Concrete City is technically on private property, however, with the correct permission from the correct people, it's possible to visit. This abandoned area is considered to be haunted and resides with indestructible homes. Now, an entire section of worn down highway and dozens of houses are covered in graffiti art, waiting to be gazed upon.
5. Seven Tubs Nature Area
Seven Tubs Nature Area is 2+ miles of beauty. If you're ever in the need of a hike, this is a perfect spot to visit. If you get lucky, you may find a spot to picnic after a brief hike and even get to enjoy one of the seven wonderful tubs.

6. Lights in the Parkway
This is a must see and longstanding tradition for Allentown natives. Take a trip in the Christmas months to enjoy gorgeous Christmas lights everywhere you turn. This is definitely a fun trip for the family to take and a tradition loved by many.
7. Eastern State Penitentiary
Every wonder what it is like to be inside on of the most expensive and luxurious prisons? Don't forget to check out Eastern State Penitentiary. Those crumbling cell blocks won't stand a chance against criminals now. There are plenty of tours going on and you should have no problem booking tickets to see this infamous Penitentiary.
8. Abandoned PA Turnpike
At the Abandoned PA Turnpike, you can find a creepy looking tunnel that is dusted with graffiti. This area is completely for you to go at your own risk, yet it should be completely safe for one to travel in.
9. Penn's Cave & Wildlife Park
Take a trip to America's ONLY all-water cavern. You can take a ride on a 45 minute cavern tour done on a boat! You could even take a ride on an open air bus, or tractor for 90 minutes to enjoy the view of the wildlife park.
10. Centralia
Due to a mine fire that has been roaring since 1962. The city that was once a popular housing spot for miners is now abandoned. Centralia may look a little familiar to you though considering it was the design basis for Silent Hill. Centralia is completely safe to visit now, yet as of 2013, only 7 people lived in the town. Go take a trip, but I hope you don't plan on staying for too long.