Scrolling through her mobile bank account feed to track the damage she'd done the night before at Kilroy's Bar and Grill, Lacey Sterling discovered she had more to worry about than just her hangover — an exorbitant Uber bill.
After celebrating Two-Dollar-Tuesday at the bar with several water long islands, Sterling, 21, stumbled out of Kilroy's to meet her friend at Z & C Teriyaki & Sushi Restaurant. At 2 a.m. the shack was at its busiest hours, so the Chicago native opted to fill her late night craving across the street at the Big Cheese truck. While waiting behind other drunken Indiana University students she ordered an Uber ride.
When it arrived, Sterling plopped herself inside the car, along with her gooey grilled cheese and cheese fries. The driver dropped her off in front of her house on North Washington and drove off just before Sterling dropped her fries on the porch.
Wednesday morning, Sterling woke up in her stained blue jeans to an $86.18 Uber-charge. Perplexed, she immediately contacted the company.
"I was charged $80 and I don't know why. I see that $80 is charged for vomit or food/beverage spills but neither of those happened so I don't know why I was charged."
Within minutes of filing a complaint, Uber notified Sterling that the issue had "been resolved."
Under the pretense that they had refunded her, Sterling was surprised when they sent her a picture with a message.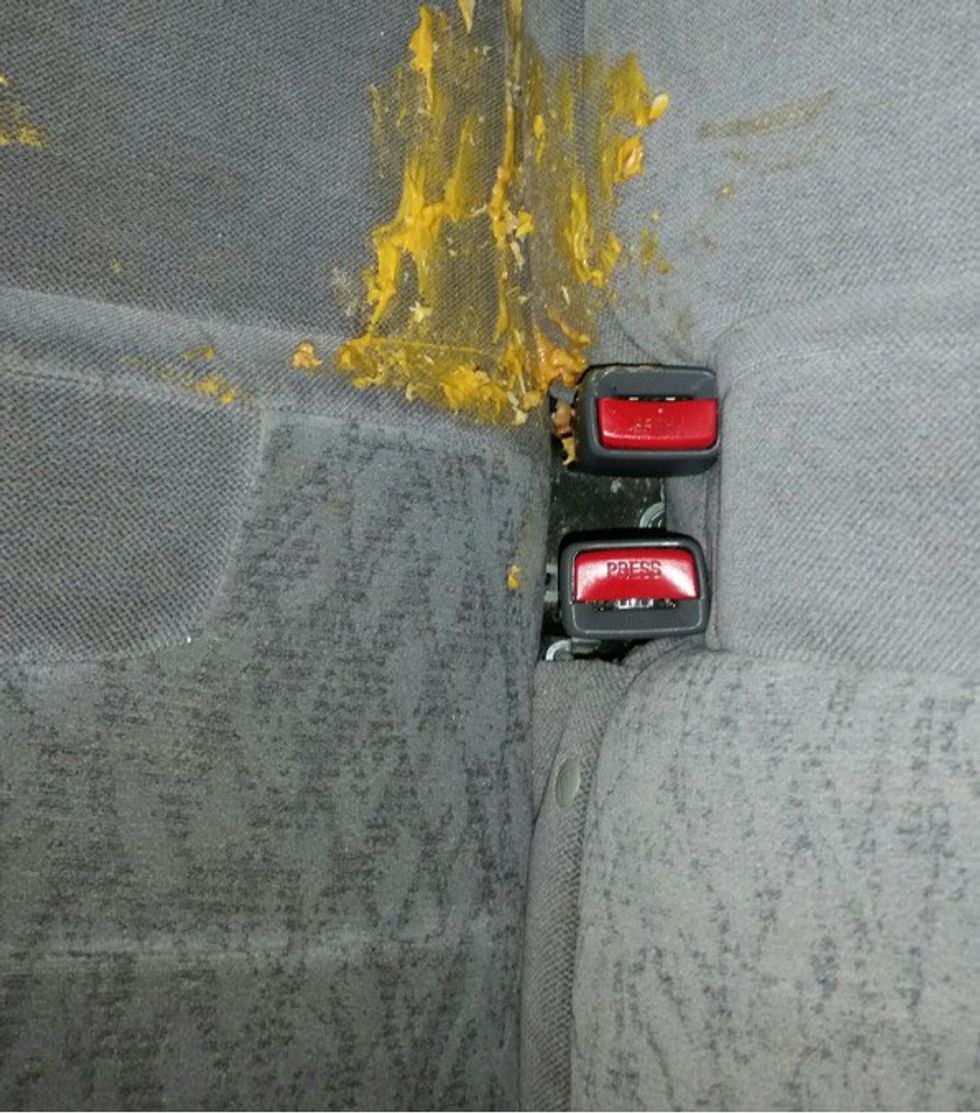 The message read:
"Your driver let us know that you spilled nacho cheese fries all over the back seat and left a stain on it. Because the vehicle required cleaning, your account has been charged to reimburse the driver for cleaning fees. Drivers receive the full cleaning fee that you are charged. This policy protects drivers and ensures that vehicles are safe and clean for you to ride in."

"I didn't order nacho cheese fries, they were just cheese fries," Sterling said.
The Indiana University student asserts she would have happily cleaned up the cheese stain over paying the bill.
The moral of the story, Sterling says, is that she'd rather pay a large bill than be abducted by a crazy Uber driver.
"Going home alone in an Uber isn't safe, but it's safer than walking home," she said. "I'm glad nothing happened to me because I've been scared about it lately since you hear so many stories about dangerous drivers."
The cheese fries, according to Sterling, were disgusting.