Welcome to the spring semester!
If you're like me you probably went an entire semester without properly decorating your dorm room. Maybe you have a little extra cash from the holidays and want to pick up something cute for your room. I scoured Pinterest, Tumblr, and YouTube and found all of the best decors picks and hacks to make your dorm perfectly you.
1. String Lights
This is a given. Add a little light to your room by adding some string lights. I bought battery operated ones so I don't have to worry about finding an outlet or an extension cord. Put them around your windows or above your bed to give your dorm a cozy feel.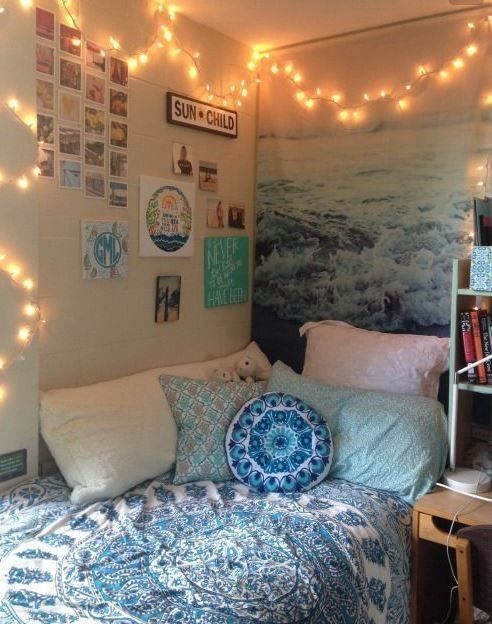 2. Wallcoverings
Dorm rooms aren't exactly known for having nicely painted walls. Mandala tapestries are easy to come by for cheap on Amazon with thousands of prints to choose from.
3. Corkboard Map
For the girl with wanderlust, this is for you. Tack up pictures from past travels aligning with the destinations, or just use it as a space to keep all of your little notes organized.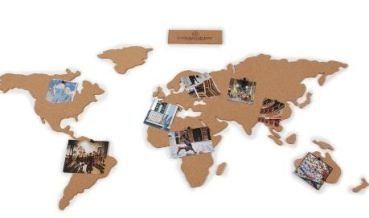 4. Plants
Adding something alive (or not) can really liven up a room. Buy a fake plant from the dollar store and put it in a nice looking empty glass bottle. If you're allowed, get an aloe plant or some succulents. They're really hardy and won't die if you forget about them for a few days.
5. Pictures
Frames not needed. Using clothespins, twine, and thumbtacks you can hang every pic of your besties from back home on your walls.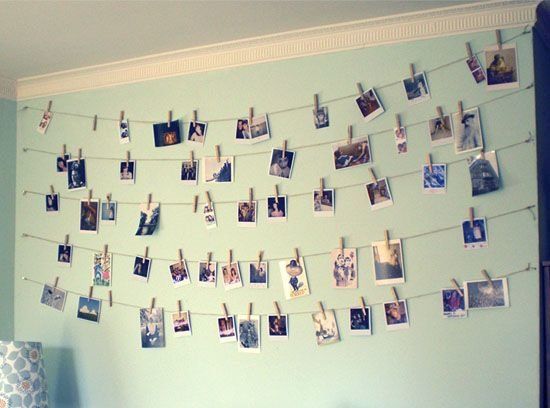 6. Desk Lamp
Essential if you want to stay up studying while your roommate sleeps. Find something sleek and bright that matches the rest of your decor.
7. Artwork
Whether it's yours or painted by someone else, adding a splash of color or a painting that you enjoy to your walls gives a room some depth and tells people what you're in to.
8. Throw Pillows
Throw pillows are a great way to add some color or a cute quote to your bed. You can make your own by using iron-on printer paper or find one in store.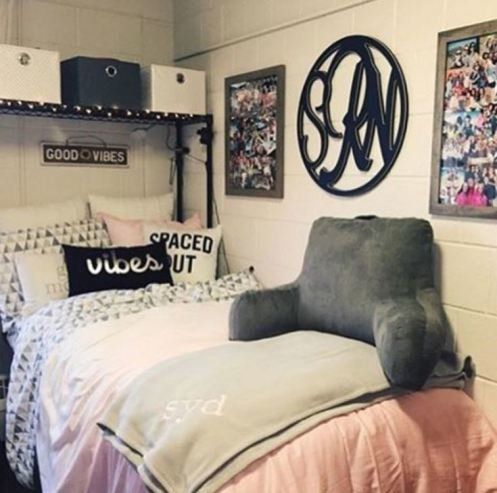 9. Canvas Wall Hangings
Another way to show off your favorite quotes. They can easily be hung on thumbtacks or Command Strips, depending on whats allowed in your dorm.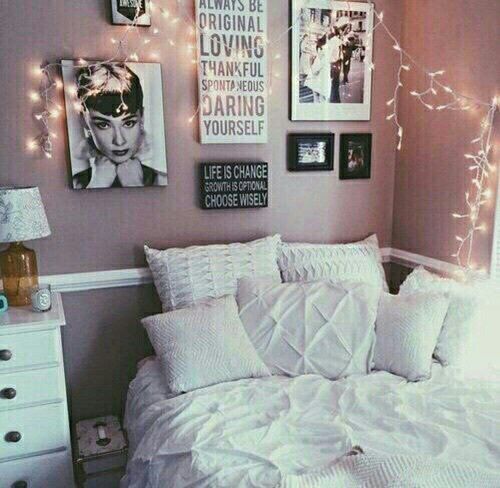 10. Rugs
Cover up the drab linoleum with something that feels soft and looks nice.
11. Customizable signs
Start your own #qotd in your dorm.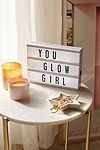 12. Weekly planner wall sticker
You and your roomies will have a convenient place to put your class schedules and grocery reminders. Also, a good place to write any passive-aggressive comments.
13. Wooden letters
Show off your initials with wooden letters found at any craft store. Embrace the natural finish or decorate yourself with acrylic paints.
14. Bed risers
Raising your bed will give you more storage space which equals less clutter. Your room will look homey without looking lived in.
15. Band posters
Show off your superior taste in music by hanging up vinyl album covers or picture from your favorite bands.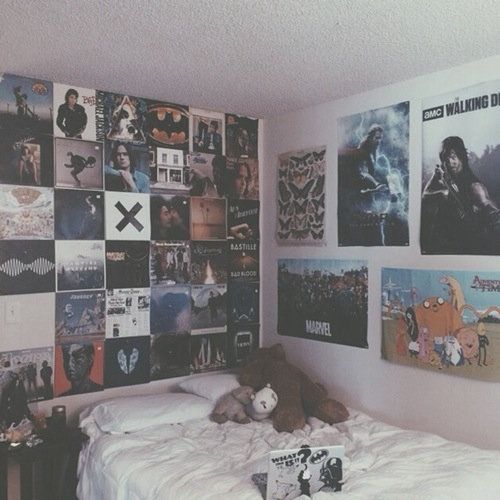 16. A mirror that's more
Choose a mirror that doubles as a piece of art. It'll bring a little more personalization while also covering up a boring wall.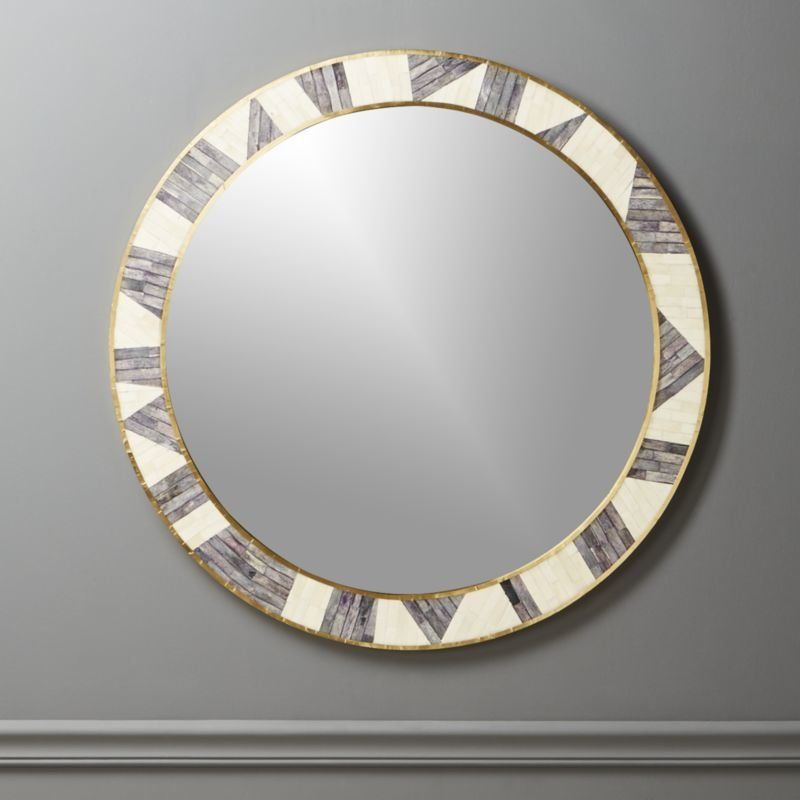 17. Bookshelves
Whether it's a place to keep all of your textbooks organized or a place to store all of your books, show off what you're into, and save some space for knick-knacks.
18. Plastic storage containers
For under the bed storage buy containers in fun colors that match your theme. If you have clear containers, line them with cloth or cover in washi tape to add color and also hide what you're storing.
19. Wall decals
Wall decals are a great way to cover walls without having to hang anything.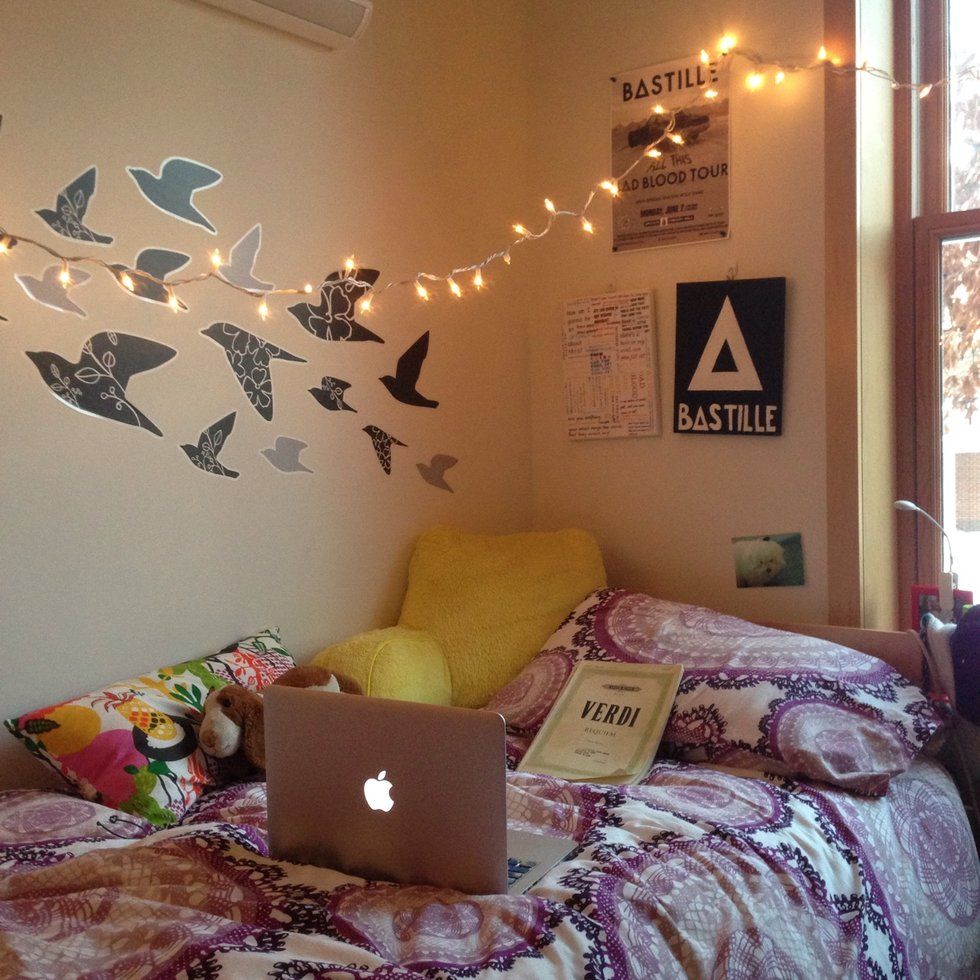 20. Corkboards
Corkboards are relatively cheap and easy to find. Use them to hang accessories, postcards, or pictures.
Just because you're away from home doesn't mean your dorm has to feel like it. Take these ideas and transform your dorm room from something boring to something beautiful.