I was a lesbian without the lesbian look my senior year of high school. Well that is until I went to college. Once college hit, did I figure out the look was real according to society, of course. So, what does the lesbian look even mean? Lets break it down to the most obvious look that society has labeled lesbians as with the occasional snapback, bro tank, piercings, tattoos, and vans. Now, I wear the same except I don't label myself as a lesbian. I am a nonbinary, transgender, queer individual and if that doesn't confuse society and its labels then I may as well just be a human after all because labels are not my thing.
First I Was A Closet Lesbian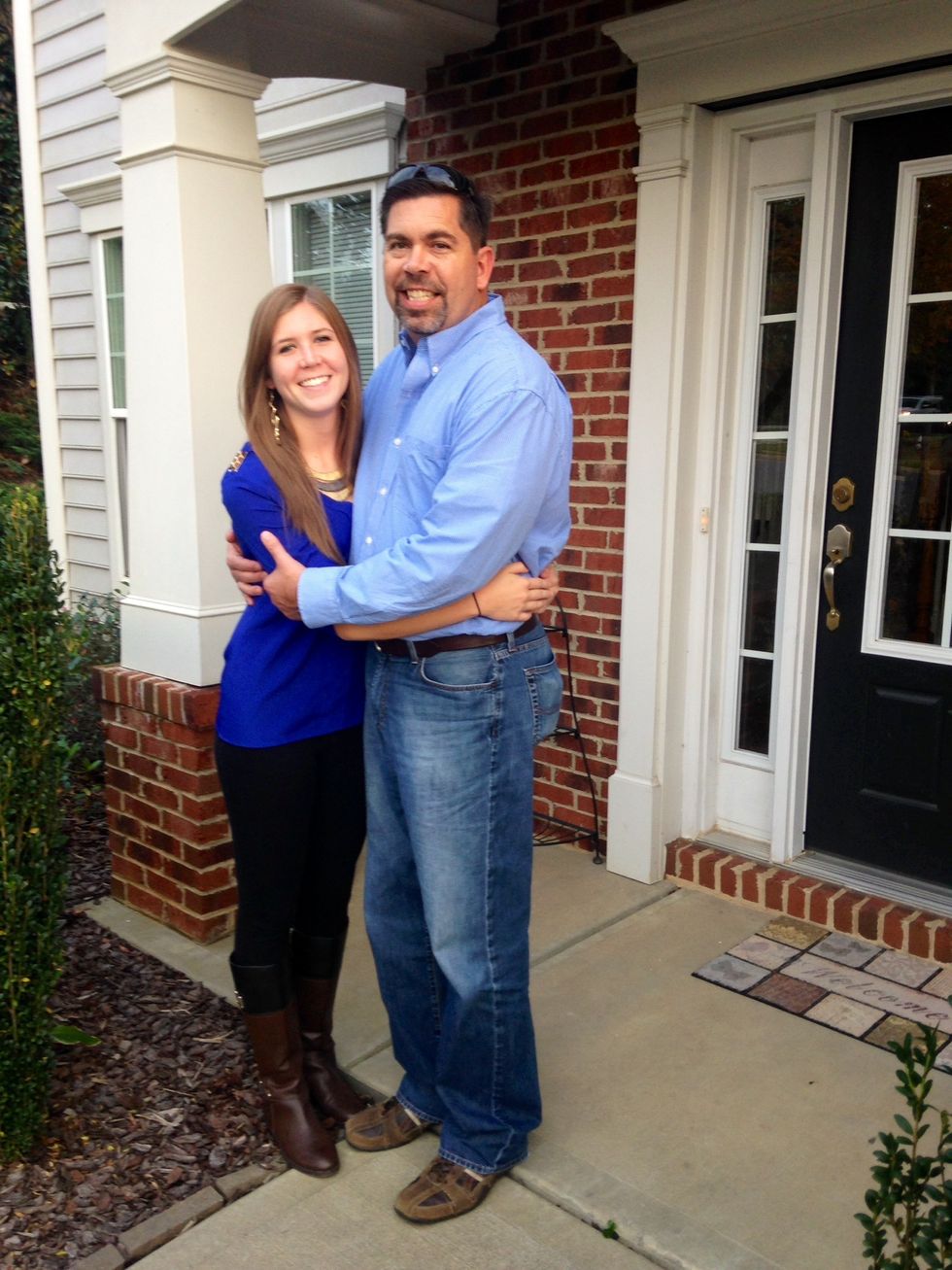 Me and my dad November 2014
As I hid in the closet my Senior year of high school from my dad and even took a girl to prom as "friends", I finally decided my Freshman year of college was the time to tell him I was a lesbian. Now, I am a post grad student living at home and have had several interactions with him yet, I have not had a sit-down conversation about my gender identity with my dad since I first told him I was a lesbian. Now that was some years ago. Possibly five years ago and I remember his reaction vividly. So, here we are five or so years later and if he still thinks I am a lesbian, boy do we have catching up to do.

But, that day I told him I was a lesbian, I had my mom help me with the whole conversation because I was a train wreck with how he would take it. Thus, me, my mom, and my dad all sat down in my mom's condo to talk. And with the start of eye contact from my dad, I couldn't even begin a sentence. So, I did what any teenager would do, and I looked at my mom to start the conversation. If I remember this correctly, I did not even use the word lesbian as I just said I like (insert exes name here) and stopped looking for a response from him.
Let's just say I didn't quite make it clear that she was more than a best friend as I not only liked her, but I was dating her without him knowing. So, my mom chimed in and helped me out with telling him I was into girls more so than just friendship wise. And then I got the wide eye reaction I had sought to see. Rather, when I told my mom I was a lesbian she took it rather great because I had a feeling she already knew. It's just that mother daughter connection we had and now, I see it was a lot more than that. (For those of you that know, you know) And if anyone has met my mom, she is a straight shooter and I figured she knew that the girl in my bedroom was not just friend at that time, but rather a girl I now call my ex.
The Closet Hasn't Completely Opened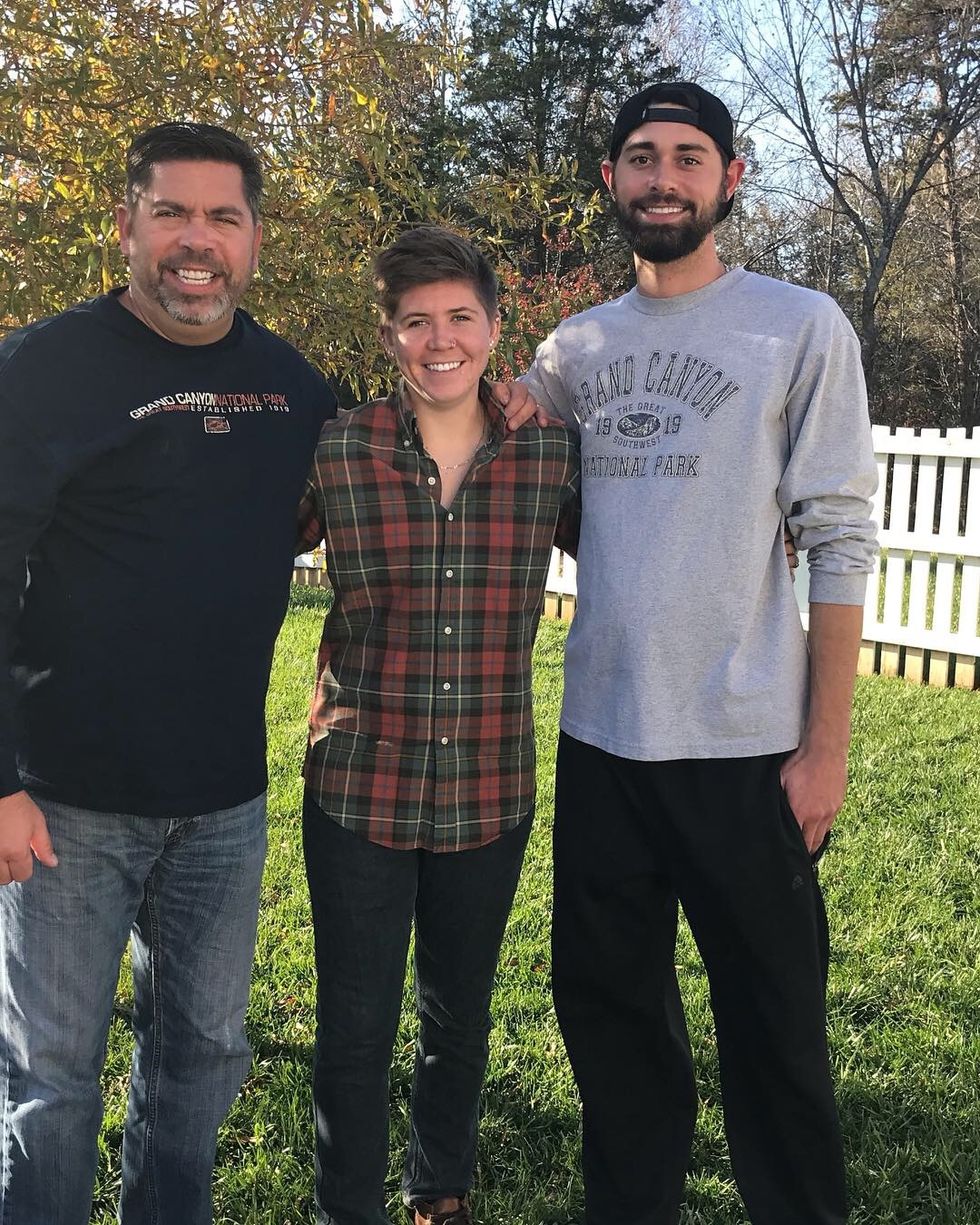 My dad, me, and my brotherNovember 2018
However, unlike other stories I have heard from individuals "coming out", he took it well. My gender identity and my love life wasn't really mentioned much during my college years until the nasty breakup came, then my dad became my rock. As long as I was happy, he would be happy for me. He never treated me any different because I was still his daughter. However, after my breakup, he would drive thirty or sometimes an hour (Charlotte traffic) to see me just for lunch or give me one of his most famous "daddy hugs". Let's face it, I was and still am a sucker for those. Who wouldn't be? Just look at this guy.
Now, five years later I am back to trying to tell him about my gender identity as nonbinary, transgender, queer and that my friends is a little more complicated than just telling him I like girls under my breath. Do I think he knows? Yes. Have I tried to bring up the conversation? Yes and no. Do I see him at least one if not three times a week? Yes. Has he seen my increase of acne and slight facial hair? Of course.
So, does he know? I think he does, and he still gives me those famous "daddy hugs" because he is a great dad.
But for him, I don't think he wants to lose me as a daughter and for me, letting go as his daughter is a little more challenging than I expected it to be. I still do the feminine daughter-like things because he is my dad and I am the only daughter he has/had. But, I am anxious to do the things we have talked about this past year such as hunting, fishing, go-kart racing and letting him get to know me as Ian. For he has yet to call me Ian frankly because I have yet to introduce him to Ian.