As the year starts to reach its conclusion, time for reflection is an absolute must. You could start by thinking about how you changed as a person, maybe the people you gained in the year, or the people you lost. Or, you could do the most important thing possible and think, "hmm, what were the best anime this year?"
If you couldn't guess from the title of this article, I'll be talking about my top three anime of 2016. I tried to limit myself to shows that were exclusively from this year, but one show did manage to sneak through because it was just that good. So, let's start there!
1. "Assassination Classroom" (season 2).
[rebelmouse-proxy-image https://media.rbl.ms/image?u=%2Ffiles%2F2016%2F12%2F16%2F636175264322982192677993954_classroom-assassination.jpg%3Fw%3D600%26h%3D307&ho=https%3A%2F%2Faz616578.vo.msecnd.net&s=2&h=3785bdfade34f59d6ac4ddf122641862edac5caa01d429b016cb227c251743d9&size=980x&c=1302995555 crop_info="%7B%22image%22%3A%20%22https%3A//media.rbl.ms/image%3Fu%3D%252Ffiles%252F2016%252F12%252F16%252F636175264322982192677993954_classroom-assassination.jpg%253Fw%253D600%2526h%253D307%26ho%3Dhttps%253A%252F%252Faz616578.vo.msecnd.net%26s%3D2%26h%3D3785bdfade34f59d6ac4ddf122641862edac5caa01d429b016cb227c251743d9%26size%3D980x%26c%3D1302995555%22%7D" expand=1 original_size="1x1"]
Genre: Action, Comedy, Slice of Life, School, Sci-Fi
Episode Count: 25 (47 overall)
Let's start off with a show that will make you feel way too many things -- way too much joy, way too much gut busting laughter, and at points, way too much sadness. "Assassination Classroom" had it all for me.
It tells the story of a group of students that go to the prestigious Kunugigaoka Middle School and are a part of class 3-E. The school has a ranking system where A equals the smartest, and so on. So, you have a bunch of "idiots" in a class, and who are they taught by? An yellow alien who blew up part of the moon, that's who. It makes me laugh thinking about the premise of the story. Only in an anime could something like this be possible.
What made this one of my top anime of the year was the fact that even with 30-some characters, the writing makes you feel for each one, even if they only get part of an episode to tell what's going on in their lives. I won't spoil anything here, because it's something that you should really watch for yourself. But, I highly recommend watching "Assassination Classroom" in all its glory.
2. "My Hero Academia."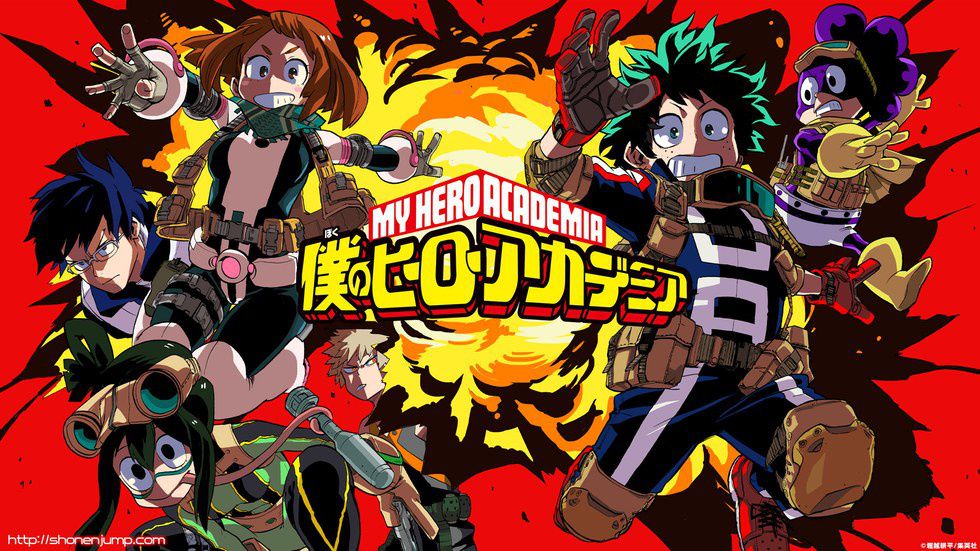 Genre: Action, Comedy, Supernatural, School
Episode Count: 13 (for now)
In an alternate reality where superpowers are commonplace, you would expect that you have one, right? No matter how lame it might be, your body can do something that another person cannot. Right? Well, in "My Hero Academia," you'd be wrong. Main character Midoriya is a boy born without powers, or "quirks," as they are referred to in the show. As a child, he holds the belief that his quirk is just waiting to surface, and that it will be something amazing. As someone who idolizes "Heroes," those with quirks that help keep the world from going through tremendous turmoil, he wants to have a quirk so he can be like them.
Fast forward about 10 years and he tries to apply to a school where only those with quirks need apply. It's a school that trains Heroes, and Midoriya wants in. Through an encounter with his idol, All Might, he manages to obtain a quirk of his own. This show is about Midoriya's journey through life as he tries to prove himself to the world that someone who was once quirkless can make something amazing of themselves.
I think it's the underdog mentality of the show that drew me in so quickly. I'm a sucker for a good underdog story, and this is the one of the year for me. If you're into superpowers, underdog stories, and great action scenes, you will definitely love "My Hero Academia."
3. "Erased."
Genre: Drama, Psychological, Mystery, Supernatural
Episode Count: 12
If you had the choice to go back in time and fix one thing that you might have regretted, would you? It's an age-old question that we ask ourselves all the time. Now, let's twist it a little bit. What if you had no choice but to go back in time?
"Erased" deals with the concept of going back in time to fix a problem that will ultimately make life better. The protagonist, Satoru Fujinuma, has the ability to do this -- against his will, of course. Every time it happens, he has to figure out what needs changing. It is never something insignificant like answering a question in a job interview differently. It always has to do with the well-being of someone's life. And that's where the show really takes off.
For spoiler's sake, I won't tell the big plot twist of the show. All I'll say is that I absolutely loved this show. I watched it after it had already premiered so I could finish it in one go. And let me say: Boy, was it worth it. I can't even imagine trying to wait for a gripping mystery story to be given to me one week at a time, leaving on a note that makes me beg for more.
---
These are the three shows that I found myself liking the most. Of course, there are more that I adored, but I can't fit them all on one list. So, what are your favorite anime of 2016? I'd love to know!