I spend countless amounts of time in the car sitting in rush hour traffic. Now you can imagine that I see some pretty strange stuff. I mean when I am driving in general I see people being moronic. It ranges between driver stupidity and pedestrians with a death wish. We have all seen the bumper sticker happy people or the stick figure families. The one that says "Proud of my honors student at ------." Then theres the phone talkers, he coffee drinkers, and the food eaters. Hey, let's be honest I have been on the phone when driving, using my handsfree of course. I have ate food and drank something. But the thing that gets me the most is when people are texting or snap chatting while driving, that's the a or sure way to get a lot of people hurt especially in rush hour traffic. Put the phone away!
I believe that there are way too many people who forget the rules of the road and are in a rush to get somewhere. People stop rushing around! You might save a life and that life just might be your own. This is a list of the top ------ weirdest things I have seen in rush hour traffic:
10. A women putting on her make up with curlers in her hair.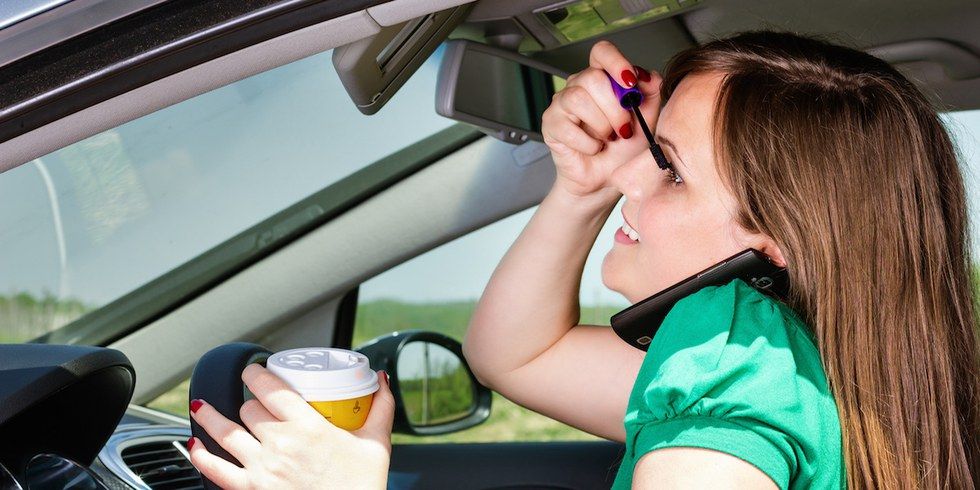 Coming it at number 10, yes, I am sure we have all seen this before. It is a classic women running late on her way to work. The confusing part is this was at 5:45 and this was a younger women and it looked like she was in her pajamas. By no means am I judging her she could have been off to a fancy event and took a nap and her alarm never woke her up so she is getting ready on her drive. I have no idea but it was pretty strange.
9. A man ready the morning newspaper.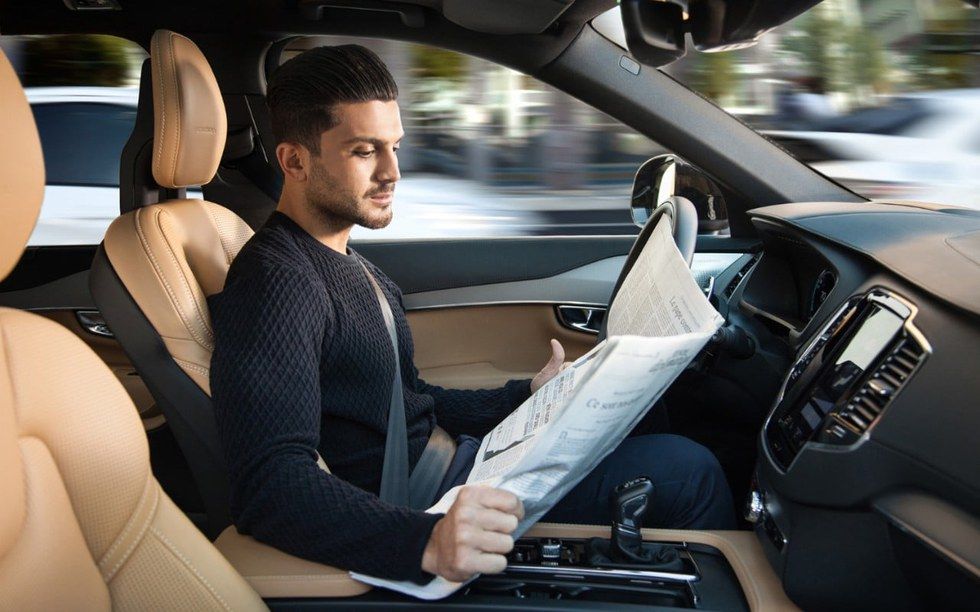 I legit looked over and this middle aged man reading the newspaper. He was not making any attempt at trying to hide what he was doing. From what it looked like he couldn't see out his windshield and the steering wheel was covered by a completely open newspaper. I hope it was worth his life for whatever he was reading, I'm not sure what happened to him.
8. Some guy shaving his beard.
This man had shaving cream son his face and he was using a razor to shave his face....I have no idea how to explain this one or how he washed it off because it didn't look like he had water because he was shaking his razor out the window.
7. A little dog driving.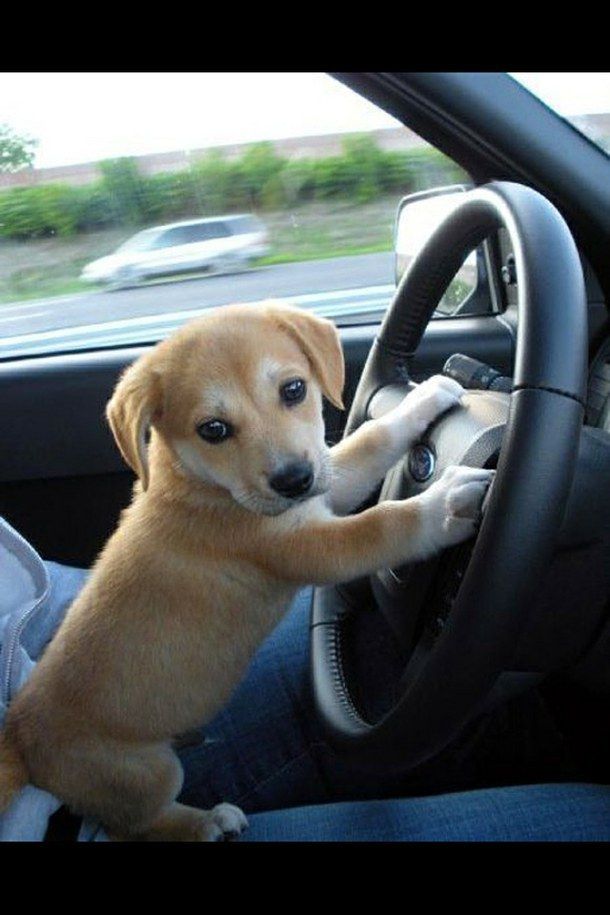 Ok well there was a women sitting in the drivers seat but her hands were not on the wheel as we were moving and her little white dog's paws were on the steering wheel. We were only going about 25 mph but I looked over and said "oh gosh get me out of here before the dog steals the car into mine."
6. Lacrosse balls bouncing across the highway.
I had drove on this high way for about a year and one day I am just minding my own business and I see up a head something white bounce off of the ground and keep going all the way to the other side of the highway. As I drove closer it happened again but this time it bounced five inches in front of my car. When I got home I looked up the surrounding area found a turf field. Guess they were having a lacrosse game that day....
5. People wearing horse head masks.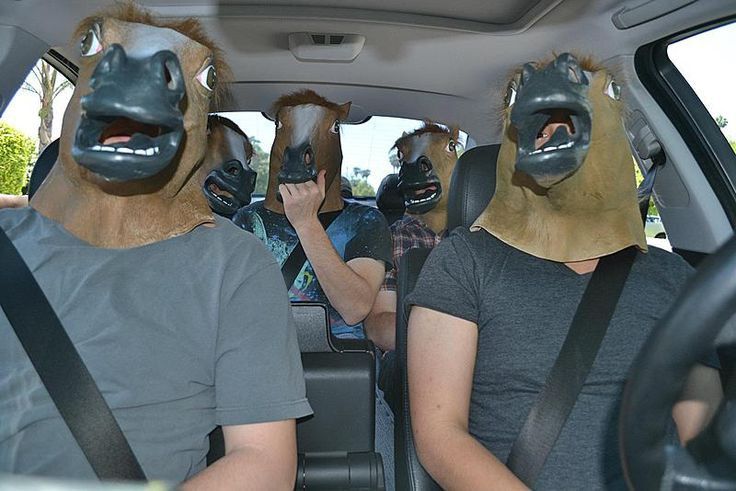 You know this would be fine if it where like Halloween but it was June. It was a little compact car with four people inside and I believe that all of them were male, but I do not know for sure. But even the driver of the car had one on...I drove away as quickly as I could
4. A middle age man crossing the highway.
Now this might not be strange where you live, but this area of the high way has no homes near it and a concrete barrier separating six lanes. it was rush hour about 5:30 at night cars moving at a decent speed. I look to my left and see him standing as close to the barrier as he could, there wasn't much of a shoulder. Now I have no clue how he got there, I just hope that he made it out alive.
3. Two cars changing lanes into each other.
Thankfully no one was seriously hurt and it looked like both cars were ok. I have seen this happen once and almost happen probably 15 times. It is honestly one of those things where you tense up when it happens and I often someone honks their horn at them so hopefully they stop.
2. A car stuck under a Semi-Truck
I have seen a lot of accidents over the years: 8 car pile ups, cars flipped upside down, and the list goes on and on. It is all very scary but at this point in my day I was heading home after a long week. I just wanted to lay down on the couch and relax. I have been sitting in 1hr and 30 minutes of traffic at this point it was 6:30 and I should have been home but I was far from it. I never did find out what happened to the driver, praying they made it out alive.
1. Chinese fire drill on the highway with two cars.
Coming in at number 1, I was driving in rush hour traffic....again I know surprise. It was bumper to bumper traffic just wanting to get home and I look to my right and I see a driver getting out of his car. I had thought he was about to go fight the driver behind him. Then I noticed two people getting out of the truck. the one ran to the drivers side of the other car and the gym from the car hoped into the driver's side of the truck. It was honestly the weirdest thing I have ever seen.
Those are just the top 10 things I have seen on my commute, there is so much more. Just remember safe driving is important. there are other people out not he road and they have lives and somewhere to get to. Find patience and try not to abide by the laws, they are there for a reason.