While Halloween has become a day of personal expression, costume makeup has become a tool for creativity.
For centuries, people have expressed themselves through the art of theatrical makeup dating all the way back to ancient cultures around the world. Over time, not only has technology advanced in our society, but the evolution of makeup has also reached its peak. With huge retailers like MAC and Sephora, plus trending product lines from makeup artists like the famous Kat Von D, we have access to some of the best options for creative design. Society is obsessed. And what better time than now to wow people with your creative beauty? This Halloween be sure to hold nothing back when turning your precious palette into a masterpiece.
Whether you like spooky, sexy, or a mix between the two, Halloween makeup is an excellent way to spice up your costume and embrace your inner creative genius.
Here are 10 amazing (and mostly do-able) Halloween makeup designs:
1.) Dia de los Muertos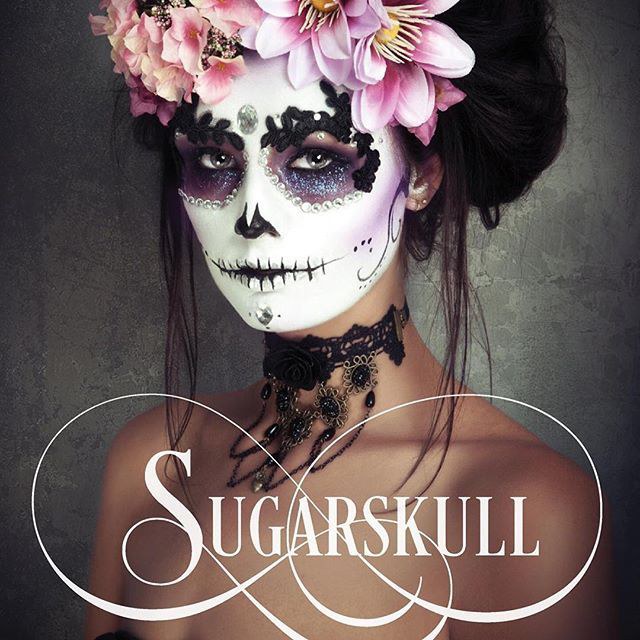 Calaveras de azucar (sugar skulls). This is a legendary, cultural design that is one of the most stunning of all Halloween makeup. It is a perfect opportunity for people to express their creativity through honoring a cultural tradition—but it is also very important to know the background of sugar skulls and the Mexican holiday. Especially the fact that Halloween and Dia de los Muertos are two different holidays. Here are 5 facts you can quickly learn about The Day of the Dead. This beautiful makeup design can be utilized through various color schemes, hues, tones and glitter. Check out some gorgeous designs here.
2.) Pennywise the creepy clown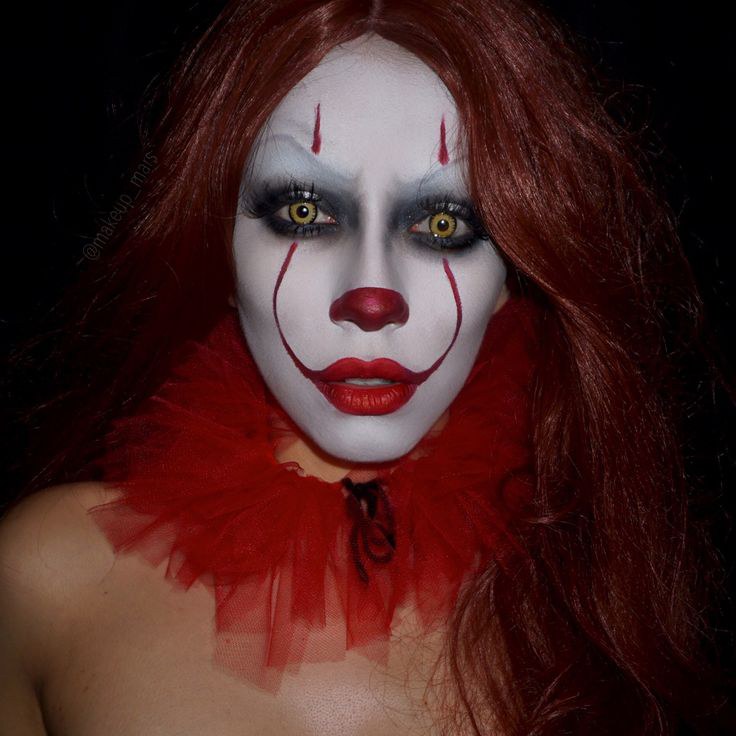 Since society is obsessed with pop culture, of course the latest characters and social trends always become fresh and exciting Halloween costumes to create year after year. With the recent release of Stephen King's It remake, Pennywise the terrifying clown, is a popular makeup choice this year. Girls can pull-off a much cuter version of the famous clown face and still have a spooky Halloween twist to their makeup design. Despite the whole creepy clown epidemic that was happening, this makeup idea can be a creatively scary masterpiece.
3.) David Bowie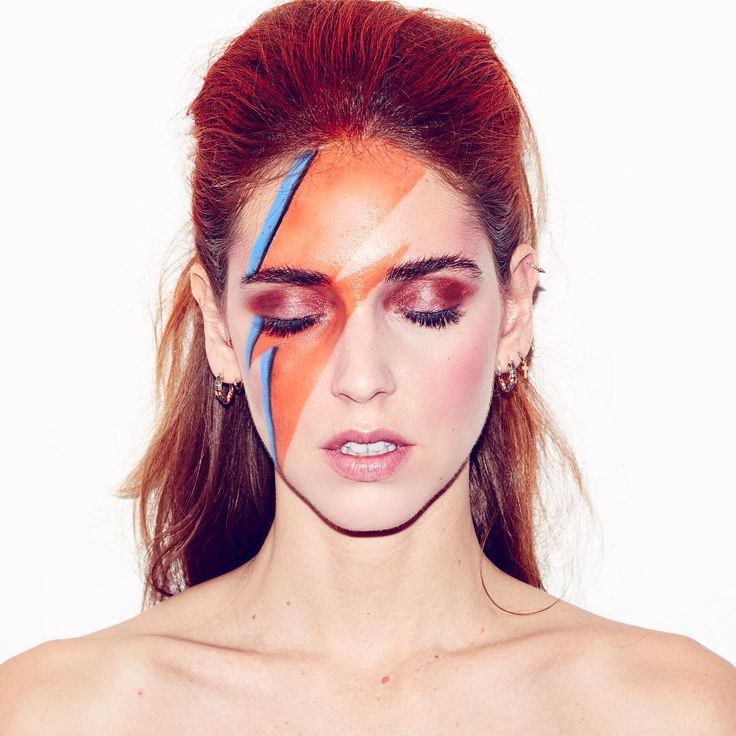 RIP to this wonderful artist and may his bold makeup legacy live on for many Halloweens to come. It's a shame that it isn't until many celebrities die that we appreciate the true beauty of their individuality. It's always fun to pay homage to superstars who influence and impact our lives. The famous "Ziggy Stardust" iconic lightening bolt across one eye has been replicated by present-day stars like Lady Gaga and Ke$ha who continue to honor his legacy of unique style. The David Bowie look will go down in not only fashion world history—but costume makeup history—forever.
4.) Lisa Frank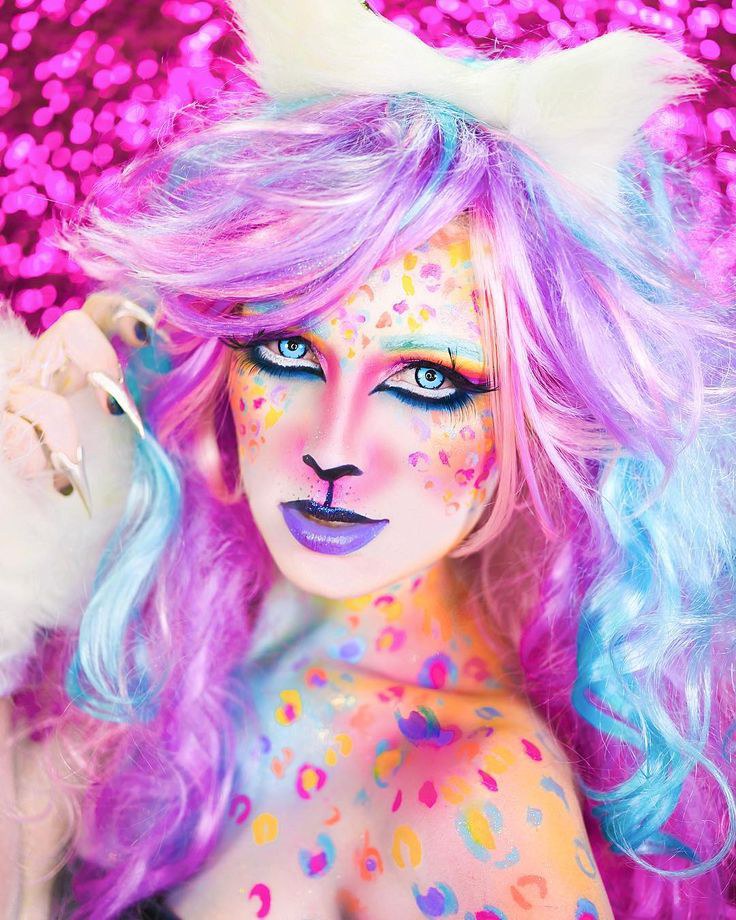 If you're a 90s kid you can definitely appreciate this. Anyone growing up in this decade remembers the bright, tie-dye and pastel designs of unicorns, stars, rainbows and animals in a fantasy world of technicolor. Although, a very hard portrait to paint, the Lisa Frank brand can be transformed into a beautiful makeup design that honor's a classic piece of nostalgia. The key to this makeup scheme is the use of extremely bright and flamboyant pastel colors. You could even use stickers of the different iconic prints.
5.) Pop Art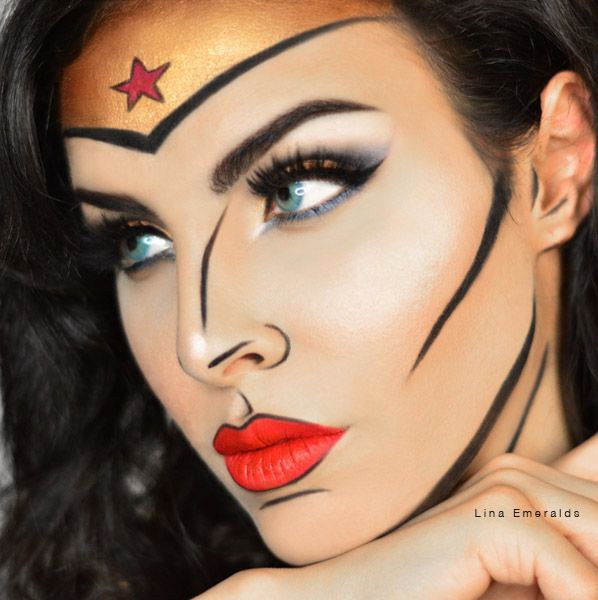 If you're going to dress up as a comic book hero, you must do it big by adding a touch of pop art makeup. The 3D-looking indents used with bold lines and spots make your features pop in a way that becomes cartoonish. This is one of the most challenging makeup designs, yet one of the most fascinating. Check out some pop art designs here.
6.) Rag doll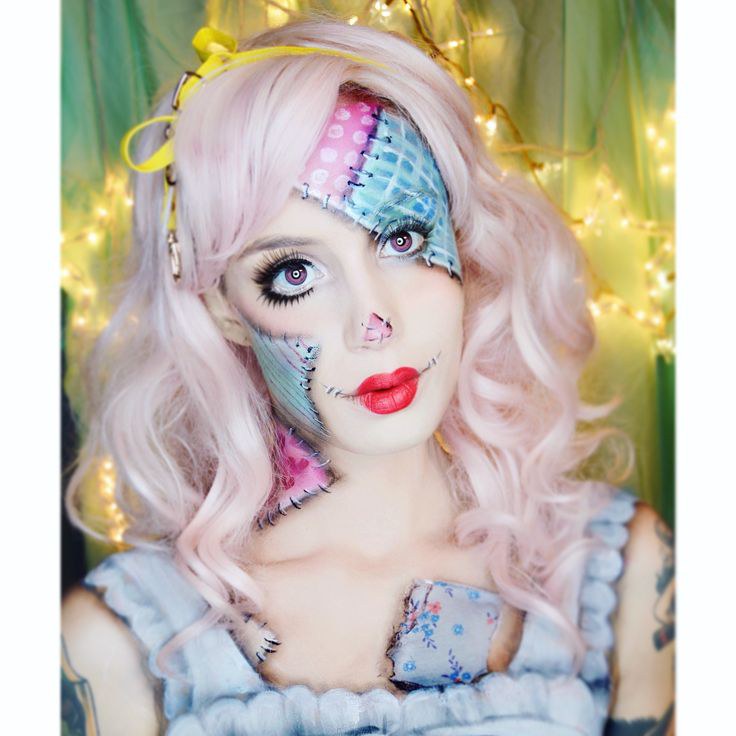 This is a fun makeup design that can complement a variety of costumes. Anything from a cute and innocent baby doll to a creepy or tarnished rag doll can go well with this look. My favorite part about this is the stitched mouth which looks great with black, red, pink, or dark purple lipsticks. Just be sure to keep it closed for pictures!
7.) Zombie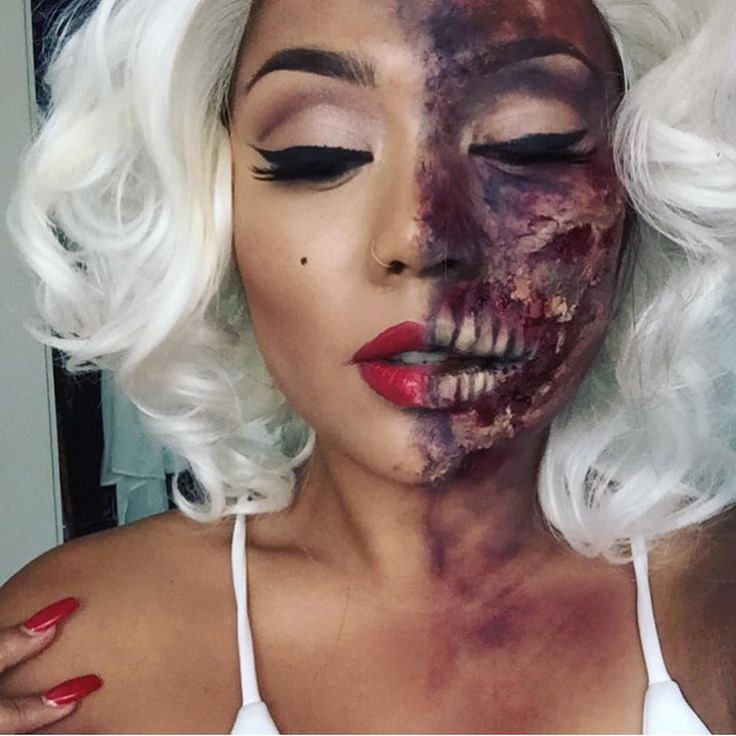 An oldie but goodie. Even though it has always been around, zombie-face will forever be a fun makeup design to easily throw together with some contouring and fake blood. With the growing popularity of zombie shows like The Walking Dead, the obsession has become great inspiration for sexy and scary zombie makeovers that just get more creative each year.
8.) Vampire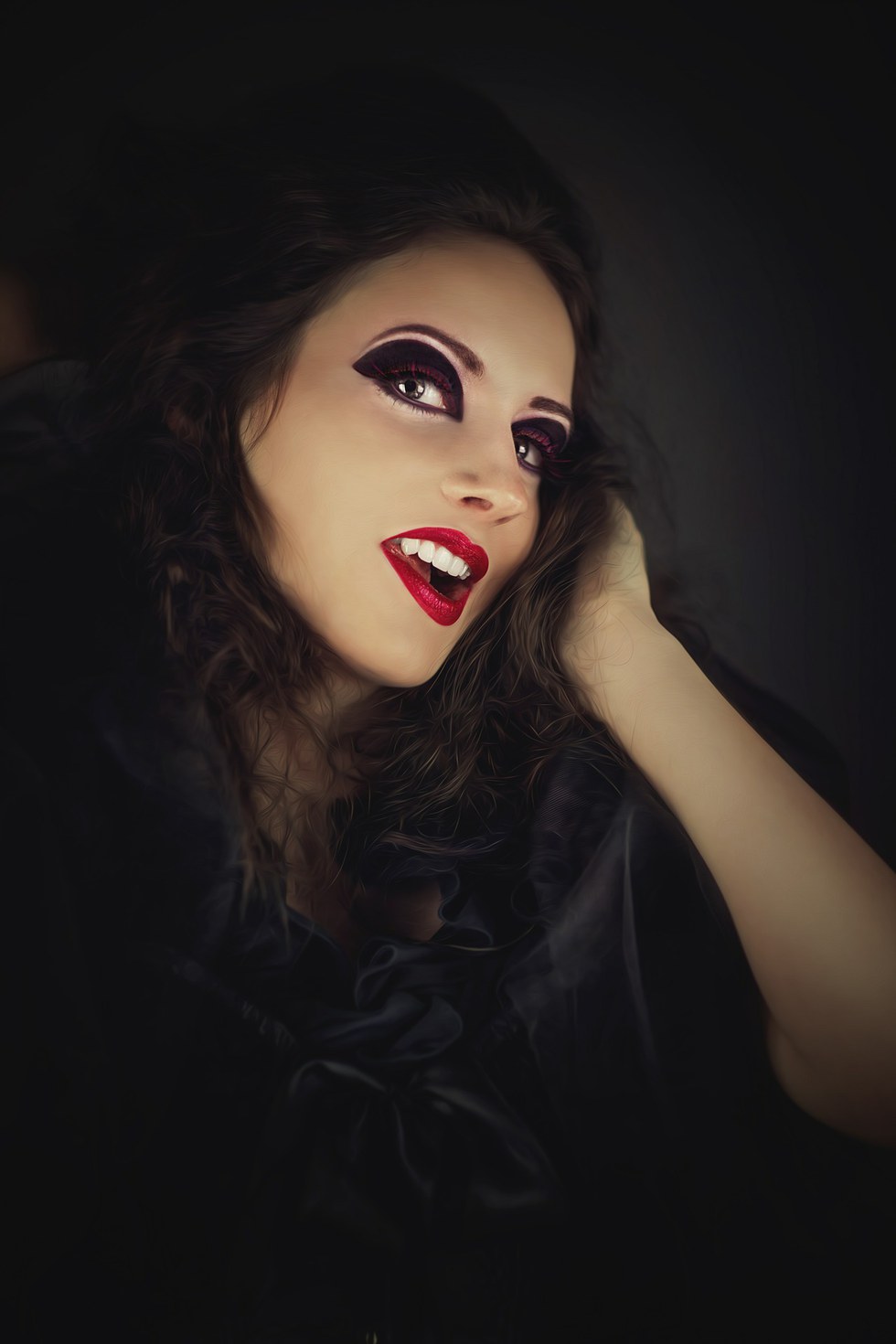 Another oldie but goodie that has only gotten better with time. Vampire makeup is one of the sexiest and easiest looks to pull off for Halloween. The bold, red lipstick and dark, smoky-eye is a perfect excuse to cake on that gothic look we all wish we could rock on the daily without scaring people. Plus, who doesn't love looking sexy in red lipstick and fangs?
9.) Ouija Board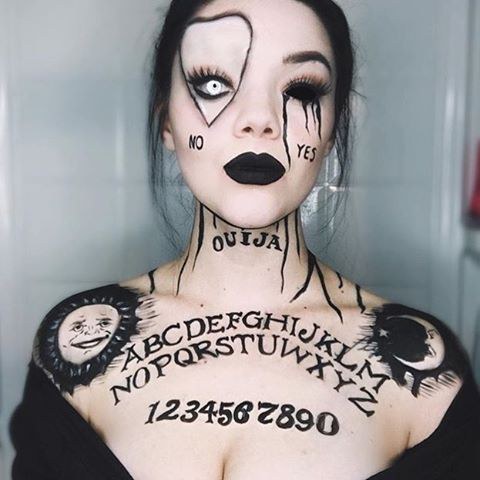 This is definitely one of my absolute favorites. The classic Ouija board is another makeup design to easily pull off and look hot. Just use a stencil and dark black to trace the letters on your chest and complement your face with a dark, bold look. Bright-colored contacts also add a nice touch to this.
10.) Joker face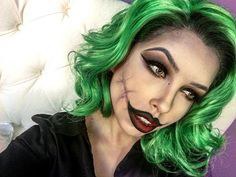 My, my, my, my joker face. Okay, so everybody knows Heath Ledger was the greatest joker of all time, but with the recent Suicide Squad movie that gained another wave of popularity for the famous comic-book character, the joker face is back and better than ever. And now with Harley Quinn in the mix—there's even more options to branch out your creativity. This is a great look for people with big features who can accentuate them even more through the deep-red smeared lipstick and creepy bone structure.
When it comes to makeup during Halloween—you can never have enough!