Whether I end up alone, or married to any gender, or casually dating someone, here are a few things you should know.
1. I'm not a family oriented person
I know. It may come to a shock that a someone simply doesn't want to have the white picket fence lifestyle.

I want to live and be free. Travel the world. See the world. Breathe the world. Be adventurous. Be bold. Live life.
I don't understand why people in society expect everyone to want children and live a family life.
I'd rather travel the world 3 times with someone rather than make 3 trips to Walmart because our baby decided they didn't like the 45 blankets we got for free at a baby shower. I'd rather have a dog ruin my carpet than a child ruin my life. If there is any animal in the world that disgusts me, it's children.
There is nothing wrong with me wanting to travel and be free with the person I love. Nothing says happiness, to me, like watching old films and looking at photographs of me and my loved one, plus friends, going on crazy adventures and living life freely.
I won't attend your family events because that's not how I was raised. I was raised in a fast pace "family" that holidays were nonexistent for and I am perfectly okay with that. I love not dealing with shitty holidays like Christmas. Holidays to me are just extra sleeping days.
2. Love is a choice
After many, many, many failed relationships. After being told "I love you" by people who cheated on me, left me, made me feel like an option and lied about how I am apparently the dead ex wife, (although never married) I strongly feel love isn't an emotion. It's a choice. You choose to love someone. You choose to know them on a personal level and you choose to spend a majority of your time with that person. You don't just "click." You develop an understanding and likeness for that person's presence. So understand that I am a very hard person to love, because not only will I doubt it, but I will also test it. I will question a lot of things and I will constantly worry and think you deserve better. I mean, if so many people walked out on me, then I must be the issue. That is my thought process. Respect it. I am very emotionless and I will try to show you that I do care for you, but don't push it.
Don't expect a lovey dovey, flowers 24/7 and dates every weekend relationship. That's simply not me.
3. Keeping it to myself
I keep everything to myself, and sometimes it causes more harm than good. But it's okay because I'd rather deal with things on my own. If you and I are on exceptional terms, don't worry about what's bothering me. I won't tell you. I barely tell my best friend of 4 years everything that bothers me.
I won't "open up," because there isn't much to tell. I am a simple person. My life is simple.
I love breakfast food, sex, music and being successful. That's basically me.
4. No drama
If you're having issues, then rant to me. I will listen and always be there for you. When you come home from work, I will make sure a hot bath is ready with pizza and the game on. We're a team.
Fighting is pointless because we are choosing to love each other not hate each other.
Male or female, I will spoil you and make sure you're happy. I may be heartless, but I am not going to see you unhappy or feel like an option. I've been in situations where I was always the option, and it's what makes someone so angry and bitter because they're shown they don't matter. I will never do that.
Just don't play games with me, and when I ask if something is wrong, don't reply "nothing" when something clearly is. Communication is key.
5. Hard working
We won't make it if you can't respect I am a busy person. I work hard so when we're 30 we don't have to work at all. I grew up where everything could've been handed to me, but I never took it because I was taught you work for what you want.
I probably get a good 3 hours of sleep a day and I am still energetic because I always need to be doing something. Whether it is at the gym, playing sports, going to work, making videos, etc; I will always be busy.
If you respect that, then I will give you so much respect back by always giving you attention. Even if I had only 10 minutes, I will call you just to hear your voice. I will continually check up on you and remind you how much you mean to me. I will always make sure you feel like a priority.
6. Romance?
Just apologizing in advance, I am anything but romantic.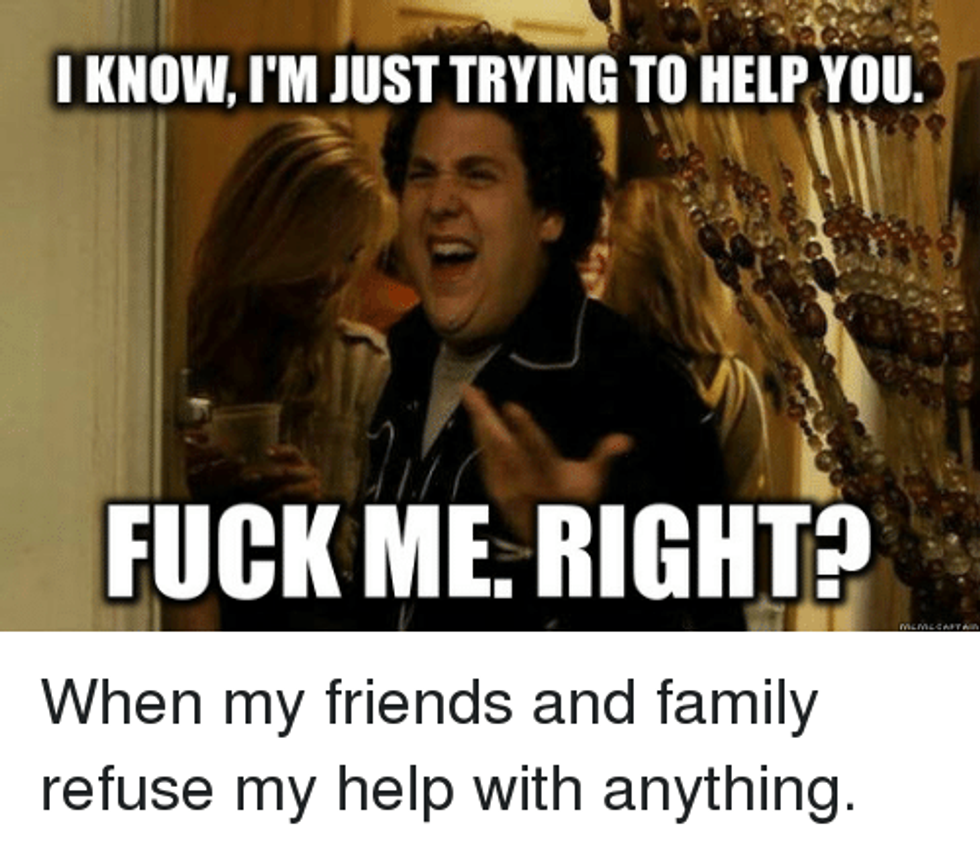 I'll try my best, but just know me buying you food is what I consider "romantic." I'll be the good girlfriend and buy you flowers or cologne on Valentine's day, but that's the best I can do.
It's not to be offensive, it's more of I don't know what romance is, nor do I care to find out, so here's some food.
At the end of the day we're a team because we chose to love each other and be each other's best friend. I may not be the best, but I am pretty good at cuddles and buying food. I also hate holidays and driving. So just wing it with me, because I am pretty chill. I mean I just typed an entire Match.com bio, so there's that.