I know, I know, some people are going to look at this hashtag and say this is not a matter to joke about, but really, who at all is joking here. This hashtag just proves that Brock Turners Rape sentence was an absolute joke. Jail time would have impacted him too much? Maybe that judge should have asked the victim what kind of impact Brock Turner made on her life. I bet jail time would have been one of the better options for him after that. Brock Turner, the college student who raped an unconscious woman behind a dumpster, got a shorter sentence than some people who had possession of marijuana. So this rapist is getting less than for ruining a young girl's life, ruining her trust in men, ruining her faith in herself, but the man, the women, the teenager, who was probably getting high in their basement with their friends, deserves a longer jail time? For what? Getting the munchies?
Though the topic of rape is not something to joke about there's almost there this bit of a comical aspect that anyone could believe that Brock Turner only was given six months in prison. BUT WAIT, let's remember he only served three, because he was let out on good behavior. The outrage surrounding this court case is completely understandable and honestly, I think there needs to be more said about it. This rapist, who is now free to walk the streets, attend college, and be a normal young adult, should be receiving the punishment he absolutely deserves. What he took away from his victim is parts of her she will never be able to get back. She will struggle with the rest of her life while he got a pathetic three month jail sentence. This is so incredibly wrong and I am so glad people are taking to social media to talk about this. Brock Turner does not need his life back, he needs the punishment for the parts of life he took from a young girl.
So here are just a few #ThingsThatLastedLongerThanBrockTurnersRapeSentence
1. I charge my phone more times a day than the amount months Brock Turner was in jail.
2. Are you drunk? Is that why it's taking so long to type? I mean that's your fault then.
3. I bet Brock Turner wishes he ran as fast as Usain Bolt as he's trying to run away from his responsibilities.
4. Maybe Brock Turner should learn what "stop" means.
5. And this has better taste than Brock Turners pathetic life choices.
6. "Dance, Dance" back into prison rapist, I mean Brock Turner.
7. For all you "Stranger Things" fans.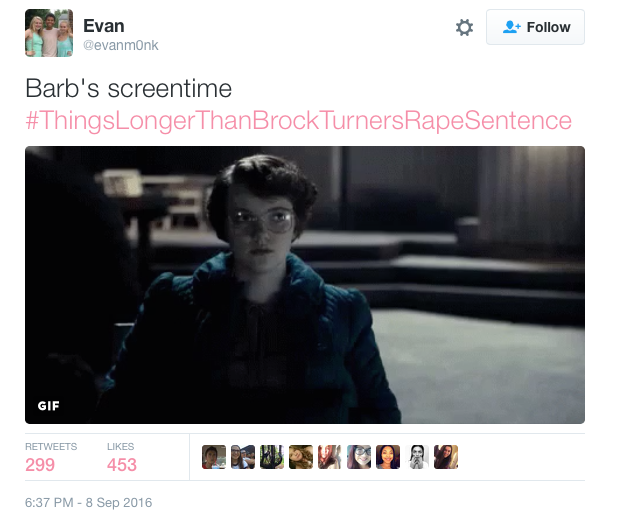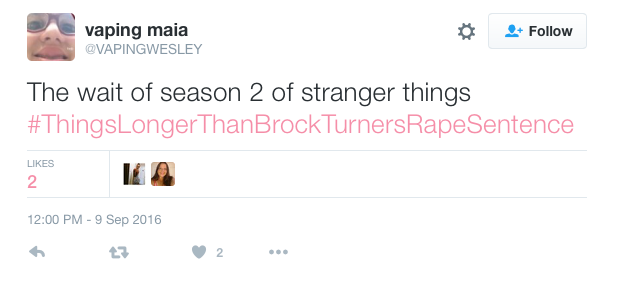 8. Almost like Brock Turner's victim was "unaware" because she was unconscious.
9. Not that Brock Turner listens to what anyone is saying anyways.
10. Enough said.
11. Huh, maybe Brock Turner should learn not to take things that don't belong to him.
12. Oh joy, Brock Turner is out just in time to go back to school and be a threat to another unwilling girl.
13. "Is this the real life? Is this just fantasy?" No, Brock Turner, you really are a rapist, though you and your pathetic father tried to convince us otherwise.
14. Oh is Brock Turners swimming career over? Good.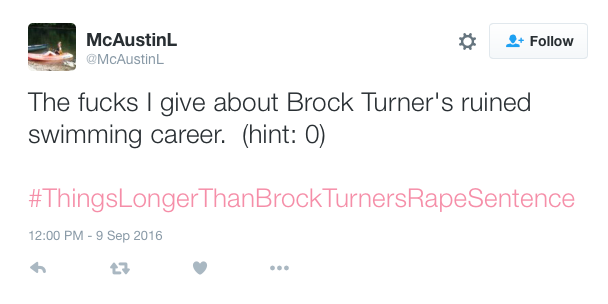 15. And on a much more serious note.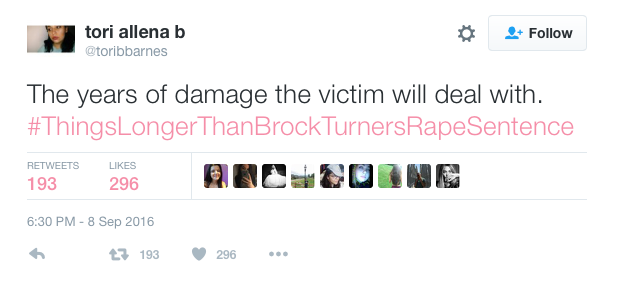 Brock Turner will always be a rapist no matter what kind of light he tries to paint himself into. I hope this keeps being talked about and I hope there will one day be justice for the victim. Until then, just remember, the time it too me to write this article is one of the #ThingsLongerTHanBrockTurnersRapeSentence.