Being a student at SU, our food sources are very limited. Dining halls are average, and there aren't too many "hot spots" around town. However, there is one place whose name I always seem to hear…

Opened in 1982 by Karyn Kortelig, Pastabilities has become one of Syracuse New York's most popular restaurants. Open for over 35 years, this Italian-inspired pasta shop has seen so much success, it has even been featured on Guy Fieri's Food Network show.
After hearing such great things about Pastabilities, I knew exactly where to bring my father when he came to the city for a visit. Having been to Syracuse many times before, my father had actually eaten at Pastabilities before. He had nothing but wonderful things to say about the restaurant and was excited to go.
We pulled up to, what my father described as the "usually overflowing" entrance, and I went inside to put our names on the list while he parked the car. Upon entering the restaurant I felt a rustic, artisan vibe.
Art is made here.
Luckily, we didn't have to wait for more than five minutes, but my dad recalled times of having to wait upwards of forty minutes. However, he said that people never seemed to mind waiting to eat at Pastabilities. He said that they would sit at the steel-topped bar and enjoy specialty drinks, and order appetizers to pass the time.
People liked being at Pastabilities. It's not just about the food. When we were walking through the restaurant to our seats, there was a live jazz trio playing music. People like being at Pastabilities. It's about the people.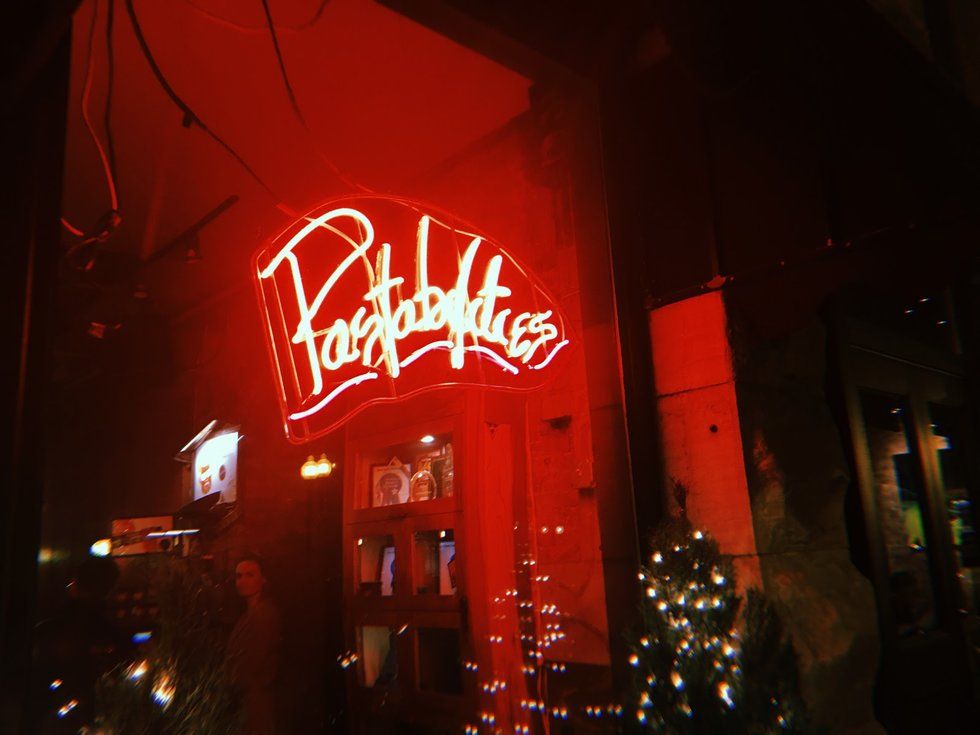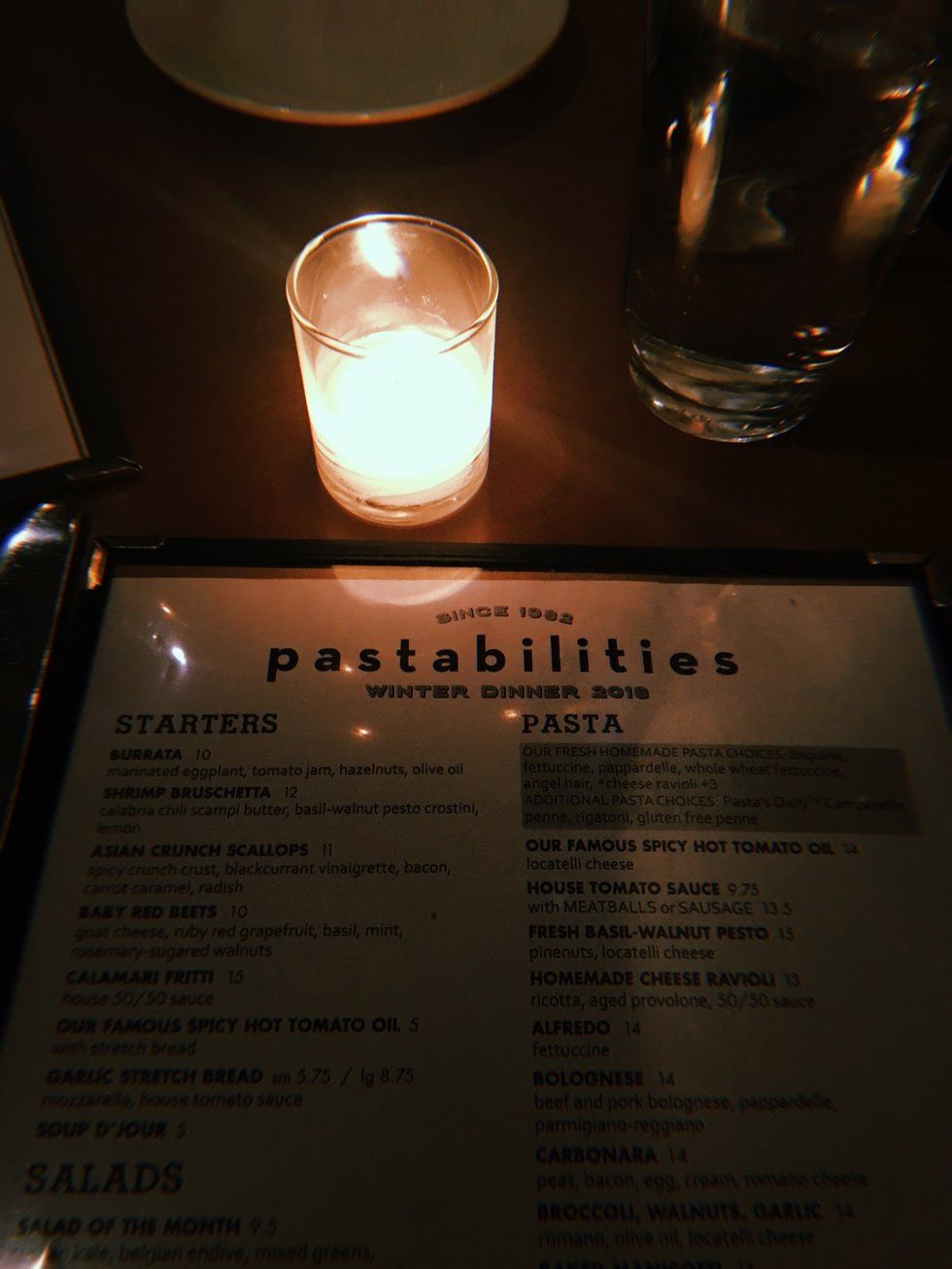 When it came time to order, my dad wouldn't stop talking about this spicy tomato sauce they have. He put in a request for it before our waitress even had the chance to introduce herself. The waitress knew exactly what my crazy father was raving about, and smiled.
She nodded and headed into the kitchen. My dad didn't say anything or stop smiling until the dish came out. The dish was really titled, "Spicy Tomato Oil", and it tasted exactly how it sounds. Paired with a basket of fresh bread from their bakery across the street, the sauce is sweet and spicy.
It's oily but has a saucy base with chunks of fresh tomato and garlic. I'd be lying if I said I wasn't drooling writing about it now. The two of us polished off the bread and the oil, and I was eager to order my entree.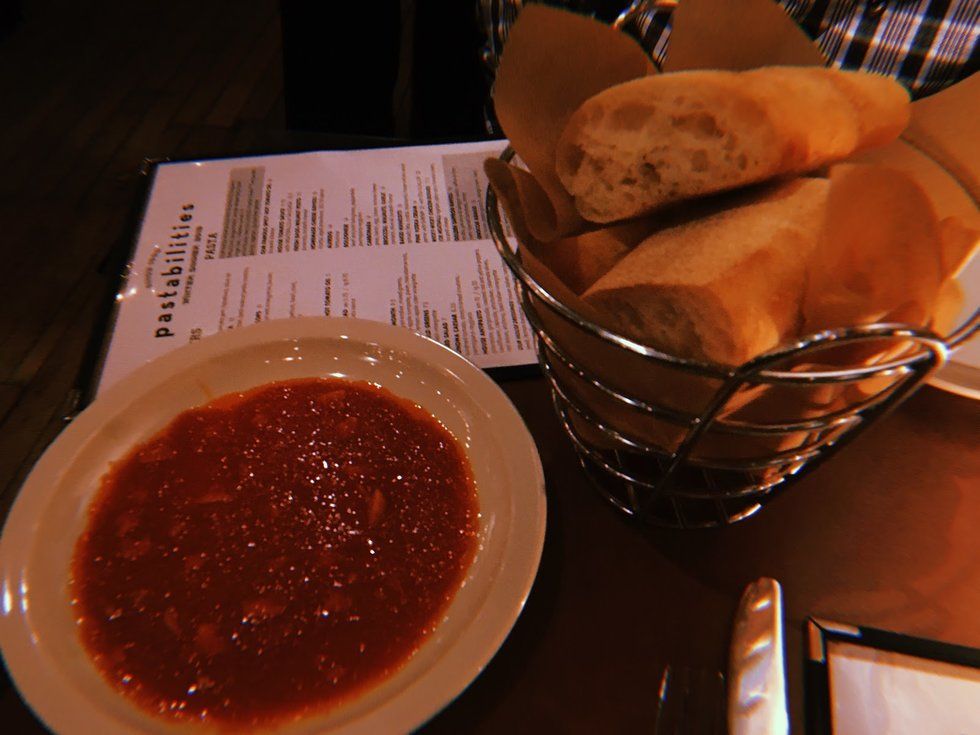 For dinner, I decided to order the "Homemade Cheese Ravioli". Inside this ravioli pasta are ricotta and aged provolone. On top of the ravioli is half of their marinara sauce, and half of their hot tomato oil, a combination in which they call, 50/50 sauce.
The pasta itself was cooked to perfection. After researching Pastabilities, I know that they cook their pasta differently than most Italian restaurants. I loved it. The cheese inside the ravioli was fluffy and delicious. It was creamy and sweet, with a little bit of salt.
The sauce was the perfect ratio of sweet and spicy, but there was way too much of it. My poor ravioli was drowning in 50/50 sauce. However, I was able to play lifeguard and still enjoy them.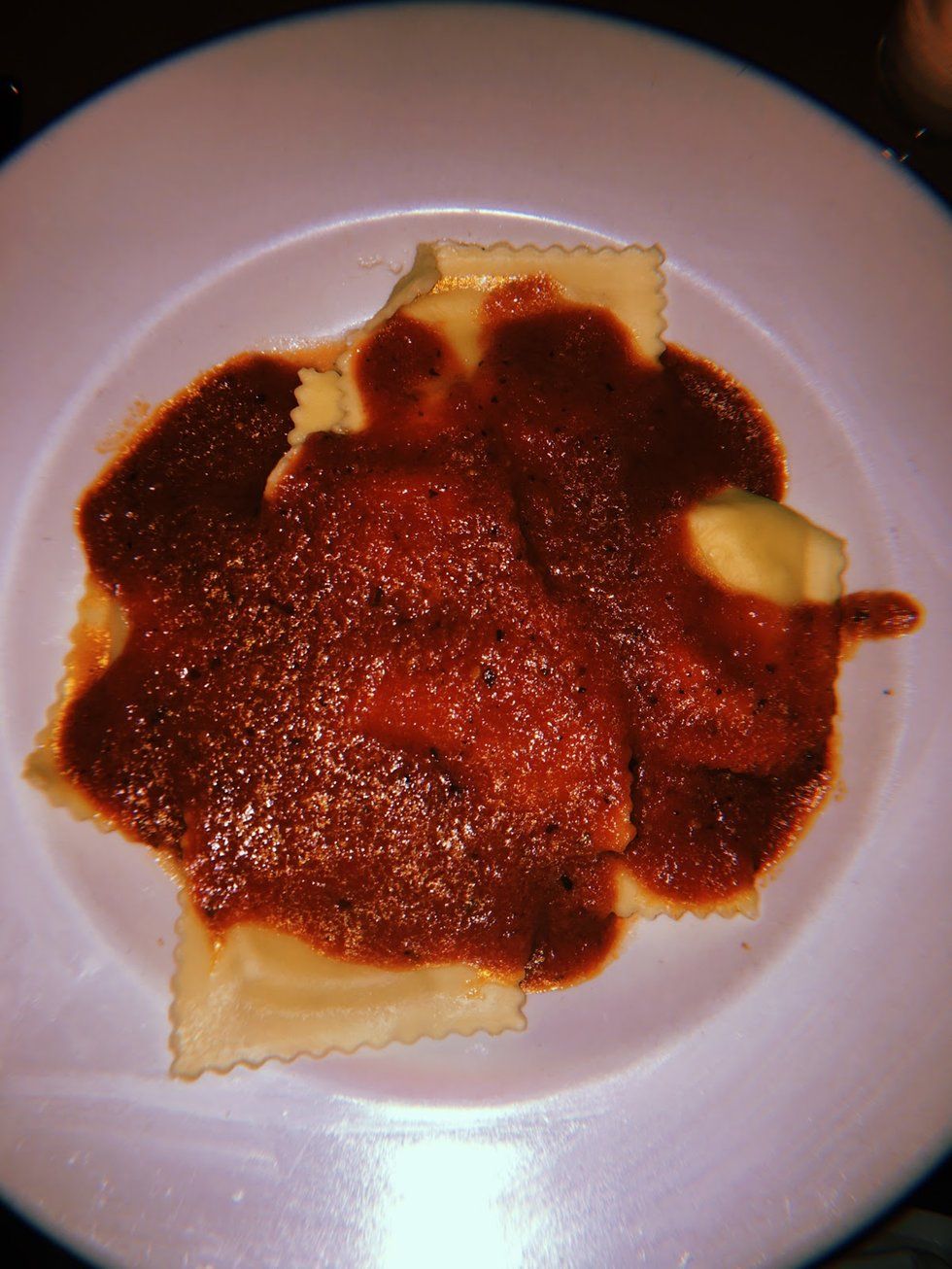 As for my father, he decided to order the "Fresh Basil-Walnut Pesto Pasta." What attracted him to this dish was the Locatelli cheese. My dad is a huge Locatelli guy. He gasped when the waitress put the pasta down in front of him and begged like a puppy while I took the photo to the right.
He loved this meal. No leftovers. There were no leftovers for either of us, but he had had a "big lunch" that day. My dad said everything about his pasta was delicious; The pesto, the noodles, the cheese, they were all brilliant.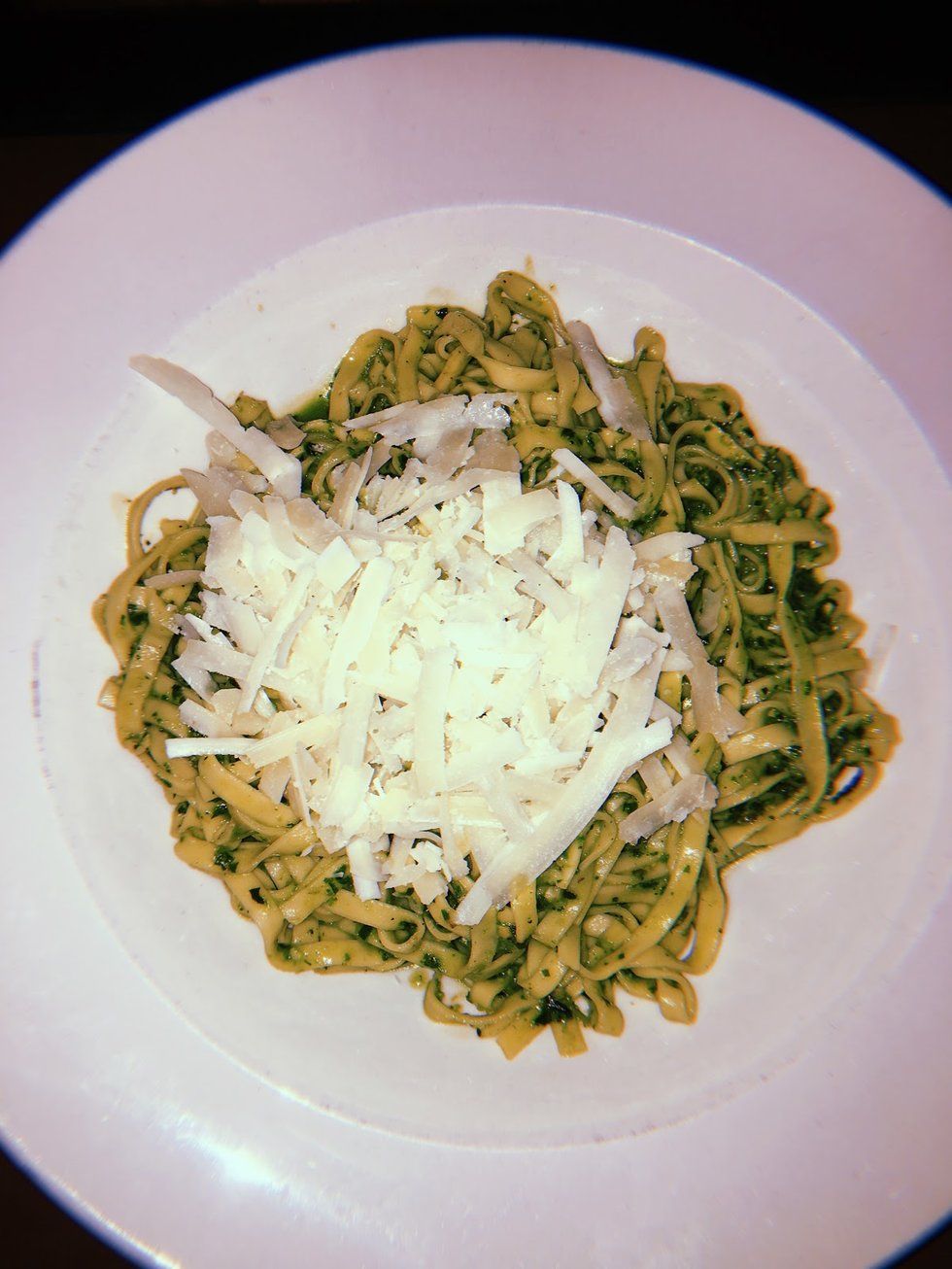 Not only did we find a hotspot, but my father and I found "our place" in Syracuse. If anyone is bored of their usual dining routine, Pastabilities is a reasonably priced, gourmet, nice restaurant to go to with friends, family or maybe even on a date. The food is great and the vibe is cool. Pastabilities, you have my approval!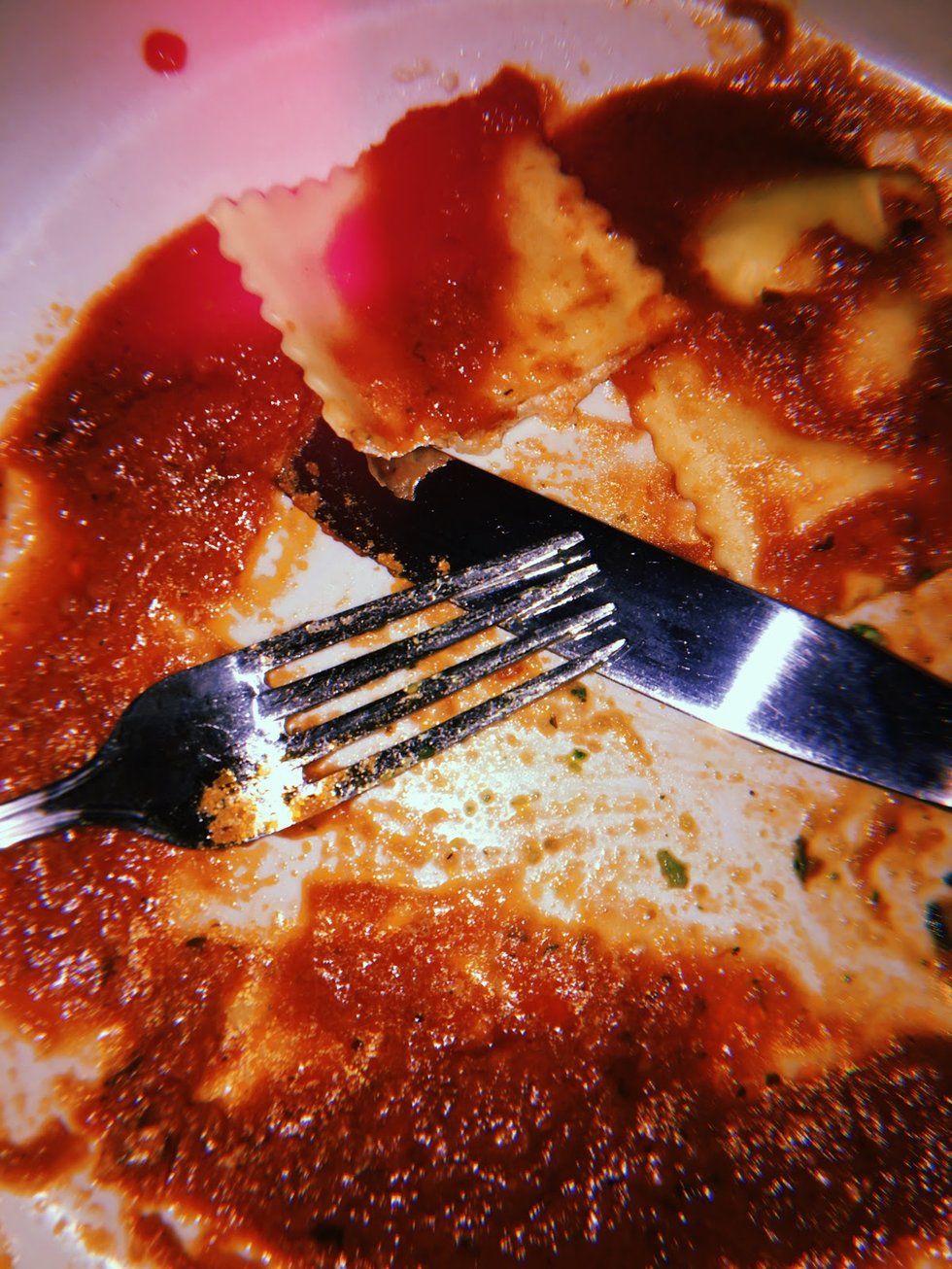 Cover Image Credit: Katie Napell