Many of us feel there are two categories of intellect: Intelligent, and unintelligent. What most of us do not know is the nuance and depth of the human brain. Mental horsepower is more than just a binary. It is a spectrum and isolated and interrelated lobes and systems. Doctor of Education Howard Gardner of Stanford developed a theory in the early '80s describing these separate yet intrinsically linked forms of intelligence. Unsatisfied with the arbitrary nature of a one-score IQ test, Gardner was compelled to explore the different types of processing brains undergo. His thesis suggests that "each of us has a number of relatively independent mental faculties, which can be termed our 'multiple intelligences.'

The Institute for Learning supports Dr. Gardner's theory and implies a shift in how we view, shape, and understand our own minds to be underway
"Dr. Gardner says that our schools and culture focus most of their attention on linguistic and logical-mathematical intelligence. We esteem the highly articulate or logical people of our culture. However, Dr. Gardner says that we should also place equal attention on individuals who show gifts in the other intelligences: the artists, architects, musicians, naturalists, designers, dancers, therapists, entrepreneurs, and others who enrich the world in which we live."
So, what are these categories and which ones do you feel describe your strengths? Which intelligence's do you need to give more attention to? In the theory of multiple intelligence, biological predisposition for success/talent in one category is not needed to develop a stronger sense of intelligence or identity.
Gardner argues that: " there is a wide range of cognitive abilities, but that there are only very weak correlations among them. For example, the theory postulates that a child who learns to multiply easily is not necessarily more intelligent than a child who has more difficulty on this task. The child who takes more time to master multiplication may best learn to multiply through a different approach, may excel in a field outside mathematics, or may be looking at and understanding the multiplication process at a fundamentally deeper level."
There are nine categories of cognition. Mark Vital, a designer, and educator sum them up well in his article on the intelligence system.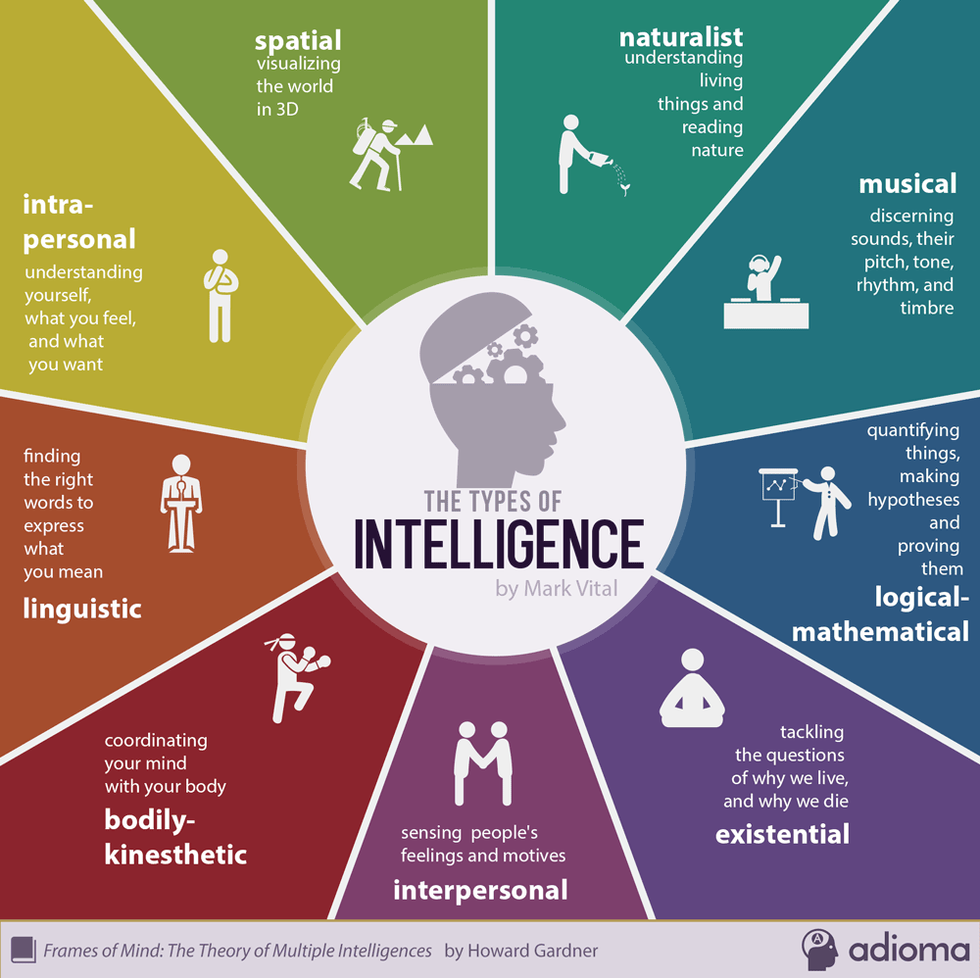 https://blog.adioma.com/9-types-of-intelligence-infographic/
Although the scope of human Intelligence may never be fully understood, we do know humans are multi-faceted and adaptable creatures whose minds are far more vast and capable than we first imagined.