"We haven't done a show like this in a long time," Mikey Carnevale says of the band's first show on their west coast tour with Hunny and King Shelter, all groups of good people and great talent. The bands took to old Henderson, or to the Vegas natives, "Hendertucky," on Wednesday where they played a show equally as casual as it was electric. A sold out show at an old veteran's hall drew only the wildest of Vegas teenage crowds; minimal security, the absence of a stage, the abundance of underage attendees and $12.00 tickets made this kick ass time easily comparable to a killer house show.
The 12-day tour, ending on May 21, takes the bands through Nevada, Idaho, Washington, Canada, Oregon, and back home to California. Jake Goldstein, guitarist of Hunny, shared the band has vintage cameras documenting tour life the whole way through. So if you couldn't make it to a gig: 1) I'm so sorry, you missed a real good time, 2) Hunny is looking at putting out a zine later this year full of tour pictures- so stay on the lookout, punks!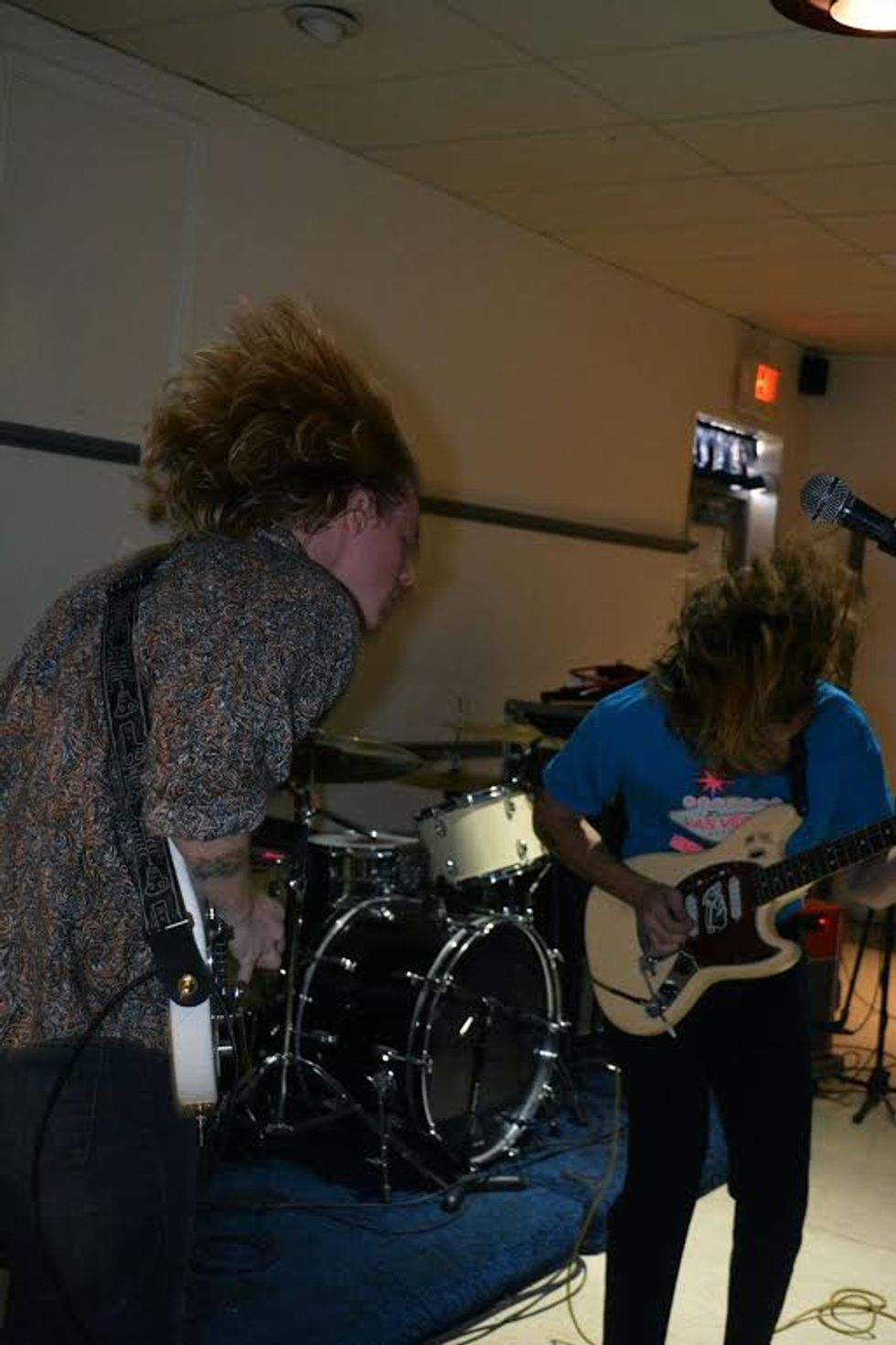 Following our local openers, Los Angeles' King Shelter schooled us desert dwellers on their own self-described sound Salad Rock, a good mix of everything. What I love about them, besides their unique upbeat fusion of what I can really only explain as alternative punk rock, is their meaningfully mindful lyrics. Specifically looking at the satirical approach of the song "Preoccupy" declaring, "I'm a white entitled man, I don't take no for an answer." Sporting some top notch Vegas tees they got the room moving with crowd favorites "Everything Hurts" and "Gholy Host." However, it was their latest brain child, "Gimme Knowledge" that made us all equal parts dance and punch- Salad Moshing or nah?
Also from LA fashionable band, Hunny, increased energy with dynamic originals and a couple stand out covers including Smash Mouth's "All Star," a bit The Frights accidentally planned on their set list as well, later replaced with a Kid Rock classic, "Bawitdaba." I actually owe Hunny thank you as I can now check "mosh to Devo's "Whip It" off my bucket list. It was a lively pit throughout their entire set. Crowd surfers were thrown to the ceiling, including myself, people were stacking on one another's' shoulders, and everyone was dancing! Such a sight, front man Jason Yarger couldn't resist joining in our mix mid-set. Later on, his exultant mood was replaced with, politely said, displeasure at the realization his bad ass, staple piece may I add, vintage floral scarf was snatched directly from the stage area; nothing is sacred these days.
Headlining was The Frights, a band you frequent readers are all familiar with and for good reason! A few months ago I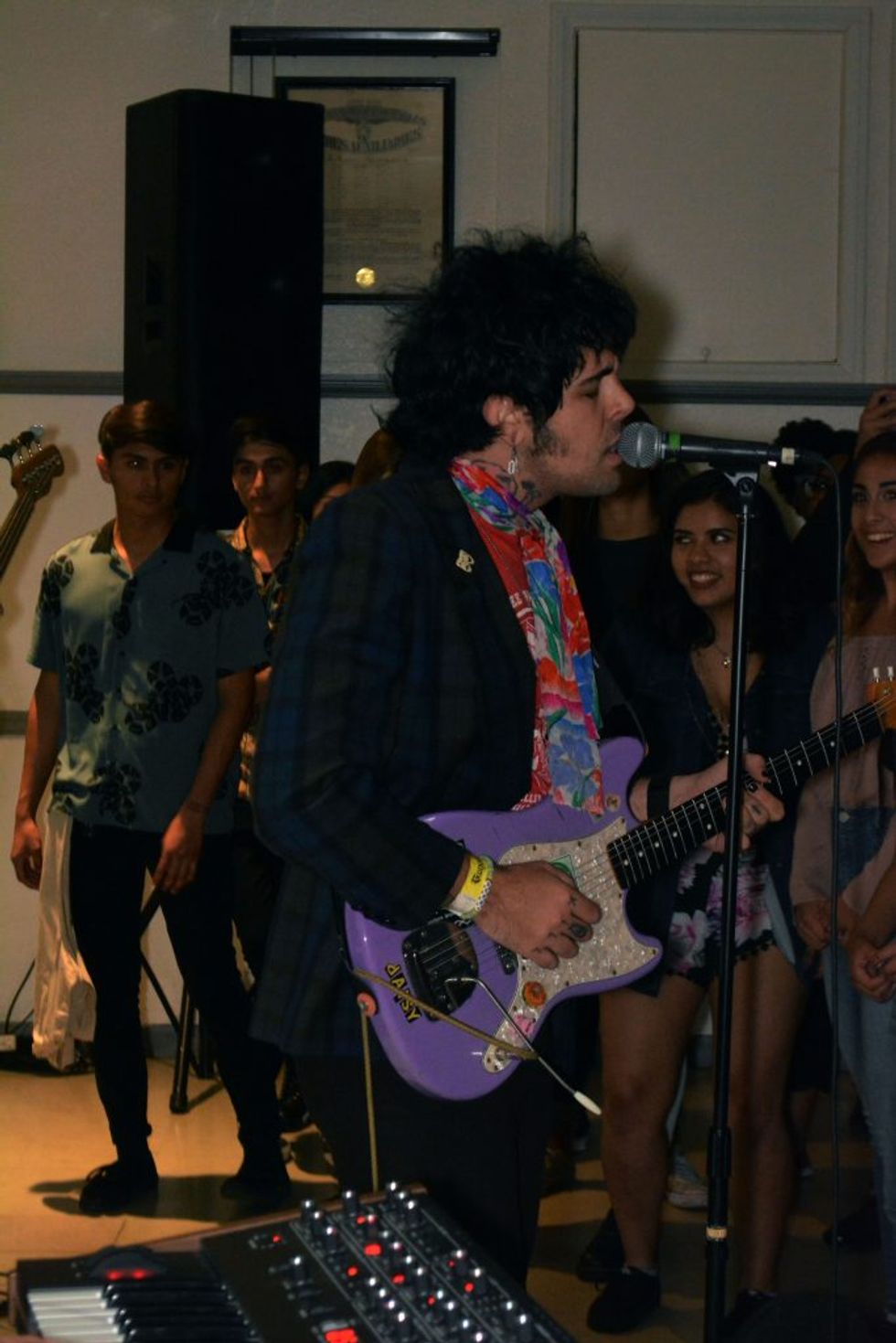 wrote about their second annual mini-fest "You are Going to Hate This" where they sold out and kicked major ass. So their incredible talent this time around was no surprise but seeing them in a more personal setting was beyond sick. Assumedly stressful for them, however, pedalboards and other equipment nearly fell victim on multiple accounts to the wild group of fast-approaching fans; at some point Jason, of Hunny, seriously sacrificed himself to block Mikey's pedalboard. Carnevale later reiterated laughing, with big eyes, "It was like a house show, which is scary." Encoring on a lighter note, the band shared some new acoustic tunes from their upcoming album, which I can confidently contest is something to look forward to.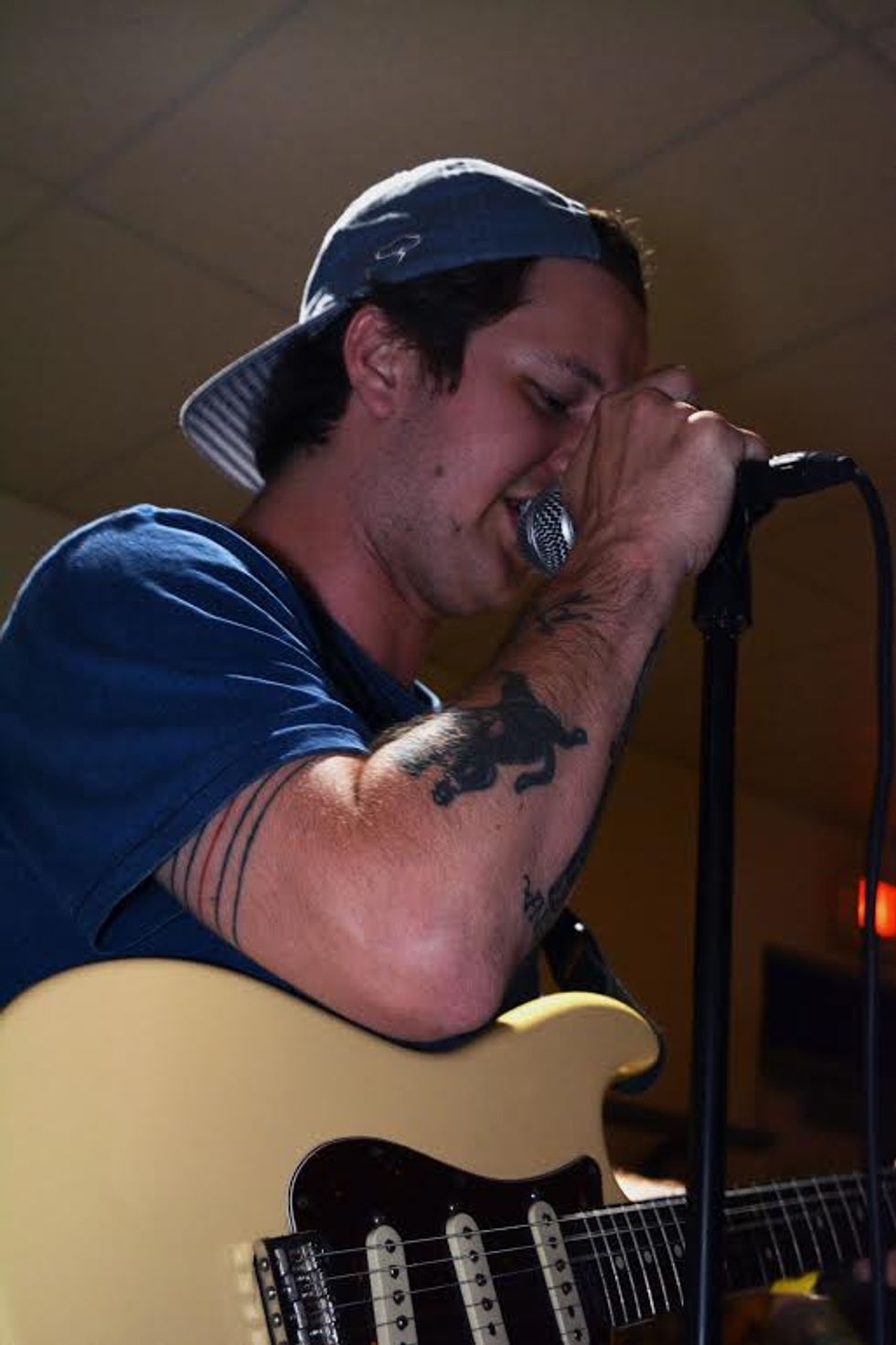 After the show and post seemingly endless autographs and pictures, I got a few words with Mikey Carnevale, one of 5 siblings, dramedy movie lover, Redbull drinker, and Frights' front man, on their rising popularity and life on the road. A conversation only partly interrupted by occasional yelling from a crowd near the front entrance, "What the fuck is goin' on over there dude?" a less than partly concerned Carnevale attested. To which we eventually concluded had to have been none other than a good ol' Hendertucky bum fight, after offering to check it out he decided, rather quickly, "I definitely don't wanna go over there at all."
We sat outside the band's van, a fairly large one at that. I came to find out that's what they tour in which Carnevale says isn't all that bad, "We're good at not annoying each other, I think [plus, it helps] we all have our own row." He opened the door to show several spacious seats, not exactly luxury but not at all poverty. With a family, "super supportive of this band shit," and loyal fans The Frights, a band that began in 2012 are recently rising to significant success; selling out most shows, appearing on Carson Daley, even scoring a spot on this year's Lollapalooza lineup. "I have no idea," he laughs, "someone put in a good word and we got lucky- basis of our career." Carnevale speaks on how they scored a place in the Chicago festival. He chuckles, "Just another thing to make the kids from high school be like 'woah Mikey is playin Lollapalooza? I guess he was kinda cool…'" He went on with insight about how the band's exciting appearance on national television actually required minimal effort. Much like Lollapalooza, they got lucky. Cameramen from Carson Daley filmed the band's sold-out Valentine's Day Show and that's what was aired- no need to go to a studio or anything. So with the band's rising success and growing popularity, can fans still look forward to a You are Going to Hate This Fest 3? Carnevale believes, "more or less - yes." He explained by then the "You Are Going to Hate This" album cycle will be over so he's in the market for some new names- maybe, "That kind of stuff, doesn't really matter. Does it? I don't know."
I throw around the term "authentically awesome" a lot, it's usually something only anywhere but here can provide but this show genuinely proved otherwise as it was ridiculously rad, super sick, crazy killer, and pretty punk rock all in one. Viva Las Vegas! Viva Los Frights!