Comeback season for new albums is upon us, and the first one on my list came out this past Monday. There are a lot of K-Pop groups I listen to that are releasing new music this month, and The Boyz have kicked it off with a promising start.
Their latest album, "REVEAL," is the first full album they've released. Before this album came out, their discography only contained mini albums, EPs, and singles.
The Boyz are an eleven member group formed under Cre.ker Entertainment, but It's important to mention that they previously had twelve members. Hwall left the group this past October due to health problems and an ankle injury, so this is The Boyz first comeback without him.
The group debuted in December of 2017, so I think it's about time that they are able to showcase their talent through a full-length album.
In the past, The Boyz comebacks have taken up playful and colorful concepts. The last mini album they released called "Tattoo," which was their debut album in Japan, did take on a darker concept, but I believe the "REVEAL" album as a whole fits a more dramatic theme.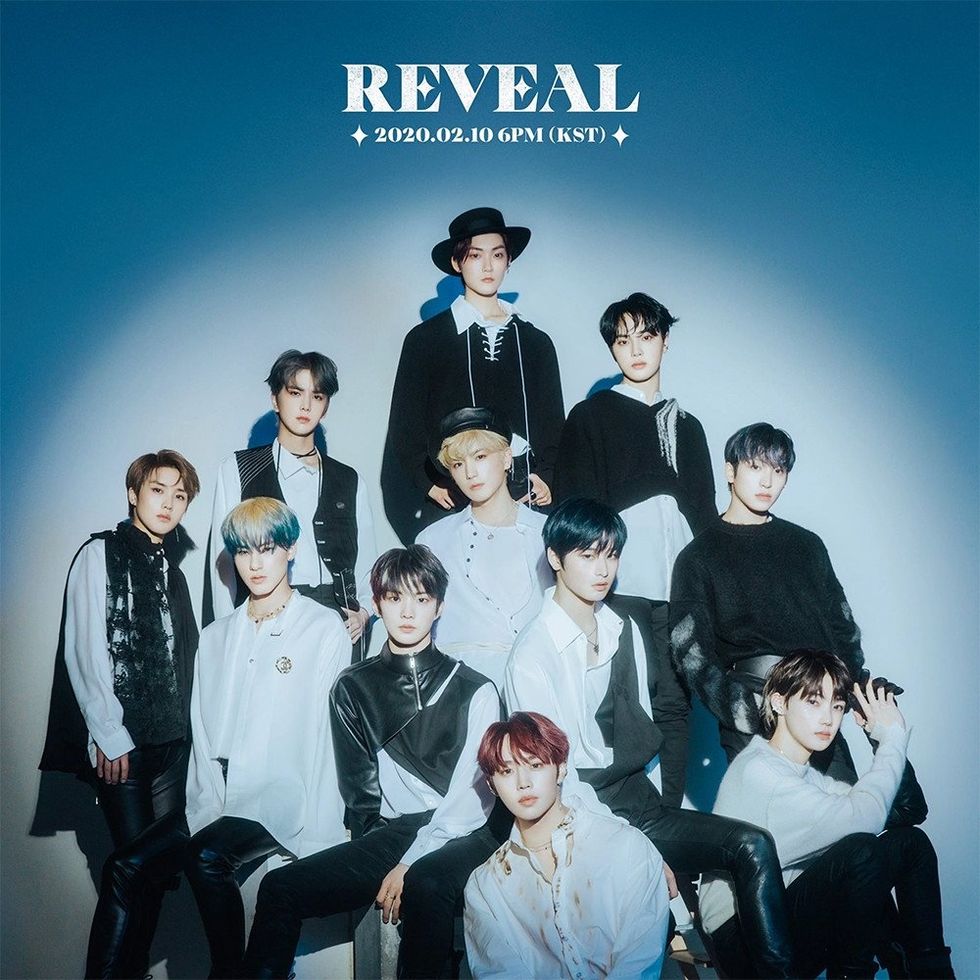 https://www.allkpop.com/article/2020/02/the-boyz-to-release-mv-to-title-song-reveal-18-hours-ahead-of-song-release
There are nine songs on this album, and they all fit different music/sound genres. From rap to pop to ballads, this album has a song to satisfy everyone's taste.

I absolutely love this album. I might be a little biased since this is my first comeback with The Boyz, but I honestly think this is an album that I will continue to listen to long after its release and will be on my "Best of 2020" playlist.
Before I get into my thoughts and review of this album, I want to preface by saying that I don't know too much about The Boyz because I've only recently gotten into them; however, I have still have done some research on who sings the parts I'll be mentioning below.
The title track of this album, 'REVEAL,' is incredibly catchy. After I only watched the music video once, the song was stuck in my head; I found myself singing the chorus immediately after listening to it.
After looking up the lyrics for this song, it is interesting to see how much sky imagery is used without mentioning it in the chorus. They sing about the sun, a sunset, and the moonlight just to name a few. The lyrics, "That love of yours is too much to look at / For it to shine more brilliantly" is one example of the sun imagery incorporated in this song.
The concept for this title track is wolves, which fits right into The Boyz lyrics regarding the sun and moon imagery.
If you enjoy listening to songs that are more rap oriented or have a harder sound, you will like 'Ego', 'Shake You Down', and 'Scar'. My personal favorite out of these three is 'Shake You Down'.
Another one of my favorite songs from this album is 'Salty'. I have to admit, when I first listened to this song I wasn't sure if I liked it. This chorus has a sound I've never heard before, so it took me a few listens to grow to love the song.
The pre-chorus of 'Salty' (starting at 1:19 to 1:32) where Sunwoo and Eric rap reminds me of the flow of a PRETTYMUCH song. Both the beat during this part and throughout the entire song work well with the vocals of each member.
Moving onto track six, the sound of 'Break Your Rules' (or 'Fantasy Confession' directly translated from Korean) reminds me of summer and being in a dreamlike state. Fitting the sound perfectly, the lyrics describe being in love with somebody and believing you are dreaming when they accept your confession.
As much as I love all the songs on this album, 'Wings' is by far my favorite track. This song is so calming and enchanting; it sounds like Heaven. After countless listens, I still can't get over the background vocals for this song because they are the most beautiful thing I've heard. I believe the various adlibs/background vocals are sung by New, Jacob, Kevin, and Sangyeon.
The lyrics for this song make you feel like you're falling in love, so I highly recommend listening to the song while reading the lyrics because it will only make you love the song more.
If you couldn't tell, "REVEAL" by The Boyz is one of my favorite albums so far this year, and it's definitely worth a listen.