Target, the place where you can buy tampons, laundry detergent, shoes and cereal all in one place. I don't know what it is about Target that blows every other commercial, general merchandise store out of the water but it is a truly magical place. Maybe it's the spacious carts, the giant red logo, or the fact that you can not leave without buying half of the store. Here are ten stages that happen when you plan to go to target.
1. The List

Okay, I need milk, eggs, and laundry detergent. That is it. It will be ten minutes tops. I will not buy anything else. I will stick to the list this time; milk, eggs, laundry detergent.
2. The Dollar Section

One of the best things Target has t offer. With your frappuccino in hand, you scour the small section in front of the store. Yes, I will still stick to the list but honestly what will a few rainbow post its and candles going to hurt? Besides, you can not beat these prices.
3. The Fashion section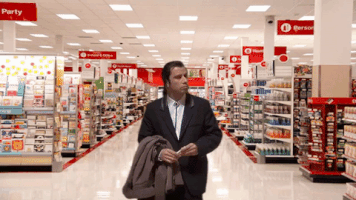 30% off? Okay! I don't have a dress like this. Since it's 30% off I guess I could buy one in blue as well. Is the jewelry on sale as well? I guess I can take a look.
4. What did I come here for again?

At this point, you've got a cart and it's already half full. None of what is in there is actually on your list. But it's fine. Everything is fine.
5. The Electronic section

Play with all the new technology and look at the new iPhone as you discretely hide your outdated iPhone in your pocket. The Target employee is being very helpful, little does he know that you're too poor to buy anything in this section.
6. Leaving Target

With 13 bags later… So much for milk, eggs, and laundry detergent only. Shit... Forgot the laundry detergent.