Now widely trending for it's massive popularity, real-world danger, and in-game fun, Pokémon Go came highly recommended to me a couple of friends on a car ride back to my house. Now, I know what Pokémon is itself... A card game turned tv show (tv show turned card game?) with a line of video games as well that was all the rage when I was in elementary and middle school. I also know that Pikachu is a cute little yellow character that keeps harnessed electricity or some sort of cool power in his rosy red cheeks. There is also Ash Ketchum and something called Squirtle. Pokémon Go was explained to me as real-life Pokémon catching using a smartphone. Players try to find PokéSpots, real-world locations where cartoon Pokémon hang out. You can see all the characters through your phone's camera (this is called "augmented reality"), as if they were in the real world, then you lure them and eventually throw a Poké Ball at them in an attempt to catch them. After reading a couple of news articles about muggings and deaths being attributed to the game, I decided to play myself.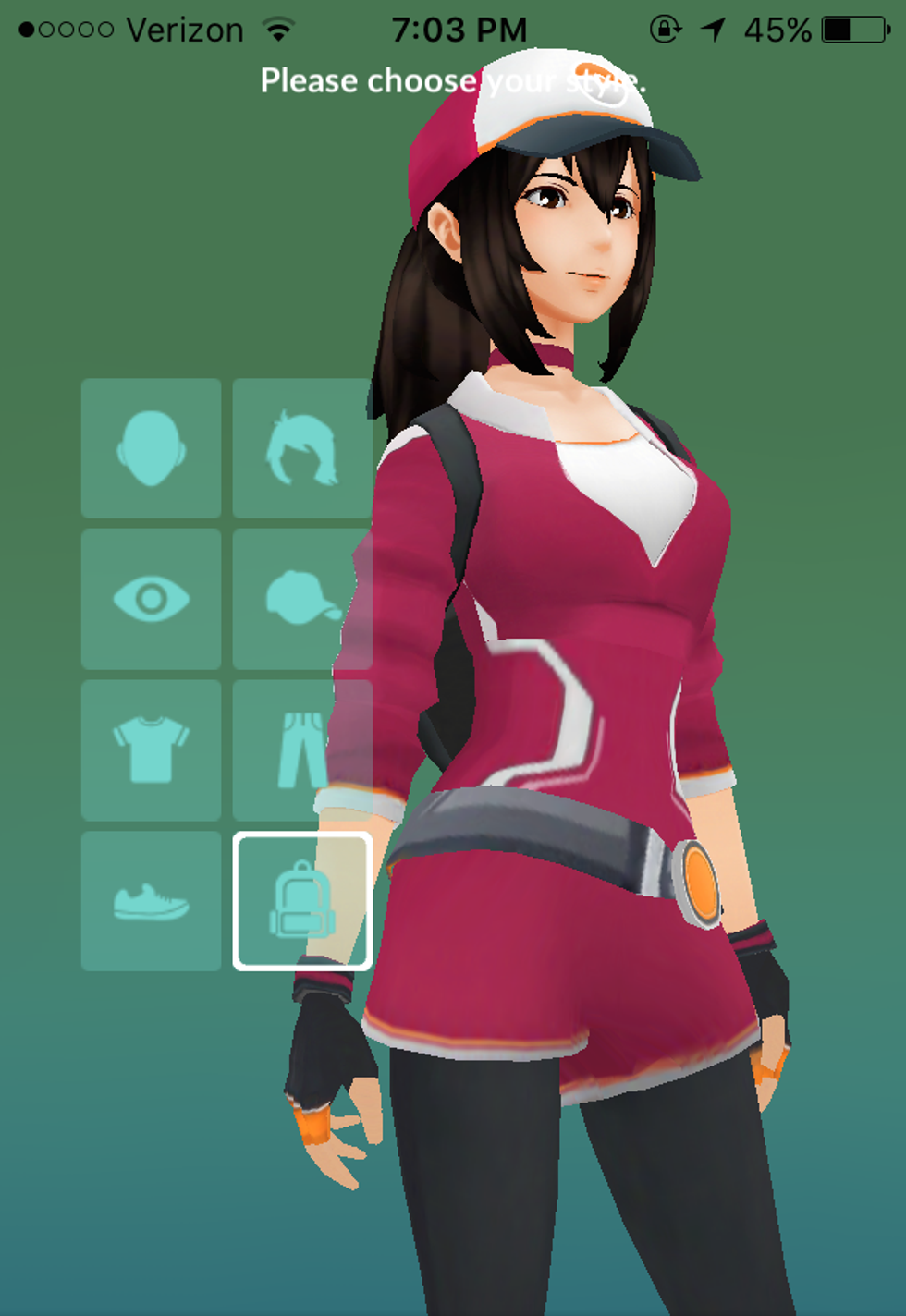 Upon downloading the app, I was very excited to play this game not to be a part of society, but because the game just looked fun. The screenshots and memes I had seen looked like the game was child-friendly and easy to learn, even for someone as unknowing as myself. My first catch was Squirtle. He was just chilling there on my kitchen table and after about 5 Poké Balls wasted, I caught him. I was so proud.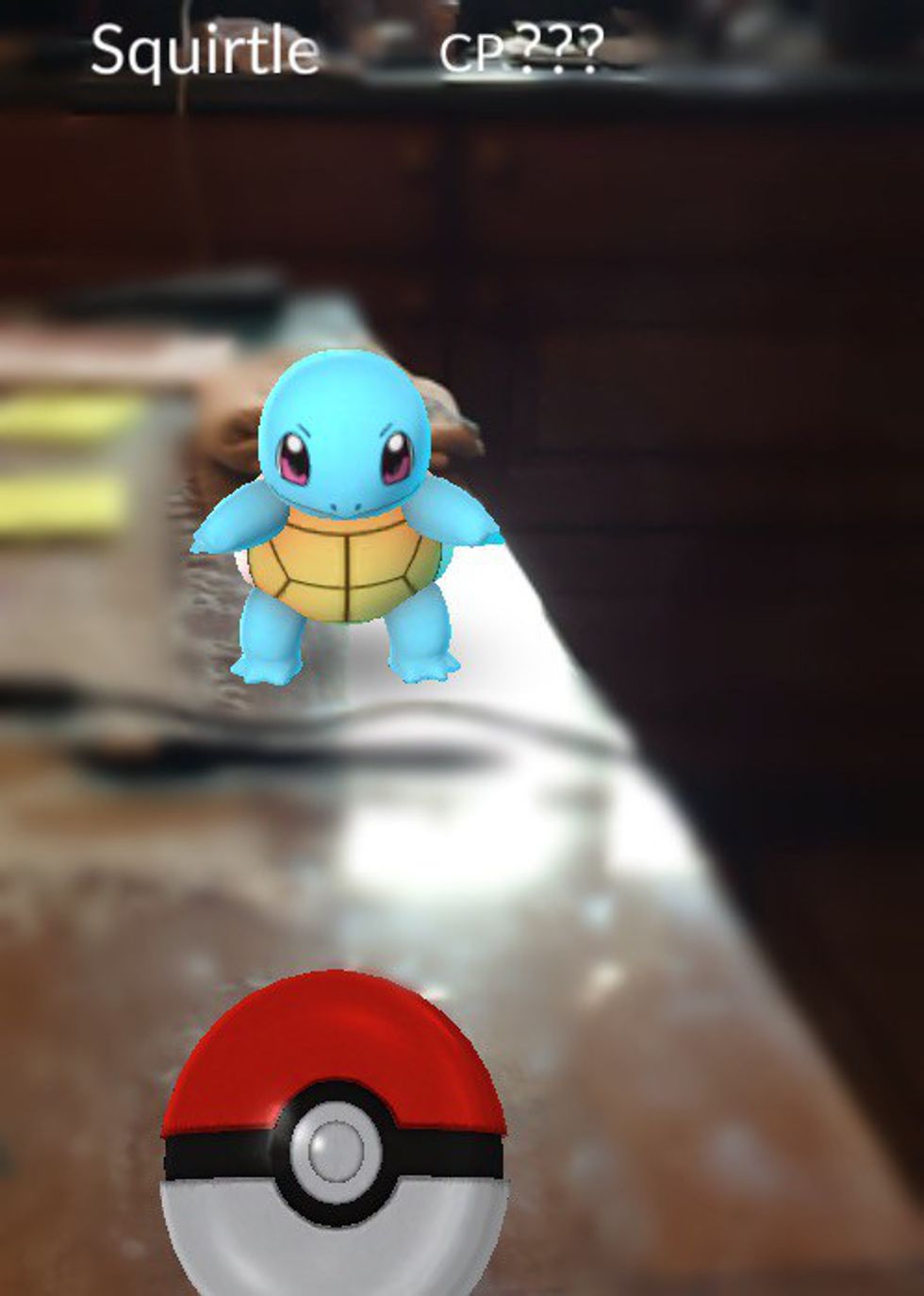 I then proceeded to just tap all over my screen to try and learn more about the game. I learned exactly was "PokéStops" really were, and I also learned that when my friends went to a "Gym," they really meant a battlefield for their teams. From there, I strolled around my backyard for a good five minutes trying to find the 4 more Pokémon that were hiding in my neighborhood. I came back to my kitchen disappointed, but vowed to my mother that I would wake up early with her the next day and join her on her walk in search Pokemon both by land and by sea!
The morning of Day 2 I woke up to my 9:00 alarm as a woman on a mission. Lucky for me, I live in a rural neighborhood with not too many neighbors to snatch my valued Pokemon from me. I joined my mom on her morning walk through the neighborhood, but with not a lot of luck. Of the six Pokemon that were supposed to be hanging around, I was only able to catch three... I assumed the other little jerks were hiding behind houses. Later that day I caught this dude at the grocery store: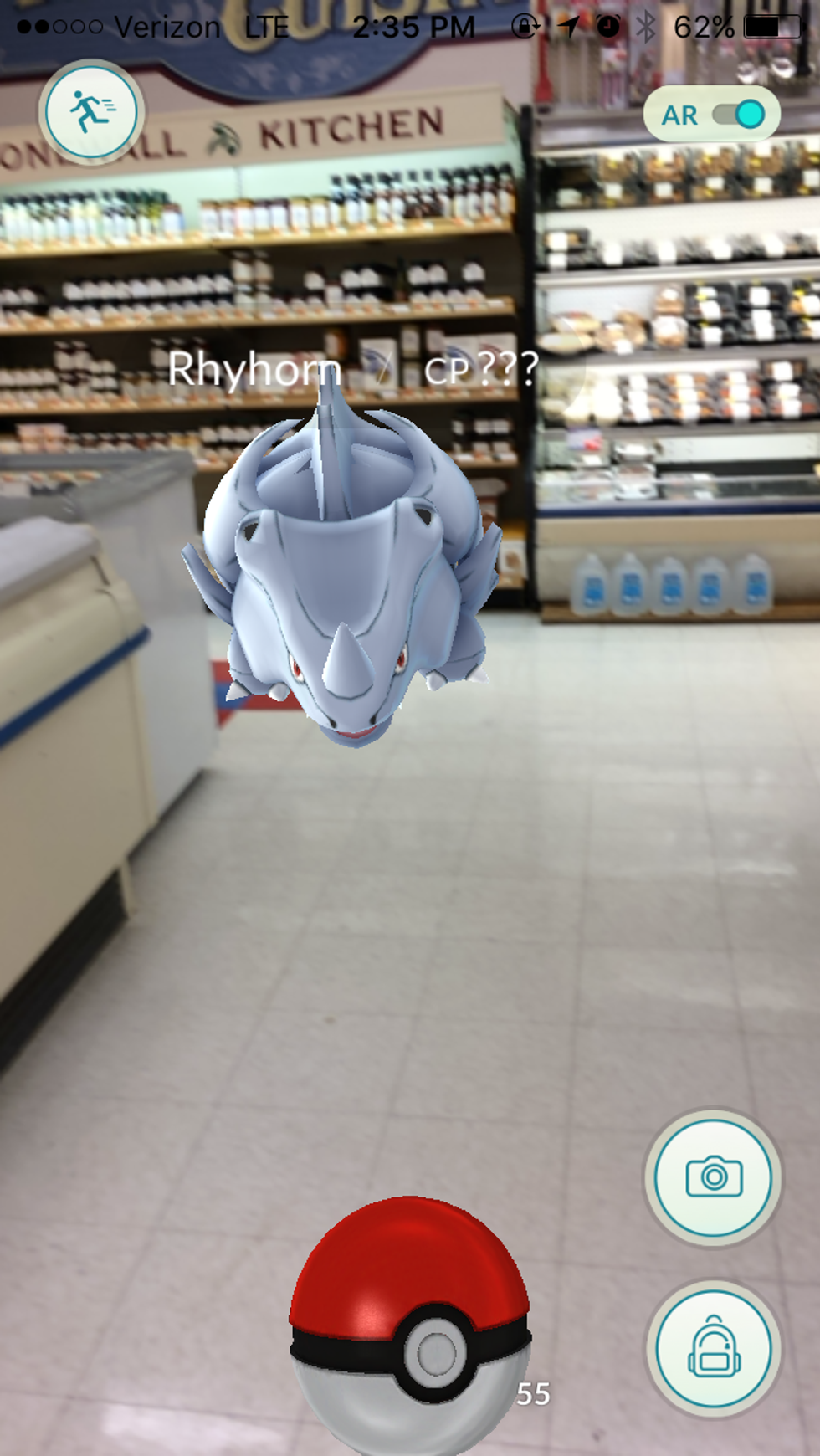 I was appalled to find out that our local grocery store was not in fact a PokéStop, even though the firehouse, post office, movie theatre with only two screens, and health food store that I've never seen anyone enter in my entire life, all were. I was honestly shocked at all the Gyms and PokéStops that my one-horse town contained. There was even a WWII Memorial somewhere in town that I had never even heard of! So anyway, I tried to press the "shop" button when I seemed close enough to the health food store that shared the building with the grocery store, but I needed coins for Poké Balls. What are coins? How do I get them? Why can't I get my Poké Balls for free? I just assumed I would figure that all out the next time I came across a PokéStop.
On Day 3, I planned to hang out again with my friend who introduced me to the game. I had not told him of my adventures and documentation because I was afraid he would try to teach me too much and spoil the naiveté of my adventure. We didn't end up playing, but that evening when my mom and I went to pick up our Chinese food for dinner, there were eight Pokémon on Main Street!! I failed to find one or get close enough to a Pokéstop... As I got in the car, two young men walked by, clearly out to catch the Pokémon I knew I had lost.
Day 4 was my last day of my experiment, and my most successful. After learning the Pokémon hid in the rustling leaves that would occasionally appear on my map, I was able to catch 16! (My sincerest apologies go to the approximately 20 or so Poké Balls that went to waste on account of my very poor aim flicking). My favorite was Jigglypuff, a cute little marshmallow cat.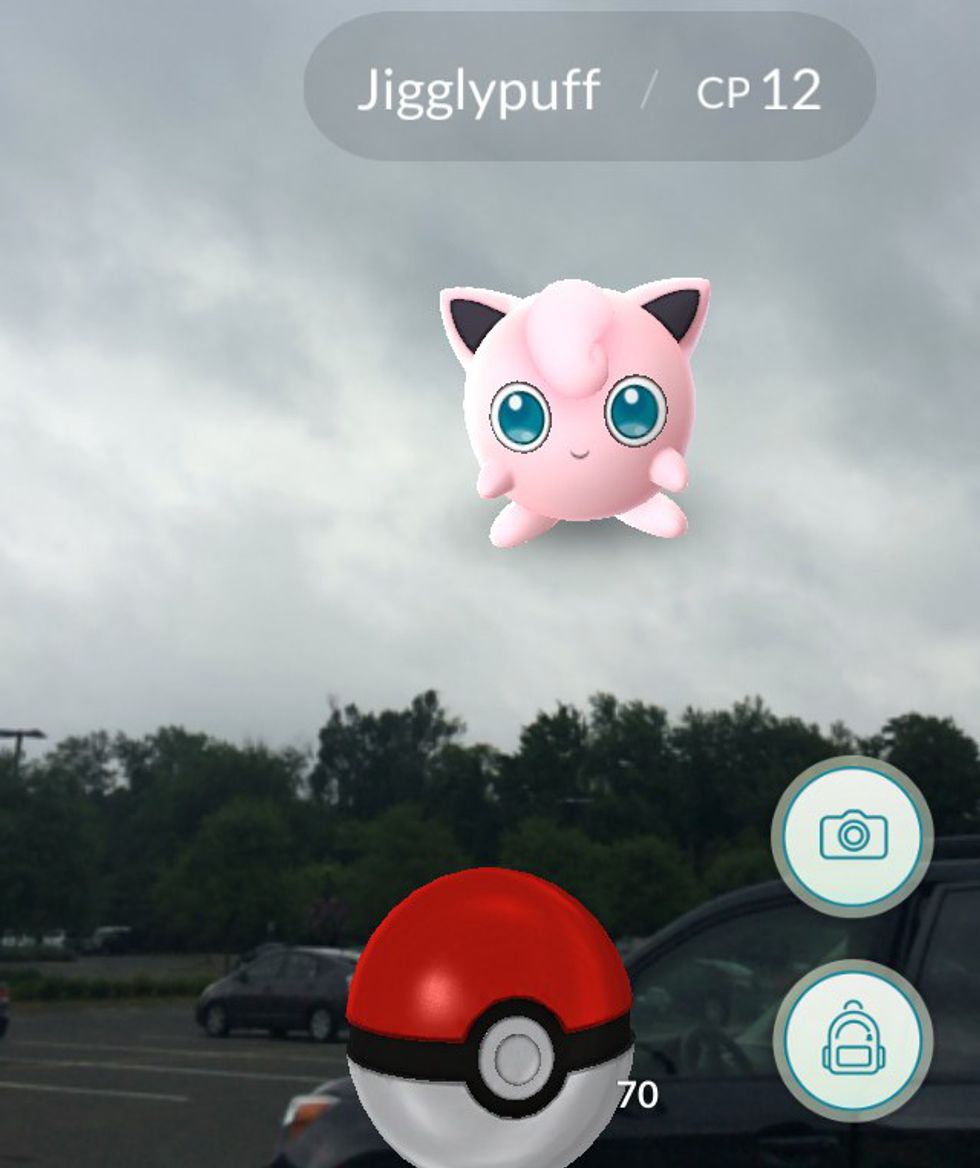 I then tried my hand at a "Power Up," and made my Clefairy (please don't ask me to pronounce that word) more powerful using fairy dust and candy (or something along those lines). I was expecting a metamorphosis of some kind since I was supposed to be making him (her?) more powerful, but it just looks the same. Needless to say, Powering Up is still something that I need to learn.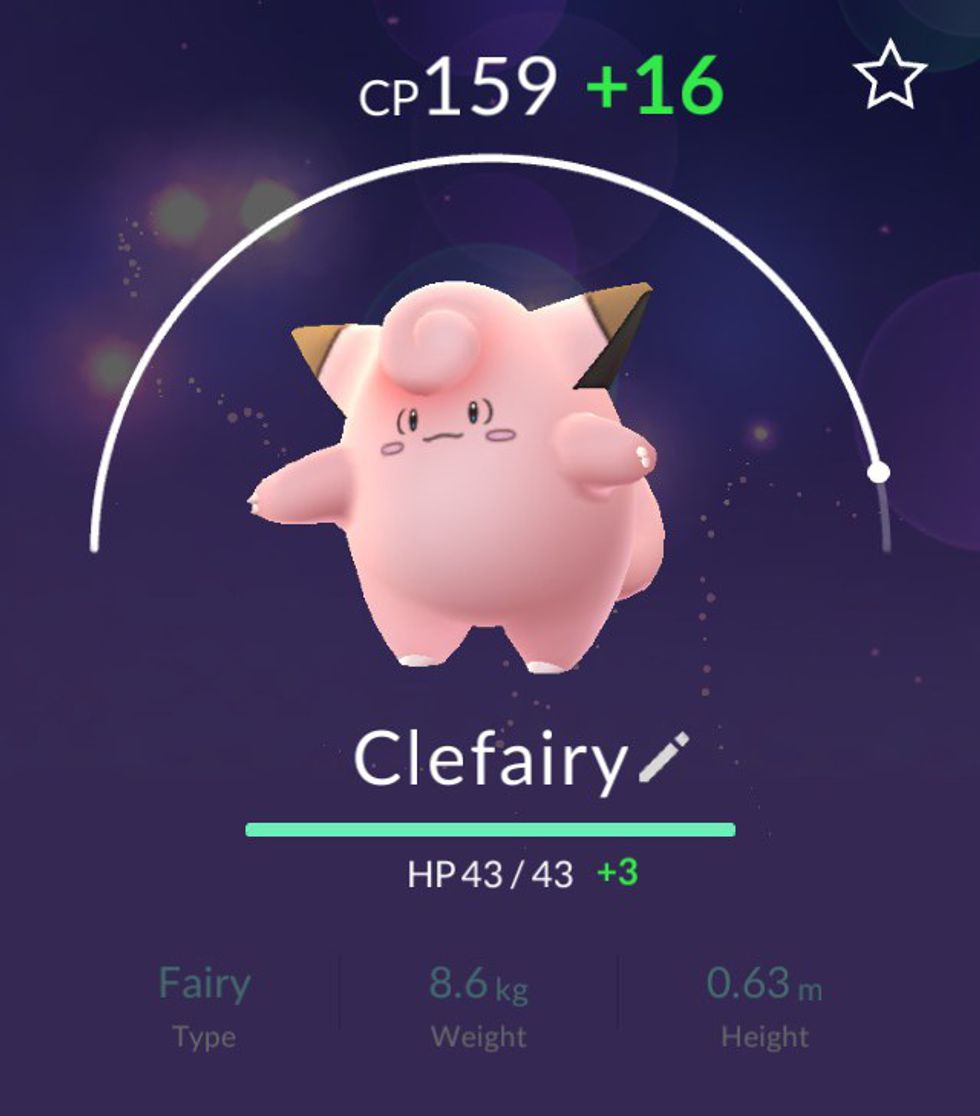 After this failure, I decided to try and see what exactly eggs were and how they worked. I soon learned that eggs held Pokémon embryos and that I needed to walk 5.0 kilometers (gotta love that Metric System) in order for the incubator to fully work, and that I was only able to incubate one egg at a time. Lacking the time to see my incubation through, I decided to return to it eventually. On the way home, I also found out first-hand that PokéStops were a godsend for the Pokémon Go community, as they offered free Poké Balls, eggs, and other useful supplies for battling. I made sure to tap on as many as I could, because who doesn't like free stuff?
All-in-all, I know I didn't write this to be a review, but I would give Pokémon Go 5 stars. I can see how it can be very fun (and in some cases, pretty addictive) for players of all ages. PokéStops have taught me about places that I didn't know existed around me, and their blurbs on these places gave simple yet helpful insight on what they were. I would definitely recommend it to those who battled Pokémon throughout their childhoods, as this game has really revived those golden days. As those like me, although I still know very little about the world of Pokémon, I expect to learn more as I continue to play (and hopefully battle now that I made it to Level 5!). It's a great way to pass the time for those who just want something fun to do that also (low key) gets them active, learning about their surroundings, and even maybe meeting some new friends along the way!
[rebelmouse-proxy-image https://media.rbl.ms/image?u=%2Ffiles%2F2016%2F07%2F14%2F636041170023337226-2073705036_giphy.gif&ho=https%3A%2F%2Faz616578.vo.msecnd.net&s=667&h=77633d6684547440d5f62c8607cd8fdb82ca4017d75243af53ac25478f1326fc&size=980x&c=324066656 crop_info="%7B%22image%22%3A%20%22https%3A//media.rbl.ms/image%3Fu%3D%252Ffiles%252F2016%252F07%252F14%252F636041170023337226-2073705036_giphy.gif%26ho%3Dhttps%253A%252F%252Faz616578.vo.msecnd.net%26s%3D667%26h%3D77633d6684547440d5f62c8607cd8fdb82ca4017d75243af53ac25478f1326fc%26size%3D980x%26c%3D324066656%22%7D" expand=1]