With the holidays right around the corner, It's the prime time to dig into your crafty side and put together some DIY gifts anyone would love to receive! A gift made with love and thought is far more meaningful than anything else. Here is a list of 10 simple DIY holiday gifts you can customize for your loved ones this season!
1) Candles: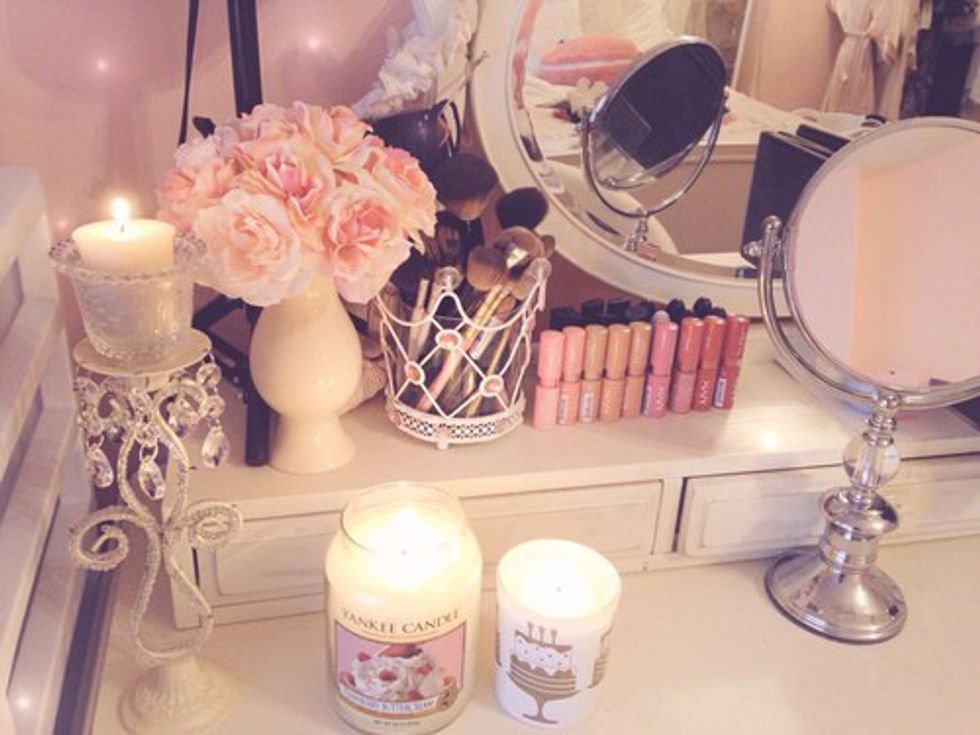 Who doesn't loved lighting a fragrant candle!?
For this gift, all you'll need is some wax, wicks, fragrances, a few mason jars, and dye if you'd like! You simply melt the wax, add scents and dye, and pour into a jar of your choosing with the wick secured in place. It only takes about an hour for the wax to harden, and you can make plenty of candles in each batch for a small price!
2) Peppermint hot chocolate in a jar: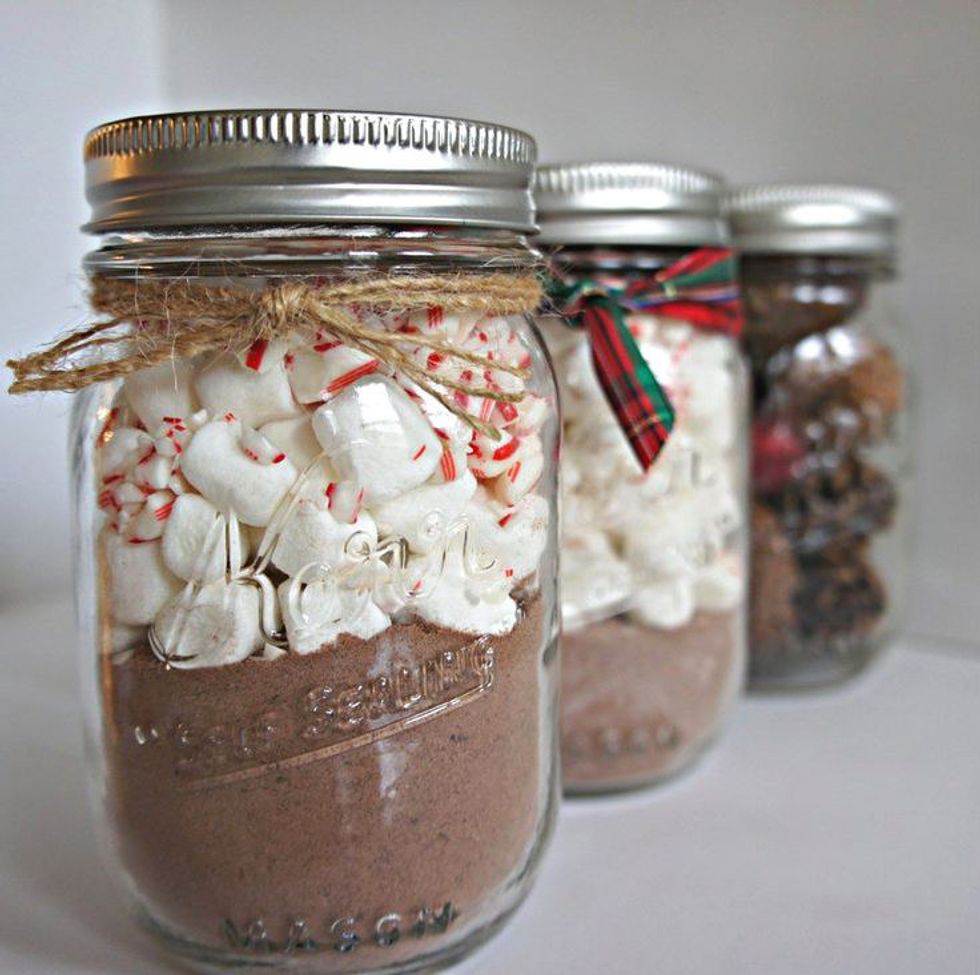 Hot chocolate is always in season, but peppermint hot chocolate is especially adored in these cold winter months!
For this gift, you'll need a jar, hot chocolate mix, marshmallows, some crushed peppermints, and a cute bow or ribbon! This one is super easy- all you need to do is put the mix in the jar, then a layer of marshmallows, topped off with the crushed peppermints! It's that easy! All they have to do is add hot water or milk. With a bow on the top or a ribbon tied around, you'll have a thoughtful looking treat anyone would love to indulge in this season!
3) Custom coffee mug:[rebelmouse-proxy-image https://media.rbl.ms/image?u=%2Ffiles%2F2016%2F12%2F07%2F6361666761125305161562390674_picasion.com_5e4a9db8826e72b00f94138c7606d11a.gif&ho=https%3A%2F%2Faz616578.vo.msecnd.net&s=524&h=0f5045d3e35ca0dbbad06e5d4bfd1a6e480c09ce4568470ffb92dd7a52c57f77&size=980x&c=1388129135 crop_info="%7B%22image%22%3A%20%22https%3A//media.rbl.ms/image%3Fu%3D%252Ffiles%252F2016%252F12%252F07%252F6361666761125305161562390674_picasion.com_5e4a9db8826e72b00f94138c7606d11a.gif%26ho%3Dhttps%253A%252F%252Faz616578.vo.msecnd.net%26s%3D524%26h%3D0f5045d3e35ca0dbbad06e5d4bfd1a6e480c09ce4568470ffb92dd7a52c57f77%26size%3D980x%26c%3D1388129135%22%7D" expand=1]For the coffee lover in your life!
All you need for this DIY holiday gift is a coffee mug, a sharpie, and your oven! This gift is great because you can customize it for anyone! Feel free to write an inspiring quote, holiday song lyric, monogram, or a festive drawing- whatever you'd like! Then put the mug in the oven and bake it for a half hour at 350 degrees to seal in your masterpiece! A gift so one-of-a-kind is sure to bring a smile to anyones face!
4) Gingerbread lip scrub: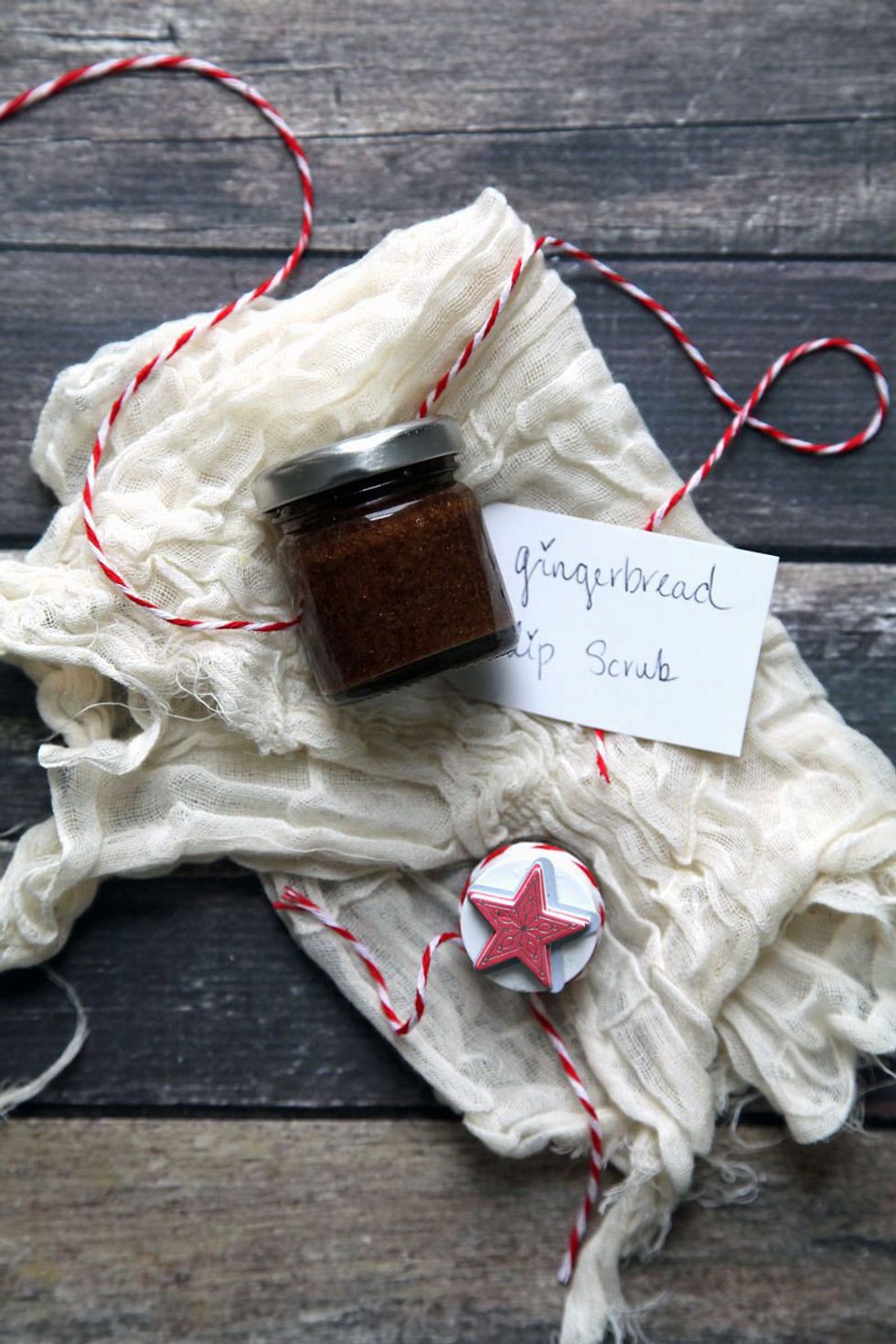 The holiday season is a great time for all things gingerbread… and this gift will keep your lips hydrated throughout these cold winter months!
Here is what you need: ground nutmeg, cinnamon, brown sugar, coconut oil, molasses, ginger, and a cute little jar! Mix up all these ingredients in your little jar and seal it up! Simple! Any lady (or gentleman) can use a little daily lip exfoliation, and this unique gift is sure to impress!
5) Bath bombs:[rebelmouse-proxy-image https://media.rbl.ms/image?u=%2Ffiles%2F2016%2F12%2F07%2F6361666780871185021834452581_tumblr_o3sg8wMp261s93j1uo1_400.gif&ho=https%3A%2F%2Faz616578.vo.msecnd.net&s=286&h=5c1d420354fd771955eea38d21aa22c81495414b855598f723392fd9af33efcd&size=980x&c=753337522 crop_info="%7B%22image%22%3A%20%22https%3A//media.rbl.ms/image%3Fu%3D%252Ffiles%252F2016%252F12%252F07%252F6361666780871185021834452581_tumblr_o3sg8wMp261s93j1uo1_400.gif%26ho%3Dhttps%253A%252F%252Faz616578.vo.msecnd.net%26s%3D286%26h%3D5c1d420354fd771955eea38d21aa22c81495414b855598f723392fd9af33efcd%26size%3D980x%26c%3D753337522%22%7D" expand=1]Everyone loves a little me time, but not everyone can afford LUSH prices!
For this DIY gift, you'll need baking soda, water, fragrance oils, citric acid, Epsom salts, and food coloring (red and green are great for the holidays!). The first step is to mix up all the dry ingredients in a bowl, then in a separate container mix up the wet ingredients. Then slowly mix in the wet with the dry, and mold into a ball shape! This is a simple, personal gift that shows you put time, effort, and thought into someone this holiday season!
6) Scented bar soap: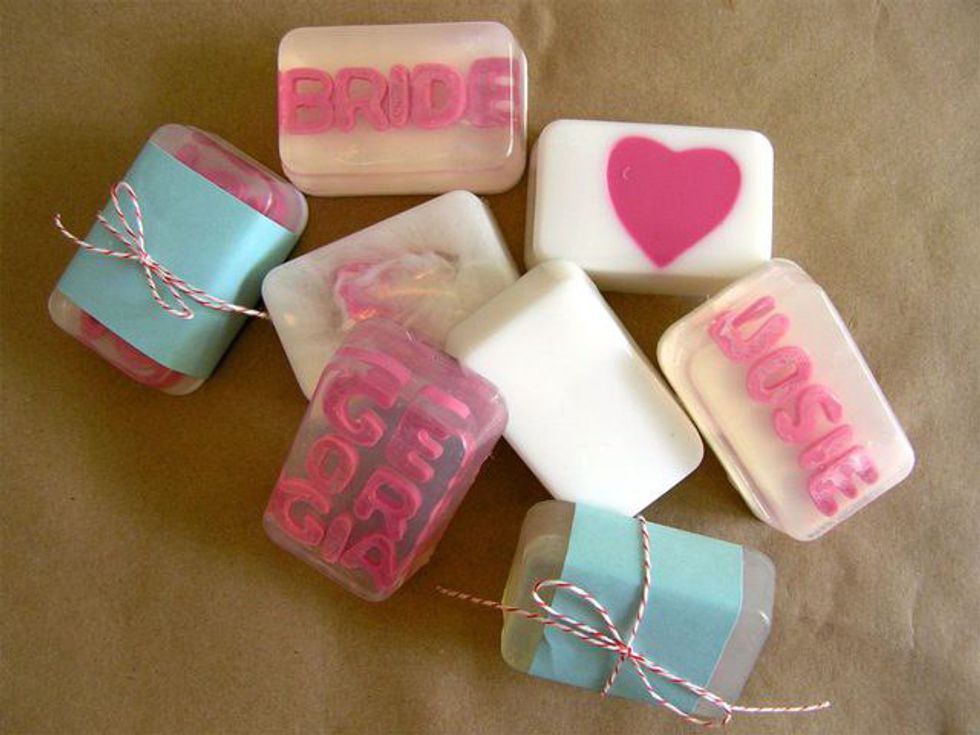 We all gotta get clean… why not do it in a cute & festive way?
For this gift, you will need: soap molds, essential oils, fragrances, dyes, bars of soap bases, rubbing alcohol, and (optional) herbs or nuts or anything you'd like to add for texture! You can also add on some ribbon for a gift-giving feel! What you need to do first is melt the bases over the stove, then add scents and dyes to the mixture, and anything you'd like for texture.Next, pour it into any shape mold, and spray with a little bit of rubbing alcohol. Let the soaps set for a few hours, and then you're ready to go! Add a cute little ribbon and note and present to your loved ones. This is a simple procedure that gives the appearance of thoughtfulness and is sure to please!
7) Beard balm: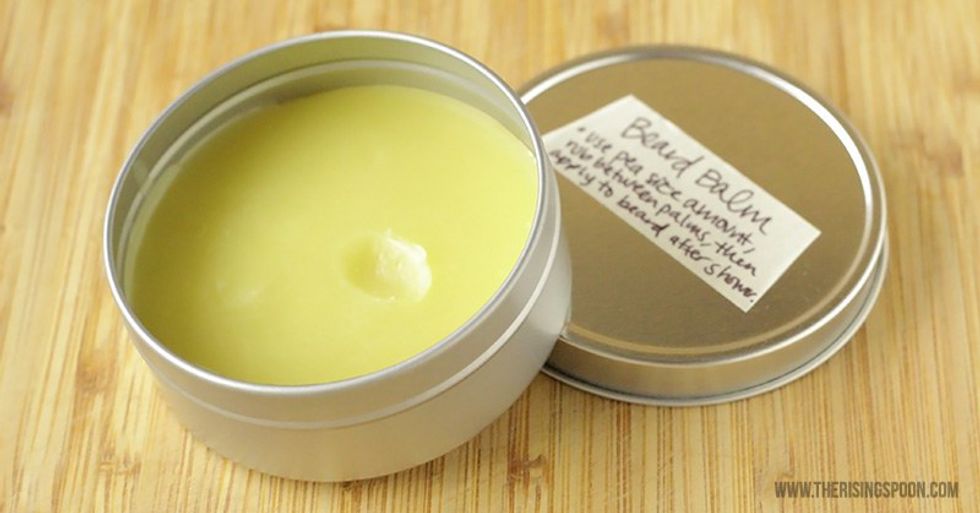 It's hard to find a manly DIY recipe, this one will do perfectly for the bearded men in your life!
This gift is great for any guy who has a beard, or any guy that wants to grow one! What you will need is four key ingredient: beeswax, essential oils, carrier oils, and butter! (and of course, a little container to hold the finished product) First, melt the beeswax, carrier oil, and butter over the stove. Second, take the mixture off the heat and add your essential oils quickly before the mixture forms. Finally, pour the balm into your container and let it form overnight. Any guy will be impressed with your effort and creative thinking!
8) Pedicure in a jar: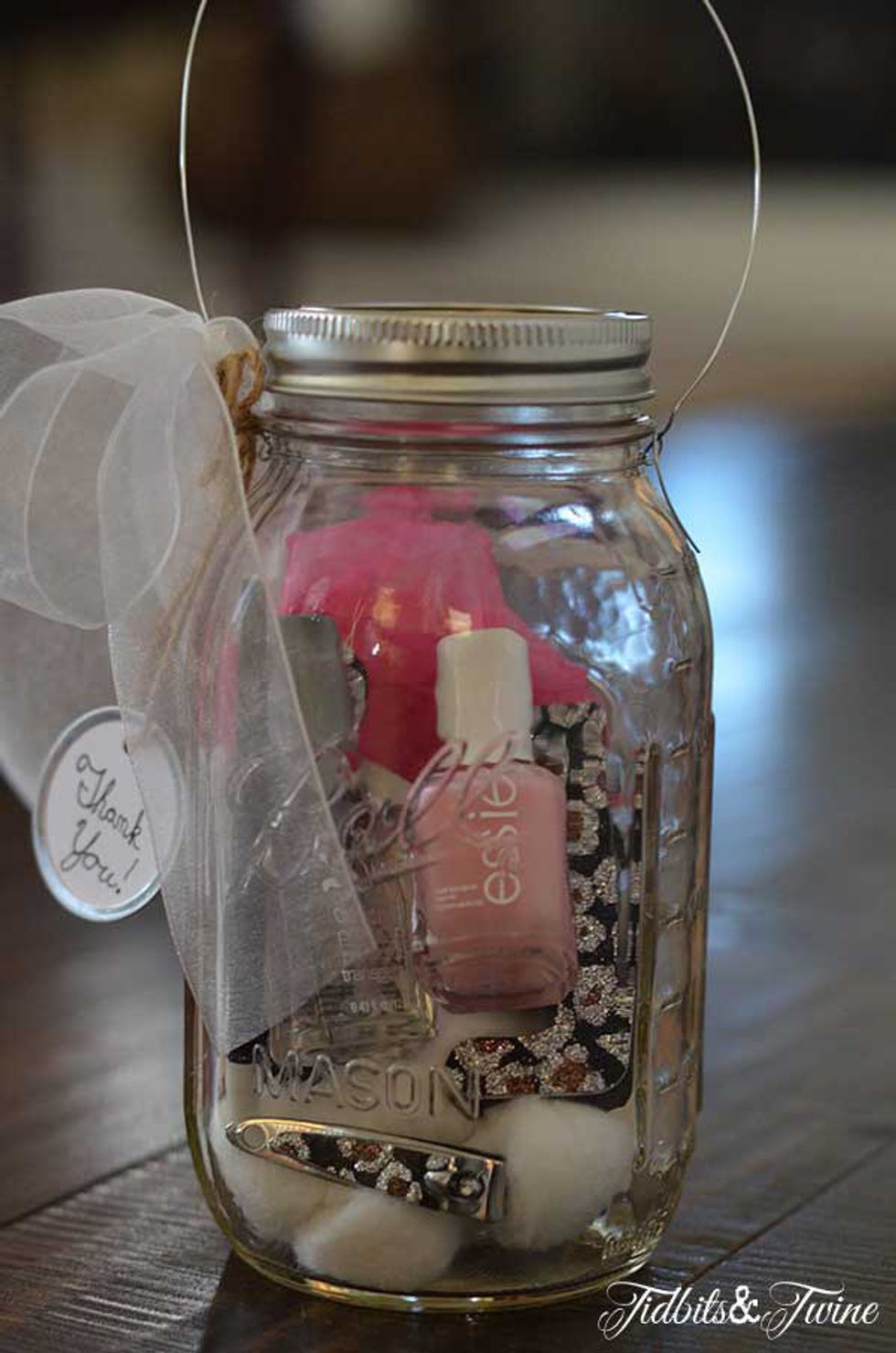 With holiday parties on the horizon, cute polished toes are a great gift to give!
Give someone the gift of a pedicure and the luxury of not having to leave the house! once again, you will need a mason jar. Then just a few items to fill the jar! Pick up a cute polish (burgundy and deep colors are very in right now), a nail file, toe separators, nail clippers, cotton balls, and some top coat! Then tie some ribbon around the jar and you're all set! This is a great gift for that girl that has everything, or the teenager in your life that's impossible to shop for! It's a well thought out gift that can be used many times!
9) Nail polish remover (in a jar, of course):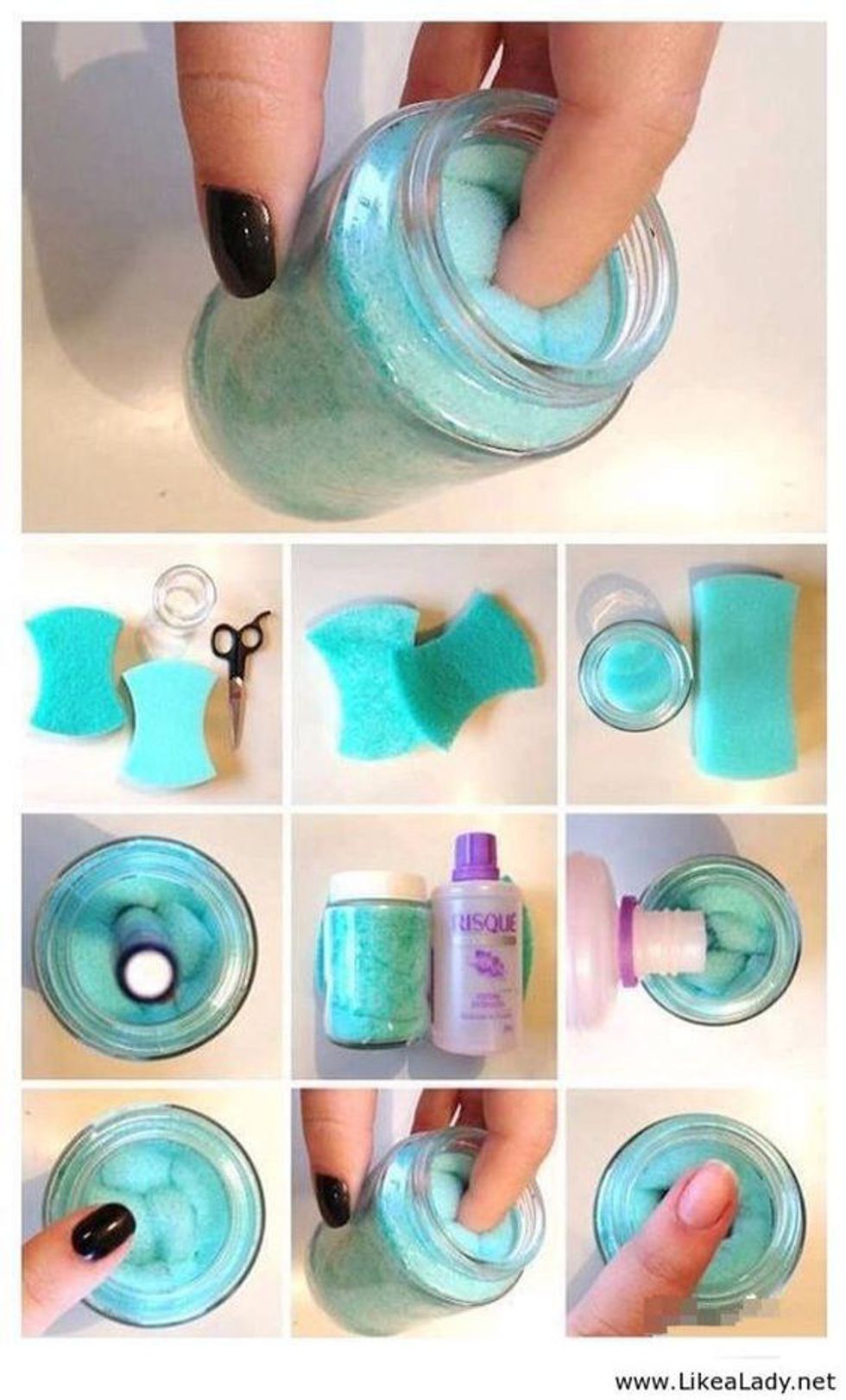 An easy way to help anyone removed chipped polish in a hurry!
Here's what you need: a container/jar, a festive colored sponge, and a bottle of nail polish remover. That's it! All you need to do is cut a small incision in the center of the sponge and then place it in the jar so that it takes up all the space. Then pour in the remover until the sponge absorbs it all. Nail polish can be made easier to remove- you just place your nail in the incision and move it around on the sponge until it's clear! This makes a great stocking stuffer, and can be paired with the pedicure in a jar for a spa experience!
10) Movie night basket: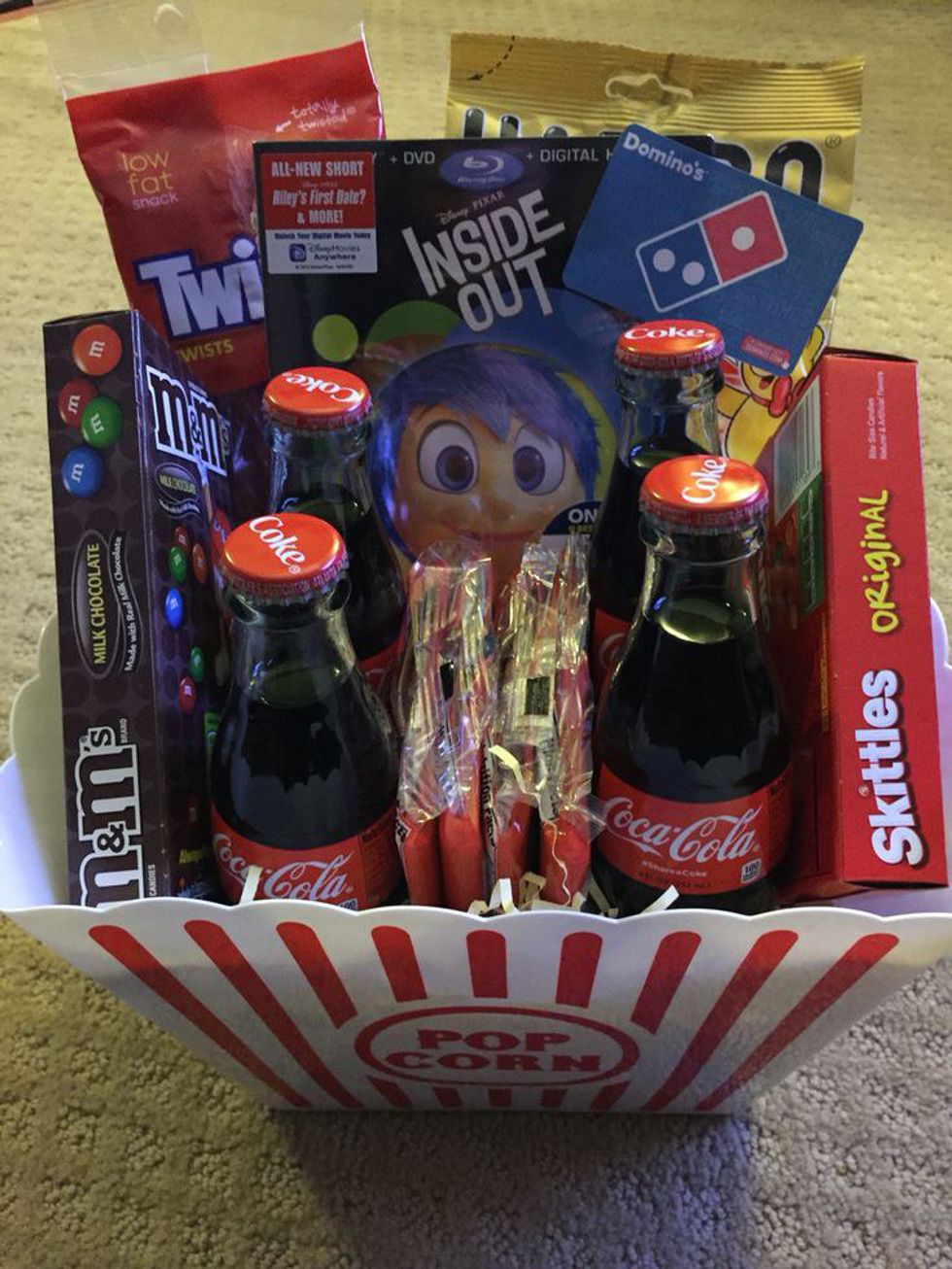 Everyone loves a movie night… but not everyone loves driving through the winter storms to get to a theater! (not to mention those crazy movie theater prices!)
Here's another gift that is super customizable. Pick up a plastic popcorn basket, some candies, sodas, popcorn, and a holiday DVD you know will be enjoyed! This is a great gift to give to a family and is a simple way to set up a fun night for people of any age!