As the plane descended streaks of grey-tinted clouds faded away to spanning blue skies.
Below, towering peaks shot up dominating the landscaped leaving only small carved out valleys, cast in shadows, where buildings congregated into towns.
Coming from Illinois where 10-foot hills are awed at this was definitely a change of pace.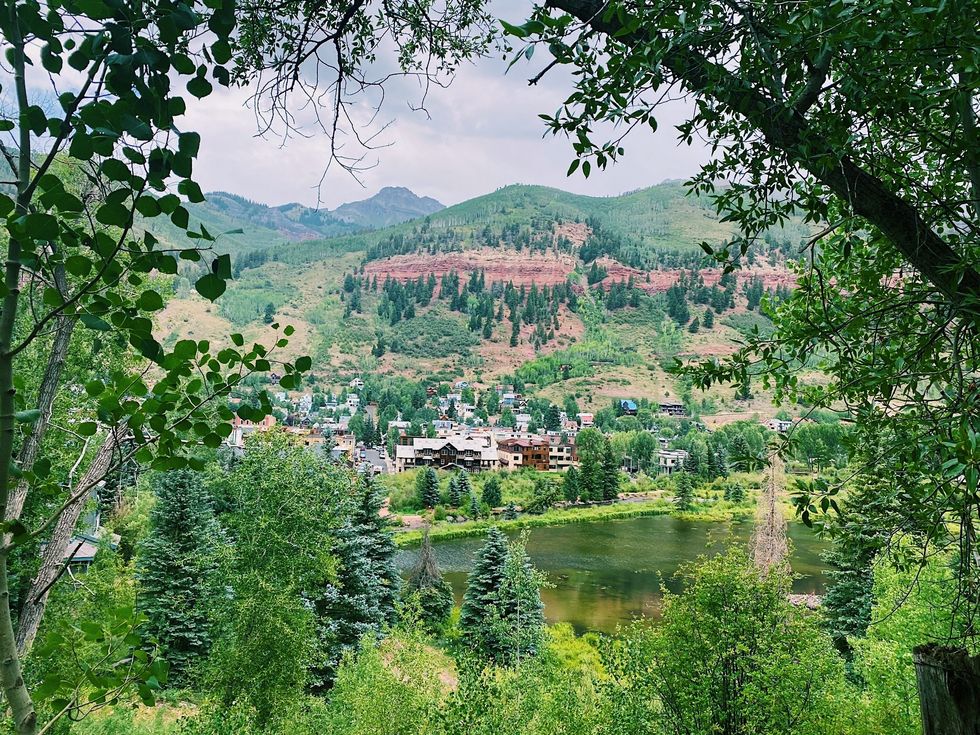 My last experience in Colorado consisted of "the more layers the better" while skiing down snowy mountainsides, racing my brothers for the first cup of hot chocolate to warm-up are almost frostbitten fingertips.

Now, I was landing in the Montrose Regional Airport (in the southeastern part of the state) to dry summer heat.
I had been invited by my friend's family to spend the week at their mountain house in Telluride, Colorado, a small town of only 2,500 residents and its seasonal visitors.
But, getting there required packing all eight of us, carry-ons, backpacks and all, into a 2020 white Toyota Rav4 and some early 2000s sliver Chevy Impala that didn't seem practical for steep mountain roads.
It was a tight squeeze but as the flat chaparral terrain receded into vertical red rock cliffs and evergreen forests it made you forgot the limited space and inadequate air conditioning.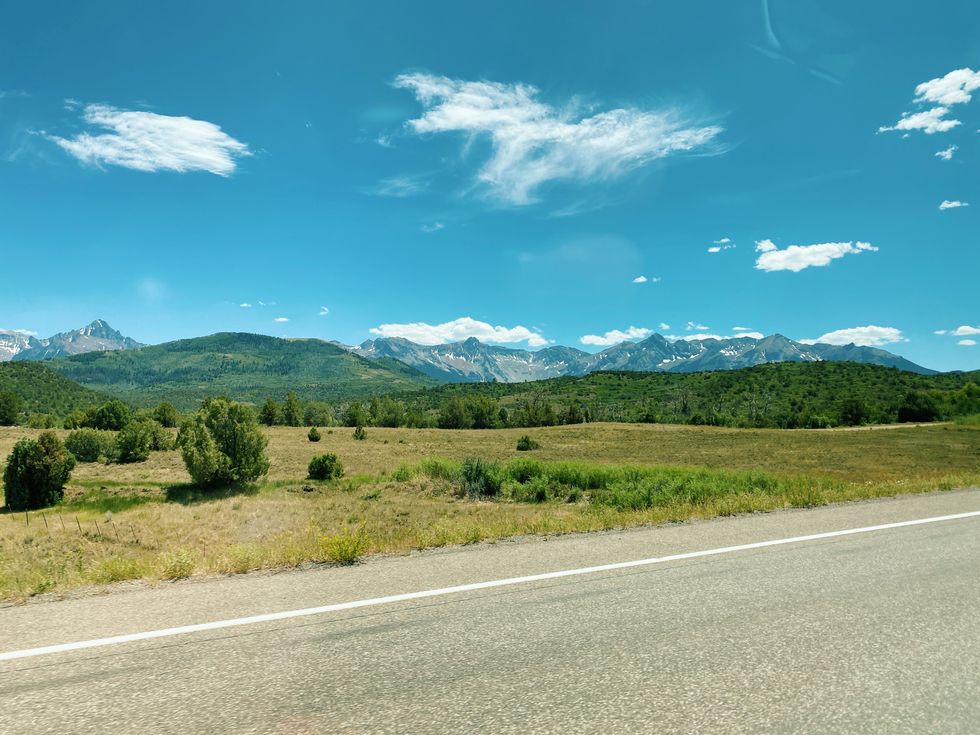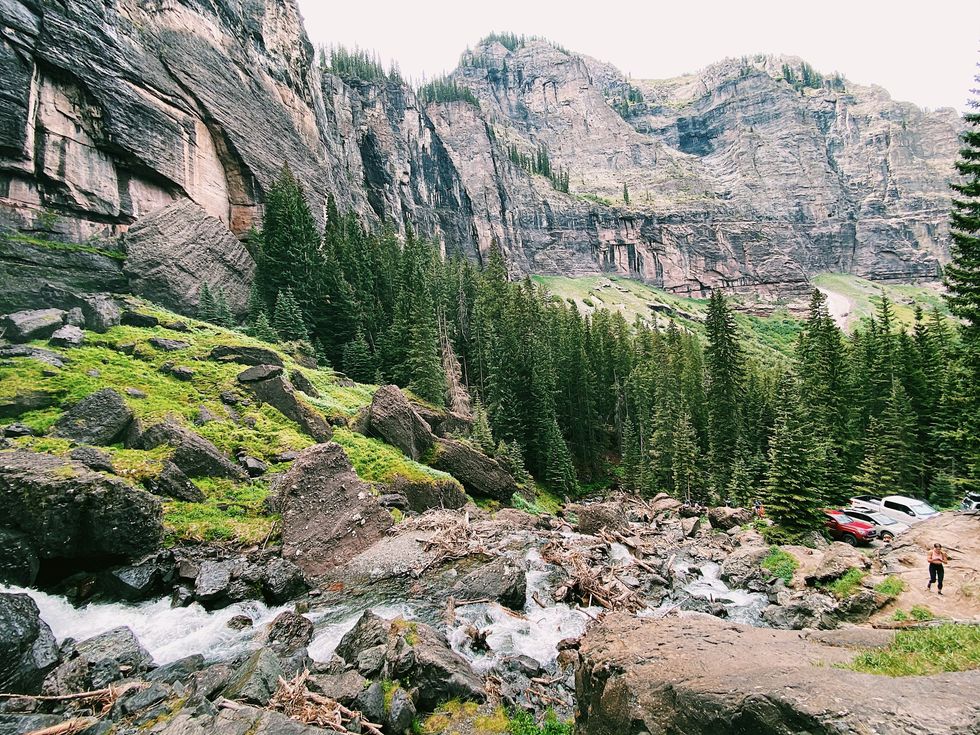 After an hour and a half of driving, we pulled up to a beautiful faded oak cabin with floor-to-ceiling windows.

The afternoon was spent relaxing on the deck, after the day of traveling, basking in the fresh air and appreciating the beautiful views of Wilson Peak (the mountain range on a Coors beer can) and the surrounding clumps of white birch trees.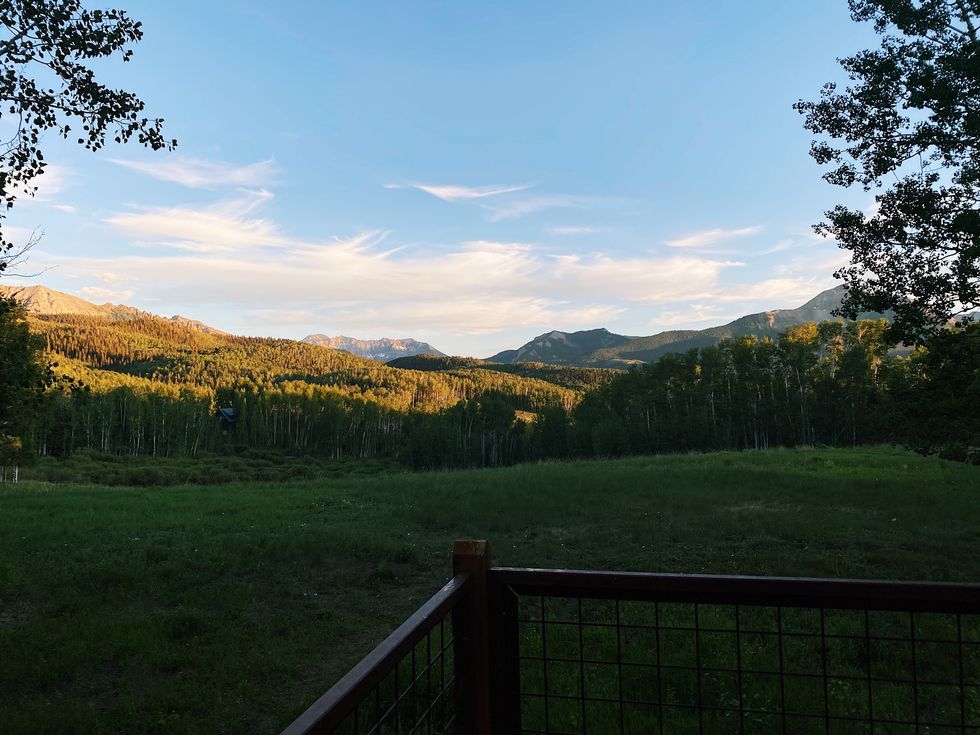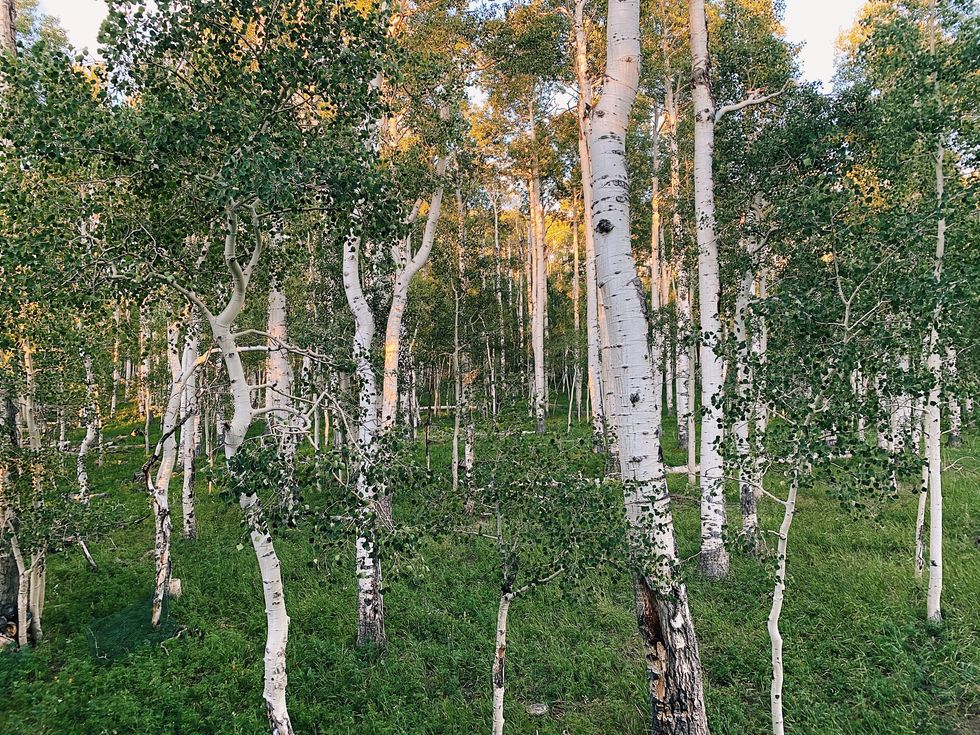 The next morning after copious amounts of water and coffee, to stay hydrated and avoid the plague of altitude sickness, which leaves anyone puking into a toilet for days, we were ready to ATV.

We again piled into the two rental cars and made our way to Mountain Village to catch a 30-minute bus ride to the ATV paths, which was more a scattered assortment of boulders than a path.
When we arrived on site, two four-seat razors were waiting.
After a small presentation of safety instructions, we strapped on helmets, goggles (provided), and our already handy COVID-19 masks.
We began weaving our way through the narrowly carved mountainside and it made sense why it was encouraging to wear clothing you weren't incredibly fond of. Within minutes, thick dust clouds kicked up by the razors engulfed us, immediately sticking to our clothes and skin.
But, on the bright side, it was easy to use the trail of tan clouds billowing from the cart in front as navigation.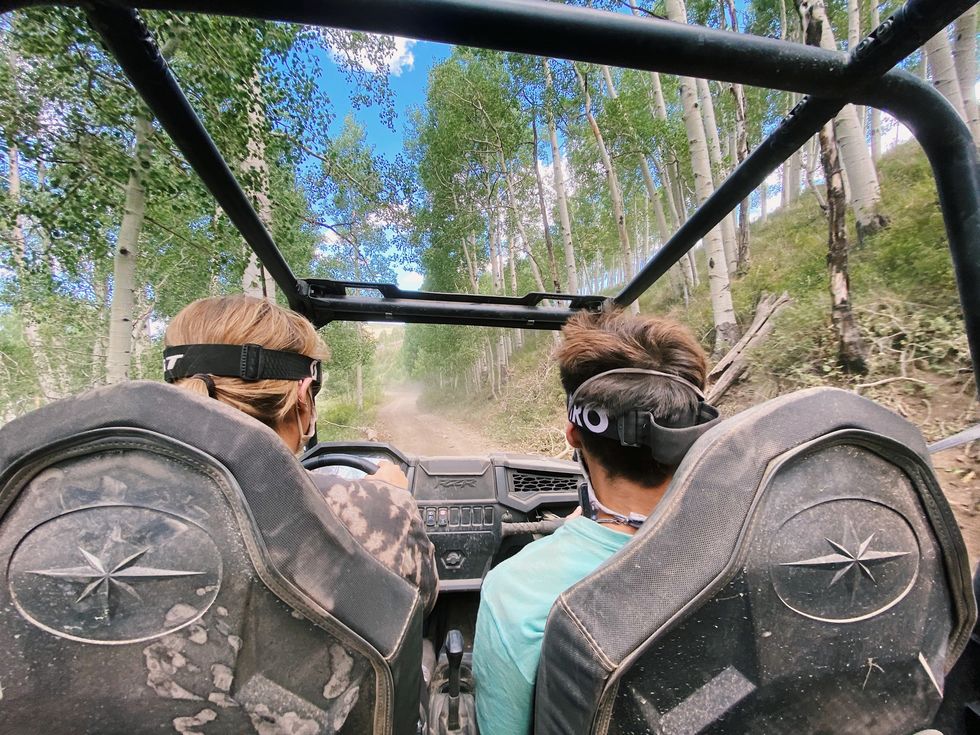 We all had our turn behind the wheel and once it was mine I got to live out the real-life version of Mario Cart my pre-teen self dreamed about.

The next day was our first day of hiking.
We were to take-on Bear Creek Trail, a 2.5-mile hike up to a scenic free-falling waterfall and then back down coming to a total of 5 miles. I'd been to the gym my share fair of times but at 9,600 ft above sea level, my resting body was already battling thinner air.
Right off the bat, the path heavily inlined leaving all of us winded within a couple of meters. Quick glances went around the group as if to say "Do we really want to do this?"
But, pride mixed with the desire to find out the beauty that lied above the tree level propelled us forward.
And let me tell you. Thank god we continued.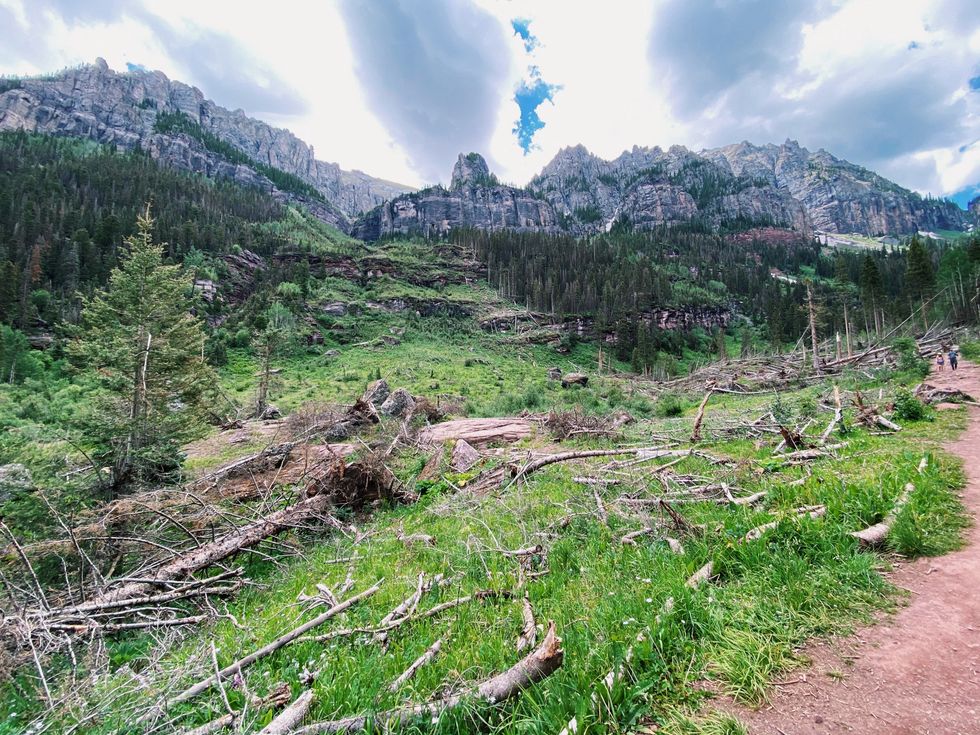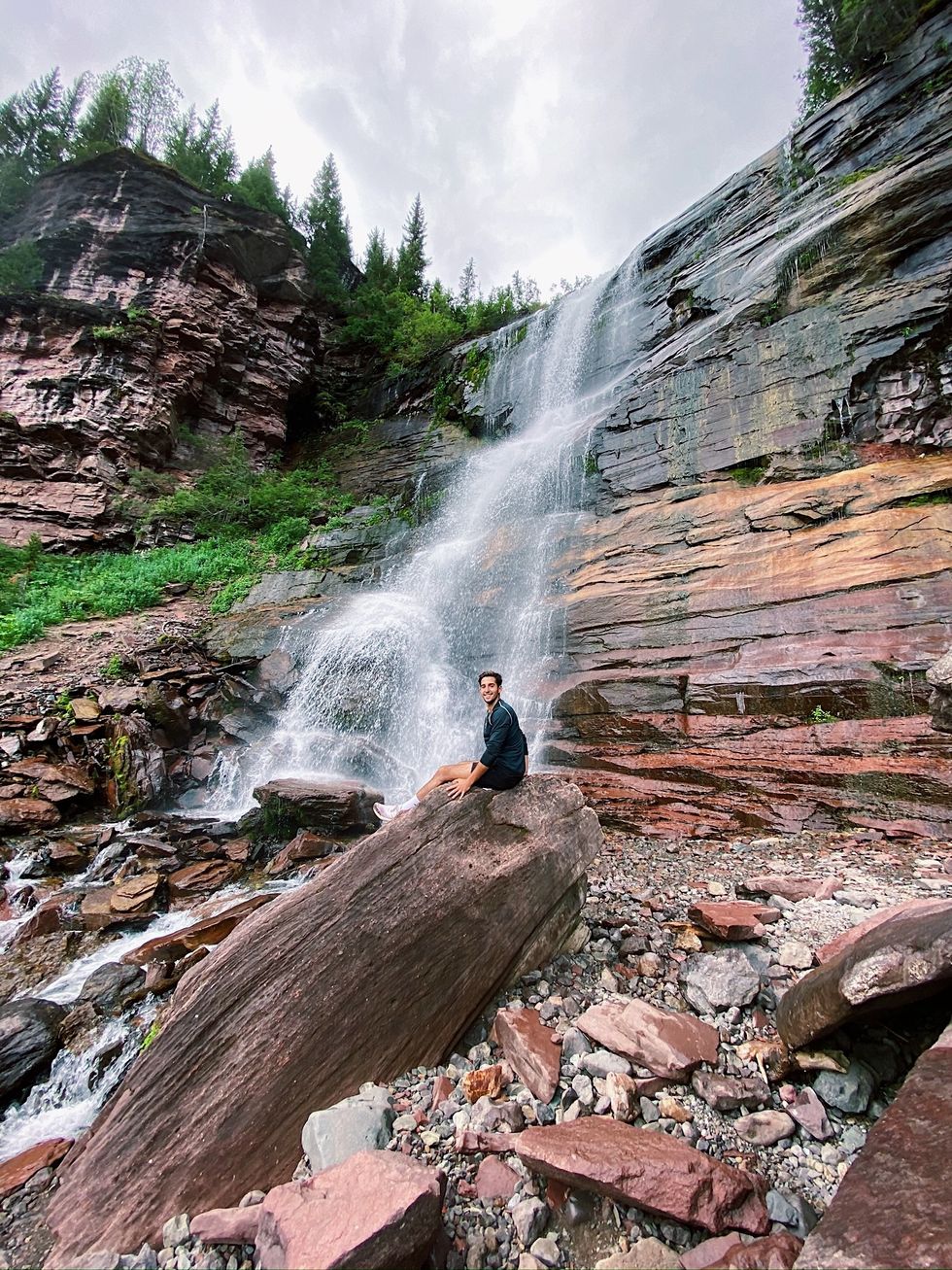 Although strenuous and physically exhausting, nothing could beat taking that final step to sweeping views of rolling mountains.

We treated ourselves to an indulgent, well deserved, dinner at The National and happily consumed all the calories we previously burned.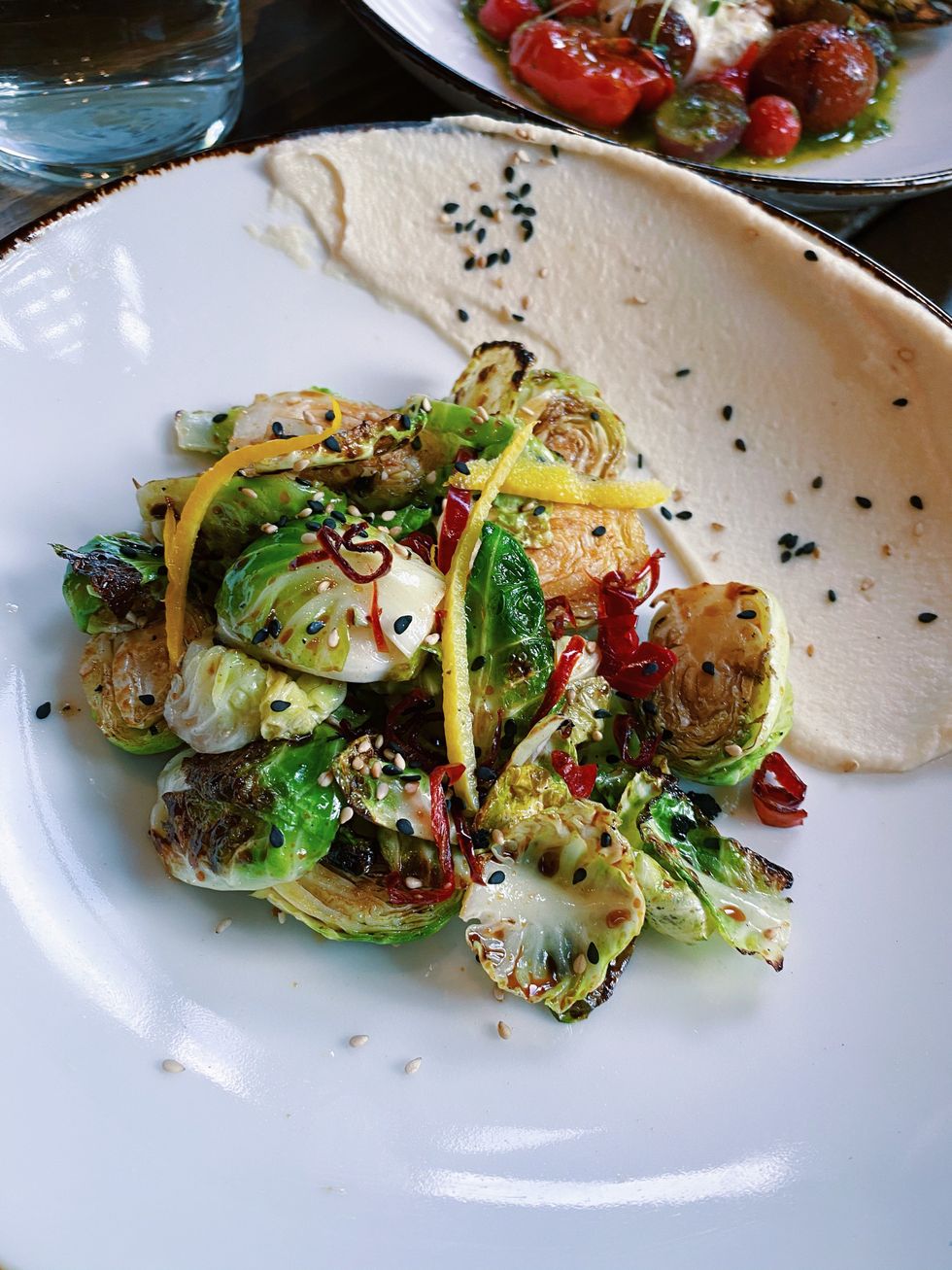 Roasted Brussels sprouts with miso hummus.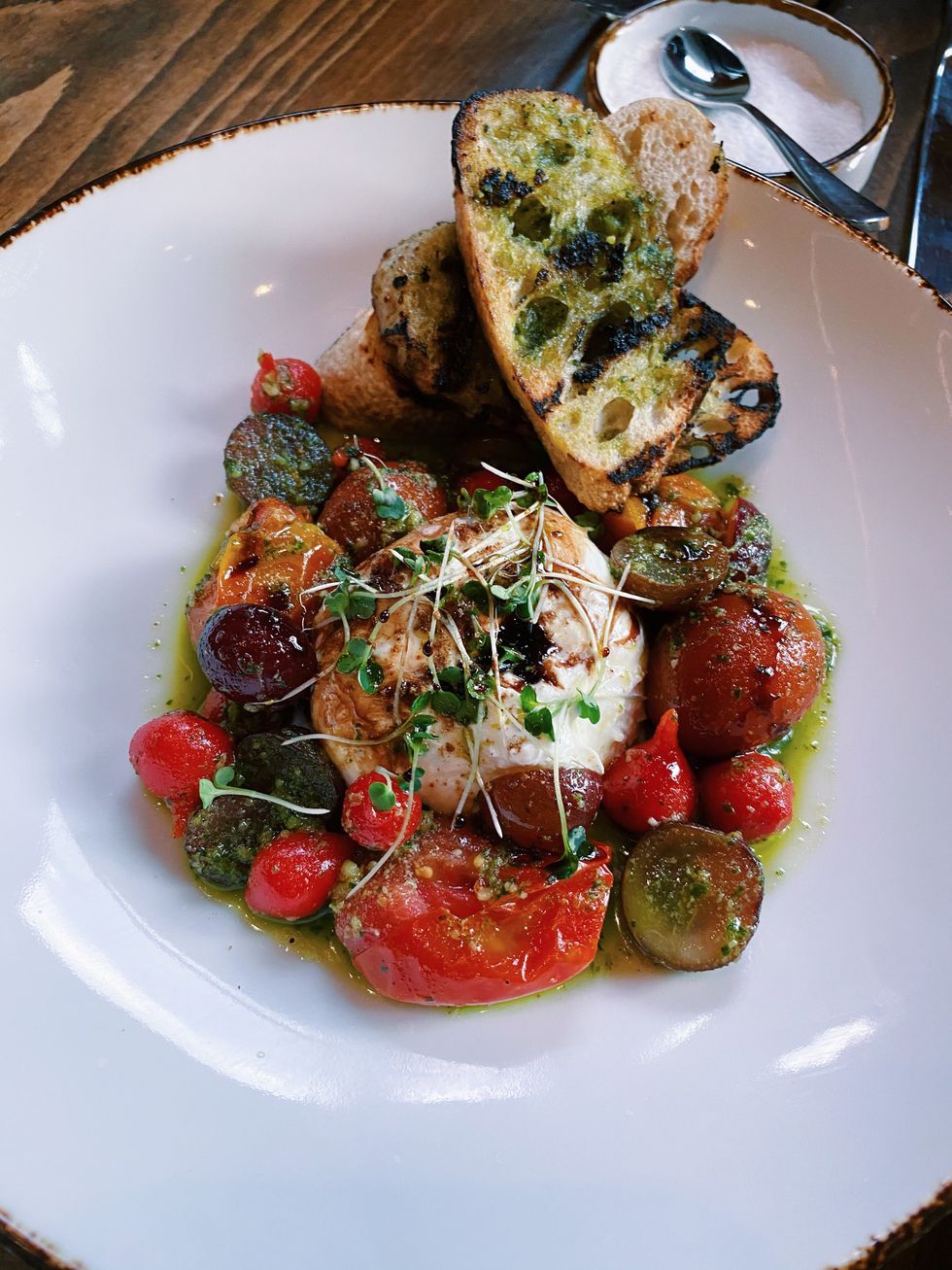 Burrata with roasted tomatoes and pesto crustini.
With a new day came a new hike.

Despite our aching muscles that desperately called for a day on the couch, we hadn't flown halfway across the country to sit behind the blue haze of a TV screen.
We drove to where the end of the valley meet the mountain's base and begins the trail up to Bridal Veil Falls. However, the success of the previous day did not follow.
It started by me forgetting about my water bottle at the house (unsurprising to those who know me).
Unlike Bear Creek's smooth wider pathways, Bridal Veil Falls required quick footwork jumping between unstable rocks that lined the narrow inclining path.
It was at the half-way point, where the base of the falls cascades into a river that flows through the valley and town, that we lost our first victim to asthma.
Even her inhaler couldn't combat that almost 10,000-ft altitude and constant cardio.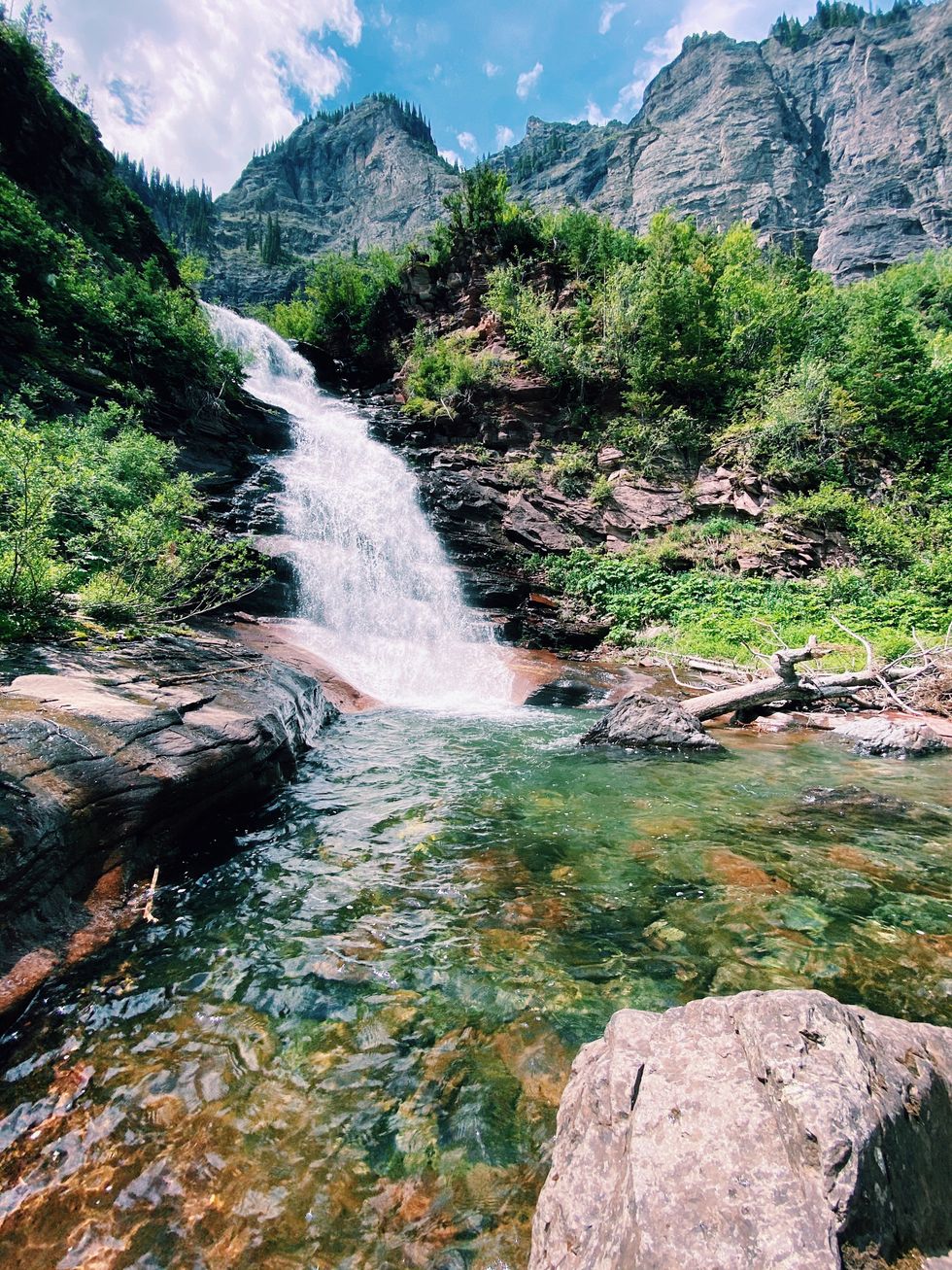 But, she was determined to make sure the rest of us reached the top and encouraged us to continue.

So, with one less person, we did.
It was only ten minutes later the trail took its next victim.
Quickly climbing the steep rocks, eager to see the falls, a member of our group slipped and fell, letting the jagged edge of a rock cushion her fall.
She was left with a wound on her left shin that was not terribly large but deep enough that dark streams of crimson flowed down her leg. (She ended up getting three stitches).
Luckily we had a studying nurse present who decided it was best to pressurize the wound with her leggings until they could get her to proper care.
She like the girl before her would not let this minute setback stop us from reaching the falls and encouraged us to keep going.
So, while the rest of continued upwards her and her friend slowly made their way down the mountain.
However, a passing man who has noticed her wound stopped a couple of feet ahead to tell us that that falls were just a couple minutes forward and there would be cars there that could take our friend down the mountain. (There was another driving path up the side of the mountain to the falls for those who didn't want to, or couldn't, hike.)
So, I channeled my inner high school athlete and jumped down from rock to boulder until I reached our friends to tell them the good news.
Finally, and I mean finally, we reached Bridal Veil Falls.
And it was spectacular.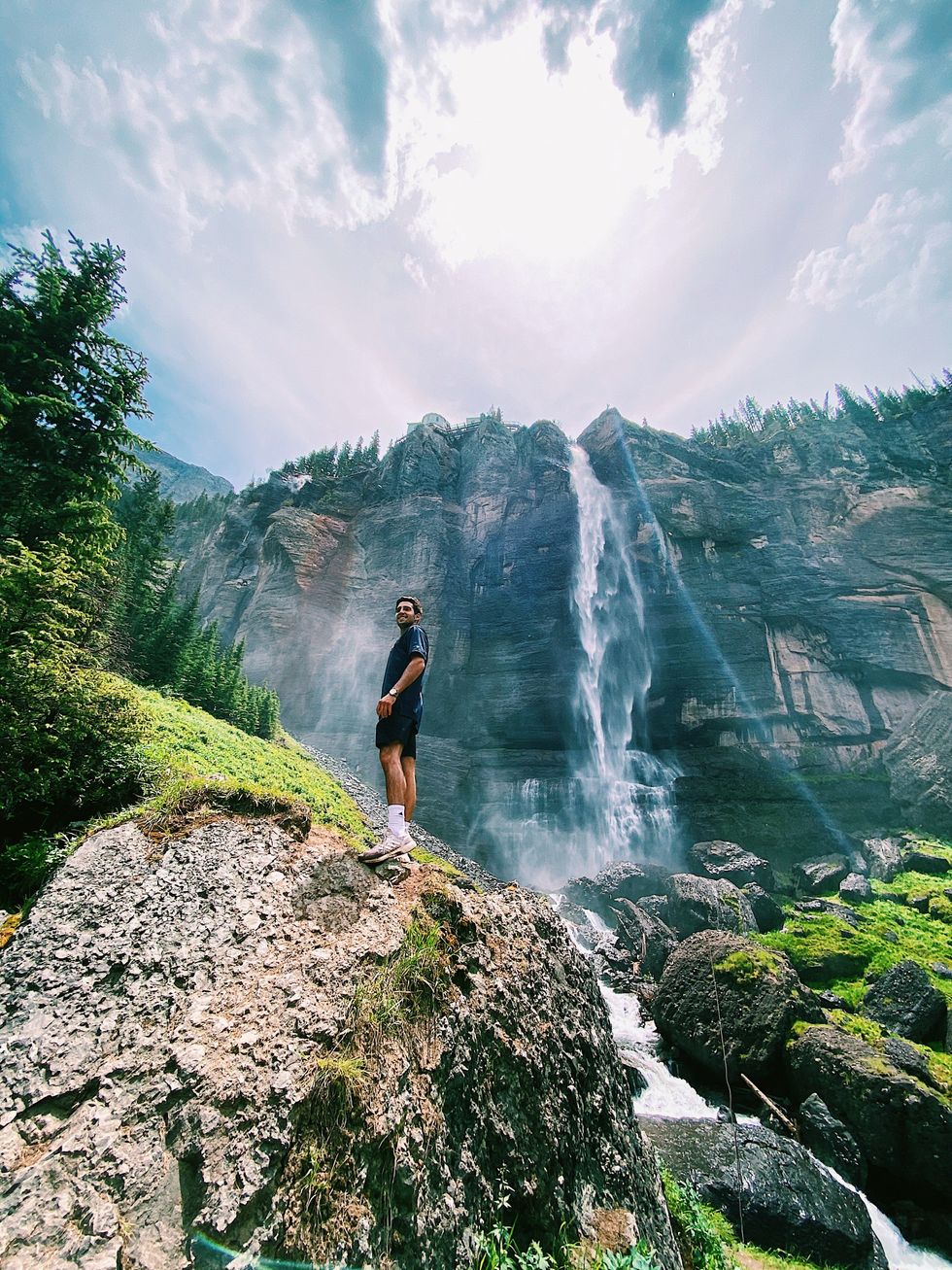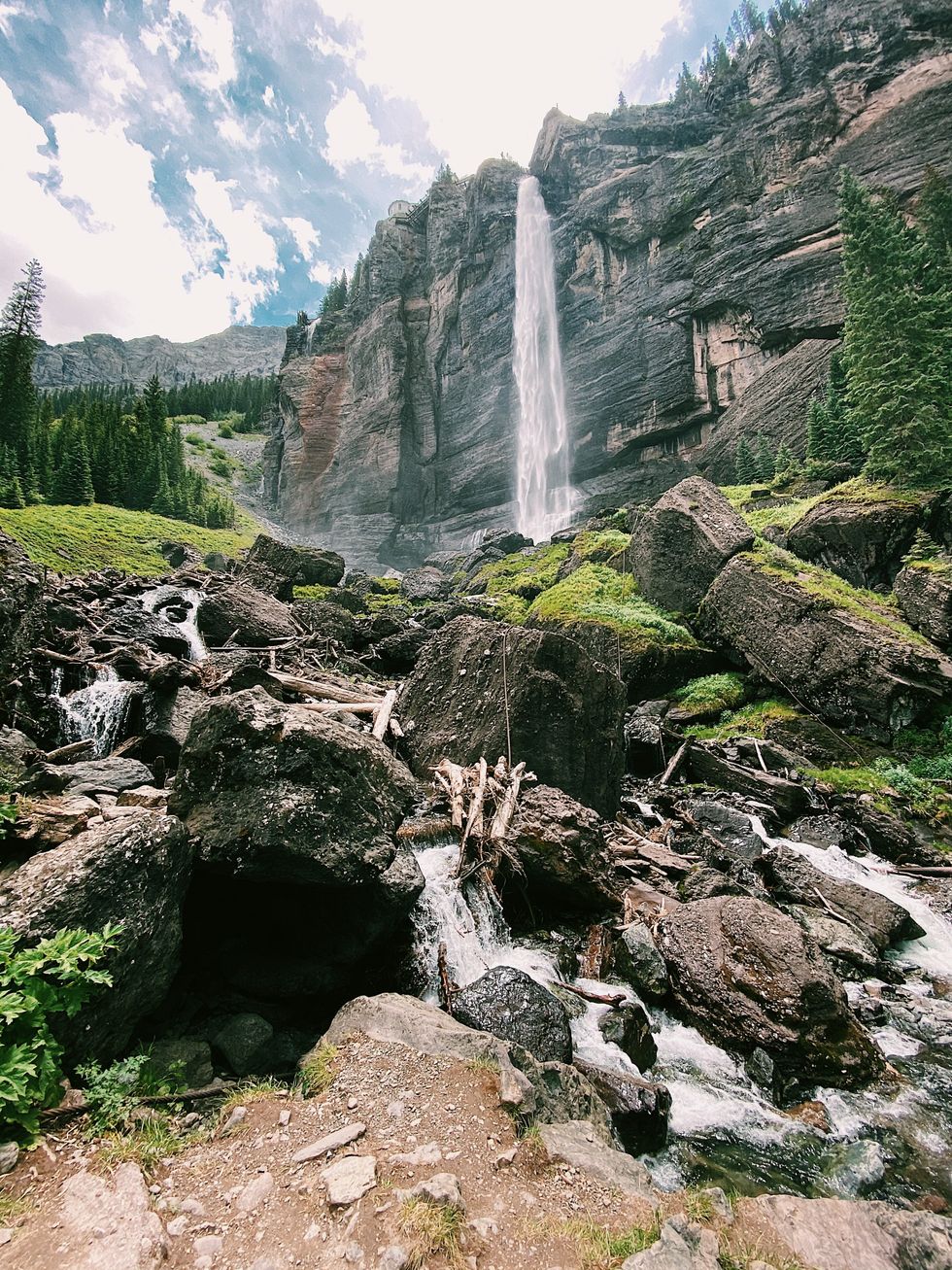 Exhausted yet proud, those who were left steadily made our way down the mountainside.

Because of our many incidents, what should have been a two and a half hour hike turned into four and we were all desperately hungry.
The entire group was able to reunite in the center of Telluride for a late lunch.
New modern restaurants and tacky souvenir stores filled the worn in gold-rush period buildings scattered with open wood wounds from where the paint peeled off.
Nothing was above three-stories in what I assumed was an effort to not block the unmatched views that surrounded.
Main Street had one side of its road blocked off with an assortment of tables and umbrellas for people to grab food from where they peased and sit outside. I think I got some type of chicken sandwich.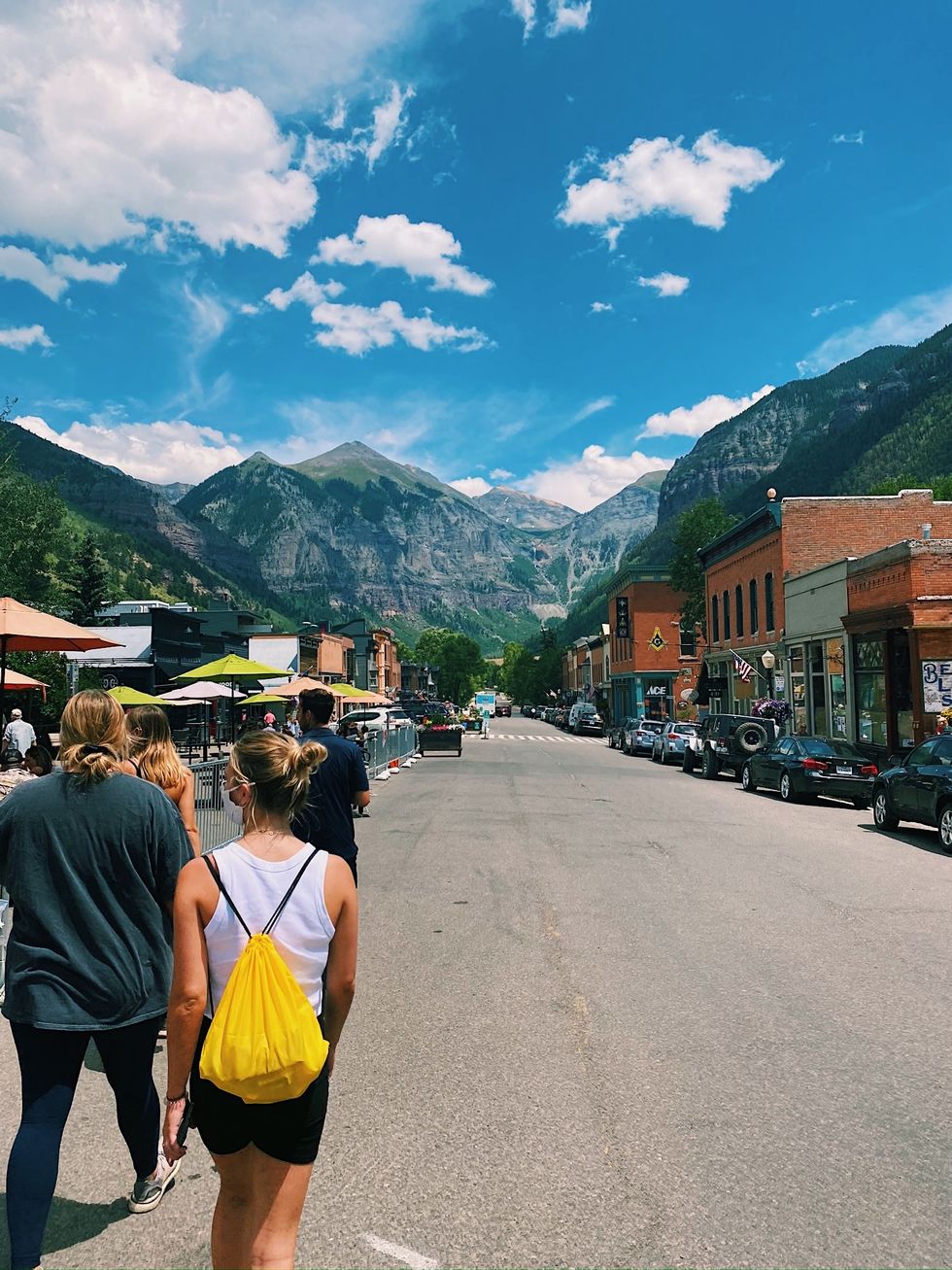 Our last final moments were spent like true tourists scavenging stores for some T-shirt painted with "Telluride" as a token to remember the unforgettable week.

All photos by George Hashemi.