Taylor Alison Swift is a lightning rod of creative genius. A force to be reckoned with. One could go on with adjectives and phrases to describe the influence that Taylor is on American culture and the music industry as a whole. She is not one that can be replicated or replaced. You either love her or you hate her. And even if you hate her, she is a subject of conversation and that says a lot about the whirlwind of power that her career and legacy has become. Her career as a whole is a legendary example that many artists have tried to pattern their career after but have done so unsuccessfully. She has an extraordinary ability to showcase her story through her lyrics in a way not many have done before. And the pipes to come with it. She claims 270 awards, including 10 Grammys, she has stolen the hearts and the time of millions of people around the world. Plenty of people ask why she is as successful as she is. And the answer lies in this: Taylor Swift has completely switched the narrative. Swift is known for being in her own ballpark, and that isn't going to change anytime soon. She is more than an icon. She is the music industry.
What makes Taylor Swift, well, Taylor Swift?
1. Her relationship with her fans

How is it that one woman can control a crowd of 60,000 people at once? It takes a brilliant mind and great finesse to accomplish a task such as this. When Swift walks into the room, all eyes are on her. She has the ability to captivate an audience like no other. Whether it's with bass drops or cute cat videos, she livens the room without sacrificing a second. When she's forming setlists, she forms them with her fans in mind. Fans are her number one priority when she writes albums, goes out in the public eye, or posts a photo on social media. What other artist spends hours on end forming relationships and bonding with fans? Just her. And what better marketing strategy is that? Fans are the ones who flock to her music, so why not take every moment to please them? She recognizes that she would not be where she is today without them. There is a sort of significance that comes from artists thanking their fans in big ways such as Taylor does. It may be because it is nearly unheard of for an artist to want to hang out with their fans. It seems that the trend is for an artist to separate their life from their fans, and that is not what Taylor does at all. Taylor broadens her horizons beyond sharing posts on Instagram of her "squad." She invites them into her home and bakes them cookies so that they're the first to hear new music. She sends them Christmas presents. She gives them advice on social media. She only offers meet and greets to the most dedicated of fans and hand picks them. She attends their bridal showers and weddings. She sends them money and visits them in the hospital. The list goes on with things she does for her fans to make them feel less alone. She wants to take each opportune moment to thank them- that alone is a main reason for her success. There are no barriers guarding her from her fans. She becomes their best friend through her music and relationships that she forms. It is that sincerity, love, and bond she has toward her fans that makes them one of the most dedicated fanbases of all time.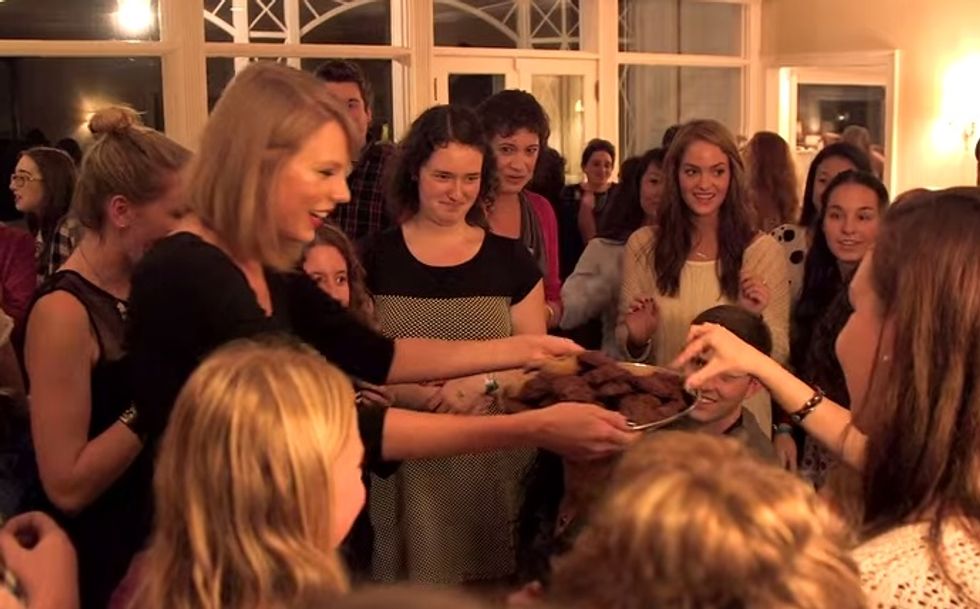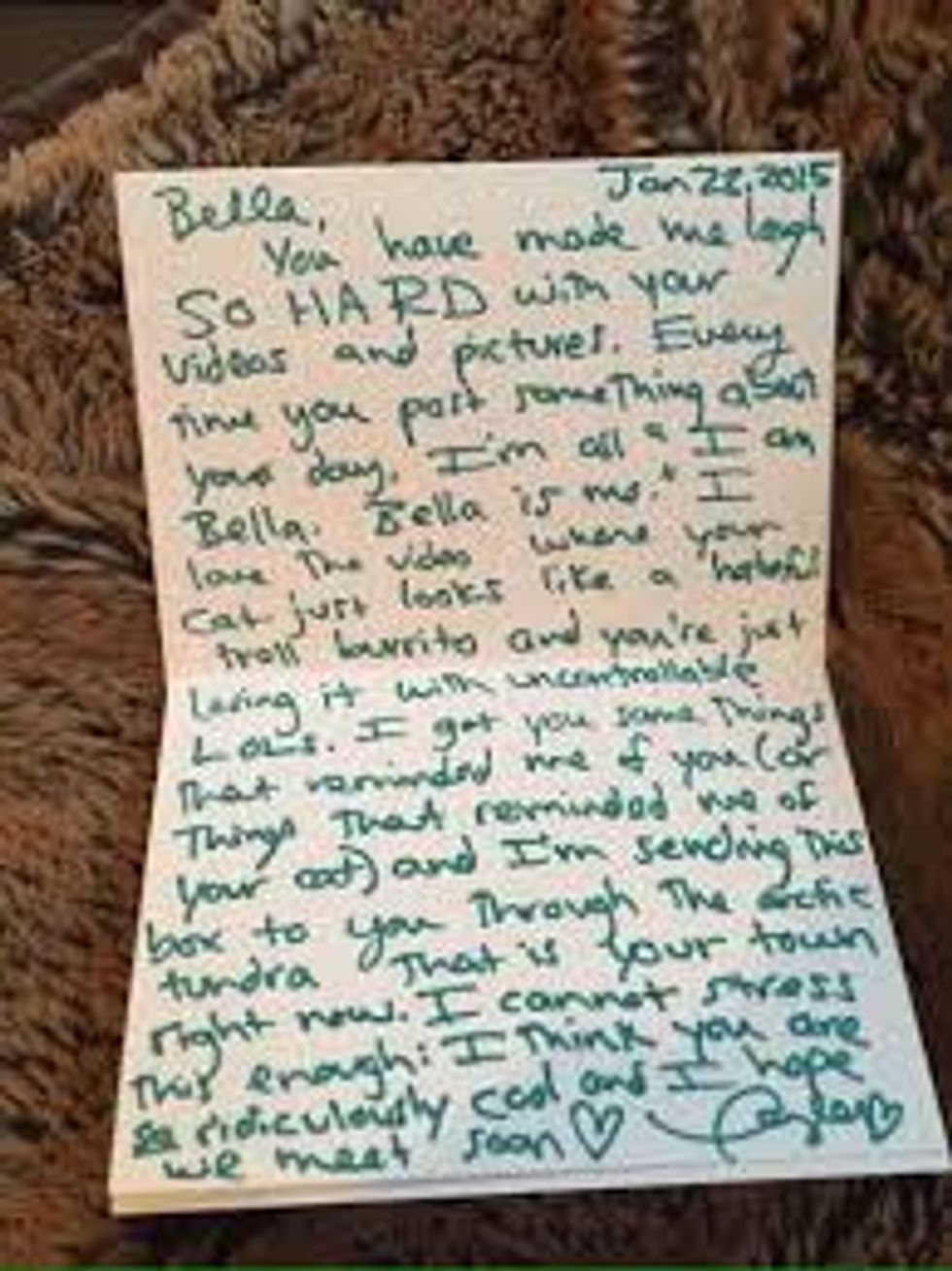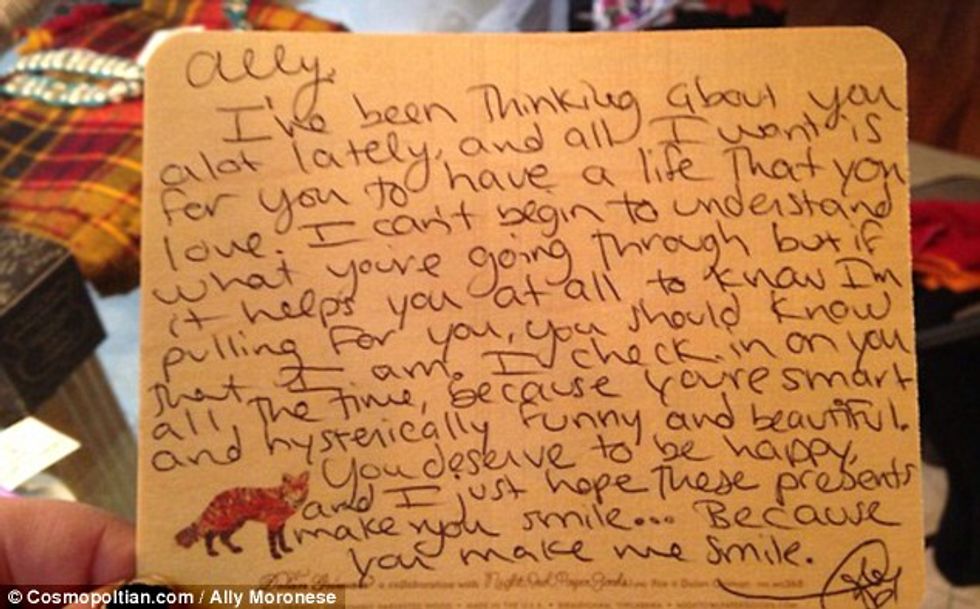 2. Sincerity

Swift isn't just one to have a great relationship with her fans but she's also formed solid friendships with fellow artists. There are several instances in the singer's career where she has either supported, applauded or has even invited an artist to perform on the same stage as her. Not to mention, these artists who share a stage with her aren't performing Swift's songs, they are performing their own. Why? Because Swift believes it is their stage too, not just hers.
On several of her tours including the Speak Now World Tour, the RED tour and her most current, the 1989 World Tour, Swift has brought out special guests at her shows. The reasoning? So they can have a stage as well, and simply because the sincerity that belongs to Swift. She has a sincere heart the goes above and beyond what you can comprehend. Her sincerity includes the love she has for other artists and their work.
Because of her sincerity and love for supporting and caring for other artists, several others have returned the favor. They have shown her love and respect in the greatest of ways whether it's presenting her a Pinnacle Award at an award show or simply stating what a wonderful human being she is. No matter the setting, those who love her take the time to tell the world about her sincere heart.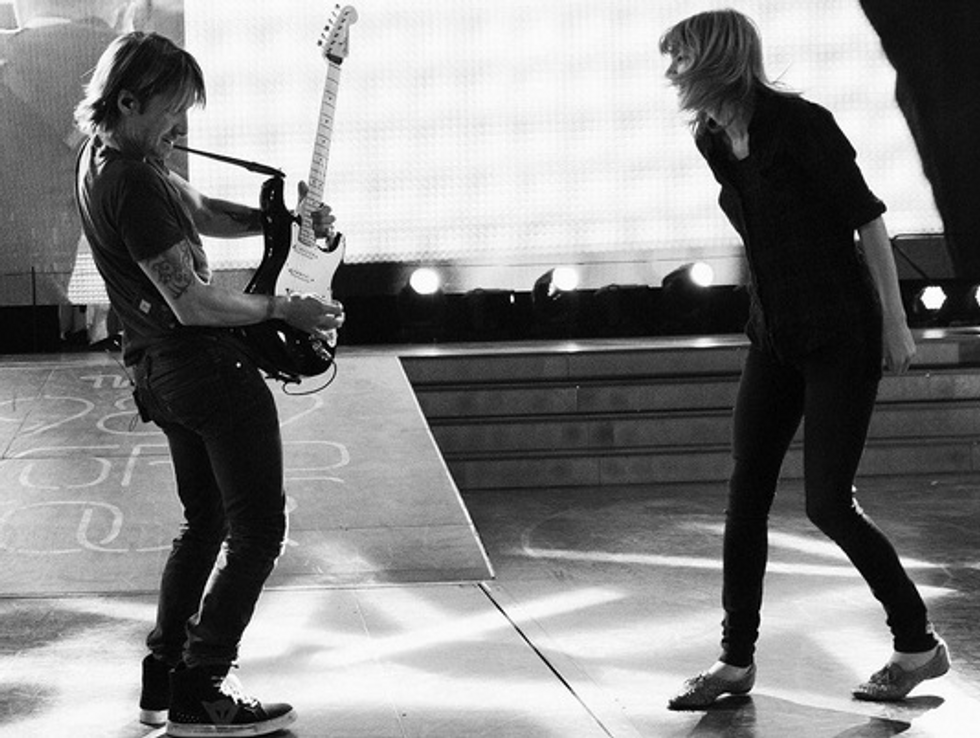 "She's come in and just lit a total fire under the genre, whatever anybody wants to make of it, we need people to come along and spark a revolution and evolution and expansion. We've needed those people since the beginning of country music, and Taylor is just of her time, perfectly."- Keith Urban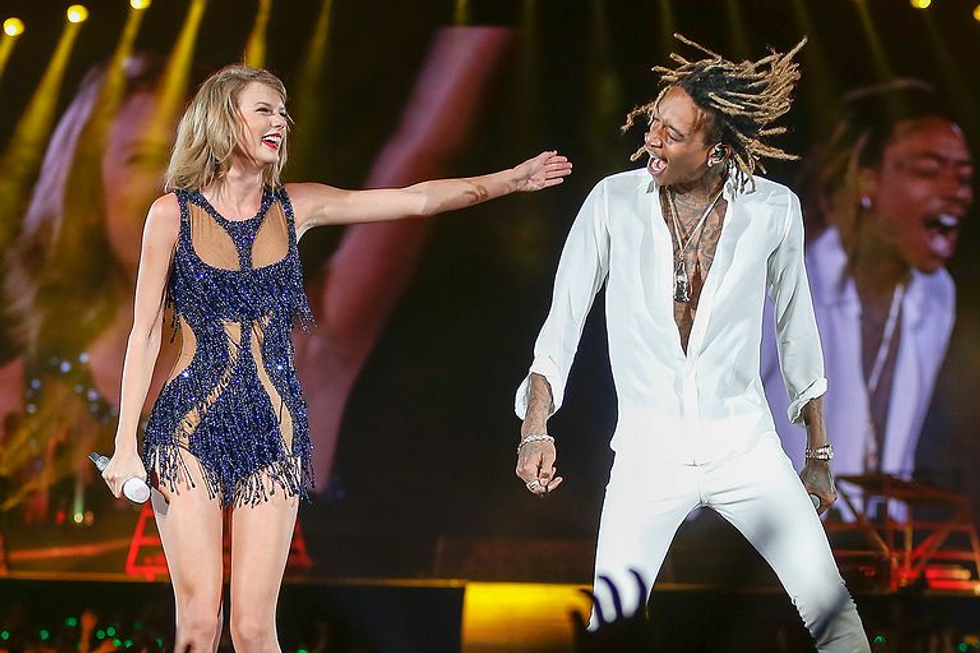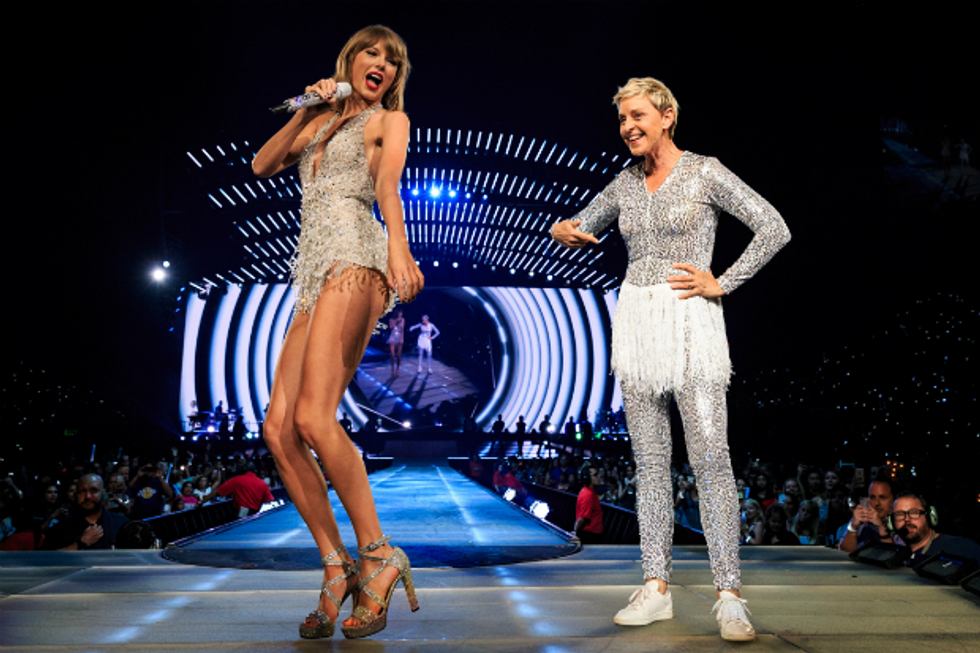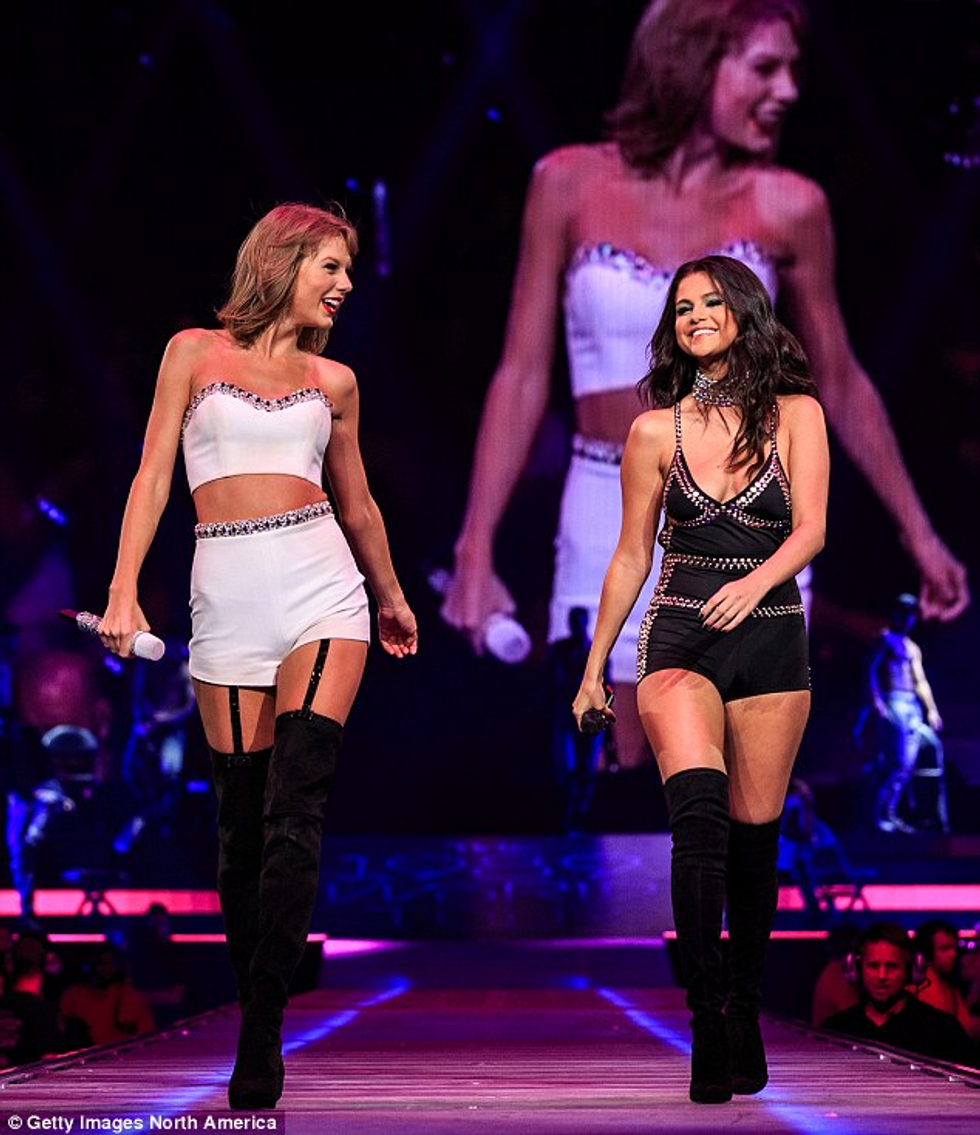 What else makes Swift's sincerity important to the music industry? Apple can testify to this one. A few short years ago, the singer spoke up in a letter against Apple just months after she wiped all of her music from Spotify.

In Swift's letter, she wasn't asking for herself. She wasn't hoping that Apple would give her a better compensation because she doesn't need it. What Swift was hoping is that Apple would compensate other artists who, perhaps, don't have a large following like Swift or Adele. In fact, Swift was speaking on behalf of all artists who work hard to get their art out there in the world. Because like many others, Swift believes that art shouldn't be free.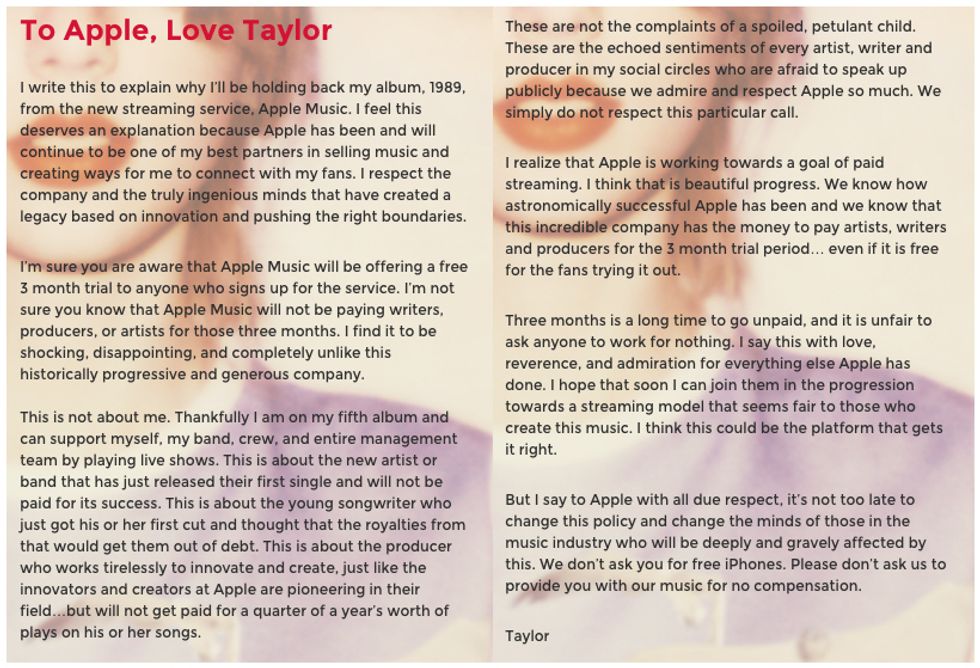 In a just matter of hours, Apple read her letter, discussed and soon decided that the pop star was right. They changed their mind and now every artist on Apple Music is compensated for what they deserve all thanks to Ms. Swift. After the decision, several artists thanked Swift for speaking up. If that's not changing the music industry, we don't know what is.
3. Marketing Strategies

Another reason why Swift is the face of the music industry is her marketing strategies. The way she markets her art is something only a brilliant and creative genius can do. Every artist before and after her have attempted many marketing strategies Swift has done and have not been nearly as successful as the "Look What You Made Me Do" singer.
How does Swift market herself? Let us count the ways. If you have a pulse, you know about her latest marketing strategy that put the world into a frenzy. After social media silence for months on end, Swift blacked out all of her social media accounts and took everything with her. That is not an over-exaggeration. If you've been looking for that tweet about band-aids that she tweeted years ago, you won't find it.
So, why exactly did Swift black out all of her accounts? To make a point and to also market for her new album entitled reputation. And in case you didn't know, the album is about her reputation and well, how the media portrays her. Genius, right? Swift made her point and she got all of us excited in the process.
After the social media blackout, Swift announced a new single entitled "Look What You Made Me Do" along with reputation magazines. As she announced the magazines, Swift's caption on her Instagram stated:
There Will Be No Further Explanation. There Will Just Be Reputation.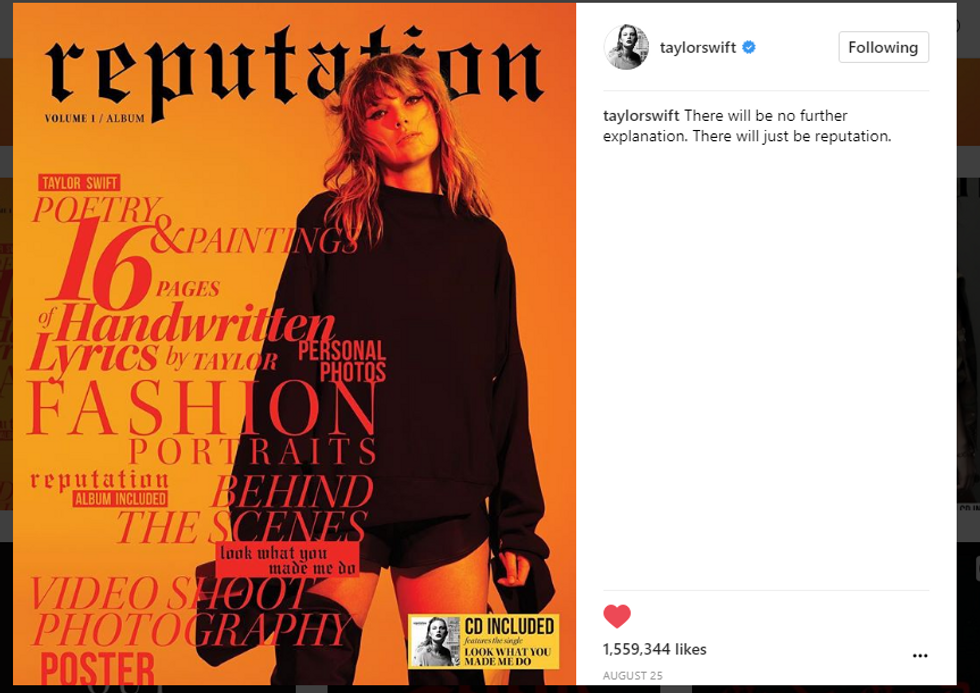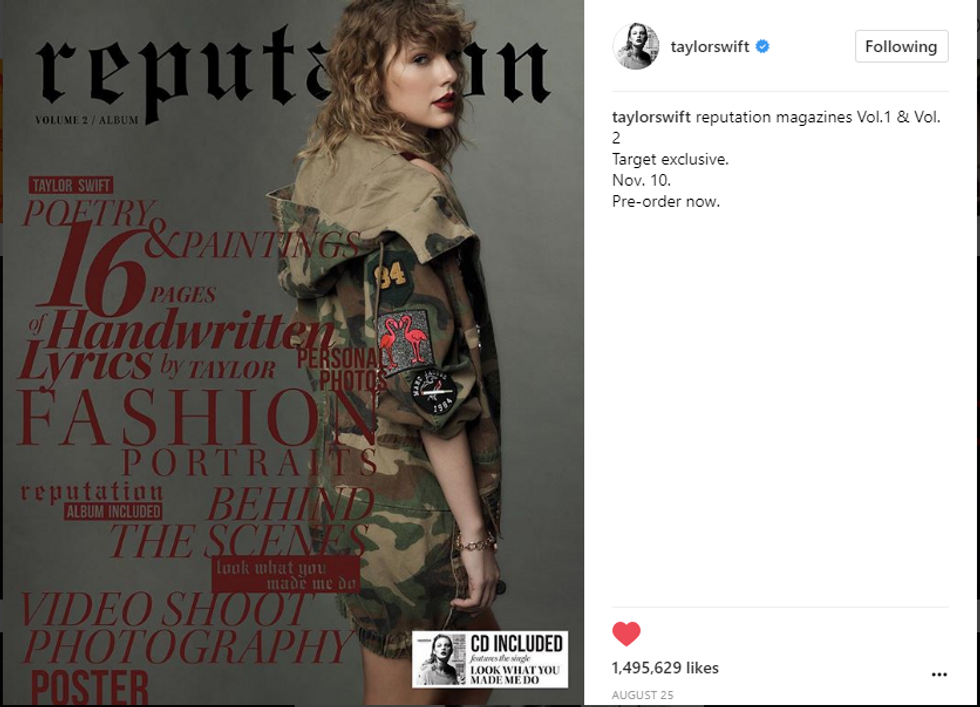 What does it mean? Well, as of right now, Swift hasn't done any interviews during this era. Perhaps she's doing this because the album speaks for itself and she's releasing the magazines (consisting of two volumes only available through Target) for her fans. The magazines include photos, behind the scenes information, poetry and other such things from Swift. Perhaps in the magazines is where there will be an explanation, but only to her fans.
However you look at this new era, you will learn that Swift is a marketing genius. Don't believe us? Look at her marketing strategies for her past albums. You will notice even more ideas that capture the genius of Swift. She's a brilliant business woman and that needs to be taken into consideration. If you were around for the 1989 era, you remember the Polaroids that Swift placed in each album.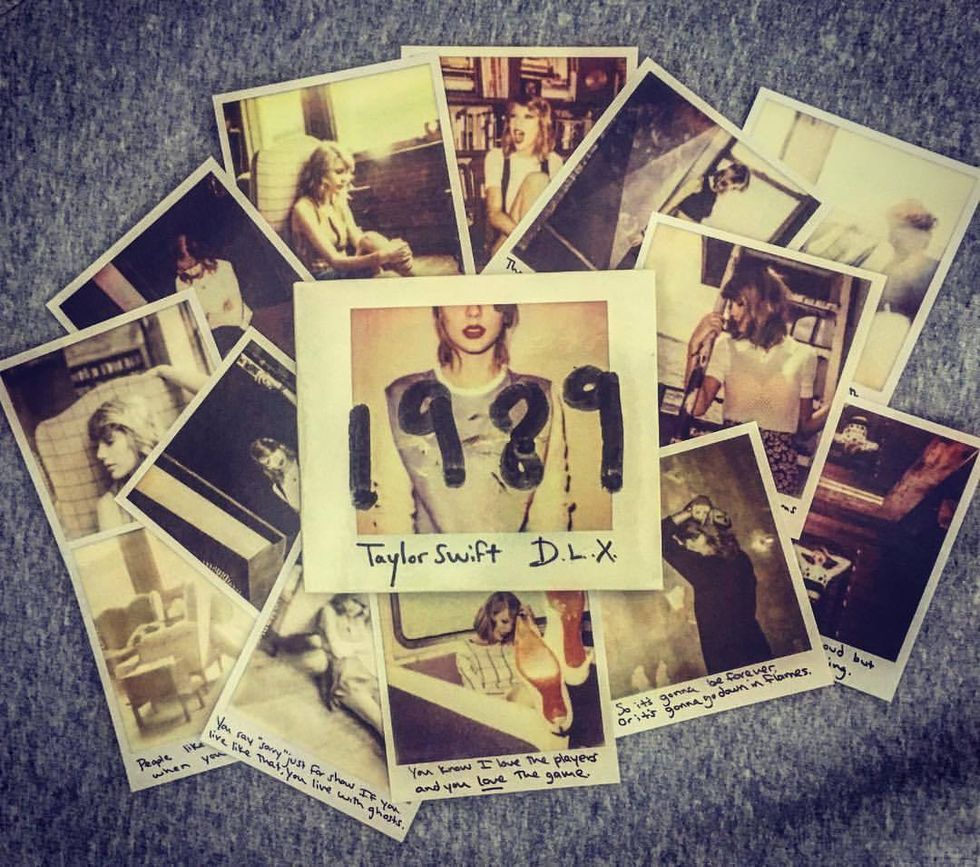 There were several polaroids that completed the set but each album only came with a select few. This allowed Swifties to get creative and they did all they could to collect as many polaroids as possible. Of course, it's a great way to sell albums but it's also a great way to please your fans and let them know that you love them. Admit it, you wanted all of the polaroids. We certainly did.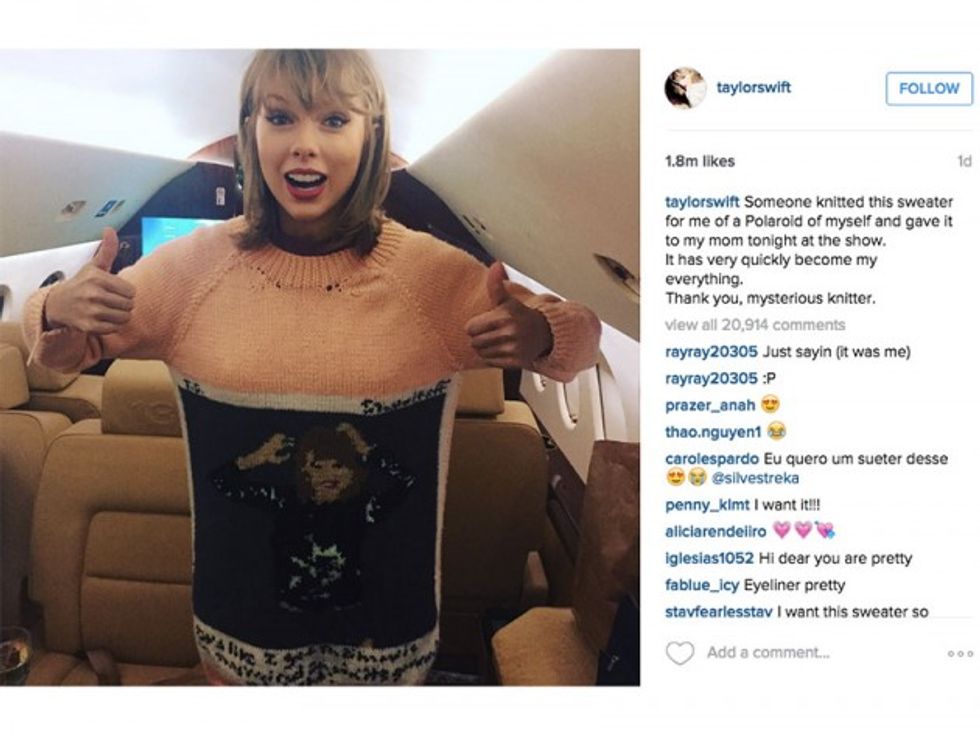 Speaking of fans, Swift makes sure to give them a behind the scenes look into her life as much as she possibly can. This is where Taylor Swift NOW comes into play. What is Taylor Swift NOW? It's a channel on DirecTV that's, yes, fully dedicated to Taylor Swift. It features behind the scenes footage from photo shoots, music videos, album interviews, and concert footage. If you're a hardcore Swiftie, TSNow should be on your radio.

The great thing is that Swift didn't have to make TSNow a thing but she chose to because she wants her fans to get an inside look into her life and have a behind the scenes look at how everything works. There is footage from the very beginning that is featured on the channel. It literally has everything and it's all for the fans.
4. Always tries to reinvent herself

Reinvention is key to relevancy. And don't say that by reinventing herself she is not the same person she was before. She is. But she refuses to put out an album that is the same as the one before. She refuses to put out an album that she feels doesn't top the previous. That is very telling of the amount of work and dedication she has towards her artistry. She is one of the few musicians who still consider music to be a form of art in its entirety. One of the few that still take time to form the cover art, lyrics, beat, and album booklets. But people still buy them from her, even though buying albums seems to be going out of style as of recent years. She manages to still sell millions of copies in the first week of release and that could be partial because she reinvents herself without fail year after year. It keeps people excited and it makes her a subject of conversation. That's what Taylor is. She is an icon because she keeps people on their toes- so much so that everyone and their grandmother knows who she is. Quality and honesty mean everything to her, and she keeps that consistent through each of her five and upcoming sixth albums.
Many criticized her for turning away from her country roots. But to her, RED wasn't sonically cohesive, and she felt that if she made 1989 partially country she would be lying to her listeners. Taylor writes songs that sound like how the subject of a song felt at the time. She writes songs emotionally, if an emotion felt more traumatic, the song will sound traumatic. This shows in songs such as "Haunted" and "Out of the Woods." If the emotion felt lively and energetic, the song will follow suit. This can be found in "New Romantics," "Welcome to New York," or "Stay, Stay, Stay."
Taylor has always written that way, and it is something that showcases her artistry. There are few songs or artists that make you feel something when they sing their songs. Songs in recent years that have done this are Kelly Clarkson's "Piece by Piece" or Keith Urban's "Blue Ain't Your Color." Artistry is so important to her and she works hard to make sure each one is better than the last.
5. Songwriting

Songwriting started at an early age for Swift, it all started as a diary entry, and still does. She went from writing songs about bullies in middle school and continued into writing "Look What You Made Me Do," a brilliant outlook at the media bullying her relentlessly.
Throughout her career and life journey, she has been viewed as something that she's not, and music is the best coping mechanism. Despite what the media tells you, she does not just write about breakups, she writes about life. This is what not only fans but society in general, gravitates to. Swift managed to do what she had always planned to do with "Look What You Made Me Do." She created controversy. Whatever your stance is on that song, she made you think about what it meant. She took a jab at the media, and she's showing everyone that she isn't going to put up with all of the things they've done to her. She is not trying to start riots in the streets, she's standing up for herself. Something she's always done in her music. She doesn't just merely put words into a song that sound good, she makes you think. This is what makes her stand out from all other artists on the radio. But if the listener only takes a nod to her singles on the radio, they are missing the entire point. It is her hidden songs that pay the most tribute to her skills as an artist. Keep in mind that the same woman who wrote something as simple as "We Are Never Ever Getting Back Together" also wrote the heart-wrenching song "All Too Well."
She writes things that everyone feels but is too afraid to say. She never says it simply- she just says it how it is. Her songs relate to a diverse audience- which has not been accomplished by most other artists. Her lyrics are raw and filled with emotion. The world is drawn to her because she is a rose among the dandelions. Her lyrics don't just tell her experiences, they show them. It comes from the fact that she's passionate about her craft. It's something that the whole world waits for and watches. She's a rule breaker that doesn't succumb to the media's perception of what makes a good songwriter. She's a class act- her lyrics come alive in your head and she carries them out to her tour. Ms. Swift manages to do what all other lyricists wish they could. Lyrics such as "darling I'm a nightmare dressed like a daydream" have been quoted in Instagram captions more than one could count, solidifying her role in culture and her envy among the music industry.
6. CATS

Okay, perhaps it's kind of silly but Swift and her cats is what makes Swift, well, Swift. When you think of cats, you don't necessarily think of the music industry but it's because of the singer that cats are so lovable, especially her cats. Meredith Grey and Olivia Benson are the true mascots of the Swift universe.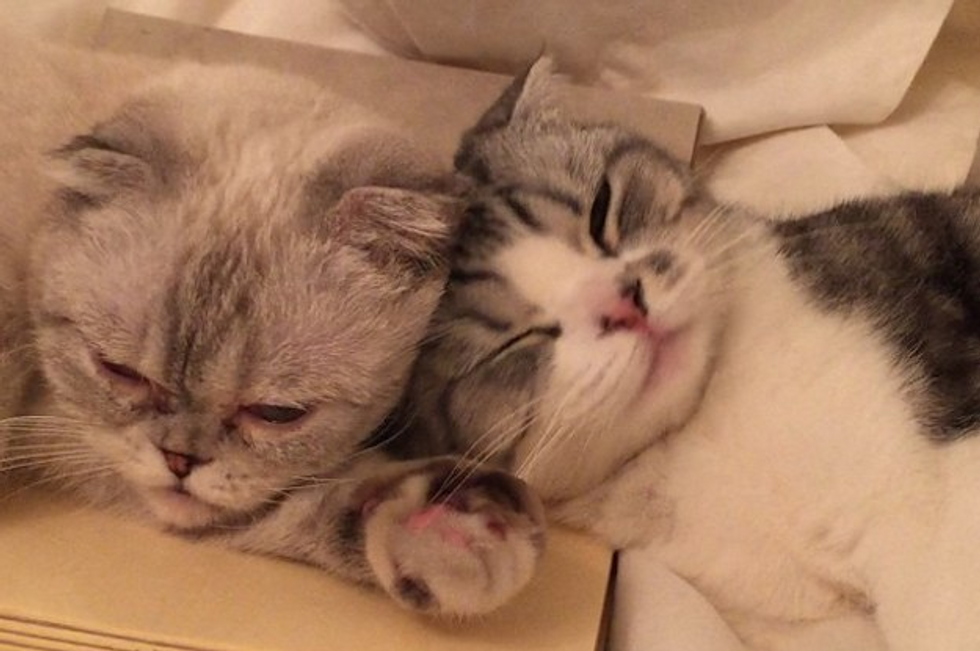 The singer-songwriter takes time out of her day to share photos of her cats and it proves to everyone who's watching that she's just a normal person like the rest of us. She's human who just happens to really love her cats, and we love her for it.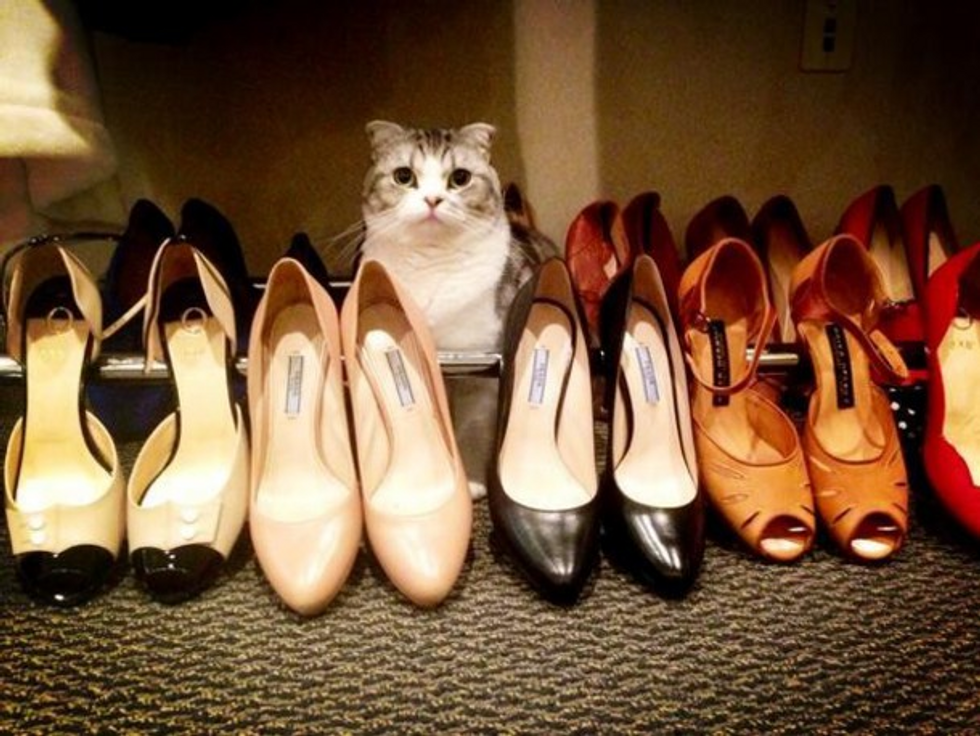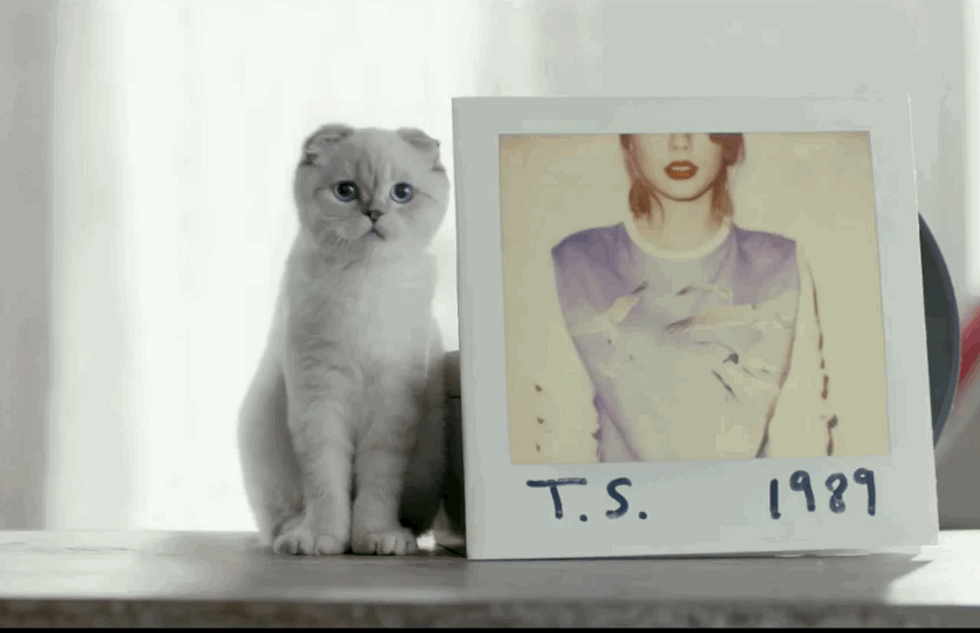 7. Personality
When we speak about Swift and how incredible she is, we aren't lying. We're serious when we say she's a genuine and humble soul. She's far more than meets the eye or how the tabloids make her out to be. Swift is in a league of her own and we know this by her personality. What you see is what you get with the songwriter and for being as famous as she is, that speaks volumes.
Here's the thing about Swift that many don't think about or understand; everything she does is not an act. It's out of the goodness of her heart. The most famous artist in the world could easily get out of jury duty but Swift didn't do that. In fact, Swift attended.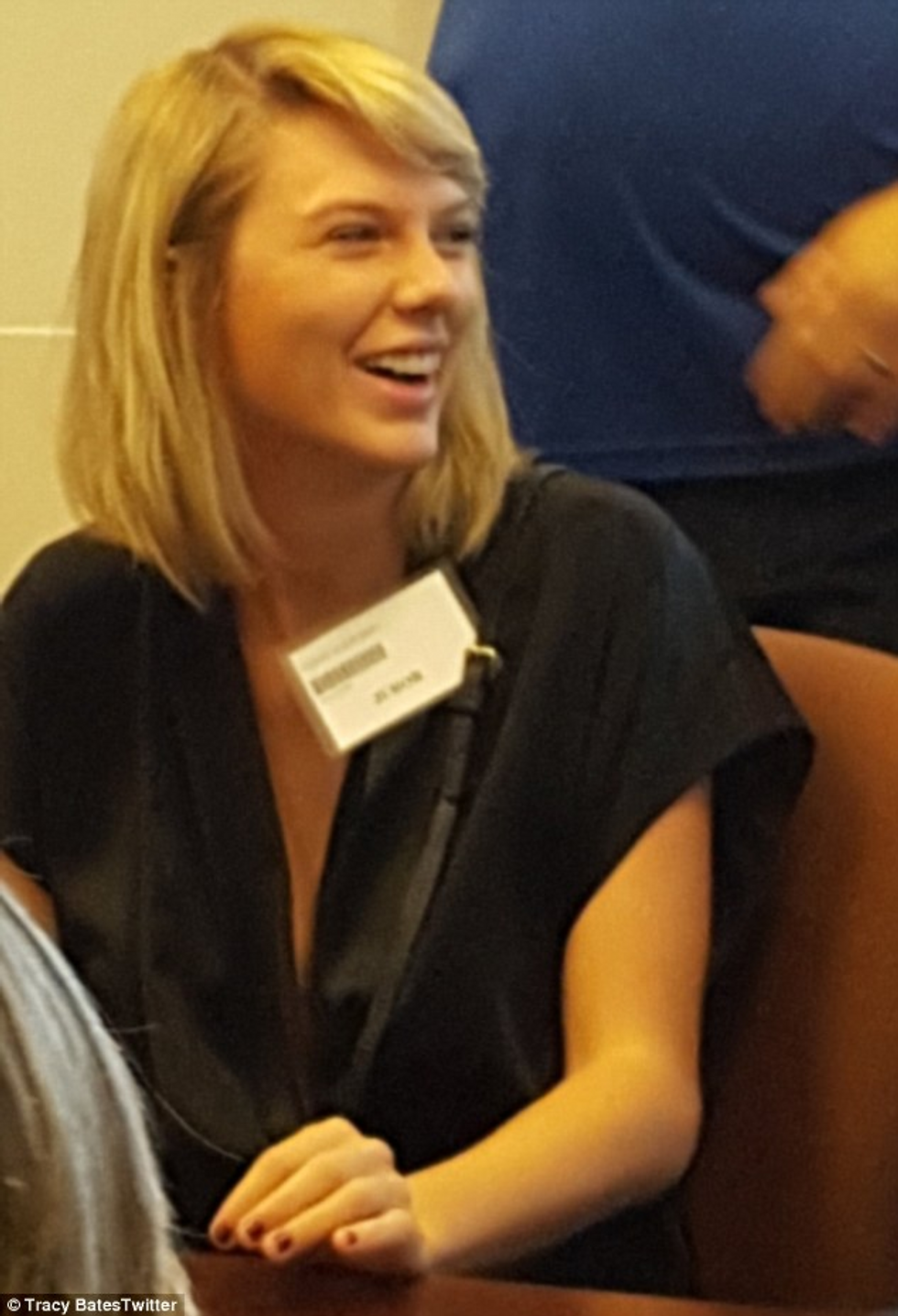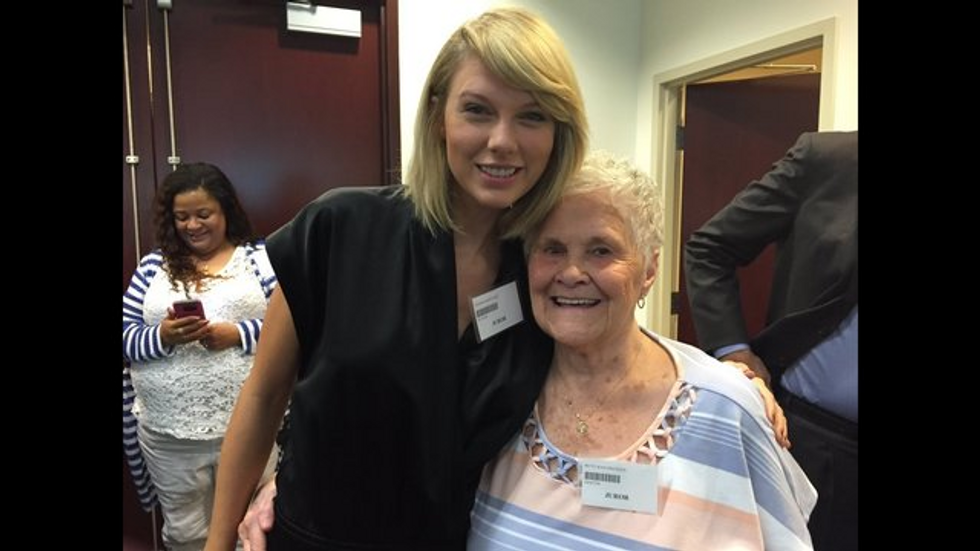 Not to mention, she met with others and took photos. She didn't have to go out of her way to do any of those things but she did out of the goodness of her heart. Many artists nowadays tend to stay back or call off stuff such as jury duty but Swift genuinely knew that she wanted to do her civic duty. While she was sent home due to the trial dealing with assault, she still chose to come and be a part of something many Americans have to do. Again, her actions speak for themselves.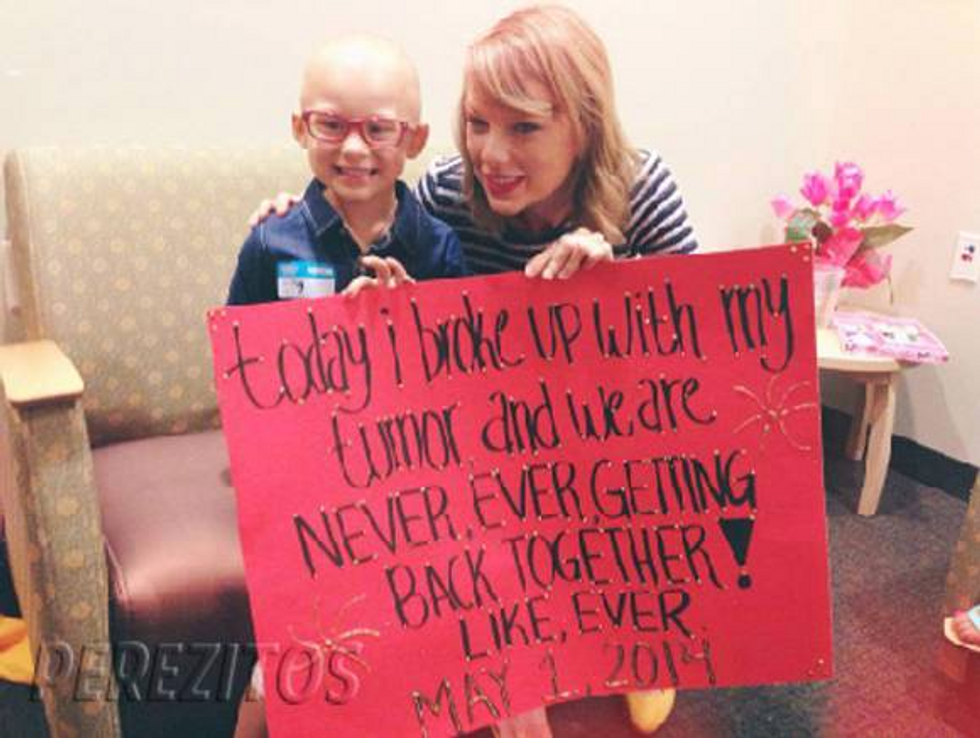 Speaking of actions, remember when Swift visited children's hospitals or donated money to her fans? We certainly do and we believe that it was because she genuinely wanted to. Not many other artist's fans can say this. Not to mention, the 27-year old takes the time to comment on others photos and posts truly showing them she cares.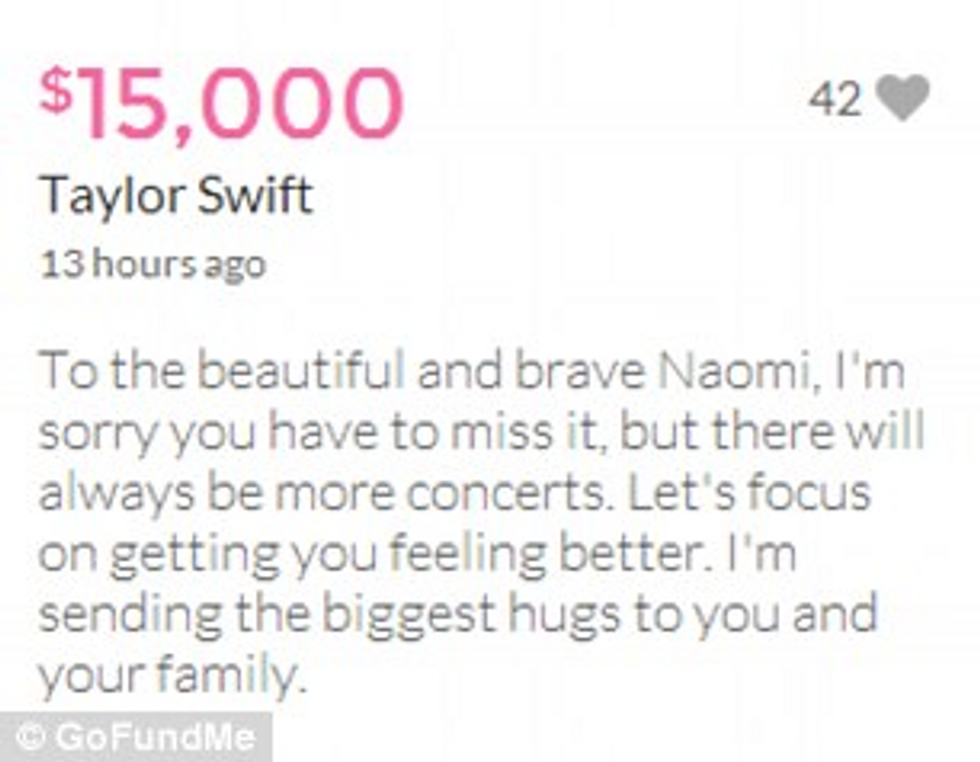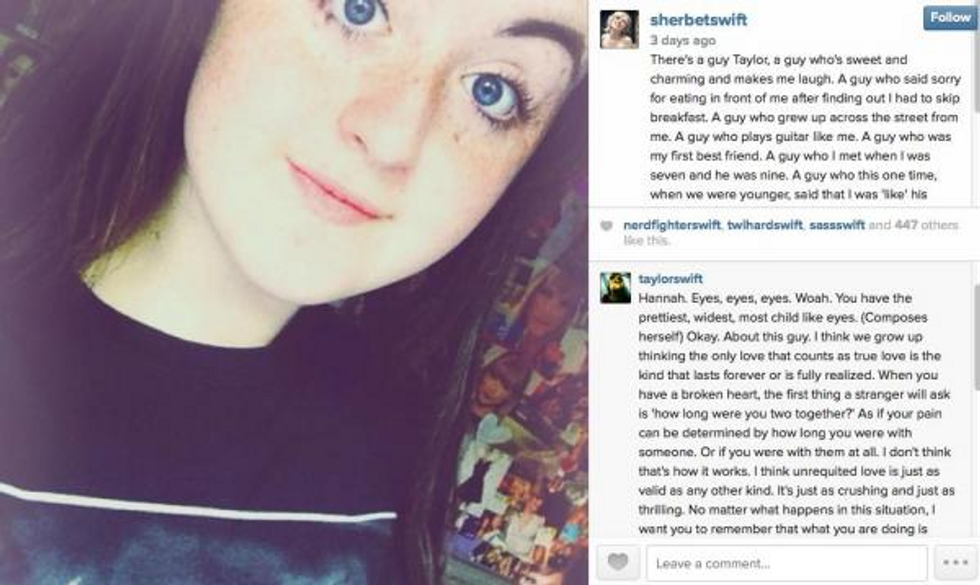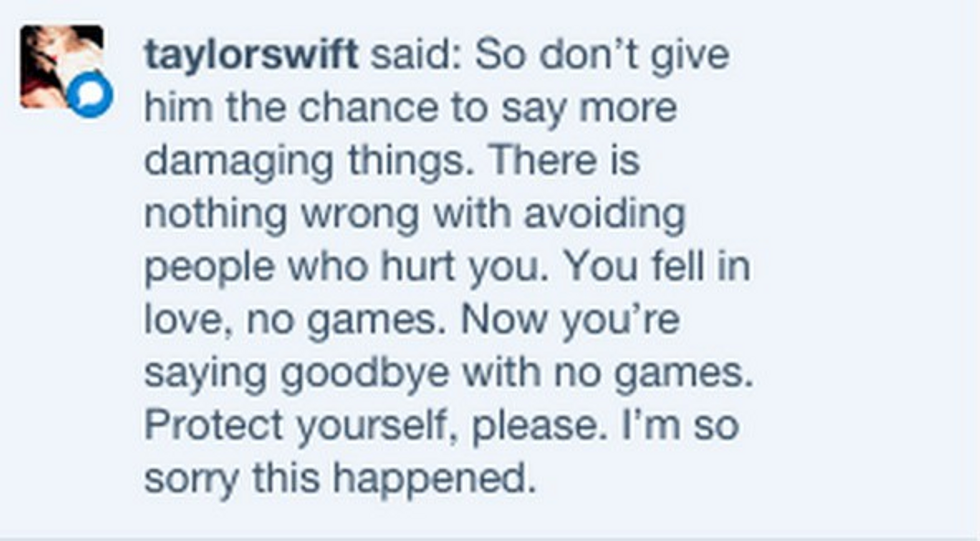 When it comes to style, Swift has stated that she thinks about thousands of other girls who look up to her. So for her, many things come into play. She doesn't just dress for herself but she dresses for those who look up to her. For her, it's understandable that she's a role model and it's something she takes into consideration everyday. Swift didn't became famous by showing her body. She became famous because of the music.
8. Tours are masterpieces

If you've ever been to one of Taylor's shows, you know what an incredible and unforgettable experience it is. The two hours spent with her as she performs is more than a concert that you attend on a Friday night. We would rather explain it to be a night out with your best friend. That's how she makes every fan feel, and for some, this is the case.
She doesn't just prance around on stage while performing. She offers up some life-giving advice, just like a friend would. Every time she speaks, you can tell in her voice just how grateful she is to be spending her night with you. But it isn't just the way she interacts with her fans that make her tours so amazing. It's the experience that thought process she puts into putting the production together.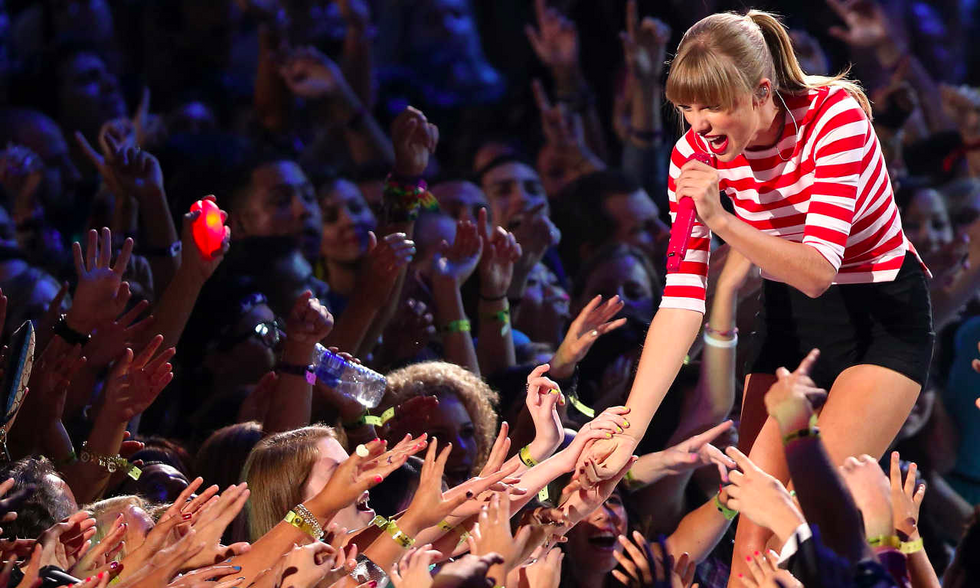 When you enter into the world of Swift on tour, you will noticed twinkling lights, a meet and greet room, incredible stage production and a hidden 13. It's not just the large details that are paid attention to but it's the intricacy she puts into the small ones as well. No tour is alike and every tour is bigger and better than the last. Her ability to capture a song live is astounding and the way she fills a stadium proves that she holds the world in her hands.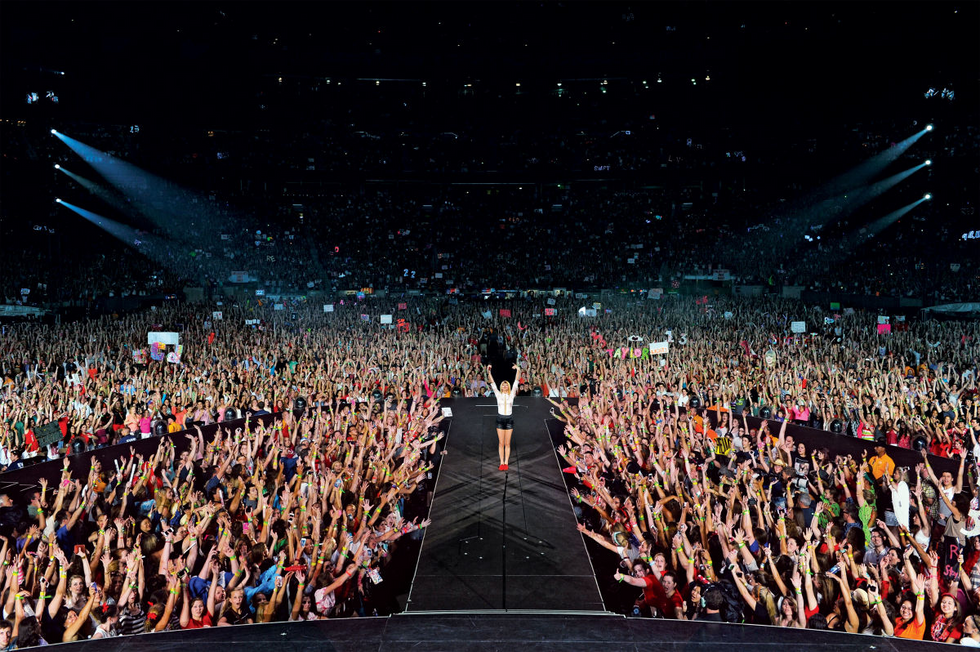 Many artists don't bother much with production. Instead, it's a light show and that's what it is. But for Swift, it's an experience and it's a story to be told. When you leave the stadium after hanging out with Swift, you're leaving knowing her better and by the end of the night, you might be calling her your best friend.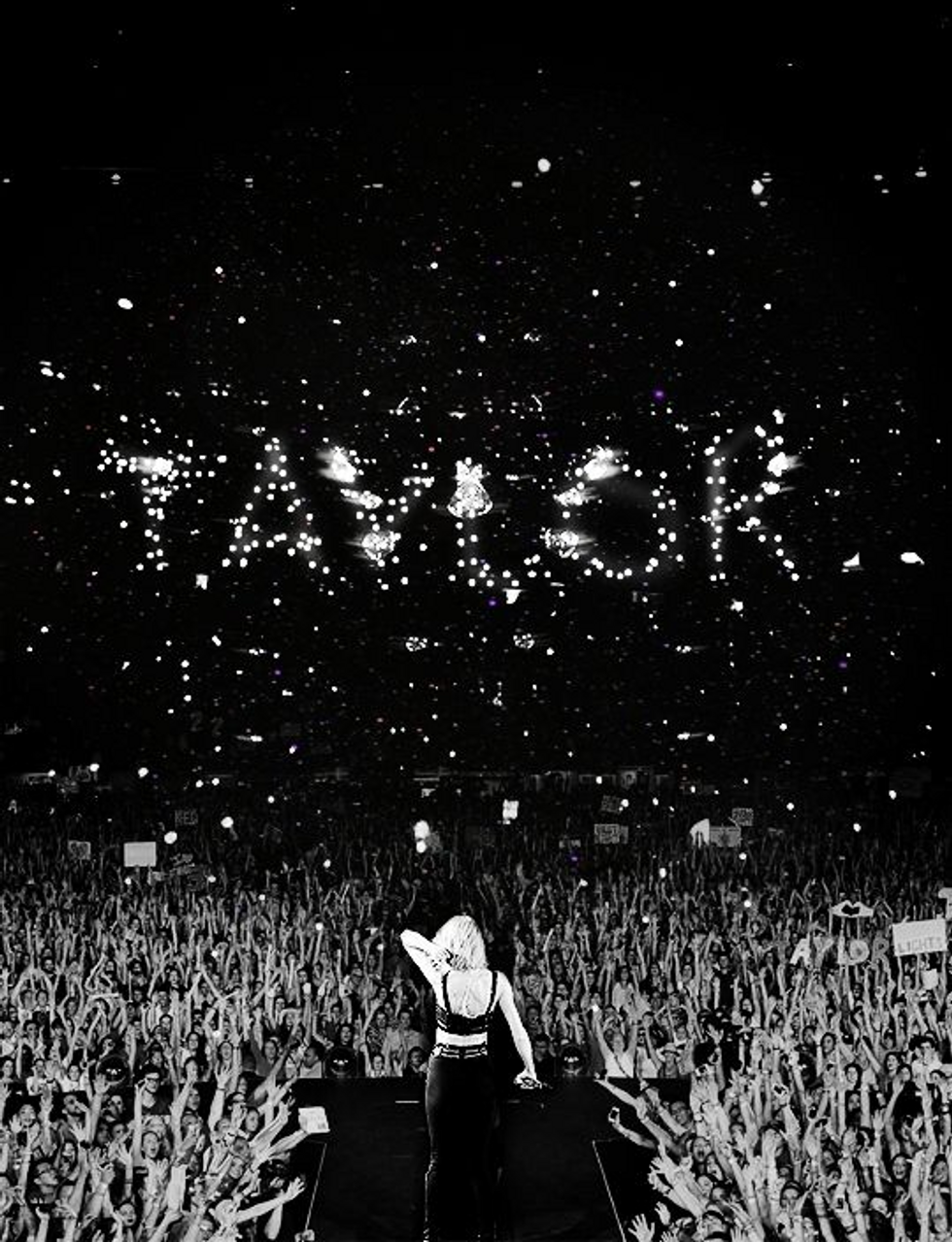 Taylor is iconic. She works hard to be different than all others. Through her artistry, style, and mission to make fans first, she continues to form a legacy that many aspire to replicate. Underneath that legacy is just a woman that is just like any other, with passion in her heart and music flowing through her veins, she seems like a superhuman, but do not be fooled. She still loves cookies and cats and she still has feelings. The size of her houses and the amount of money in her bank account does not determine the type of person she is. It is rare that you find someone who remains grounded and faithful to her fans but has the type of powerhouse career that she does.

Thank you Taylor, for allowing your stories to be our stories, for saying the things that we want to but can't, for standing up for things that we wish we could, and for writing songs that we can relate to.
Love your dedicated fans,
Kara Johnson and Alex Wallway