If you have ever been here, you would understand what I'm talking about. Next time you have some free time, check it out! They are located in downtown Davis right across from El Burrito at the E Street Plaza. They sell crepes, ice parfaits, custard shakes, Italian ice, frozen custard, and mangoneadas. And they even have games in there for you to use while you eat your dessert. But you're probably wondering why I'm writing this article in the first place. Well, to explain to you what exactly they have on the menu because there is always confusion on what these items are, and for you to try it out, obviously! Hopefully by explaining, next time you can have an idea of what you want to order without having to stand there for 10 minutes trying to decide what you want. I will also attach photos so you can get an idea of what these items look like. Their hours are Sunday-Thursday 12PM-10PM, and Friday & Saturday 12PM-11PM
So what exactly DO they have on the menu?
Frozen Custard: It's kind of like soft serve, but not really. It's creamier and richer, and its egg yolk to dairy ratio is perfect. It's not too thin, it's not too thick. And you're probably saying "Ew, egg yolk," but don't worry, it doesn't taste like it. They have vanilla, chocolate, and swirl flavor. You can either order it in a cup or cone.
Italian Ice: It's literally shaved ice, but waaaaay finer and softer. It's not crunchy like snow cones so it's okay, it won't break your teeth. They have many flavors, from watermelon, lime, lemon, mango, pineapple, etc. They also have two rotational flavors of exotic fruit and candy flavors, such as cotton candy and passion fruit and lychee.
Ice Parfaits: It's the combination of Italian ice and frozen custard. Some popular combinations are The Sunset (strawberry ice, mango ice, and vanilla custard); Mango Lassi (mango ice, condensed milk, and vanilla custard); Airhead (Sour Apple ice, sour blue-raspberry ice, and vanilla custard) and there are many, many great combinations. I personally love the Mango Lassi, so if you have the chance, give it a try.
Crepes: It's like a very warm, thin pancake that can be filled and topped with your choice of fruits, or sauces such as chocolate sauce, Nutella, cream cheese spread, caramel sauce, all topped off with homemade whipped cream—you can even add custard on the side! YUM! Take a look at the crepe combos, or you can build your own. You can even watch them make it!
Mangoneada: Ok this one is by far one of the best, but one of the most confusing if you're not familiar with it. So basically it comes in a cup with: mango ice, chamoy, Tajín salt, and a tamarind stick. Chamoy is a Mexican sweet and tangy red sauce that makes everything taste better. Tajín is just another Mexican salt that gives spice and flavor to a lot of things. If you've ever seen red, salty flakes on top of fruits, it might have been Tajín. Give it a try, I strongly recommend.
Custard Shakes: It's a hand-mixed shake made from custard and milk, resulting in a rich and creamy milkshake. You can mix in topping such as Oreo, Reese's chunks, fruits, and topped off with their homemade whipped cream.
So I gave you an idea of what they have, but they have many more combinations. For example, there is a long list at the shop with different combinations of Ice Parfaits that you can order. The menu is located on the countertop in front of where the shaved ice is.
Ice Parfait: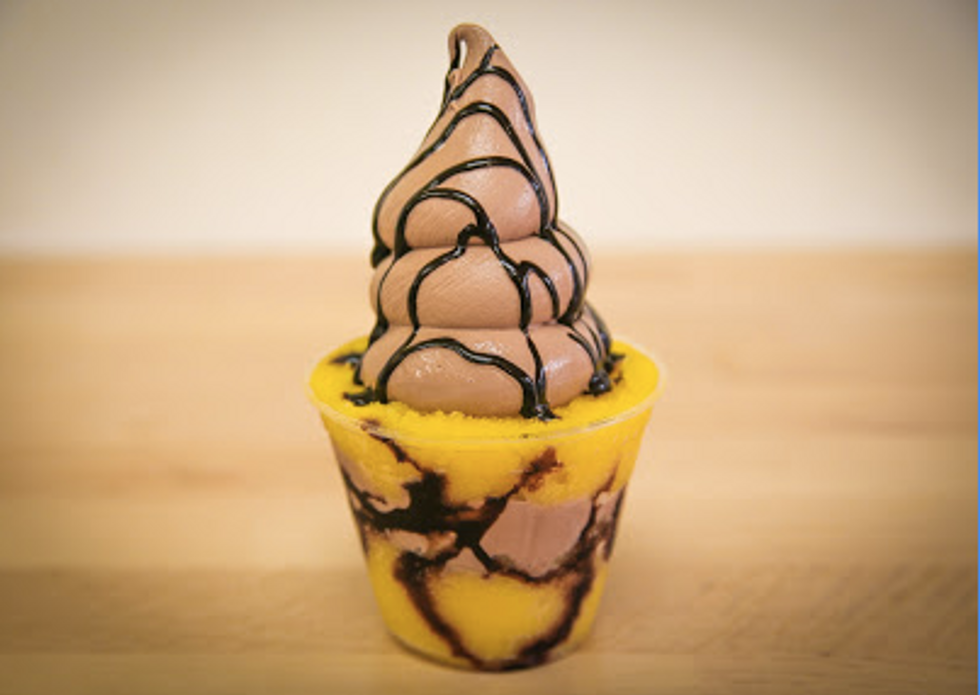 Crepe + Custard: