Now that school is out for most of yall, you are all feeling that summer loving. I am ready to try some new things. And that includes drinks. I have been searching on the internet and I think I have found some that I am down to try! From down-home classics to ones my clever friends have concocted your taste buds will be sure to thank you. I hope you all try these too!

Disclaimer: Y'all know, but I am going to say it anyways like a good seed: 21 and older to consume alcoholic beverages in the USA.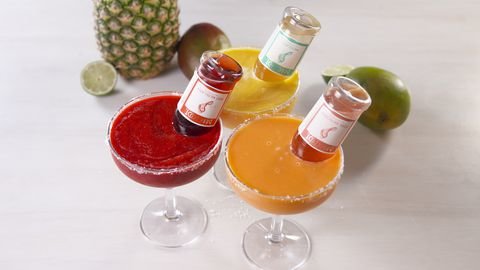 Wine about it no longer because you can mix a margarita with wine now! Wow, what an invention! So if you are hankering with mixes two of these fabulous types of alcohol look no further! For this recipe, I have found ones for pineapple, mango, and raspberry margaritas! Spice it up with these different flavors.
Ingredients:
Pineapple margarita:
- 1 ½ c frozen pineapple
-2 oz. freshly squeezed lime juice
- 2 oz. of silver tequila
- 1 oz. of triple sec
Raspberry Margarita:
- 1 ½ c of frozen raspberries
-2 oz. of freshly squeezed lime juice
- 2 oz of triple sec
Mango Margarita:
-1 1/2 c of frozen mango
- 2 oz. freshly squeezed lime juice
- 2 oz. of silver tequila
- 1 oz. triple sec
Directions:
Add salt in a small dish. Rim margarita glasses with lime and dip in salt to coat the rim.
For the margaritas: For each margarita add frozen fruits, lime juice, tequila, and triple sec and blend until smooth.
Pour into glasses. Take the mini Moscato bottles and flip into drink.
Enjoy!
2. Dry Ice Cocktail: Summer Edition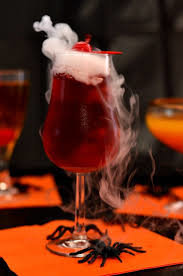 Honestly, if you have not seen these on the internet I encourage you to open up another tab and search them up immediately. Very cool! (Pun intended). Dry ice is available at Walmart and groceries stores such as Costco. Plan out when you are going to make this drink with the dry ice because it has a very short shelf-life. This is because it is constantly changing from a solid to a gas. SCIENCE!
Ingredients:
Vodka
Pink liqueur
Lemonade
Pomegranate juice (Or any type of juice you prefer)
Dry ice
Directions:
Combine liquids then add the dry ice and watch the magic happen! It is completely safe to drink (or else it wouldn't be on the list, I'm not trying to poison you) the drink with the dry ice in it but do not eat the actual cube please!
4. Rose Gummies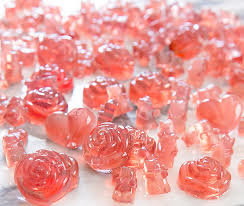 My cute favorite little bears in candy form and a bomb wine! What could be a better summer treat?!
Ingredients:
1 cup of rose wine
1 ½ oz of gelatin powder
½ cup of sugar
Optional ingredients:
Strawberries (diced)
Blueberries
Raspberries
Directions:
Heat wine in a microwave- safe container for 1 min or until hot
Mix sugar and gelatin into wine and stir with a whisk until dissolved.
Pour mixture into molds
Refrigerate for one hour
5. Blue Hawaii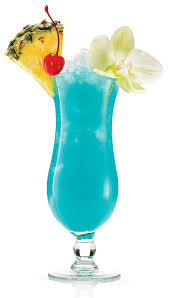 Why take a trip to Hawaii when you can just taste in a drink? Yeah, I guess I still want to go Hawaii but hey this is a delicious drink.
Ingredients:
- 1 oz. rum
- 1 oz. curacao
- 2 oz. pineapple
- 1 oz. of cream coconut
- 1 cup of crushed ice
- 1 pineapple slice
- 1 cherry
Directions:
Mix and enjoy! This drink can also be made as a non-alcoholic drink! You can replace the curacao with Koolaid to give that blue look!
6. Birthday Cake Mimosa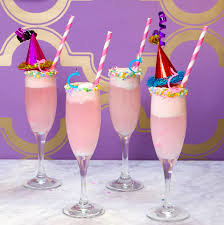 Your friends and family member's summer birthdays (or yours) are right around the corner and what better way to wish them well on their special; day than a birthday cake mimosa! Ingredients:
Ingredients:
Vanilla vodka
A scoop of birthday cake ice cream
Rose wine
Frosting
Sprinkles
Directions:
Combine vodka and wine
Dip glass rim in frosting and put sprinkles on top of it
Scoop ice cream and put into the glass
Toast to your loved one (or yourself) and enjoy!
7. Sex on the Beach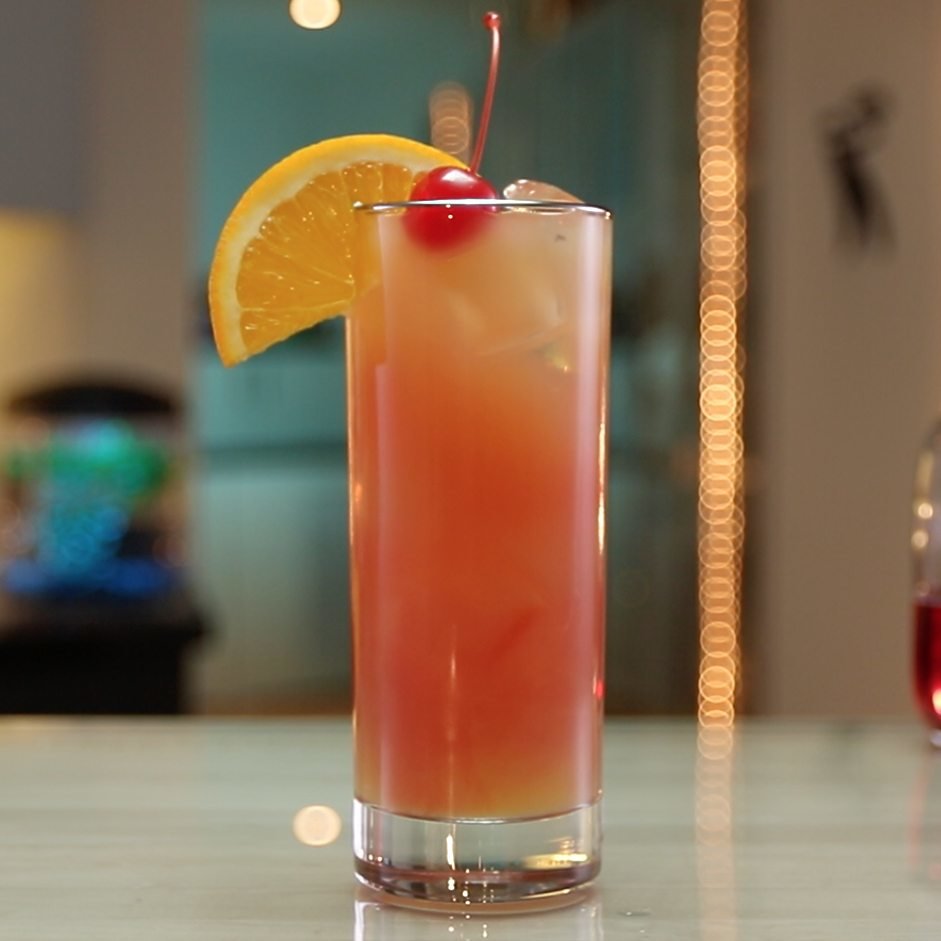 Ingredients:
- 1 1/3 oz vodka
- 1 1/3 cranberry juice
- 2/3 oz peach schnapps
- 1 1/3 oz orange juice
Directions:
Mix and enjoy! Can also be made non-alcoholic by using peach juice.
8. Hippie Juice
This drink will make you taste the freeness and sweetness of summer!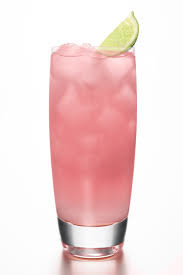 Ingredients:
- 1 cup of Smirnoff watermelon vodka
- 1/3 c triple sec
- 1/3 c of Malibu coconut rum
Directions:

Combine!
Source: My good seed Meg Fisher
9. Berry-Guava Lemonade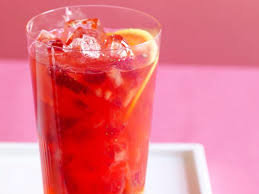 Gotta throw in something extra refreshing this summer!
Ingredients:
- 4 strawberries
- 2 tbsp of sugar
- 4 tbsp of guava juice
- 6 tbsp of lemon juice
- lemon slices
Directions:
Mash 4 diced strawberries with sugar and guava juice in a glass. Fill with ice, then add lemon juice and lemon slices. Done!

We have to throw in some classics in the mix as well!
10. Pina Colada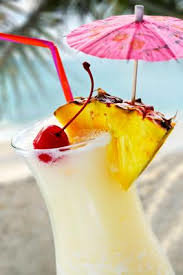 GET CAUGHT IN THE (Summer) RAIN


Ingredients:
- 3 oz. Pineapple juice
- 1 oz white rum
- coconut cream
Directions: Mix and drink! No rum still makes for a delicious non-alcoholic drink!
Whip these up in your kitchen in 15 minutes or less! Then you are ready to rock, roll and enjoy your summer with these refreshing dranks!