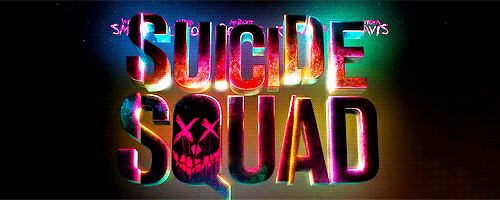 Personally, I loved "Suicide Squad." But, it's been getting a ton of bad press and horrible reviews. Being a huge Harley Quinn fan and loving the Joker because of my Batman obsession, hearing all of the negativity was a total disappointment. Going into the movie for the first time, I was prepared for disappointment. Yet, when I left the theater, I was confused. I thought that the movie was one of the best DC movies. The more I thought about it and the more I looked into the bad reviews, however, I realized some points that may have caused the hate. So, here's my "defense" to what has been my favorite movie of the summer.
1. The Humor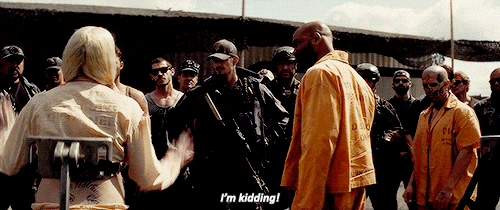 Movies like "Man of Steel" or "Batman Begins" rely heavily on the plot line, being origin stories. Most of the arcs that the DC movies can take depend on each sequel after the origin to incorporate a little bit more storyline than action. After all, "Batman vs. Superman" only had about 20 minutes of real action and that was including the three-hour extended addition. The rest of it is was further developing the plot to introduce Wonder Woman and led into the Justice League movie. But, "Suicide Squad" took on a lighter take. Rather than give us a full origin story for each character, they gave us a brief synopsis of who they were and then went straight into the action. Honestly, I got the feel that this was more like a Marvel movie than a DC movie, because Marvel movies are always full of witty one-liners and plenty of action, rather than a long winded plot to develop the characters a long. And, for a comic book fan, that's what I (personally) expect from a super hero movie.
2. Harley Quinn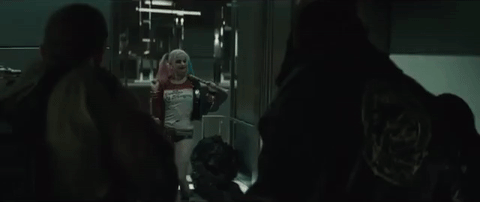 I'm biased here. I'll start off by saying that. But, I'm going to put that aside as well as I can when I make this argument. People have complained about how Harley Quinn was made out to be the "main" character in the movie. Well, since she's the girlfriend of the most popular villain to one of DC's most popular super heroes it sort of makes sense, doesn't it? People recognize her name more so than any of the other characters. After all, she has a comic book series starring her (along with Poison Ivy and Cat Woman). She's also, essentially, the only female member of the Suicide Squad. (Katana doesn't count because she's pretty much working with the government, rather than against). Was it so wrong that they made her out to be not only the most defined member but the hero? I personally loved the girl power shown in her character. Yes, Harley Quinn had the deepest back story and there was the whole Joker-rescue-mission sub plot going on with her, but she's the most well known and she had the most for the writers to work with. Besides that, that's like saying that "The Avengers" only put a heavy emphasis on Ironman (because, it pretty much did).
3. Dead Shot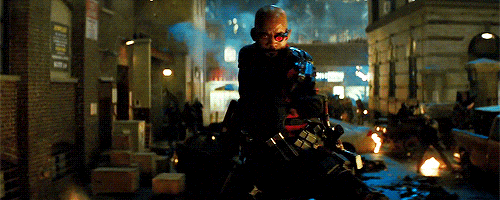 If there was going to be one other character who got a lot of attention in this film, it was Will Smith's character. Maybe it was because he was played by such a prestigious actor or maybe it's because there actually is quite a bit known about his character somewhere in the DC universe that I haven't uncovered. Either way, I loved his character as much as Harley's. They worked well together and the development to his character was actually pretty crucial to explaining why he was in the Squad, without ever giving any sort of a background about his character, leading up for a spin-off movie, potentially about his origin. But, the complaints have been made that he, along with Harley, were the "core" to the film. It's obvious how that assumption can be made, but it definitely wasn't done to try and diminish the other characters. It was just the best way for the movie to function with any sort of a real conflict. If they tried to explain every character's background in its entirety and provide a development for each character, the movie would have been impossibly long and there would have been no room for a villain.
4. The Enchantress

Oh, no! A super hero movie had the audacity to sexualize a female character? How could they do such a thing? That's never been done before. (Cue the eye roll and the obvious sarcasm). Harley Quinn got a ton of flack for the fact that she essentially wore a thong with a tee shirt throughout the movie and a pair of killer heels, but the main complaints for this character come from her appearance. If it's not the fact that she turns into a CGI-effect about half way through the movie that bugs people, it's the bikini that they throw her in while she dances her way around, kissing boys to possess them. The thing is...just because she's showing some skin, is that any worse than the skin tight leather that Black Widow or Cat Woman wear? Is it worse than the short skirt and unitard worn by Wonder Woman? I'm not saying it's okay to sexualize female characters, because it's not, but why is it suddenly wrong in this movie? Because, honestly, I don't see any flaws in the performance of this character. Cara did a great job, especially with the almost non-existent dialogue she had while playing the Enchantress version of herself. Her plan to destroy the world was a little out of whack and the development of her takeover was rushed. But, her character wasn't the problem. It was more so a flaw in the writing, that was based on how much they had to get into a short span.
5. El Diablo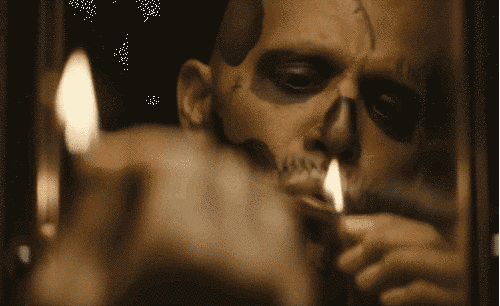 There is no way that an argument could be made to say that Diablo lacked character development. Maybe it was reverse character development since he had been trying to better himself and than gave into the literal fire inside of him, but his character changed. While his background wasn't revealed right off the bat, it was worked into the story line in a way that felt natural. It wouldn't have had the same effect if everything about him had been given away when his folder was opened at that first meeting about the Squad. And, while his character's depth was incorporated into the story, rather than all coming out in the beginning and wrapping up neatly at the end, he had just as much information given about himself as Harley or Deadshot.
6. Dropped Story Lines

OK, so, we have two instances of characters stating that they were going to get revenge on Griggs, the abusive guard at Arkham Asylum. Deadshot tells him that one day he'll get his payback for the beatings and sarcastic remarks, while Harley directly tells him that he's screwed as soon as Griggs hands her the cell phone that the Joker blackmailed him into getting for her. Yet, we never see Deadshot or the Joker actually do anything to him. Maybe it was just me, but I felt a little disappointed that nothing was done to him before the credits started to roll. Who knows, maybe it'll be redeemed in a sequel or maybe when a DVD rolls around it's going to be in some bonus features. But, with all of the members ending up behind bars at the end (or dead), it was a little bit of a disappointment to see their tormentor walk away unscratched. While they were cutting all those deals to get an espresso machine and a television in a sewer and visitation rights, maybe they should have thrown in some revenge?
7. Harley And The Joker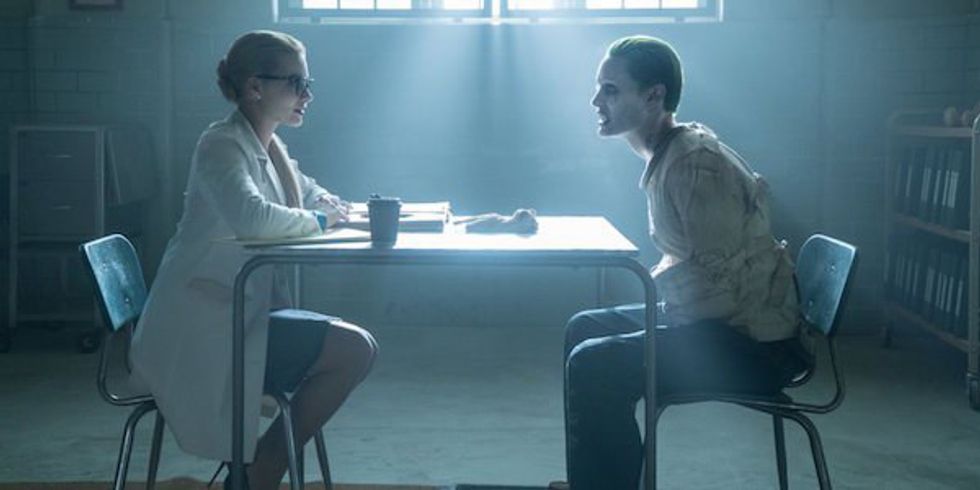 Unlike every other depiction of their relationship, "Suicide Squad" created a relationship where the Joker was actually in love with Harley. And, surprise, surprise, he wasn't so in love with her that he tried to kill her, like the few comic series that do try to create a more "loving" relationship between the two. Instead, the Joker loves her so much that he made her his "queen" and murders anybody who disrespects her. He worked on trying to find her when she was in Arkham Asylum and then tracked her down through her mission with the Squad, disarming the chip in her neck and freeing her. And, when everybody believed him to be dead, he broke her out of jail in the end.
Yes, he drove her insane and he totally took advantage of her feelings for him at the start, but that was what allowed their relationship to stay true to its original essence. Without trying to romanticize an abusive relationship, they showed the Joker hurting her and almost killing her, before realizing that he loved her and diving into the acid after her, before rising to the top of the criminal world with her at his side. For avid comic book fans, that was probably a disappointment. But, if somebody thinks that the movie wasn't good because Harley wasn't getting lit on fire by the Joker or left for dead after a brutal beating, maybe they aren't the best judge? Their relationship wasn't the main focus of the movie. It was there, because you can't have Harley Quinn without the Joker. Who knows, maybe if the Birds of Prey movie becomes a reality, a darker side to their relationship will be revealed? But for now, the change in their dynamic added to the movie.
Was it the best super hero movie ever made? That's up to your opinion on what makes a good super hero movie. If you like an origin film, then you'd probably be disappointed by this. If you're the type of person who cares about the plot more than anything else, then this movie is going to be flawed to you. But, if you're a super hero fan who cares about the characters and how they're depicted, then you're going to like it.
It has its flaws, but that can be said about any super hero movie. There are so many different ways to go about a super hero movie and this was just one of the many. If it's not your cup of tea, you aren't going to love it. I found "Man Of Steel" to be the most boring movie I ever watched in my life, but plenty of people loved it. Moral of the story? Don't hate the movie because of a few things you don't personally life and don't completely write it off just because of a few flaws. Because, all in all, it's a good movie.