Let's get one thing straight: I am not one for scary stories.
I have never seen a horror movie in theaters. I never checked out "Scary Stories to Tell in the Dark" from my elementary school library. I do not go to haunted houses. I refuse to tell ghost stories around a bonfire. And I would shamelessly choose to read a Jane Austen novel over a Stephen King on any given day.
That being said, I am currently studying to be a high school English teacher. I may not live for the thrills of a horror story, but I know many do, and the chances of more than one of my future students taking a liking to this genre are extremely high. So, when plans to expand my reading options were being made, one of the first authors I jotted down was none other than Stephen King.
With how much I love reading, it surprises me I never thought to pick up one of his books sooner, especially when everyone went crazy about the new adaptation of "It," which is actually a great movie if you just close your eyes whenever that terrible clown appears. I am not one to shy away from different books, but something about this author seemed... unsettling.
I have never been scared by a book before. Before reading "Pet Sematary," I thought it was completely impossible for a book to keep me awake at night out of fear. I just assumed everyone was overreacting, mistaking the creepy tone of the movie adaptations for the book they quickly read.
And the lengths people would take to cope with the "fear" of one silly book were insane. I mean, how on earth could a book be so scary you feel the need to throw it in the freezer?! (Little did I know I would soon try out the same method.)
My disbelief in a book's power to scare me led me to make a bold decision I now somewhat regret. I decided to read the scariest work King believes to have ever written, "Pet Sematary" (the scariest work considered by readers is "The Shining.") This book was thought to be so out-of-line, he kept the manuscript locked in a drawer for years before his wife finally convinced him to publish it.

This book is fairly well-known, recently being made into another adaptation, though it takes several liberties with the original work. Its plot surrounds a family who has recently moved to a house next to a road considered dangerous for children and pets who are at the mercy of a popular truck route. As you can imagine, the road claims a life or two, leading the protagonist to take advantage of a magical cemetery known to bring pets back to life in a somewhat zombie-state.
The summary alone gave me the creepy-crawlies, but I didn't realize how much worse it would get.
In the days it took me to read the novel, as well as the few following, I was on-edge like never before. Loud sounds made me jump as I read the book while home alone (mistake number one,) and my eyes never seemed to shut when I read a few pages before going to bed (mistake number two.) I found myself watching re-runs of "Friends" or old Vines between chapters just to shake off the disturbing feelings before tackling a few more pages.
With an eagerness to finish the novel, I finished the book in four days, but the effects of the novel continued to remain even after I shut the book for the final time. To this day, I am having trouble making eye contact with my dog, who is very much alive, although he does have some zombie-like qualities.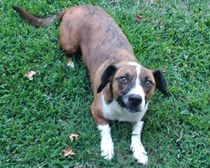 I love Chewie, but he has some zombie moments. Natalie Austin
Basically, this experience taught me I am not one for scary stories, especially ones that hit as close to home as this one. But that's okay. At least I know that they are not for me. How would I have known this book would result in my most vivid nightmares if I had not even bothered to pick it up?
On the other hand, maybe I would have been happier not knowing.