Cancun, Cabo, South Padre, Miami. Odds are if you're in college, you have the money, and you love to darty, you're headed to one of these places for spring break. After all of your midterms and hard work it's time to blow off some steam and get some sun. Whether or not you've been living at the gym preparing your beach bod or hitting up Taco Bell, we all want to bring our best warm weather clothes. Here's a list of a few items you may or may not want to pack for your week of fun in the sun and what they say about you.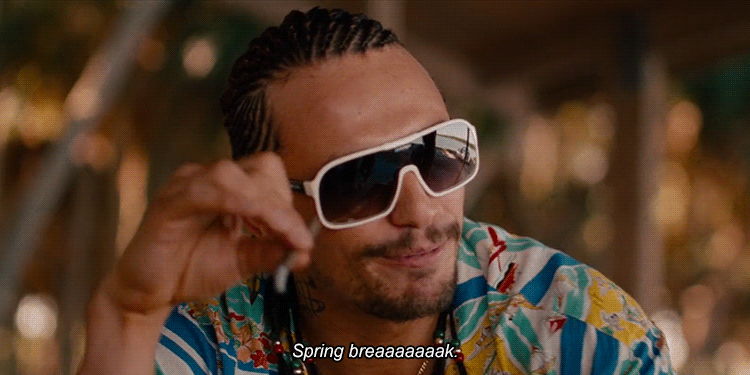 1. Bikini

You're a simple gal who likes to have fun. You're all about having a good time and will probably end up at a foam party in Cancun at some point. Go wild girl, it's spraaang breaaaaak!
2. Speedo
You've got confidence, dude. However, just because you have the balls to wear this, that doesn't mean we need to see them. Cover up, honey. This is a family resort.
3. Maxi dress
Spring break is one of the only times it's acceptable to wear this item of clothing. While a maxi dress is comfortable and great for covering up atrocious sunburns, you risk looking like you're in a bed sheet. Do us all a favor and save the nightgown for nighttime.
4. Salmon colored chubbies
He only drinks Long Islands and his opening line will most likely be, "Hi, I'm Chad. What sorority are you in?" Be careful, though, these shorts don't flatter those who decide to skip leg day.
5. Wife beater
You look like Ronnie from "Jersey Shore" and not in a good way. The name of the garment itself is sleazy and so are you if you throw this on for a night out. Please, just wear something with sleeves.
6. Fedora
Who are you, Jason Mraz? This hat should never be purchased, let alone worn. Go for a baseball hat or something. Honestly, a sombrero would be a lot better than this pathetic excuse for headgear.
7. Enormous brand name sunglasses
If you can pull these off, all the power to you. However, 90% of the time you will look like a bug or a wannabe Paris Hilton. You'll look a lot less stupid if you just go to Walgreens and get some aviators like the rest of us.
8. Crocs
Honestly, just go home.