When I was younger, I dreaded Halloween - not because I was scared or had a special talent for eating so much candy I made myself sick (of course not...) but because I could never find a costume that properly fit me. Going to your run of the mill Halloween stores didn't work for me when I was 8-12 because the costumes I fit into were the women's costumes, which were far too sexy for a kid, and even as a teen as I got older.
I soon learned how to put my own costumes together, but now that I am an adult and can dress however the heck I want, I have scoured the internet for great websites and stores that offer true to plus-sized Halloween costumes and compiled a nice little list for my plus size gals. Some of these will be a bit pricey, but many of these shops are always offering coupons.
Still, if you can't afford to drop $30+ on a costume, I will include cheaper alternatives and give you some tips on how to make a great DIY costume!
1. Hot Topic
I know, Hot Topic on its own can be a bit daunting - but they actually have a great plus size selection, especially for costumes. They offer pieces like leggings, dresses, and sweaters that can be worn as a costume but can also be used year round, so dropping the cash on these pieces won't hurt so much.
Their dresses are especially lovely because, if they are your style, can be worn and dressed up or down depending on your tastes. A killer makeup job can completely make your costume, so I suggest checking their website to see if anything catches your eye! Their sizing is what I like to call true to plus size, and if you read my plus size shopping guide then you know that true to plus sizing runs a bit larger than junior plus sizing (like Forever 21) so I suggest sizing down in the size you might usually wear in junior plus.
For example, if you wear a size 3X in Forever 21, try a 2X in a Hot Topic dress, or take your measurements and use their size guide if you want to ensure a perfect fit. I have pictured below their Black Lace Keyhole dress, priced at $37, and is perfect for everyday use and for being the perfect dress to complete a number of costume ideas: vampire, witch, you name it! I also pictured their Mermaid Leggings, priced at $26, also perfect for a cute, comfy outfit or PJ and for a warm mermaid costume, in case its chilly on Halloween where you are from.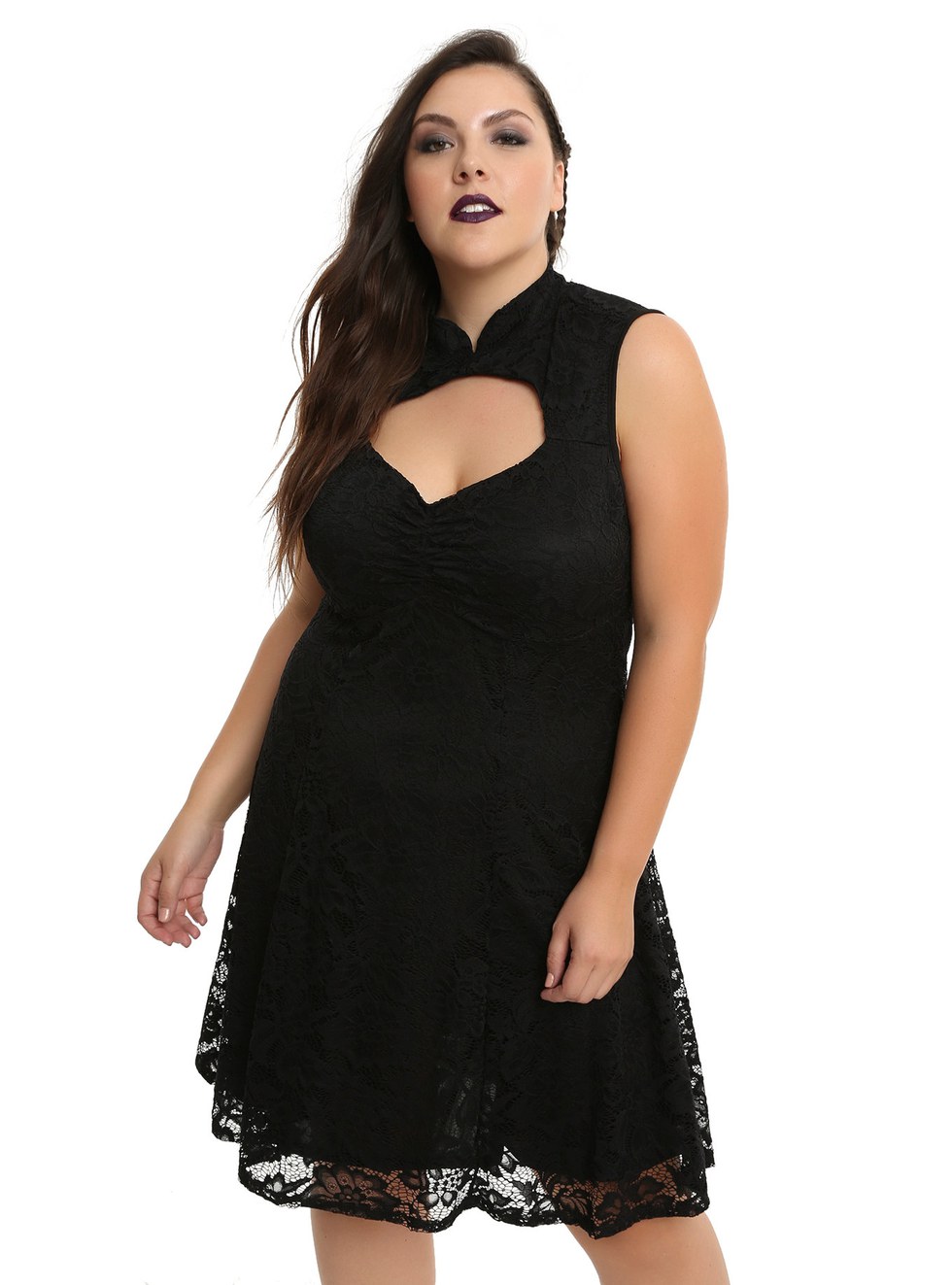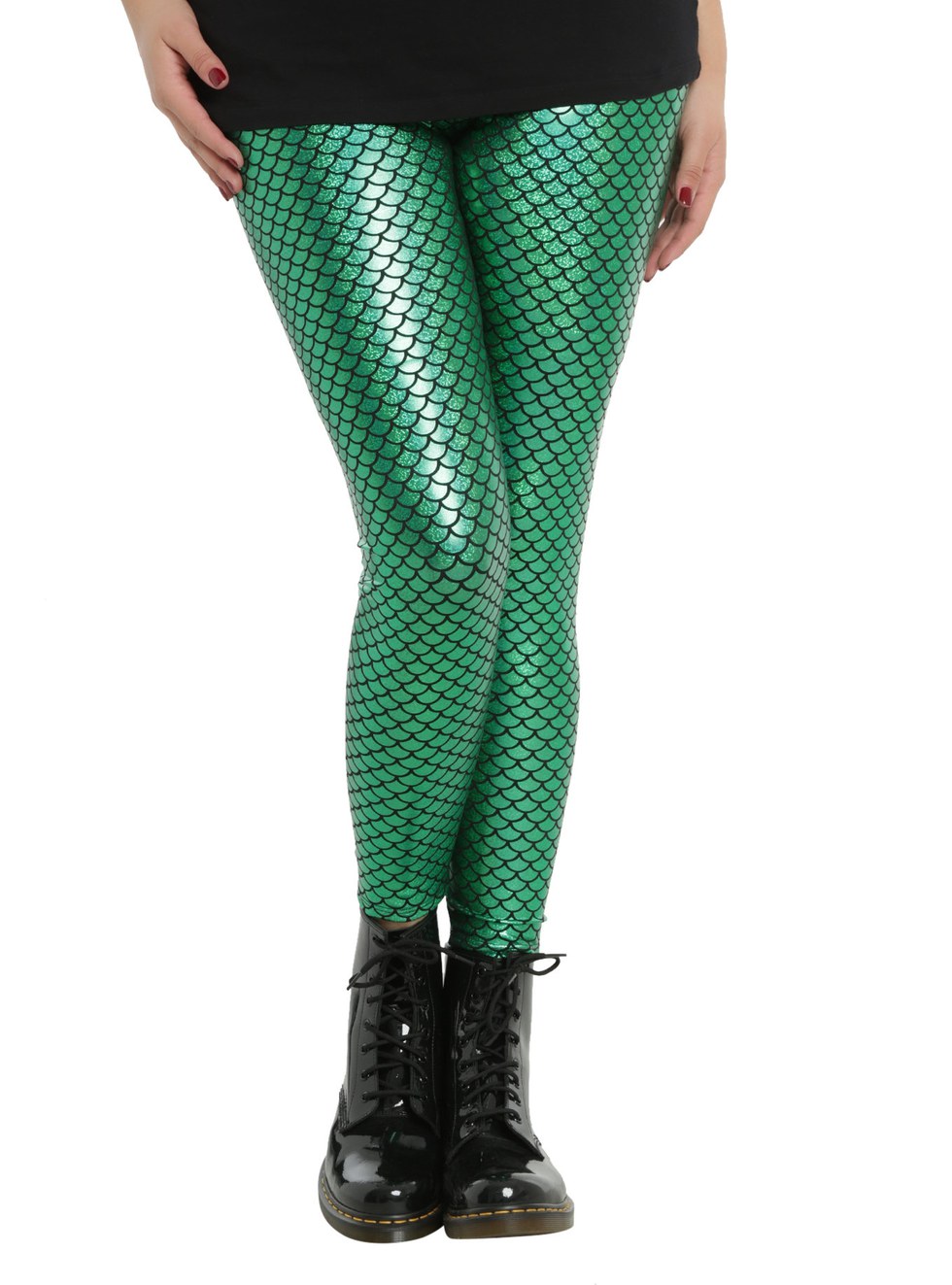 2. Torrid
Much like Hot Topic, Torrid offers true to plus size costumes, but are much more versatile in styles in case you are looking for a fun, less edgy costume idea. Torrid can be quite expensive, notoriously so for plus size shoppers, but they do offer a number of coupons and promotions to help you save.
If you are looking for a costume that will stand the test of time and fit you great, give Torrid a chance, especially if you are wanting to go all out. Below I have pictured their Leopard Hooded Sweatshirt costume, priced at $50, and their Harley Quinn dress, priced at $58.
These two are easy to dress up or down pieces and can be paired with accessories and makeup to sell a great costume.
3. Yandy.com
If you really, really want to go all out and are looking for a hot costume, Yandy is going to be your go-to place. They have pages and pages of super cute, sexy, and modest Halloween costumes that you are unlike to find matched in quality and detail anywhere else. The intricate costumes come with a price tag similar to Torrid's, but you get more bang for your buck with Yandy.
It was hard to pick out just two pictures, so I highly suggest putting time aside to look through their countless costumes, even if you can't drop the cash for them: you might get ideas for DIY costumes just from looking, so check it out! Below I have pictured their Happily Ever After Costume ($64.99 for everything but the gloves and shoes) and their Ms. Bones Skeleton Costume ($61.95 for everything but the hat)
4. Charlotte Russe
The plus size section of Charlotte Russe features plus size party dresses that can be versatile for every day use and be used as the basis for some great costumes.
Their Halloween Shop doesn't specifically have plus size costumes but does have fairly cheap items to dress up your costume dress or a dress you already own, in case you can only afford pieces under $20. Below I have pictured a Lace Bunny Ear Headband, priced at $6.39, and a Velvet Mock Neck Cut Out Bodycon Dress, priced currently at $18.39.
And there you have it! For DIY, I suggest checking out Pinterest for some cute ideas -- you can make a plain dress into a cute costume by adding felt letters or bedazzling.
You can also utilize craft stores and use flowers, patterns, patches, and the like to create headbands, skirts, belts, and hats to dress up a simple outfit. Also, utilize makeup tutorials on youtube - my favorite channel is MadeYewLook.
She is an amazing makeup artist that creates the most popular themed Halloween makeups for the entire month of October: for example, she did a Pennywise makeup that is awesome. If makeup is more your forte, check her out, and all the other simpler themed videos that Youtube has to offer.