This classic childhood cartoon, for those of my generation, "Spongebob Squarepants" will always be close to our hearts. While it is a show of complete fiction and talking animals in a town called Bikini Bottom, and now that we are older we laugh at that name, is impossible in the real world, "Spongebob Squarepants" almost perfectly depicts various aspects of life, specifically through its three main characters.
First let's take a look at Spongebob Squarepants: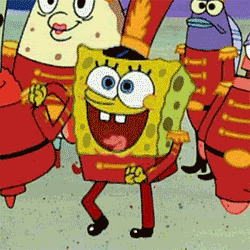 The namesake of the show, he is an energetic, hardworking, and incredibly optimistic yellow sponge, even if he isn't the smartest one around…We all know people like this; those that are willing to see things in only the lightest ways, work the hardest (even if they have a crappy job like at the Krusty Krab), and have a passion for life, even if they are in their own silly little world.
"If I were to die right now in a fiery explosion due to the carelessness of a friend…then that would just be alright."
"Run Mr. Krabs! Run like you're not in a coma!"
"It's not just any boulder, it's a rock!"
"Isn't this great Squidward? Just you and me together for hours and hours and hours! And then the sun'll come up, and it'll be tomorrow, and we'll still be working! It'll be just like a sleepover! Only we'll be sweaty and covered with grease!"
"Look at me, I'm swabbing the bathroom… at night! OW I burnt my hand!... at night!"
Secondly, there is Spongebob's best friend, Patrick Star: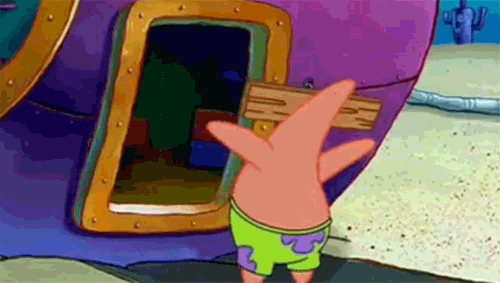 Also the town idiot, you can't help but absolutely love him. We all know someone like him! While he isn't intelligent, he is always there for his yellow friend.
"Well it may be stupid, but it's also dumb."
"I wumbo, you wumbo, he she me wumbo. Wumboing, Wumbology, the study of wumbo! It's first grade, Spongebob."
"Can you give Spongebob his brain back? I had to borrow it for the week."
"Dumb people are always blissfully unaware of how dumb they really are."
"Is mayonnaise an instrument?"
"You're a man now Spongebob, and it's time you started acting like one."
"Don't genius live in lamps?"
And lastly, to complete the weird friend-trio, there is Squidward Tentacles: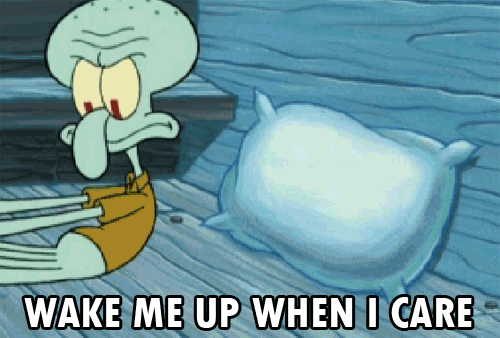 He hates work, complains constantly, is incredibly lazy, and can't stand Spongebob and Patrick (deep down he has to love them, though). Some may call him pessimistic, but he also sounds like a ton of people I know…
"I hate all of you."
Spongebob: "What's better than serving up smiles?"
Squidward: "Being dead or anything else."
"Too bad Spongebob isn't here to enjoy Spongebob not being here."
"Too bad that didn't kill me…"
"Oh! I didn't realize it was happy, hopping moron day!"
"How did I ever get surrounded by such loser neighbors?"
"I order the food, you cook the food, the customer gets the food. We do that for forty years then we die."