The African wild dog (Lycaon pictus), also known as the Cape hunting dog or African painted dog, is a canid that resides in the savannas and woodlands of Africa. They have patchy, mottled coats of yellow/brown, white, and black coloration with big bat-like ears. Much like our fingerprints, each wild dog has its own unique coat pattern. No wild dog looks exactly like another, which can be useful for identifying an individual pack member. According to African Wildlife Foundation (AWF), their average weight is 55-70 lbs, and their average lifespan is about 10-12 years.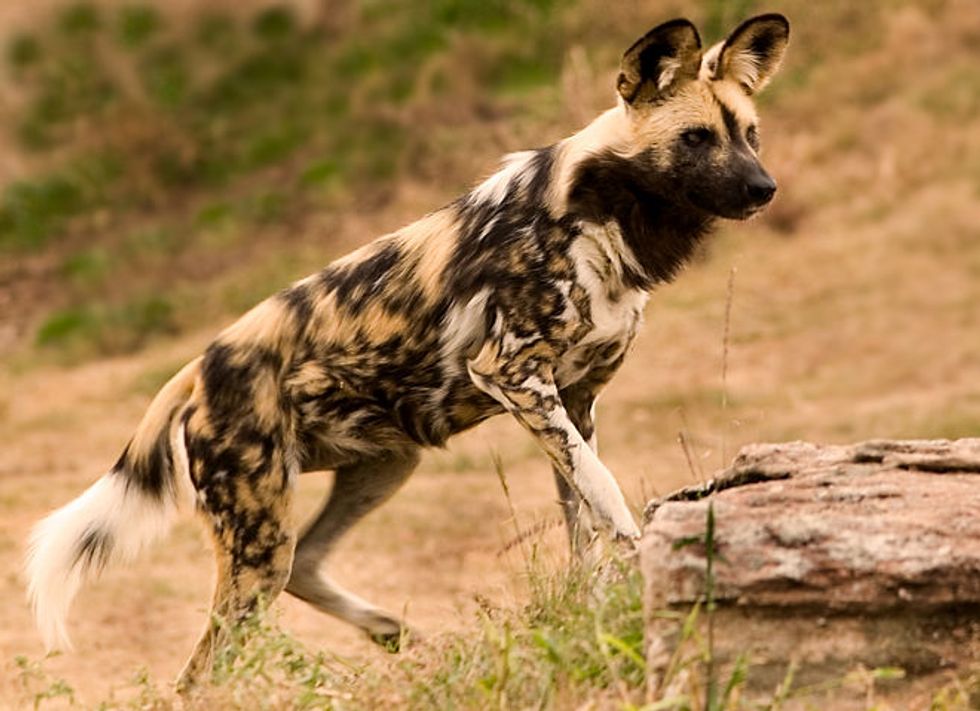 The African wild dog is very social, much like their canid counterparts such as wolves. Pack sizes vary, but can be as large as 20 or more members. They make a variety of noises from twitters, chirps, short barks, "hoos" that are a form of howl, and some cackling (though are not related to hyenas). Families can be very closely knit with the wild dogs taking care of both the ill and elderly members.
According to AWF (linked above), inter-pack aggression is very rare with little conflict between members, and there's not much hierarchal intimidation. Packs contain a breeding pair, who stay together for life, and are the only members in the pack permitted to have pups. Each pack member pitches in to take care of the pups from the breeding pair, and regurgitates food for the pups.
Not only does this help solidify relationships between the pups and the other pack members, but it also helps take some pressure off the mother. Litters can be very large, and momma would have her paws full!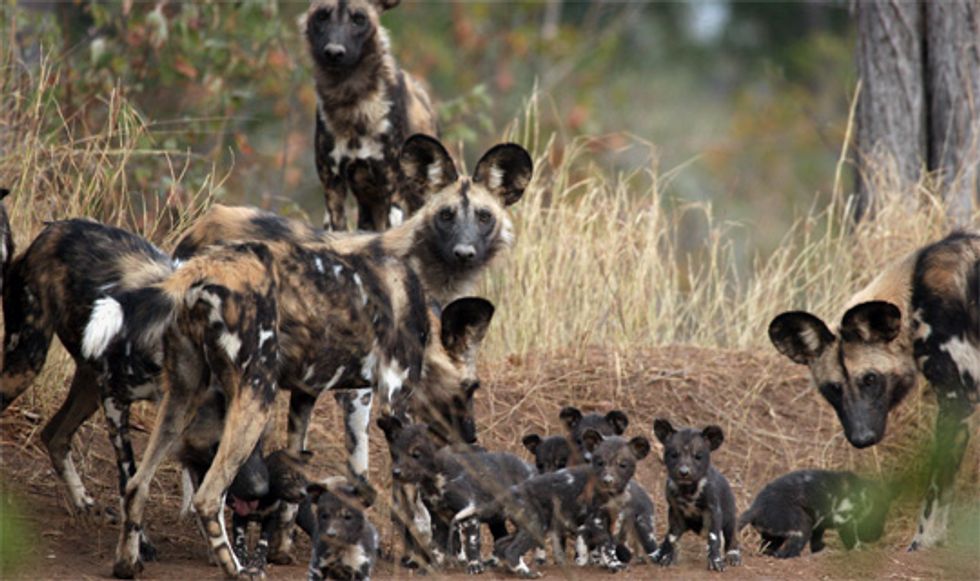 The African wild dog is a very efficient hunter. So efficient in fact, that they are one of the best hunters in the world, if not the most efficient. According to Nat Geo WILD, 4 out of 5 hunts are successful. Their prey rarely escapes. They typically hunt impala, zebra, and wildebeest. Like wolves, the wild dogs will charge into a herd and "test" it, looking for an individual that is showing weakness. Once they've targeted an individual, they'll run it down, having stamina on their side so they can chase their prey to exhaustion, but according to World Wildlife Fund (WWF) they can reach sprinting speeds up to 44 mph.
The painted dogs have one of the strongest bite forces in the world. A common method they use to bring their prey down is having one dog grabbing the animal by the tail, while another grabs the mouth. This prohibits their prey from lunging at them with its horns and giving it less mobility to kick its legs.
Though it may seem gruesome, the wild dogs must eat their prey alive. They have no other choice, because if they were to kill it first before eating, a pride of lions might come in and steal their meal before they ever take the first bite. Unlike hyenas, they eat in silence in order to not attract attention to themselves. More information on this provided by Nat Geo WILD's tribute to the wild dogs on their program World's Deadliest here!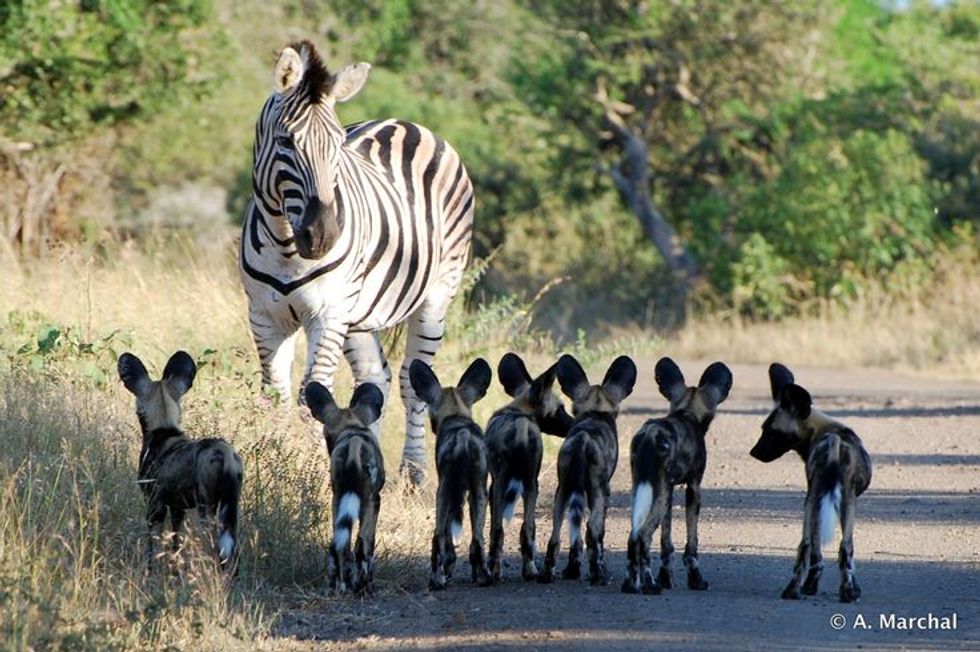 Curious pups watching a zebra. Photo (c) A. Marchal
The African wild dog is currently
endangered
, and according to AWF, they have been for over 20 years with only about 6,600 individuals left in the wild. Threats include habitat loss and killing by farmers through shooting and poisoning. Their population is declining, but you can help by donating to
African Wildlife Foundation

for wild dog conservation, as well as
World Wildlife Fund
. The African wild dog is an apex predator, so it is very important that they are preserved to help ensure the stability of the environment they live in.