Although I was born and raised in North Carolina, my parents' household was run as if it were smack dab in central Pennsylvania. My parents relocated to Raleigh from Altoona, Pennsylvania after graduating from Penn State in the late 80's. This re-location to The Triangle turned out to be a common thing for many Northerners to do. It is easy to see the infiltration of Northern culture into the south. Don't believe me? All you have to do is take a trip down the highway and count the number of Steeler bumper stickers, license plates, and flags you see.
In fact, a few years back, the Carolina Panthers had to ask their fans not to give their tickets to Steeler fans when the Panthers and the Steelers played a pre-season game at Bank of America Stadium because they did not want to be embarrassed by all of the Terrible Towels waving in their home stadium. ESPN put up a video of fans at a Carolina Hurricanes game against the Penguins at PNC Arena (should I remind you that PNC is a Pittsburgh company?) a year back captioned, "Raleigh: Pittsburgh South" when the whole stadium started chanting for the Penguins dressed in black and gold. Being a Pittsburgher in the South- whether in Pittsburgh South or another area of Steeler Nation- is a culture of its own. If you are a Southern Pittsburgher, you will probably recognize a few of these…
Seeing someone in public with a Pittsburgh jersey on.
Well, looks like you have met your new best friend for the next fifteen minutes while you discuss all things Pittsburgh.
Rolling up next to another car with a crapload of Pittsburgh stickers like
Yep, I have definitely started blasting Renegade once with a stranger in the lane next to me and we were totally vibing.
Actually having friends with the same obsession for Pittsburgh puts you at a deep level of understanding.
Having someone you can complain about Tomlin (and that stupid face he makes when he calls a play wrong...again) with, the Walker trade from three years ago, or the current McCutchen trade and getting an equally pissed reaction is a magical thing.
When you realized Cower lived in Raleigh, so even he knows Pittsburgh is a southern thing too
And flashback to that time you saw him at a Harris Teeter
Getting stalker pics of Pittsburgh legends from your relatives that still live in Pittsburgh and get to see your heroes every day:
No, you aren't jealous at all because... you know what?! Tey have to deal with stink bugs!
When you actually meet a famous Pittsburgher while you are in Pittsburgh, you feel the need to express that you are a special kind of fan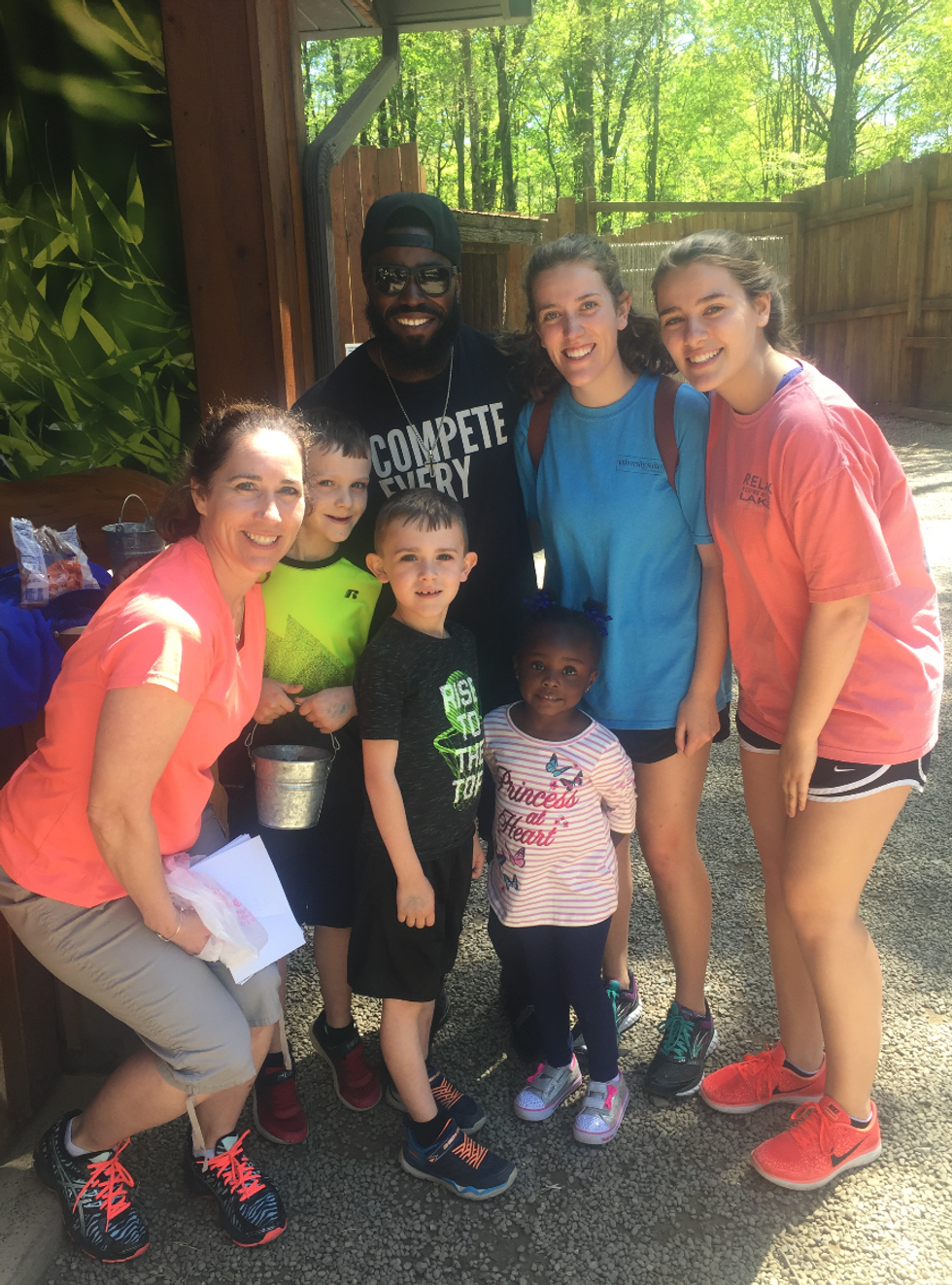 Real picture of me after I had basically attacked Jay Hay last summer at a petting zoo outside of Pittsburgh. Also after I told him about a thousand times that I was better than the average fan because I wasn't from Pittsburgh. #loyalty And he just laughed at me in case you were wondering...

When you need your Pittsburgh fix, you go to Pittsburgh Dad's YouTube page:
Even though it is sunnier here in The South, and that's supposed to make people happier or something, your father still has the Pennsylvania edge that Pittsburgh Dad does. Guaranteed. Plus, sometimes you need a good- old fashioned skit with tons of Pittsburgh references that would leave your non-Pittsburgh friends at a loss. Ex: "Yinz are acting like Antonio Brown stompped on your forehead"
You definitely want to join your local Steeler fan club:
You may have even given it a go. Maybe it has even stuck! If it has, good for you! I have realized I would much rather look like a crazy person screaming at the TV in the comfort of my house- thank you!
You are un-apologetic about the aspects of Pittsburgh you hate:
The cold. The crazy mountain hills. The cold.
You only want to get rich so you can afford to travel to every single home Steelers game:
If only Pittsburgh weren't so far away…