To all of those who don't know me, I'm an American girl with South Asian parents who have carved their own niche as immigrants in the USA.
Being born to culturally diverse parents, I feel like I have the best of both worlds!
I can rejoice my appetite with deluxe crispy chicken tenders surrounded by a plate of French fries along with the delicious chicken biryani in tandem with other Indian, Bengali, South Indian, or Punjabi dishes.
Some of those iconic dishes include the classic Bengali fish curry along with Samosas, Idli Sambar, and "Gol-Gappas" which are also called "Panipuri" and "Phuchka".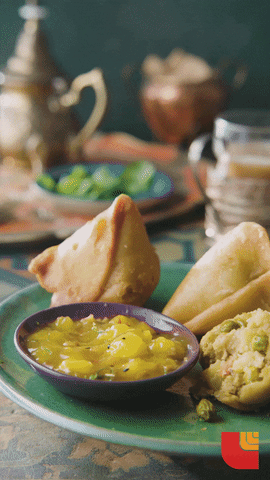 food porn bollywood GIF by Food Lovers Unite Giphy
Not only can I indulge in mouth-watering cuisines, but I can also partake in a plethora of traditions and holidays.
As a person with "Desi" roots, I have remained connected to my roots and am thoroughly left mesmerized by the vibrant music, dance, and the arts associated with it.
It is truly a sublime feeling to be associated with a flamboyant and breathtakingly exquisite culture. As a result, I have also taken a strong interest in the diverse languages spoken across India, Bangladesh, and Pakistan. This helps explain why my parents have inculcated the desire of learning both Bengali and Hindi within me while growing up.
Surprisingly, I speak both these languages along with Urdu with ease and quite fluently while experiencing a subtle bout of fascination when interacting with family and friends.
Also, I have punctiliously begun understanding the value of relationships and the power of family ties.
This pandemic has emulated a divine mirror showing most of us what having a family truly means and how fortunate we are to have such special people in our lives.
Apart from my cultural heritage, I have been actively pursuing my dual roles as both a scientist and journalist post-undergrad.
I just simply love how both these fields are intertwined and can be an instrumental weapon to spark change in the world we live in currently. In other words, I'm motivated towards investigating the roots of various diseases and the potential cures while never taking the provided information for granted.
As a proud journalist, I utilize my writing and interviewing skills to bring stories and personas to life.
As a young woman approaching adulthood, I have learned to compete with myself and to further implement new changes towards the way I perform certain tasks. In fact, there used to be a time when I would be more focused on competing with others in almost anything i.e. academics, athletics, arts, and crafts.
However, these past few years have taught me to focus on solely myself when it comes to excelling and honing my talents and ambitions.
Life isn't always about chasing after the fame, success, and riches that seem the most desirable to us. Instead, our lives are the result of our indefatigable attitude towards chasing after our dreams which will ultimately shape our identity as we move further towards the trajectory of life.
I'm in my early 20s and want to go above and beyond in terms of my career goals to reach my full potential.
In the end, after all my struggles and hard work, I aspire to reside in a lively and thriving home with the family that will continue to cheer me on and support me in all my endeavors.
I guess this is what they mean when they say, you have reached your final destination… the circle of life!