It's not a secret that I am a huge fan of movies. One of my favorite things to do in my spare time is read IndieWire articles about the best upcoming movies, and one of the best times to read those articles is during movie festival season. Sundance is one of the most popular movie festivals and it happens at the end of January/early February every year in Park City, Utah. This last Sundance, I could not escape articles talking about how "Sorry To Bother You," the debut film from writer/director Boots Riley, was the movie to see this year. People could not stop talking about how weird and funny it was. I tried to stay away from spoiler-y reviews because I wanted to experience it for myself, and I am so glad I did. It's a hard movie to explain because it's so weird, but I will try my best.
Cassius Green, a twenty-something-year-old in desperate need of a real apartment (he lives in his uncle's garage), lands a job at the telemarketing company, RegalView, selling encyclopedias. He has trouble selling the product until an older coworker informs him that he needs to use his "white voice" in order to be able to actually sell to customers. Cassius becomes one of the tops salespeople by using his "white voice," which attracts the attention of the highest department at RegalView, the "Power Callers" where he lands a promotion. The "Power Callers" are morally problematic because they sell weaponry and labor from the company, WorryFree, where employees go into a lifetime work contract in order to receive food, shelter, and a life free of bills by becoming slaves to the corporation. From there, Cassius becomes successful, but at the cost of losing his friends and girlfriend. That's basically all I can say without spoiling it, but the end is something I still can't quite wrap my head around. The last 45-minutes of the film had me saying "WTF," about every five minutes.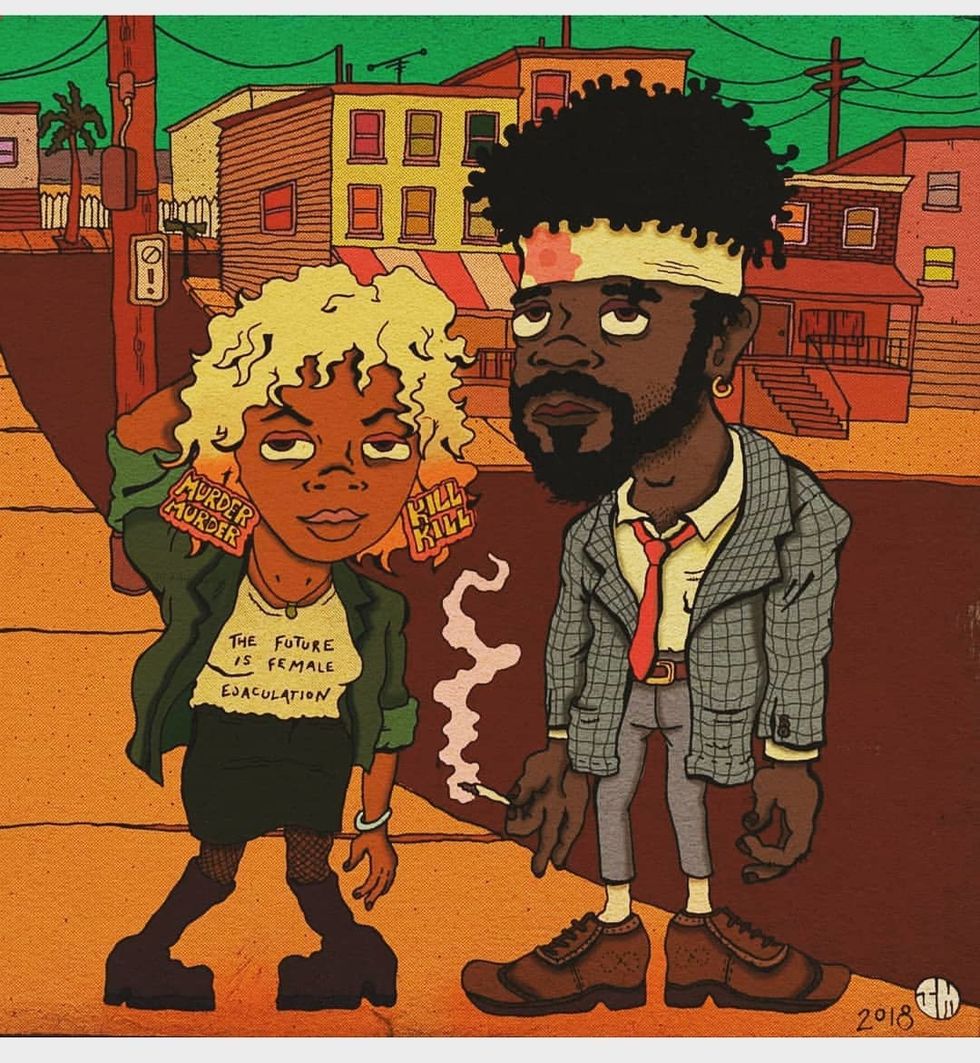 One of my favorite things about this film is that you can't tell what time period it takes place in. At first glance, it seems to take place in the present day, but with the company WorryFree and the media, it almost takes place in a Black Mirror version of the present, with elements of the 70s. It makes you question whether or not some of the aspects of this film could actually happen in real life or not. The film also has one of the most diverse casts I've seen this year, which is another thing I loved. All of the actors, from Lakeith Stanfield to Armie Hammer, completely own their roles and bring to life the crazy world the film takes place in, while also grounding it in reality. The film touches on many important topics including capitalism, media and society, race, and gender, but in a satirical way we've never seen before.
"Sorry to Bother You" is one of those movies you need to see to believe. I saw it and I think I need to see it again in order to fully understand everything. There was so many messages I missed because I was just so shocked at everything. I'm normally really good at being able to see where a movie's plot is going to go from the beginning, but there were many times I had no idea what to expect next from "Sorry to Bother You." It's the first film that has actually surprised me in a very long time, and I love it for that. "Sorry to Bother You" is playing nationwide now.