There are so many video games out there that it's hard to really wrap your head around it. A lot of them are a ton of fun to play, but it's sometimes hard to be able to picture yourself as one of the characters. There are a lot of games that allow character customization where you can spend hours of your life trying to create the most perfect character that looks just like you, or just like the person that you imagined in your head before you started the customization. Most of those games do an adequate job at trying to make the character that you imagined come to life; however, The Sims 4 just took the cake and made all other games look weak in comparison.
Recently, The Sims 4 just came out with an update that will make the Create a Sim (CAS) option so much better and way more customizable. This is just part of what it looks like: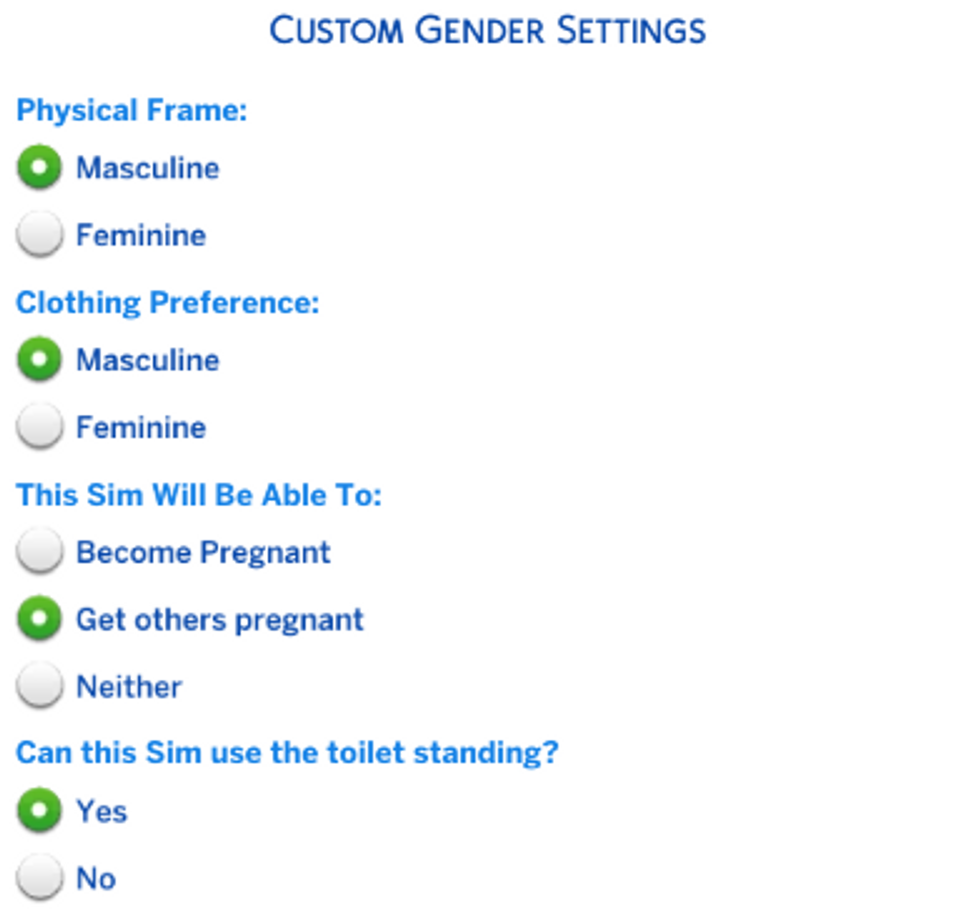 Now I don't know about you, but this is freaking awesome. Being able to customize this many aspects of your character makes the game that much more accessible for those who are in the LGBTQA+ community and those that aren't sure where they are yet. This makes the CAS so much better for those who want to make a character that is just like them. The update also enables players to give their female characters clothing and hairstyles that were originally only offered to the male characters and vise versa. It's such an incredible update to a game that was already extremely accepting of any and all people.
I think that this is one of the coolest things to ever happen for a myriad of reasons. One of those many reasons is that now, when younger kids are playing this, they will see that boys with female figures and a preference to female clothes is a normal occurrence, and it might resonate to their everyday lives. Being able to show kids that whatever they see in games is totally acceptable in real life, is so very important. It is a way to start a conversation about acceptance and loving others for how they choose to live.
This is something that hasn't happened in other games and it's so great that a franchise that has been around for years is taking advantage of this opportunity and is giving their gamers something that will make their game play more rewarding.
The Sims 4 was already an incredible game and now, with this update, they are able to make more people happy and really make the game an accepting place. I'm so happy for this new update and can't wait to really get into it and start learning more about what this update can do. Hopefully you start playing this wonderful game too! It'll be well worth it.