In case you missed it, Blake Shelton, the country music singer and coach on The Voice was crowned "sexiest man alive" by People magazine.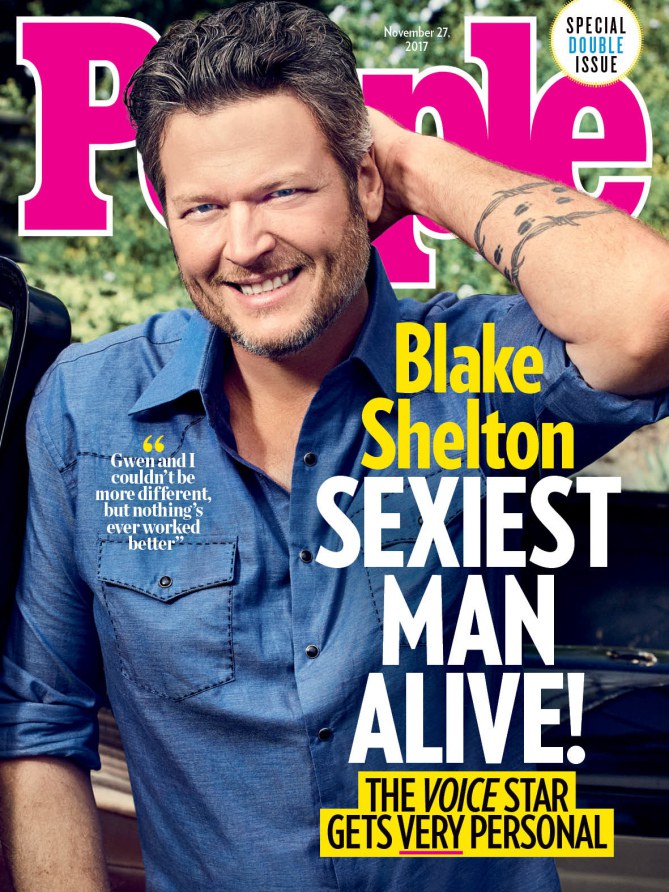 Let's just say, not everyone is too thrilled by it.
I can't believe it's 2017 and I'm smarter than the President and hotter than the Sexiest Man Alive and I am still doing so poorly in life
— Christin Bailey (@hexprax) November">https://twitter.com/hexprax/status/932861146817642... 21, 2017
me: *wakes up from a coma*
man: blake shelton has been declared sexiest man alive
me: *goes back into coma*
— rip every men blake sheldon is the last man alive (@Jean_krstn) November">https://twitter.com/Jean_krstn/status/935939169569... 29, 2017
Still can't believe Blake Shelton got sexiest man alive, Blake Shelton wouldn't even be the sexiest man at the local White Castle
— katrina (@katechristiann) November">https://twitter.com/katechristiann/status/93236796... 19, 2017
Blake Shelton being voted as the sexiest man alive is like voting wedges as the sexiest shoe
— wild willow (@willowisatreee) November">https://twitter.com/willowisatreee/status/93344912... 22, 2017
And while there are many who believe he does deserve it, there are so many other people who deserve it more, much more.
Here are 29 LGBTQ+ people who deserve the title of "Sexiest Man Alive" more than Blake Shelton.
1. Frank Ocean
2. Neil Patrick Harris
Positano. A truly unforgettable landscape.
A post shared by Neil Patrick Harris (@nph) on

3. Sam Smith
BAMBIS. Styling @charliecaselyhayford - make up @charley.mcewen. Photo - @jamesmsbarber
A post shared by Sam Smith (@samsmithworld) on

4. Todrick Hall
BROADWAY, I'M BACK! This holiday season see me as "Billy Flynn" in @chicagomusical from Nov 30 - Jan 14! AHHHHHH! Tag somebody you're bringing to the show! 📷: @steventrumon
A post shared by TODRICK (@todrick) on

5. Michael Urie
Photo by @nathanjohnsonny for @broadway_style and @todaytix @redbulltheater & #TheGovernmentInspector (thru AUGUST 20 ONLY)
A post shared by Michael Urie (@michaelurielikesit) on

6. Colton Haynes
In studio wit @vanityfair x @fxnetworks for their amazing #Emmy party with my @ahsfx cast! 📷 x @justbish styled by @avoyermagyan in @emporioarmani . I finally left my house yall!!! As I post this from bed lol
A post shared by Colton Haynes-Leatham (@coltonlhaynes) on

7. Tom Daley
8. Luke Evans
9. Le1f
10. Ezra Miller
11. Brandon Flynn
12. Jonathan Groff
13. Ricky Martin
14. Connor Franta
15. Darryl Stephens
16. Sean Hayes
17. Olly Alexander
18. Kyle Dean Massey
19. Anderson Cooper
20. Billy Porter
21. Charlie Carver
22. Andrew Hayden Smith
23. RuPaul
24. Russell Tovey
25. Eliad Cohen
26. Matt Dallas
27. Telly Leung
28. Joseph Altuzarra
29. Matt Bomer