Sarah Stevenson, known to her followers as Sarah's Day, started her Youtube in 2013. Initially, Stevenson started her vlog as a means to keep up with her own fitness goals, but it soon developed into an empire, with a strong following that refer to themselves as #sezzysquad.
Stevenson is based out of Australia, like fellow fitness mogul Kayla Itsines, however she stands apart with her own approach to promoting a healthy lifestyle. Stevenson's brute honesty and tendency to eat one too many Blue Dinosaur bars in a single sitting demonstrates that she's just like anyone else on a fitness journey.
Four years after her Youtube debut, Stevenson now has close to a half a million subscribers and over 313 thousand followers on Instagram. It all comes down to what makes her so relatable and how her attitude towards healthy living will be a great addition to achieving your fitness goals.
Her Non- Aggressive Approach to Health.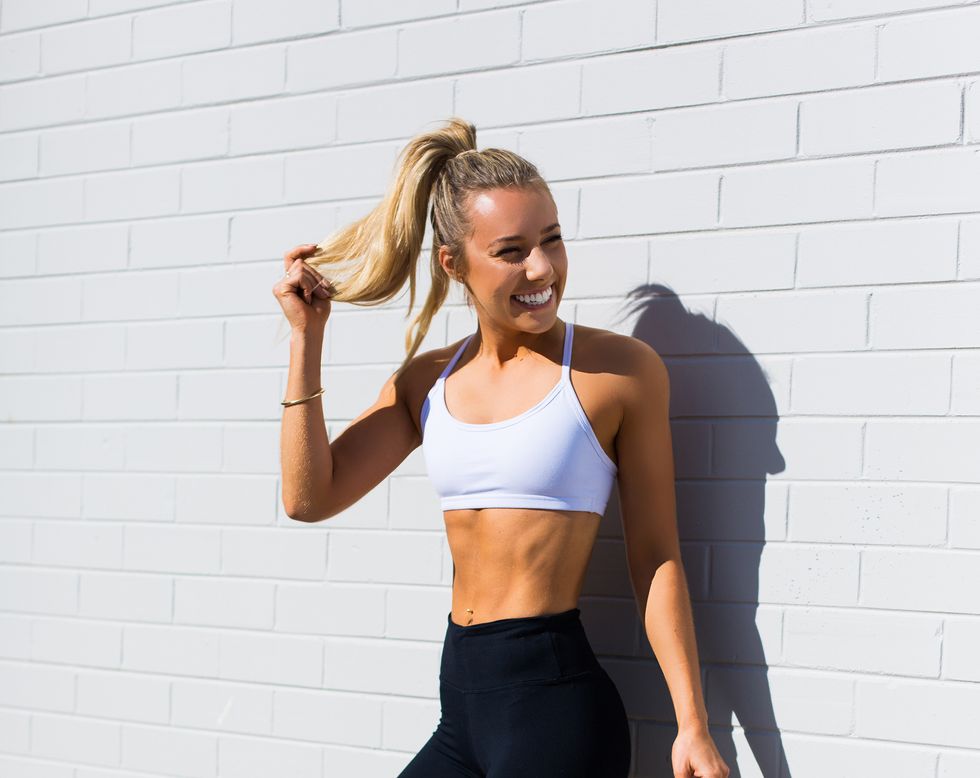 If you're fearing another health blog that's going to make you feel guilty for your own lifestyle choices, 'Sarah's Day' is not something to worry about. Stevenson does follow a certain diet and fitness routine, but she is the first to admit that it's not for everyone.
A lot of her dietary choices also come from what her body needs. Stevenson is very open about her health issues surrounding her gut and her hormonal acne, so she knows what works best to keep her body feeling healthy. It's time to stop thinking about "diets" as a punishment and instead realize that some nutrition choices surround very real health concerns.
She follows a paleo diet.
Stevenson often expresses her success in following a paleo diet. A paleo diet consists of consuming vegetables, fruits, nuts, seeds, meat, fish and a certain list of fats. It doesn't allow for consumption of dairy products, soy, grains or beans. Important rule: if cavemen had easy access to it, it's probably paleo safe.

Since a paleo diet is so important to Stevenson's everyday life, it's only natural that she mentions it often in her vlogs and on Instagram. However she also makes suggestions on substitutes for her way of living.
Her Honesty. #GRUBLIFE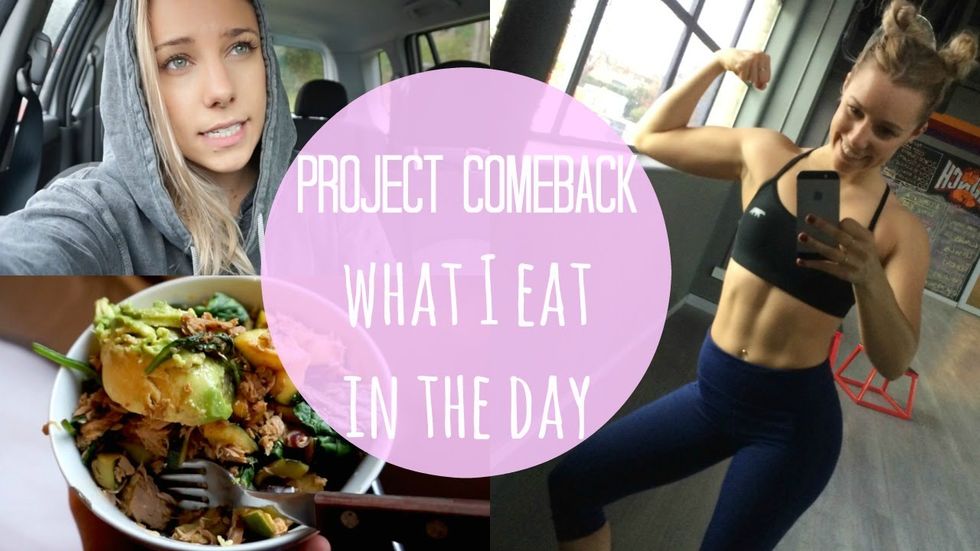 When Stevenson makes a "What I Eat In The Day" vlog, she doesn't hide anything that may be perceived as "unhealthy." It's refreshing to see a fitness influencer that is just as obsessed with chocolate and over-eating trail mix as the rest of us.
She doesn't wear make up to her training sessions, nor does she edit out struggles of her workouts. She'll start recording first thing when she wakes up, pre-coffee (long black with just a dash of almond milk), and often refers to her relatable "sweatpants and workout top" looks as the #grublife. When the camera is on, she appears to be the same person as when it's off.
She recently released her new Ebook, Sweat It To Shred It, but she understands not everyone can afford it.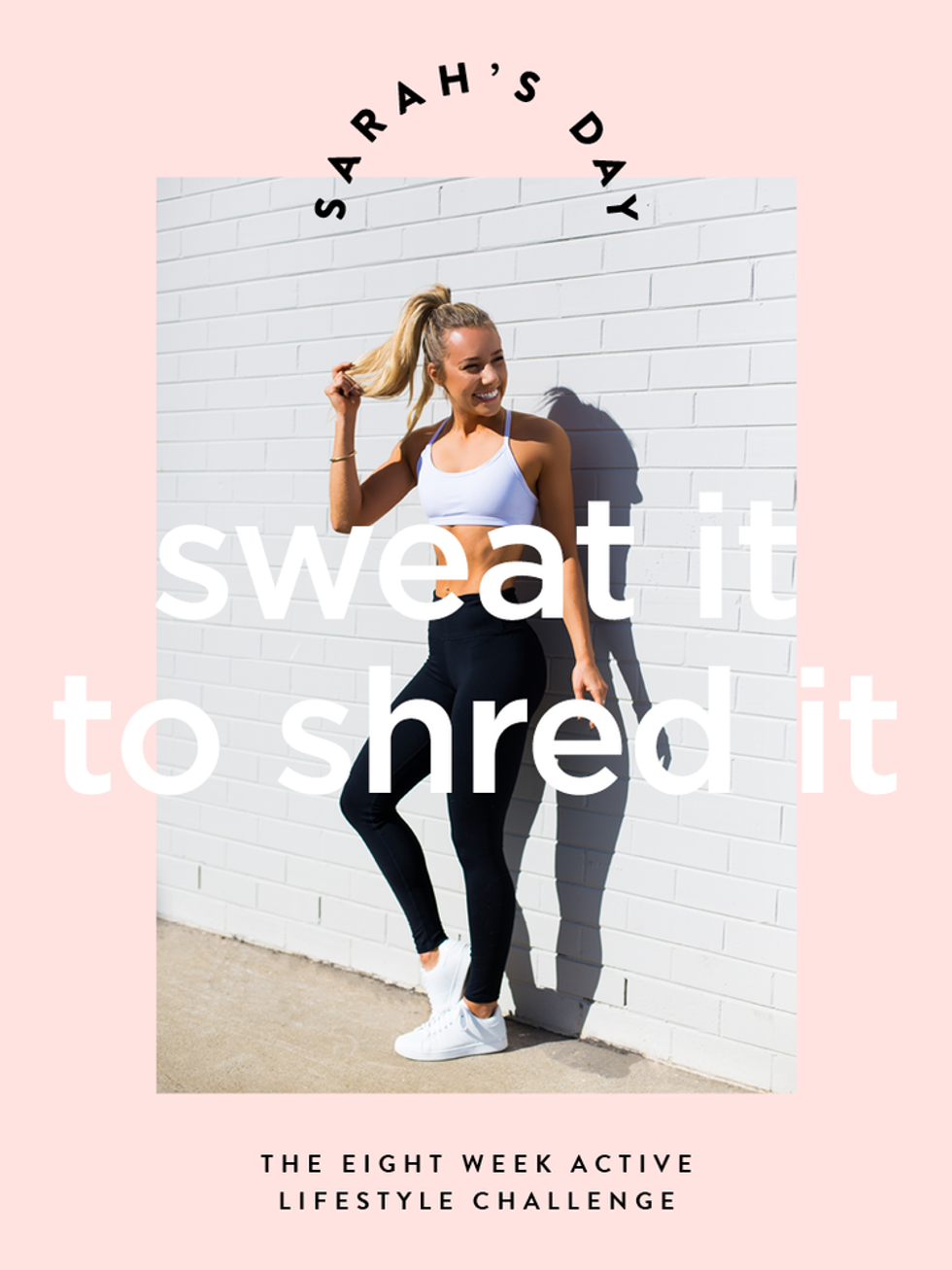 To make her health and fitness tips a full time job, it's understandable that Stevenson would move past partnerships with brands to produce her very own product. In May, she released her online Ebook "Sweat It To Shred It" that outlines an eight-week fitness plan meant to assist a variety of fitness goal levels.
At $69.95 AUD, Stevenson knows that not all of her follows can afford it, or that they're ready to commit that much time and money into their fitness routine. She continues to post free workouts her to vlog for those still on the fence about purchasing her ebook.
Paleo Protein balls anyone?
If you watch more than one Sarah's Day video, you will probably experience an intense jealousy for whatever Stevenson prepared. Her kitchen cabinets and fridge are seriously #goals.
Now, you can purchase protein balls that are #sezzyapproved. In a collaboration with Health Lab Stevenson created a coconut-cacao protein ball mix that is paleo and vegan approved. Stevenson also shared a similar recipe to her health-lab-approved collaboration on her channel, in case you just can't wait to try them.
#Sezzysquad
If her long list of achievements and relatable attributes aren't enough to convince you to visit Sarah's Day on Youtube, let her loyal followers be proof that she knows what she's talking about.
Whether she's partnering with Cotton On Body for a meet up or releasing her ebook, the followers that refer to themselves as 'Sezzy's Squad' wait in line for hours and show up with gifts for Stevenson. Most often, they're bringing Stevenson a long black with almond milk from the local cafe, just how she likes it.