Alright, here we go again! This past week my roommate decided to pick out my clothes for me again. Again, she volunteered to do this and was more than willing to take the pictures for me. She was quite excited to do this again, and she actually had me ask my mom to bring her more options when my family visited me at college. She was very particular about her clothing selection for me each day. This time, she made sure to add plenty of accessories: a necklace a day, a couple of scrunchies, a nice bracelet. The only things I picked were my undergarments and socks, this time around. She also made me wear mascara every day, something I rarely do.
Monday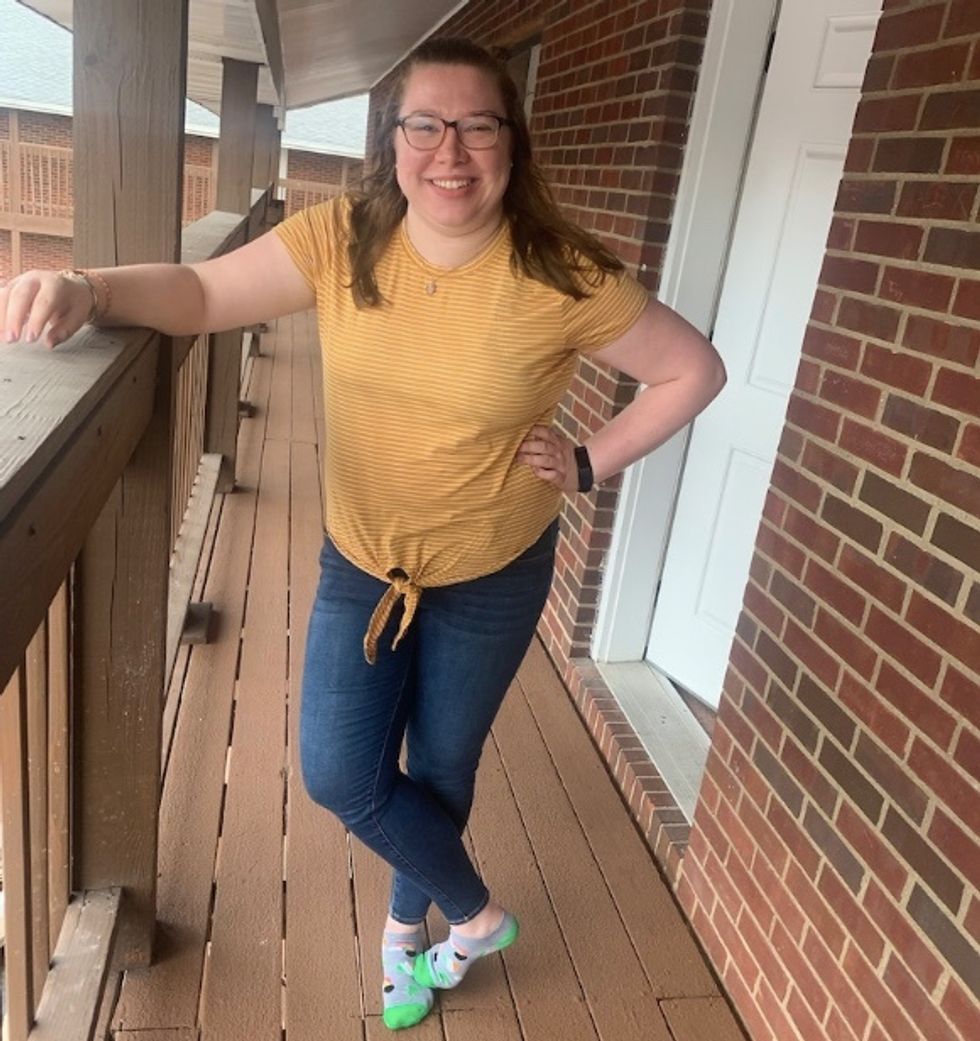 Christina Stover
Starting the week off, my roommate had me wear this yellow and white striped shirt, my first time wearing it too, with jeans and light blue Converse. I also wore a light pink gemstone necklace and a gold bracelet with various charms. Since this was the first time I wore this shirt, I wasn't used to it being so long and the ties at the bottom were kind of annoying, but after a little, I got used to them. This is actually one of two yellow shirts I own, so I am still getting used to this different color in my closet. And the jeans are one of like three pairs that aren't ripped, so that was something different, too. Overall, I enjoyed wearing something I might not wear frequently with jewelry I haven't worn in a while.
Tuesday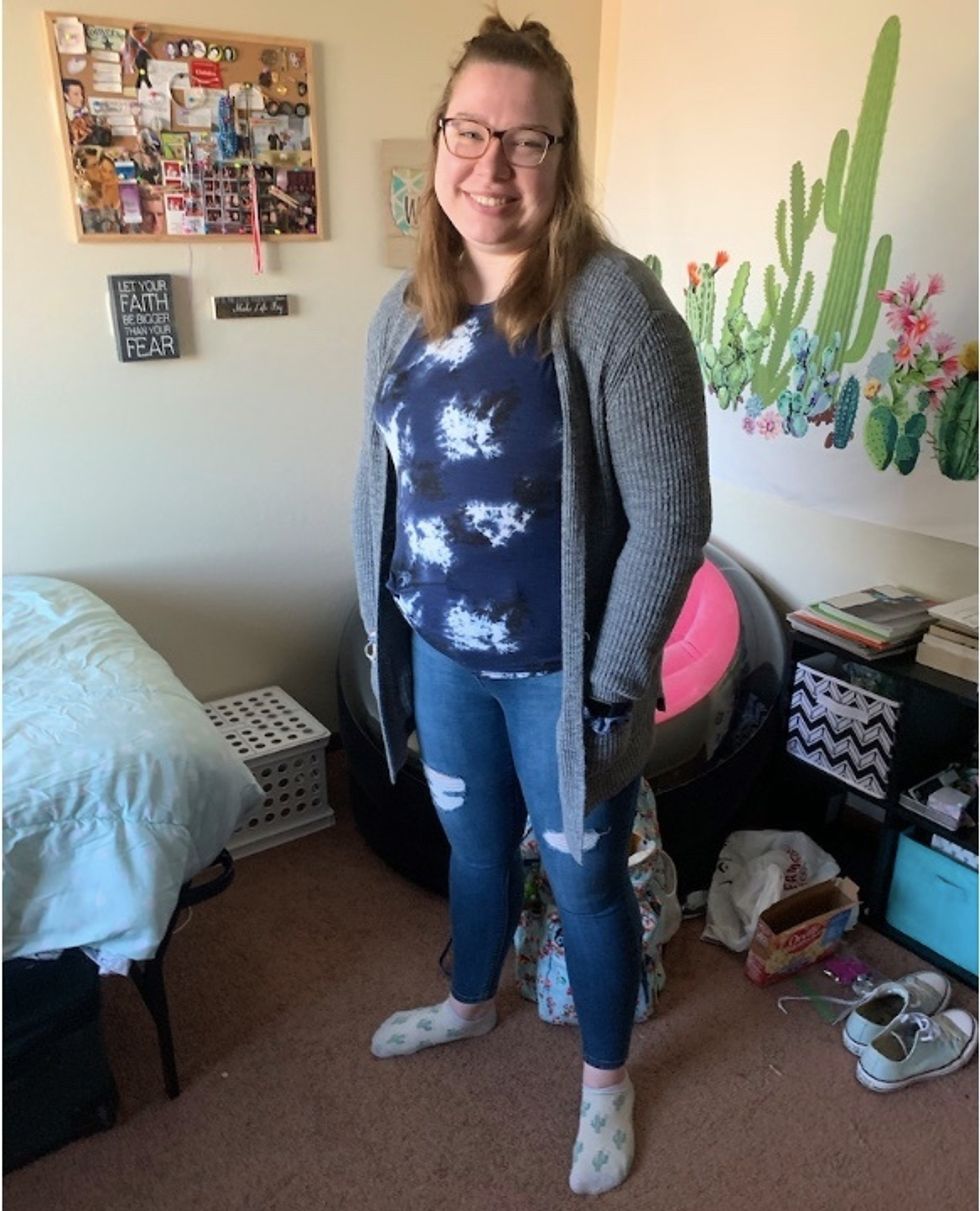 Christina Stover
Next, I wore this cloud-esque blue shirt with black and light blue splatters. There is also a cute tie on the left side of the picture. I wore ripped jeans, a gray cardigan, and maroon Vans. I also had a sparkly blue scrunchie on my wrist. I've worn this shirt a lot to work, but it was a different look with the gray cardigan. The whole outfit is very cohesive, and I enjoyed that. I liked that it looked put together and it complimented my skin and hair. I don't usually wear my scrunchies, so I liked wearing them as a bracelet rather than in my hair. Overall, I liked this outfit a lot and it was super comfy.
Wednesday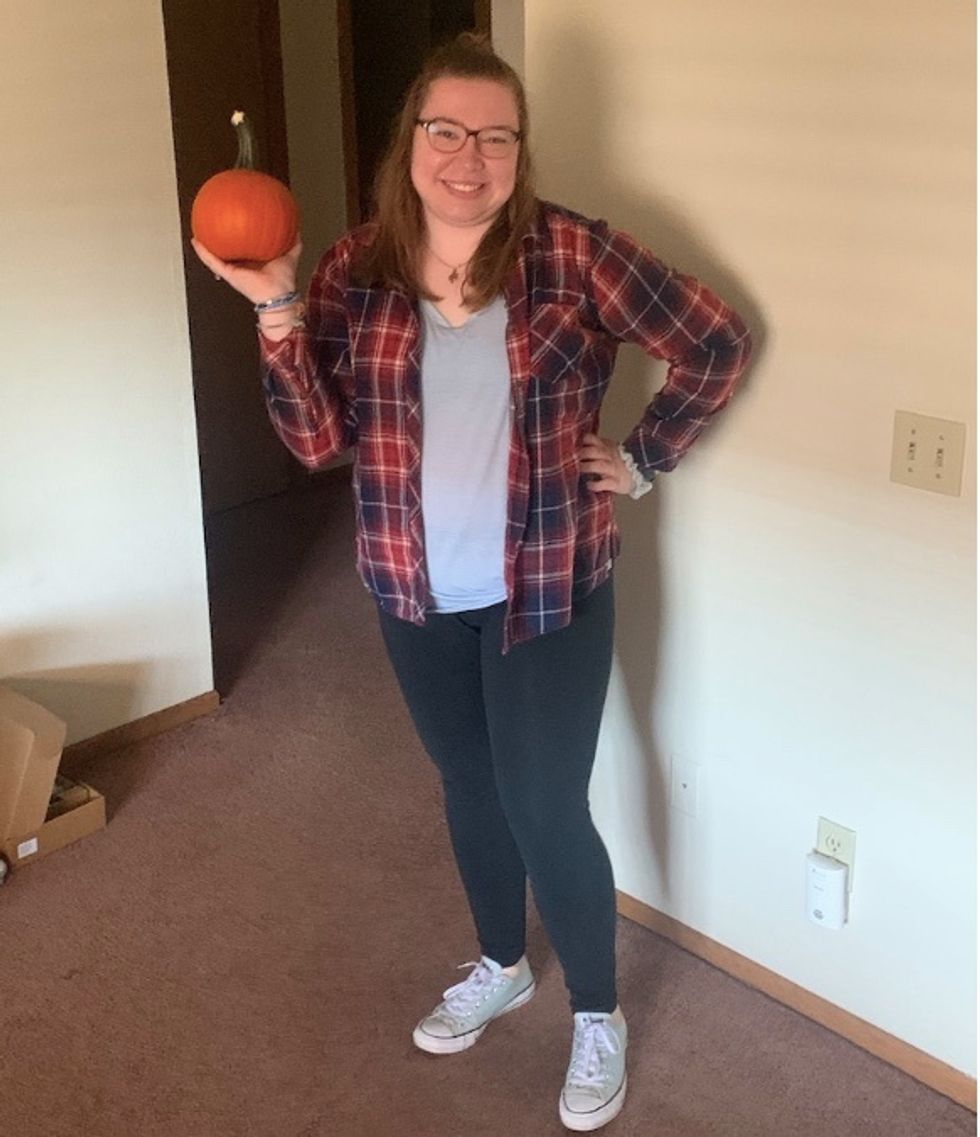 Christina Stover
I think this was my favorite look of the week. My roommate let me break the jean cycle and wear leggings with a light blue shirt and a soft flannel. I wore a cactus necklace, silver scrunchie on my wrist, and light blue Converse. She wanted me to look like fall which is why the pumpkin was used as a prop in the photo. I never thought to wear this shirt with the flannel, I usually just wear the flannel by itself. But this was a super comfy outfit and I will probably be wearing it again later this fall. So, overall, she did a good job with this one and I really liked wearing it.
Thursday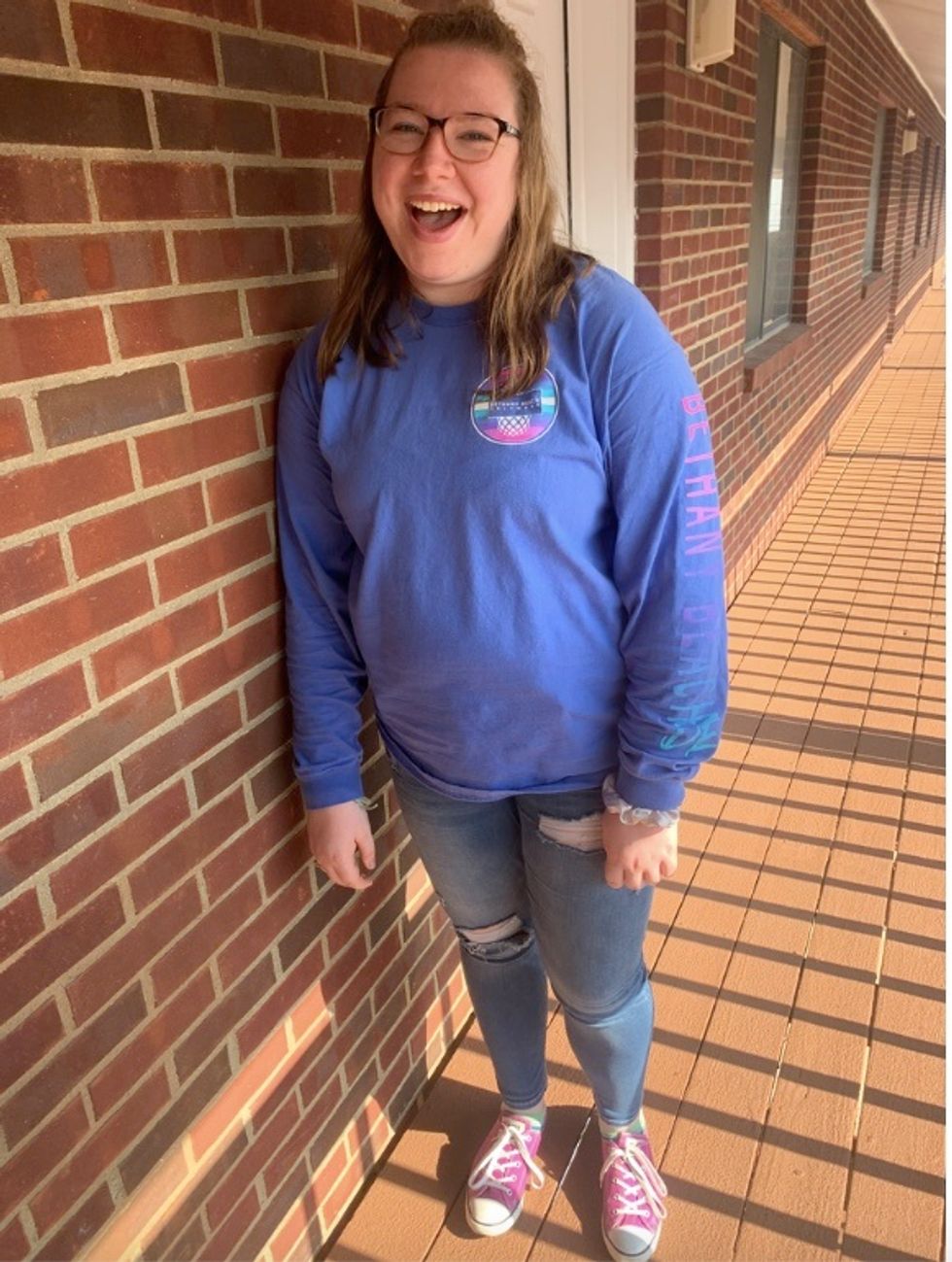 Christina Stover
This outfit is a bit more casual with a shirt from Bethany Beach, Delaware, ripped jeans, and purple Converse. I also had a silver scrunchie on my wrist. My eyes look great in this picture, thank you mascara. This is one of my favorite long-sleeve shirts, and I like how it looks with the light blue jeans. My hair also pops with this color. So, another comfortable outfit that was spiced up with the scrunchie and make-up.
Friday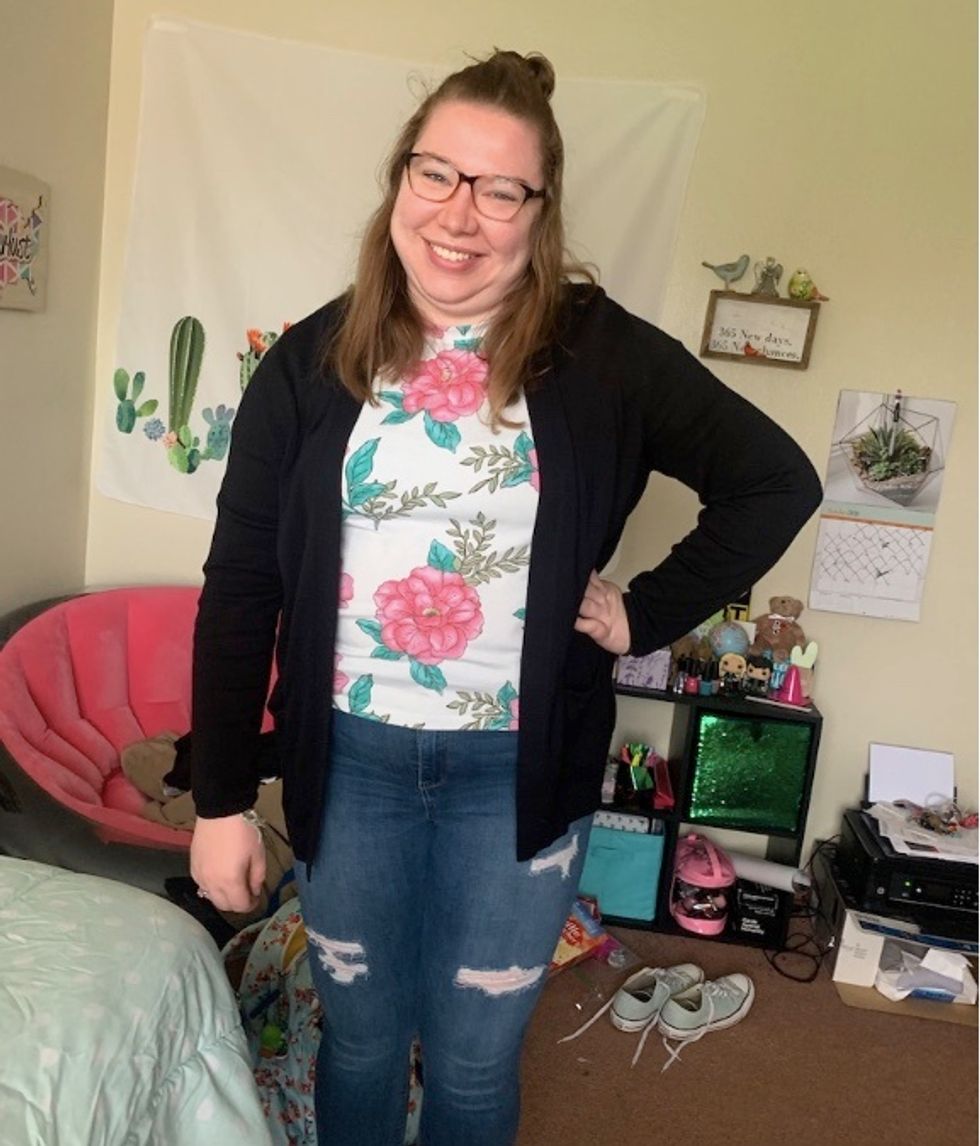 Christina Stover
Finally, on Friday, I wore a flowered crop top with a black cardigan, the first time I wore this, and my comfiest ripped jeans. I also wore the same pink gemstone necklace and blue converse. I had plans later in the evening to attend a hockey game, so I wanted to wear something comfortable for the entire day. I really liked this outfit, I liked that this shirt could be spiced up with a cardigan. I love that shirt, so I really enjoyed wearing it again for this little experiment. The cardigan was also very comfy and soft, and I will be wearing that again soon.
Overall, I really enjoyed the different outfits my roommate picked out for me this week. It gave me a chance to try new outfits out and jazz up shirts I would wear by themselves. It also gave me an excuse to have a mini photoshoot each day. My roommate asked me, "Are any of these pics Insta-worthy?" Because everything we do today is for the 'gram, not that I minded. And this time, we made plans for me to pick out her clothes this coming week. I am ready for this power!