The Rocky Horror Picture Show (1975) born as a low-budget baby that was nurtured to be a huge cult classic phenomenon. It's catchy, rock tunes and ridiculous plot had everybody wanting to sing along and dance, and it still does today! The only thing is, its been treated like the dusty record on the shelf, unbeknownst to the new generation of teenagers ( because children shouldn't watch this movie ).
It's a classic, though. We should be going to midnight double features and dressing up like the characters. We should look back at this amazing musical with good memories. We should all know the time warp!
Alas, I doubt that will happen, so for all you Columbia's, Magenta's, and Riff Raff's: seven scenes that we can still relate to.
Whether you're bopping to the songs or starting with horror at the fabulous mad scientist because you don't know film history when you see it, we all can relate to these scenes.
If you haven't watched The Rocky Horror Picture Show, I highly recommend it. It promises to chill you, thrill you, and full fill you. So, come up to the lab and see what's on the slab.
The only thing left to say is: Let's do the time warp again!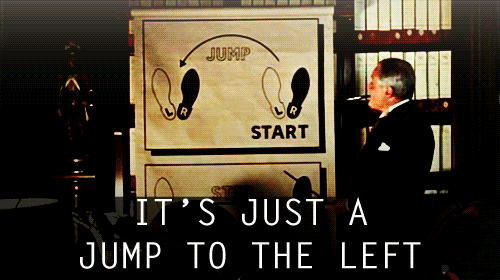 media2.giphy.com