I wasn't always a traveler, but I want to say that I am now. Leaving my house and going to other cities is so much fun and just so much better. It's a respite from my troubles but also from my norms. And what ends up happening is that I always say I much rather live in the city I visit than the one I live in. In the last two years, I've gone on a considerable amount of trips, and they have been significant due to how much independence I've had in them. This meant that there were so many things that I've been able to notice and visit on my own that I haven't been able to before, and learn to appreciate them.
1. Scour for the local eateries.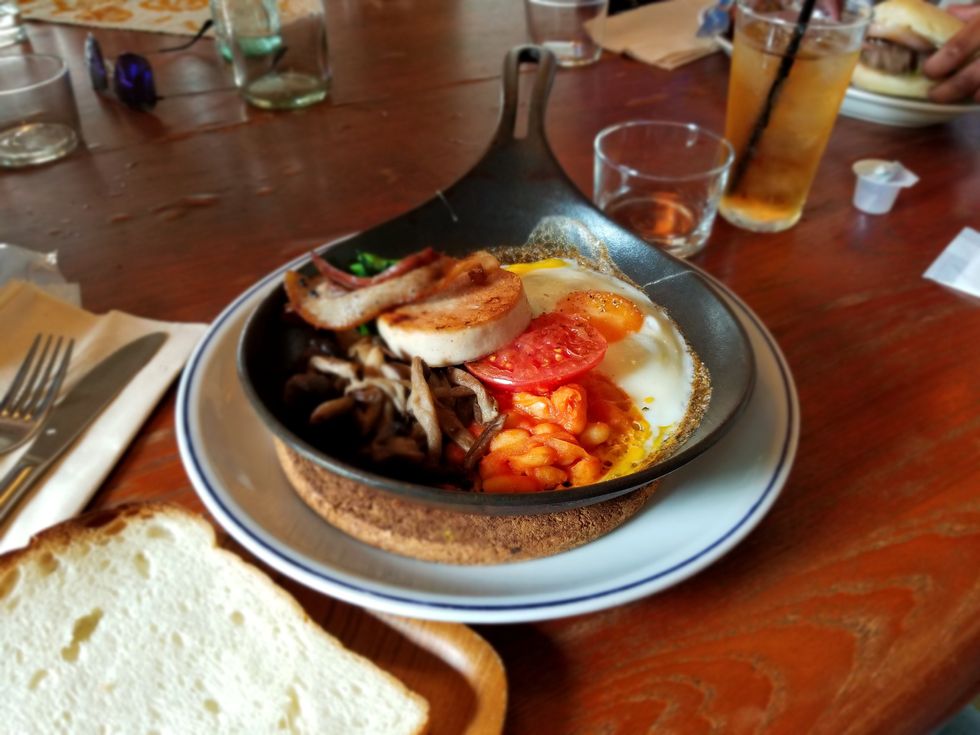 Breakfast from Suki6 in East Tokyo.
Mani Dasoju
Honestly, being able to walk around and check out all the signs and the menus and decide for myself which place to eat is an amazing experience. There's a sense of freedom, choice, and understanding. Understanding, because you have to go through all the cultural differences and variety that is in the city and find what works for you; requiring an understanding of the city. You may not see it at first, but just by finding a place to eat, you end up learning more about the city too. And eating local feels more comfortable.
I've found that even if you aren't local and don't look like one, eating at a local place usually garners more respect from the people around you and from your waiters. For example, I went to a cafe in Tokyo and although my broken Japanese got me through the ordering process, the wait staff were really nice and considerate as I made my effort to enter this cafe and take the time to work through the difficulties present in order to enjoy their food. Can't get that at a MosBurger (a fast food chain in Japan.)
2. Wander the main roads.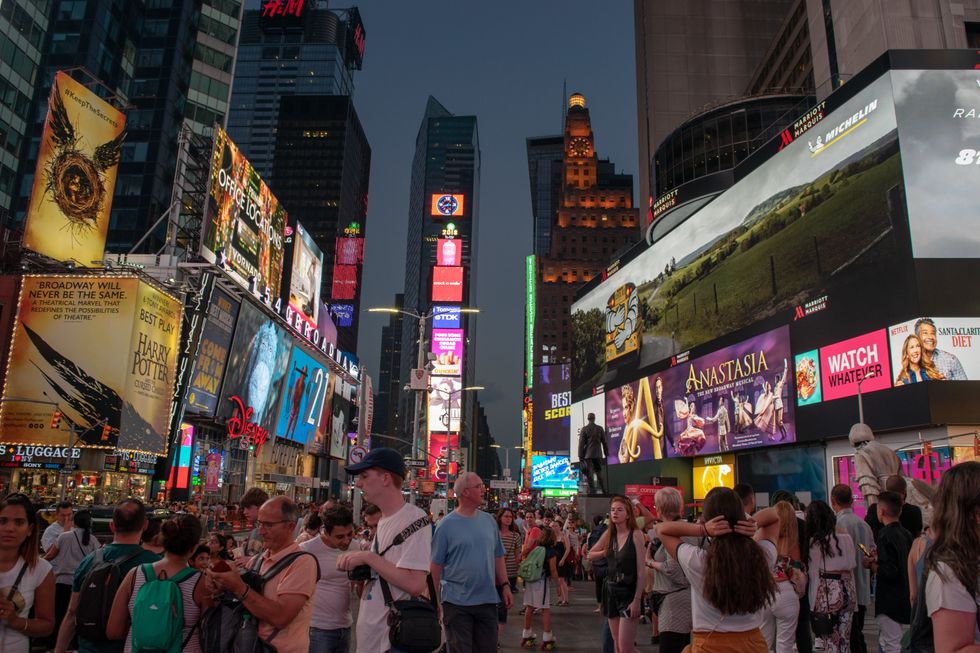 Times Square, NYC, NY.
Mani Dasoju
Now obviously this is a given because going to other places might be a bit hard to feel safe in. You want to stay where all the people are because that somewhat makes you feel a bit safer, or it does for me at least. So travel these roads, that's where all the stuff is. Where all the stores are, the restaurants, the buildings, the traffic, the police, and the people. It's like a crash course of the city you're in. But don't stay on them the entire time.
3. Now leave the main roads.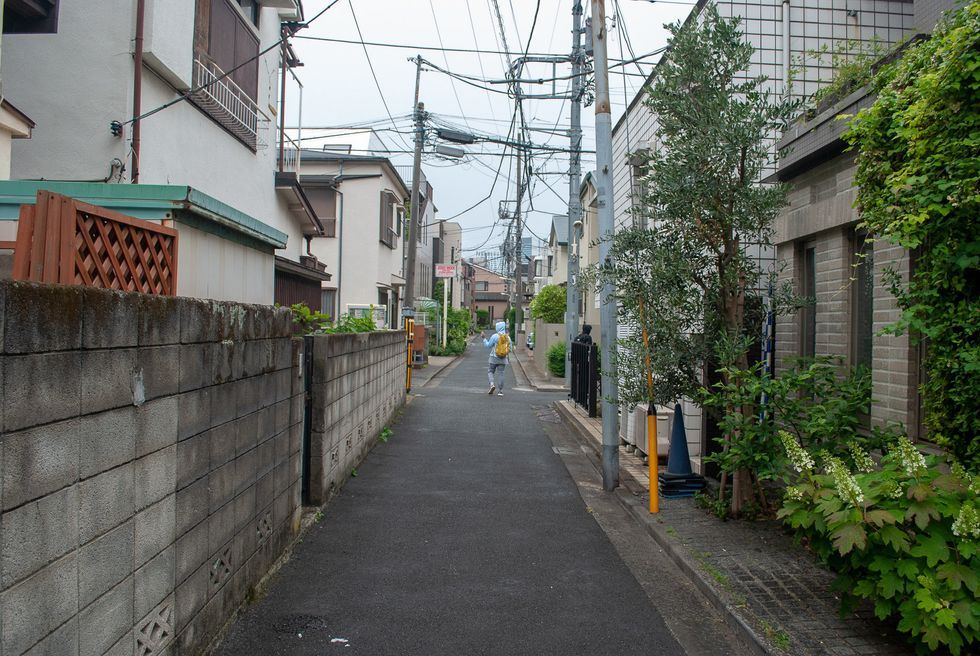 Narrow streets near Harajuku, Tokyo, Japan.
Mani Dasoju
You don't want to stay on the main roads the entire time because it's not what the locals see all the time. For example, you most likely don't live on the main road of your town/city right? You probably are more used to the small roads in and around. So in that case, just walk through the local roads of the city you're in. I found roads in Kyoto, Tokyo, and Morioka City (the three cities I visited in Japan) to have very aesthetic local roads. The cleanliness and tidiness with the geometric lines and the frequent attempts to add greenery were interesting.
In the same way, there are certain streets in Montreal or Quebec City that ooze history, both French and English. And sometimes, like I saw in Hong Kong, there are smaller landmarks on these roads. It would be a shame to miss them. Or like in Tokyo, leaving the main road immediately puts you in an eerily quiet residential section of the city. That was an experience too.
4. Use public transport like you live here or something.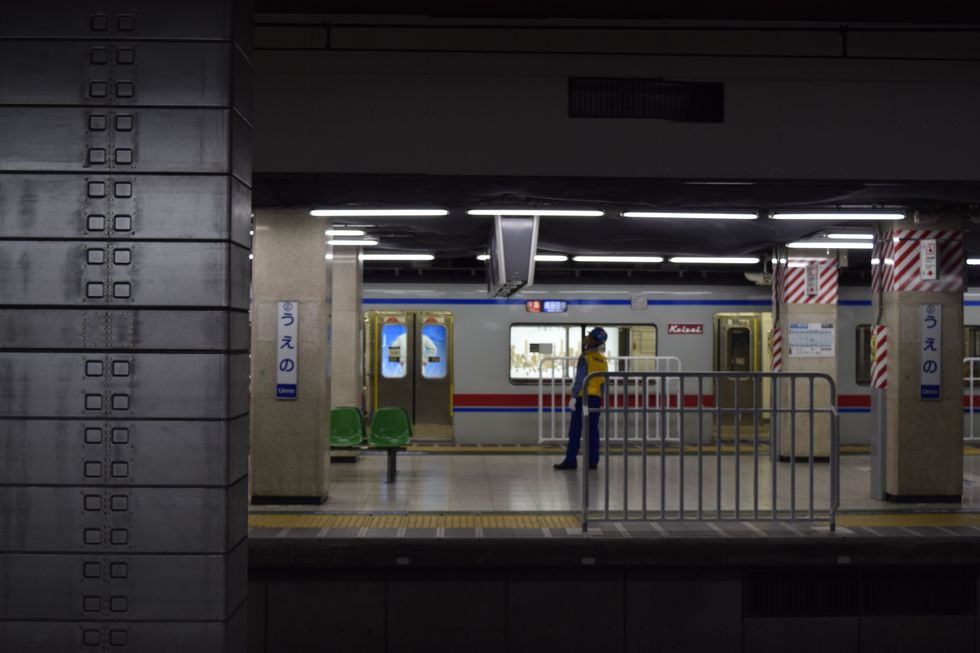 Ueno Station's train terminal back to the airport.
Mani Dasoju
When getting around other cities, for the most part, I'll be walking. Most of my trips did not include my own car so I resorted to public transport. Not Uber, but the same thing the locals were using. In Japan, it was the Metro and JR lines. In Hong Kong, it was the Octopus network. In Quebec City, I used a horse-drawn buggy for a bit. Okay maybe locals don't use the buggy often, but it's still a better way to still see facets of the city that you would miss if you took a guided tour or drove around yourself.
One of the best times I had was on my Japan trip, where I just bought an all-day pass for the subway and went from point to point on the map and just rapidly visiting what I wanted at my own speed on the public transport and it made me feel like I knew what I was doing in this foreign city. And that was a better time than having a planned out trip to Kyoto the day before. Both days were great though.
5. Find stores you normally don't see.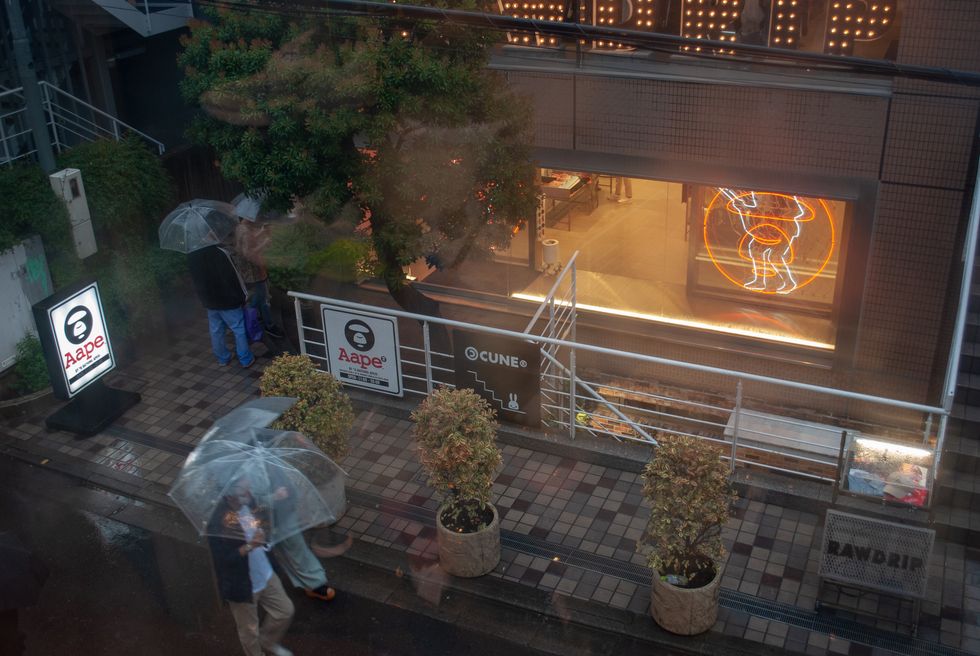 a.a.p.e. store in Harajuku, Tokyo. Along a street of other high fashion stores.
Mani Dasoju
What I love is that because people think differently in different places, it opens up the possibility for other types of stores to be there. I found it interesting to see so many mobile phone stores packed in corners of Hong Kong malls, like extremely packed and tucked away. It was interesting to see adult stores in Japan so out in the open. Even in NYC, where I feel like I'm used to it, I walked around 44th and 7th and just found so many higher class stores that I just didn't see before.
And that reminds me of the time in Hong Kong where an entire street was lined with stores like Gucci and Chanel and Louis Vuitton but the street right next to it was consistent of cheaper resale clothing or items. And both were stores I normally don't see. Which added to the value of that experience.
6. Find places that are just... there.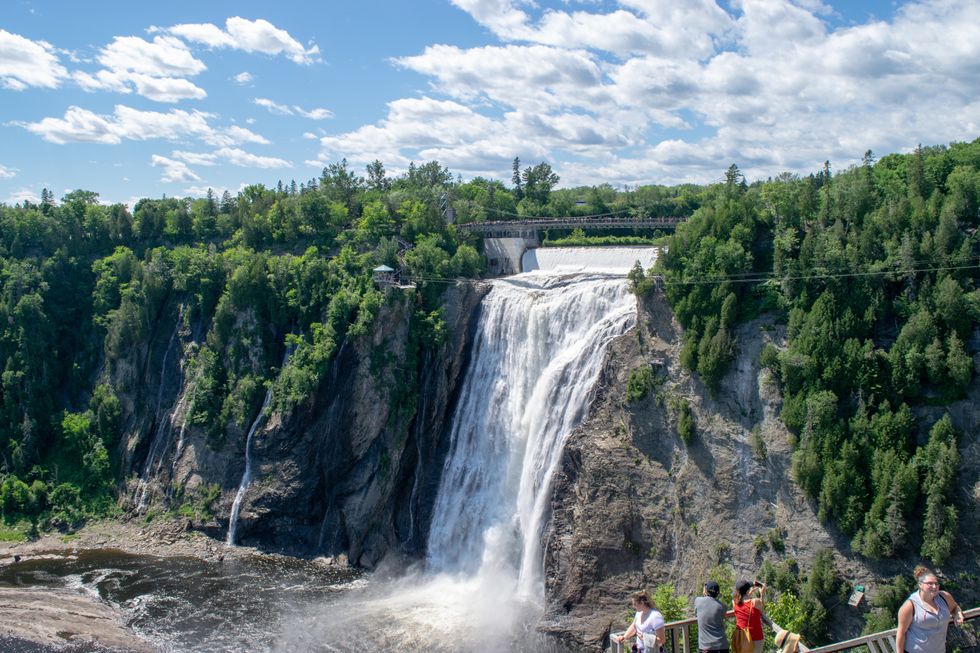 Montmorency Falls just a bit northeast from Quebec City.
Mani Dasoju
This can be a little confusing, but I mean just go to places that don't need a ticket or a pass. Places like parks or mountains or even specific parts of the city that are meant for something like Chinatown or Central Park. For instance, I was at a pizzeria in Tokyo and was waiting for a friend to meet me there. I waited outside and noticed how people lived; because I was looking at a playground in the middle of a business area. That struck me as odd, but it was there nonetheless. I take everything as a learning experience and that was one too.
Or when I went to Ocean City, the boardwalk was a clear attraction to visit but it's just there. And walking along it is another experience to cherish. I honestly didn't buy anything on that boardwalk (ice cream doesn't count), but my time there was just as good. And the thing is, this can be part of your walk to another place. Like, you're going somewhere you decide to take a less traveled road and see a small landmark like a shrine in Tokyo or a park in NYC. The time that you spend in that place is still you absorbing more of the city. The more you absorb, the more you become part of the city. And that's more what I mean by being a temporary resident, being included as part of the city.
7. Don't forget the buildings.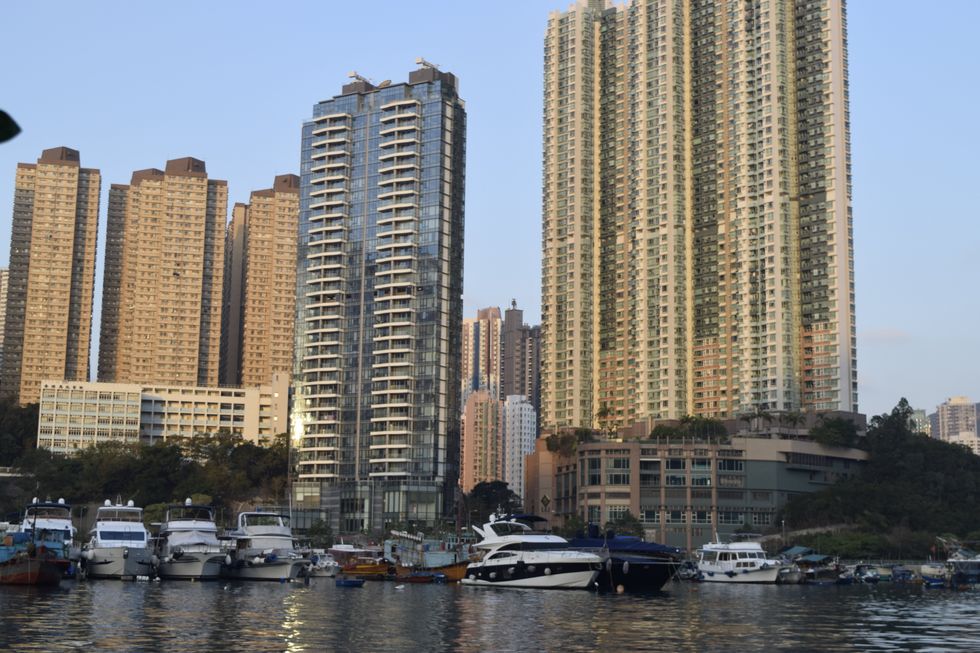 Aberdeen Marina, south of Hong Kong. Yet, the huge apartment buildings don't escape us here neither.
Mani Dasoju
It's easy to forget the stuff that surrounds us, but each place you visit will have a different design language that the culture accepts there. In Hong Kong, it's all tall buildings that are tightly packed with one another and thin roads to let vehicles through. Some of those towers even have holes in the middle of them. While Ocean City has a much different style, with large hotel blocking the main road from the beach and a boardwalk towards the end of the island. It's simple but seeing that is part of the experience of knowing what's so different from your place to this city. And after I walked around in Montreal, I loved it because of how it felt like a city but wasn't as packed with people or buildings like NYC. I just feel like it changes the mood of a place, and that's part of the vacation too.
8. Okay, visit the tourist spots.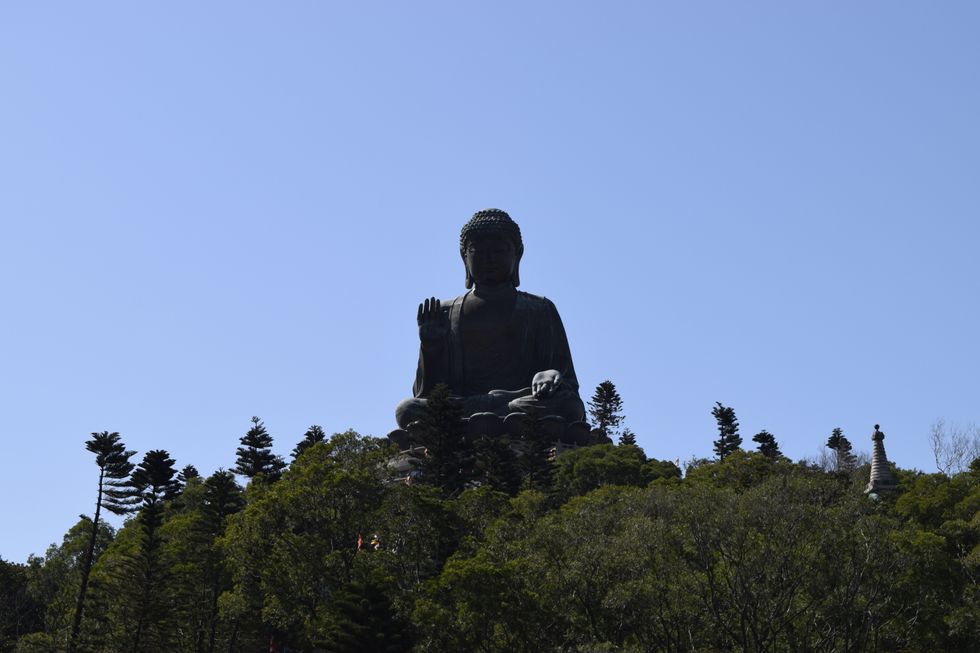 Tian Tan Buddha statue in Ngong Ping, Hong Kong.
Mani Dasoju
Really, there is nothing I can say to stop you from going there right? But you should because tourists spots are essential to understanding what's happening in this city and this location. I think a balance between exploring the small stuff while visiting the larger pieces is what contributes to a vacation experience where you feel like you're part of the city but you aren't feeling the hustle and stress of those daily struggles because you're not there to work, you're there to see the city.
If I were to relate this to a painting (if that's even appropriate for this) I'd say seeing the tourist spots is filling up the canvas with your idea and doing the smaller things I've mentioned before is like applying the details to the outlines and the textures. When you're done, then you have a completed painting you can be happy to look at. I hope that works in describing the balance of guiding your time with planned and unplanned moments.
These things that I've started doing when I go to other cities enhanced my experience there. Because the vacation is you leaving your common surroundings and doing something you normally don't do. Sure, visiting another place is a vacation in and of itself. And what you do there is the vacation, but taking steps and being open to adventure and confusion in a place is like a learning experience and part of the vacation.
Now you might say why would you want to learn while on a break? Well, this is more like inner learning of self-knowledge and self-confidence. It's you being okay with other cultures and experiences and learning how it affects you. It's deep. That was what Hong Kong was for me, it was impromptu and right before school started again after winter break. I was troubled, but that trip was refreshing because I had to tolerate and live-in a city for a few days where I didn't know anything about. And doing these small things made me find many new "first times" that we, as adults, just can't seem to experience anymore. So, if you're able to leave...go! And if you go, explore!