"Talladega Nights: The Ballad Of Ricky Bobby" is a 2006 classic starring Will Ferrell and featuring many other popular comedic actors such as Sacha Boren Cohen and John C. Reilly. Even if you haven't seen the movie, you've probably heard someone quoting it, especially Ricky Bobby's prayer scene.
However, this prayer scene is seen by some as sacrilegious because they believe Ricky Bobby should speak more respectfully to the creator of the universe. Although I know many Christians who enjoy the movie and will still quote this scene, there are still many conservative Christians who certainly wouldn't find it funny; if anything, they would find it offensive. But is Bobby's prayer actually wrong?
First, Ferrell as Ricky Bobby starts the prayer by referring to Jesus in his baby state using phrases such as: "Dear Lord Baby Jesus," "tiny infant Jesus," and "use your baby Jesus powers."

Picturing praying to a baby is for many, as Bobby's wife said, "off-putting" and seemingly inaccurate because as Bobby's wife also says, Jesus grew up. Bobby's response to this is that he likes "the Christmas Jesus best." Of course, fans will remember that after this, Bobby's friend Cal and Bobby's sons start suggesting different images of Jesus that they like to picture him as.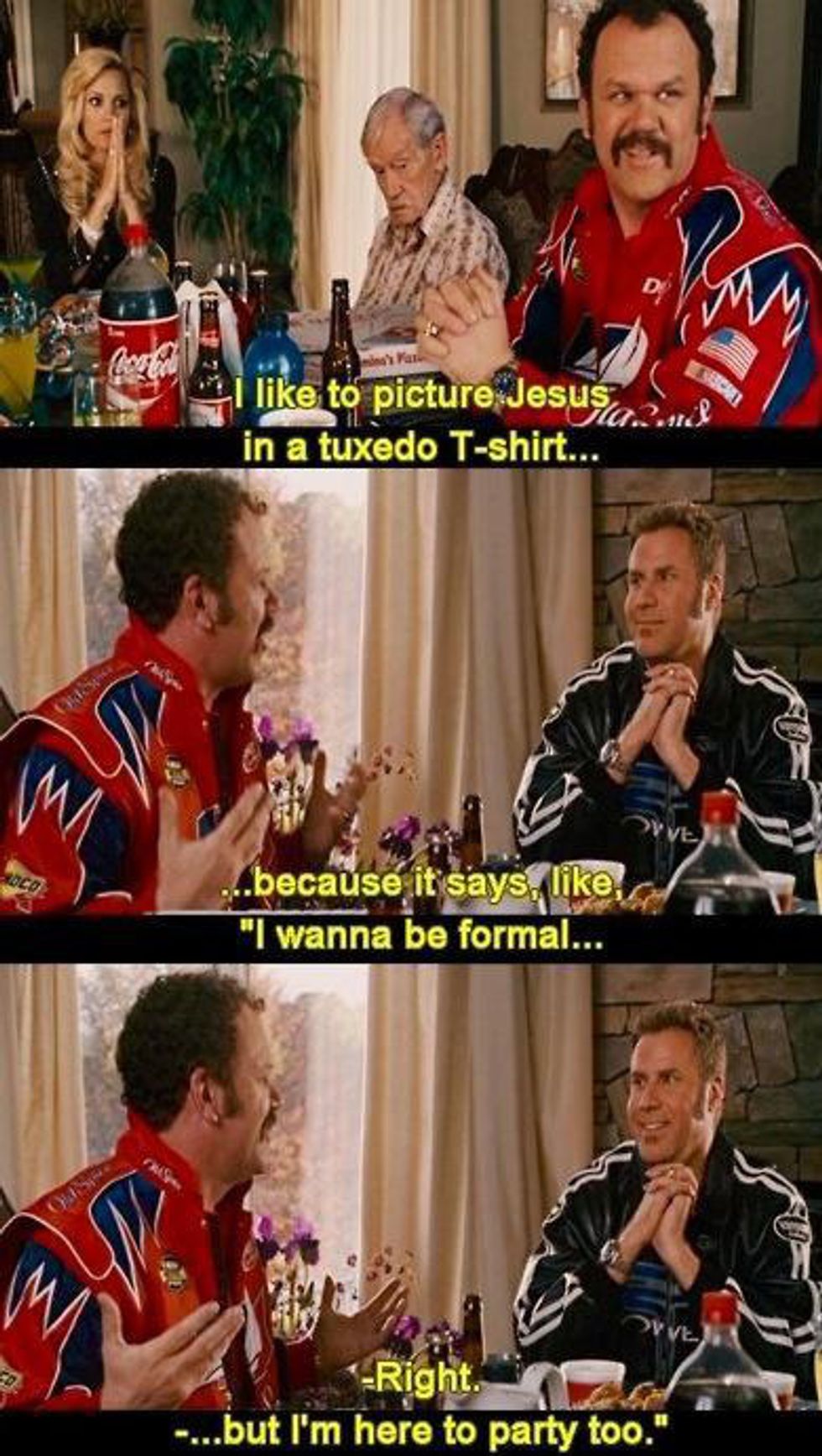 It's obvious that Cal and Bobby's sons go too far, because they mention picturing Jesus doing things that he never did, nor will ever do, creating a false image of Jesus's nature. But this still raises the question: is it sinful to picture Jesus in different stages of life?
It's common for people to celebrate different time periods of Jesus's life, which includes remembering him in different ways. Christians will remember "Christmas baby Jesus" being born in a manger in Bethlehem, "Maundy Thursday Jesus," who washed people's feet, "Good Friday Jesus," who was on the cross, and of course, "Easter Jesus," who is resurrected and now at the right hand of God. It's necessary for Christians to remember the different stages of Jesus's life because although he is God while he was on earth, he was also entirely human; meaning he has an important story. Meaning that it's okay to remember Jesus's human life while in prayer.

[rebelmouse-proxy-image https://media.rbl.ms/image?u=%2Ffiles%2F2016%2F04%2F23%2F635970323253127775834374510_jesus%2520life.gif&ho=https%3A%2F%2Faz616578.vo.msecnd.net&s=785&h=a22e10d317b7eae53744ff8a70033c36a0c7b1abbc2debe06f5689d0e831fb89&size=980x&c=387861092 crop_info="%7B%22image%22%3A%20%22https%3A//media.rbl.ms/image%3Fu%3D%252Ffiles%252F2016%252F04%252F23%252F635970323253127775834374510_jesus%252520life.gif%26ho%3Dhttps%253A%252F%252Faz616578.vo.msecnd.net%26s%3D785%26h%3Da22e10d317b7eae53744ff8a70033c36a0c7b1abbc2debe06f5689d0e831fb89%26size%3D980x%26c%3D387861092%22%7D" expand=1]
However — and I wanted to defend Ricky Bobby as much as anybody — people should not call out to a baby Jesus in prayer, or as a dead body on the cross, or as a little boy in the temple. Although it's important to remember that he was in those stages and that he can relate to us because of that, it's inappropriate to identify him as if he were still in those stages.
Ricky Bobby goes a bit astray in his prayer, and he definitely continues to say some embarrassing and wrong things throughout the course of the prayer that definitely could have been avoided (e.g., endorsing Powerade in his prayer). But, if Ricky Bobby were a real man, we can know for certain that Jesus would love him and would want him to come to him just as he is.