"I have never heard a more eloquent silence." - Speak by Laurie Halse Anderson
If a story sits at the back of your tongue for long enough, it can burn holes in your mouth and drastically change who you are. The silence that follows a traumatic event can be just as damaging as the event itself- for it will sit in the back of your throat until you finally find the courage to speak. Sexual assaults on campuses nationwide are the untold stories that aren't carried in libraries. They are the voices that are muffled by pillows and fear. They deserve to be heard. You deserve to be heard.
It is estimated that between twenty and twenty-five percent of women in college are sexually assaulted- and nine out of ten of those victims knew their offender.
Although these statistics are alarmingly high, they offer one glimmer of hope: you are not alone in what has happened to you. Moreover, what has happened to you does not define who you are and who you will be.
Your story is your most powerful weapon. It is a revolver in the hands of a woman reclaiming her strength. When the trigger is pulled, it has the potential to destroy. However, out of destruction comes rebirth. Gardens will grow in your chest once more- even if it has been polluted and trampled. You are always capable of growing beautiful stories in a place that was once haunted.
I write this because I acknowledge that the courage to speak is perhaps the most challenging bravery you could ever muster. Once you do, I promise you will experience a new world beyond your demons- beyond the people who have hurt you. Beyond guilt, shame, and fear.
The moment I realized that my voice alone could defend me in times of trouble, I knew I would never be alone again.
I encourage you to wear your story on your lips like your favorite lipstick. Be unapologetically bold.
Have the courage to speak. Reclaim your voice. Relinquish your spirit.
Be heard once more.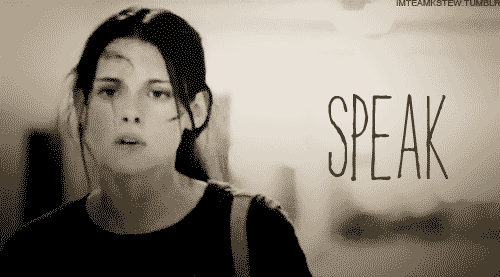 -----------------------------------------
Need help?
Call 800.656.HOPE (4673) to connect with a trained staff member from a sexual assault service provider in your area.
Recommended Reading: Speak by Laurie Halse Anderson
Other Resources:
Not Alone: Website dedicated to educating students and schools about sexual assault
End Rape on Campus: Advocacy organization for sexual assault on campuses
RAINN: Rape, Abuse, and Incest National Network
NSVRC: National Sexual Violence Resource Center
NOVA: National Organization for Victim Assistance
VAW: National Online Resource for Violence Against Women
Information provided by rainn.org