The world of hip-hop and R&B was forever changed when Chance The Rapper's third mixtape, known as "Coloring Book" or "Chance 3," released for free.

The significance of this album is often overshadowed by the pure talent and musical prowess shown over the course of its fourteen songs. Coloring Book has greater implications in regards to the evils of the music industry, storytelling through rap, and the ability to popularize songs with religious overtones in a society that is continually moving away from religion.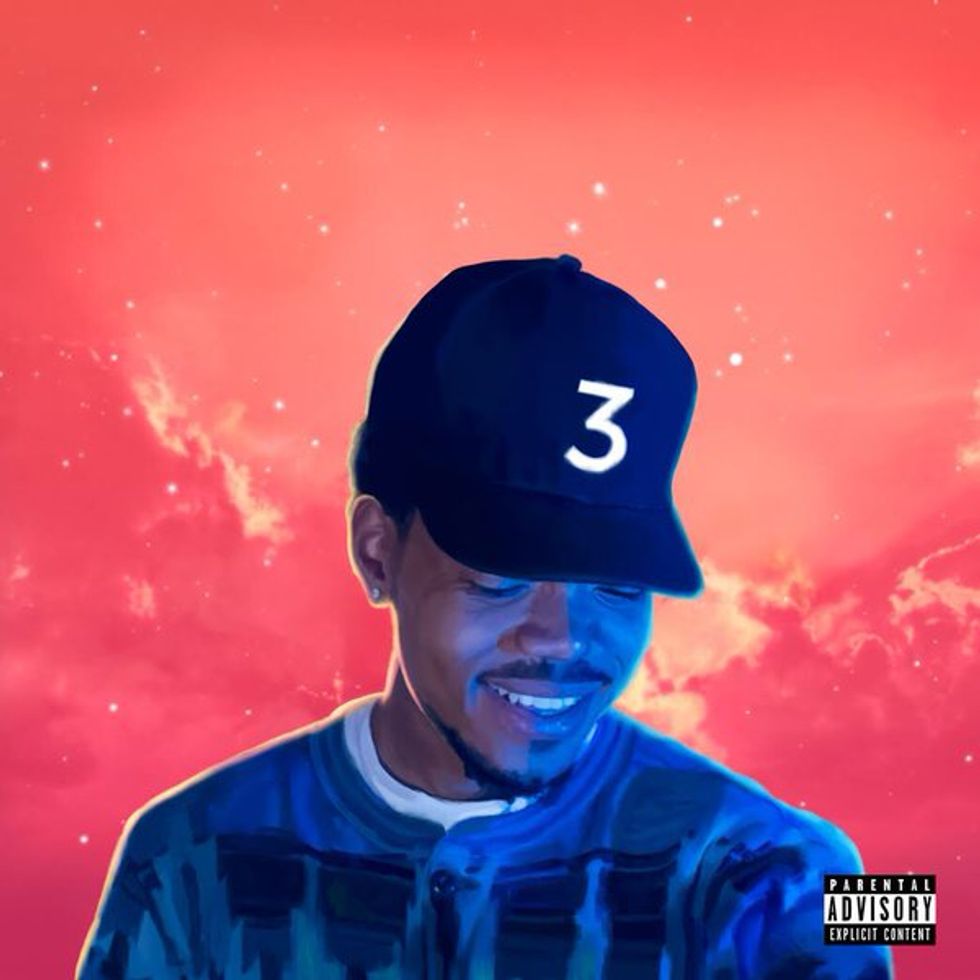 Coloring Book is fifty-seven minutes of one of the most unique rappers in history telling stories of his redemption from a drug-induced downward spiral based around the power he found in his faith and family. It is certainly one of the only albums I can, without a second thought, listen to straight through every single time. Featuring plenty of big names like Kanye West, Future, Lil Wayne and Justin Bieber, the album succeeds across the board, but really becomes special on the more introspective tracks with Chance's patented cadence. Songs like "No Problem" and "Angels" became popular on mainstream radio with their ability to hype up any crowd, while other cuts such as "Same Drugs" and "Juke Jam" hit listeners' hearts. For all of the pure jams listed on Coloring Book, each song also carries the Midas touch of Chance's lyrical acumen, giving us a glimpse into the struggles and successes that the young rapper has found after growing up in Chicago, meeting the horrible face of music labels and dealing with the fallout of drug use.
Perhaps most important in the themes set forth in this album, however, is the strength found in Chance's faith and family. After "Acid Rap," Chance's second mixtape, and, arguably, as wonderful a mixtape as "Coloring Book" in its own right, Chance fell into issues with using drugs like Xanax and problems with his girlfriend. On the song "Finish Line/Drown," Chance recalls, "Last year got addicted to Xans, started forgetting my name and missing my Chance." He has mentioned Xanax on "Angels," as well as in other songs he's featured in. He even tweeted this shortly before the release of Coloring Book: "Xanax the new Heroin. Don't let em fool u".
Chance's girlfriend and mother to his child is Kristen Corley, and Chance puts special emphasis on his relationship with her in this album. The song "Smoke Break" is a love letter to the woman who gave him his beloved daughter, Kensli, and on it he laments how his fame and their roles as parents has drastically cut down on the time they get to spend together without any outside pressure. Chance uses the idea of taking a smoke break as a luxury they wish they could afford during these busy days. In another song, "Blessings," Chance describes how his daughter brought he and Kristen back together and, in turn, gave him the strength to overcome his issues, "I know the difference in blessings and worldly possessions, like my ex girl getting pregnant and her becoming my everything."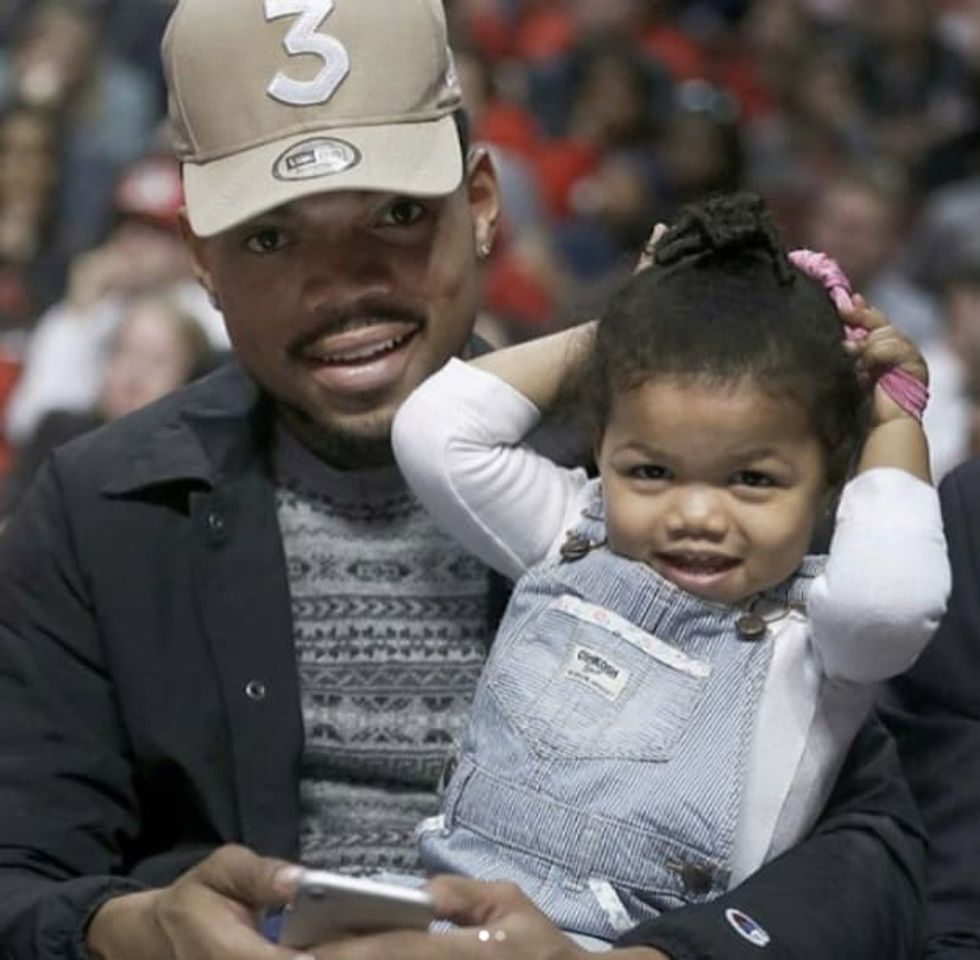 Chance's relationship with his girlfriend and daughter are known reasons for his inspiration in making this album and getting out of his funk. But another major reason that is audibly evident in the majority of Coloring Book's songs is Chance's faith. Tracks like "Blessings," "Blessings (Reprise)," "How Great," and "Finish Line/Drown" focus on Chance's appreciation of God and all that he feels he's given to him. If this album is a love letter to his girlfriend and daughter, it is equally one to God as well. The most surprising thing about these songs ingrained with religion is their popularity. Religion being featured so strongly in the mainstream of music, especially hip-hop, is hard to come by. As someone who is not very religious, I considered why I enjoy these songs so much. The conclusion I came too was that I appreciate Chance's pure love for his religion and God. Though I may not believe in a God like he does, hearing the absolute happiness and splendor Chance feels when describing his faith makes me enjoy the songs even more. It is a dose of real, honest love for something greater than he, and all he wants to do is spread the joy that he feels. That's what really separates this album from all the rest.
This album has been out for over a year, and the fact that I have just now decided to write about it baffles me. If you have not listened to it yet, do it as soon as you are able. Chance The Rapper won three (three!) Grammy awards after this album's release and he has never sold a single song. Did I mention that he's done and is doing an overwhelming amount of work to help the city of Chicago with free concerts, aid towards education, programs for children, and more. An article on DJBooth.net noted that Chance's three albums show his progression from looking up at the rap game, to staring it straight in the face, to looking down upon it. His ascendance to the upper echelons of rap music, and music overall, has come.

The lyrics of the final song on the album, "Blessings (Reprise)," help sum up Chance's mentality:
"I speak of promised lands
Soil as soft as momma's hands
Running water, standing still
Endless fields of daffodils and chamomile
Rice under black beans
Walked into Apple with cracked screens
And told prophetic stories of freedom
Found warmth in a Black queen for when I get cold
Like Nat King, I'm doing the dad thing
I speak of wondrous unfamiliar lessons from childhood
Make you remember how to smile good
I'm pre-currency, post-language, anti-label
Pro-famous, I'm Broadway Joe Namath
Kanye's best prodigy
He ain't signed me but he proud of me
I got some ideas that you gotta see
Make a vid with shawty and they ship it like the Odyssey
They never seen a rapper practice modesty
I never practice, I only perform
I don't even warn, I don't eat it warm, I won't be reborn
I speak to God in public, I speak to God in public
He keep my rhymes in couplets
He think the new shit jam, I think we mutual fans
I used to dance to Michael, I used to dance in high school
I used to pass out music, I still pass out music
The people's champ must be everything the people can't be
I'm getting artsy-fartsy, house full of some Hebru Brantleys
You must've missed the come up, I must be all I can be
Call me Mister Mufasa, I had to master stampedes"