Losers are people who are so afraid of not winning, that they don't even try." When 7-year-old Olive Hoover has a chance at becoming Little Miss Sunshine, her family packs up and heads to California in their yellow Volkswagen Type 2. LITTLE MISS SUNSHINE (2006) is a feel-good movie with just the right amount of funny to balance out the sadness.
I quite enjoyed this movie. It was a relatable movie that had all the right components to make it a winner. A dad who is obsessed with winning (even though he is a complete loser), a mom who is unhappily married and battling with her inner demons, a chubby daughter who has a dream, a grandpa who was kicked out of a nursing home and is battling addiction, a son who has taken a vow of silence, and an uncle who is bouncing back from a suicide attempt.
The screenplay for Little Miss Sunshine was written by Michael Arndt. However, he was fired because Fox wanted to change the script, but he was rehired four weeks later after the new writer quit. He went on to win the Oscar for Best Original Screenplay for the movie. The directors, Jonathon Dayton and Valerie Faris, are actually married. Their early work was directing music videos, until they began working on Little Miss Sunshine. They started working on the film in 2001, but it wasn't released until 2006 because of issues with funding.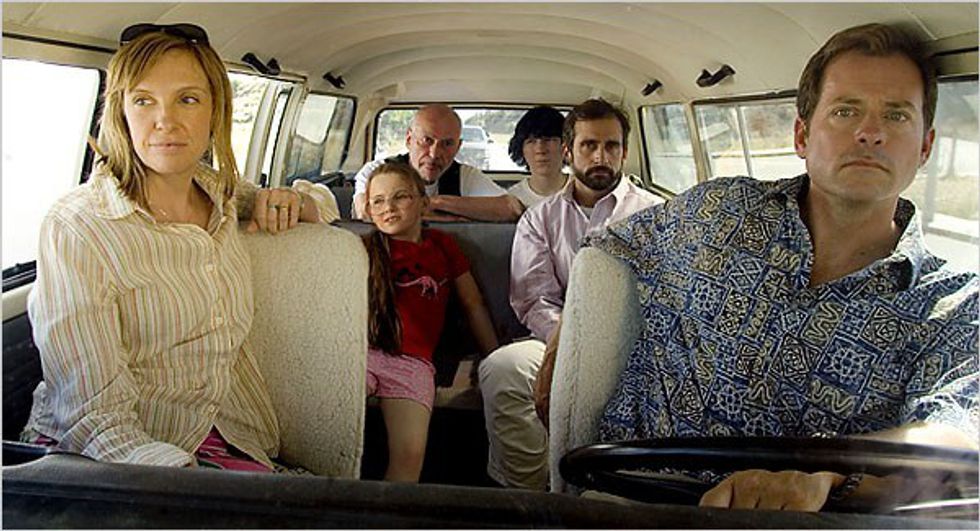 In Albuquerque, stressed out Sheryl Hoover brings home her brother Frank, who has just attempted suicide. Her husband Richard is unsuccessfully trying to sell his "Nine Steps to Success," and is fixated on being a winner, no matter what. Sheryl's son, Dwayne, takes a vow of silence as a follower of Nietzsche and aims to be a jet pilot. Their daughter Olive is a chubby pageant girl, who is coached by their grandpa. Grandpa Edwin is a bitter and vulgar old man who got kicked out of his cushiony nursing home and has become addicted to heroin.
A phone call tells the family that Olive now has a spot in the finals of the Little Miss Sunshine Pageant, so the family packs up and takes a road trip to California. Along the way, everything that could possibly go wrong does. The clutch in the van goes out, Frank runs into his Ex-boyfriend, Grandpa Dies, and Dwayne finds out he's color blind and can't fly planes.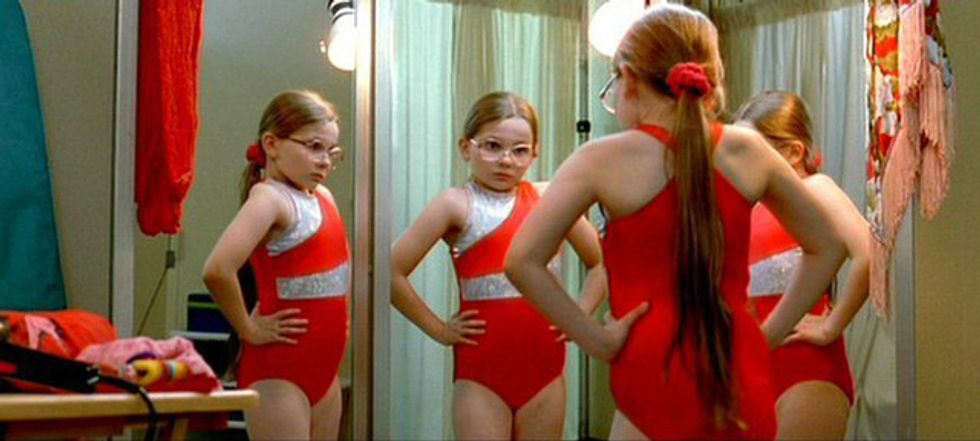 In the end, they make it to the pageant three minutes late. Olive dedicates her act to her grandfather "who taught me these moves," which was quite inappropriate for a Seven year old to perform, and when they try to kick her off the stage, Olive's family joined her on stage and danced with her. The police are called, but they release the family on the condition that they never enter Olive in another beauty pageant in the state of California. They reluctantly agree, begin pushing their VolkSwagen, and head back home.