Thanks to coronavirus (COVID-19), most of the United States has gone into its own version of quarantine. While no one loves this new way of life we're adjusting to, it's the necessity that will eventually help us fling open our front doors and frolic freely once again!
Premature thinking? Maybe. But while we're in the midst of this quarantine time, we're chatting about the most terrifying, the funniest, and the weirdest thing that quarantine has forced us into recently.
---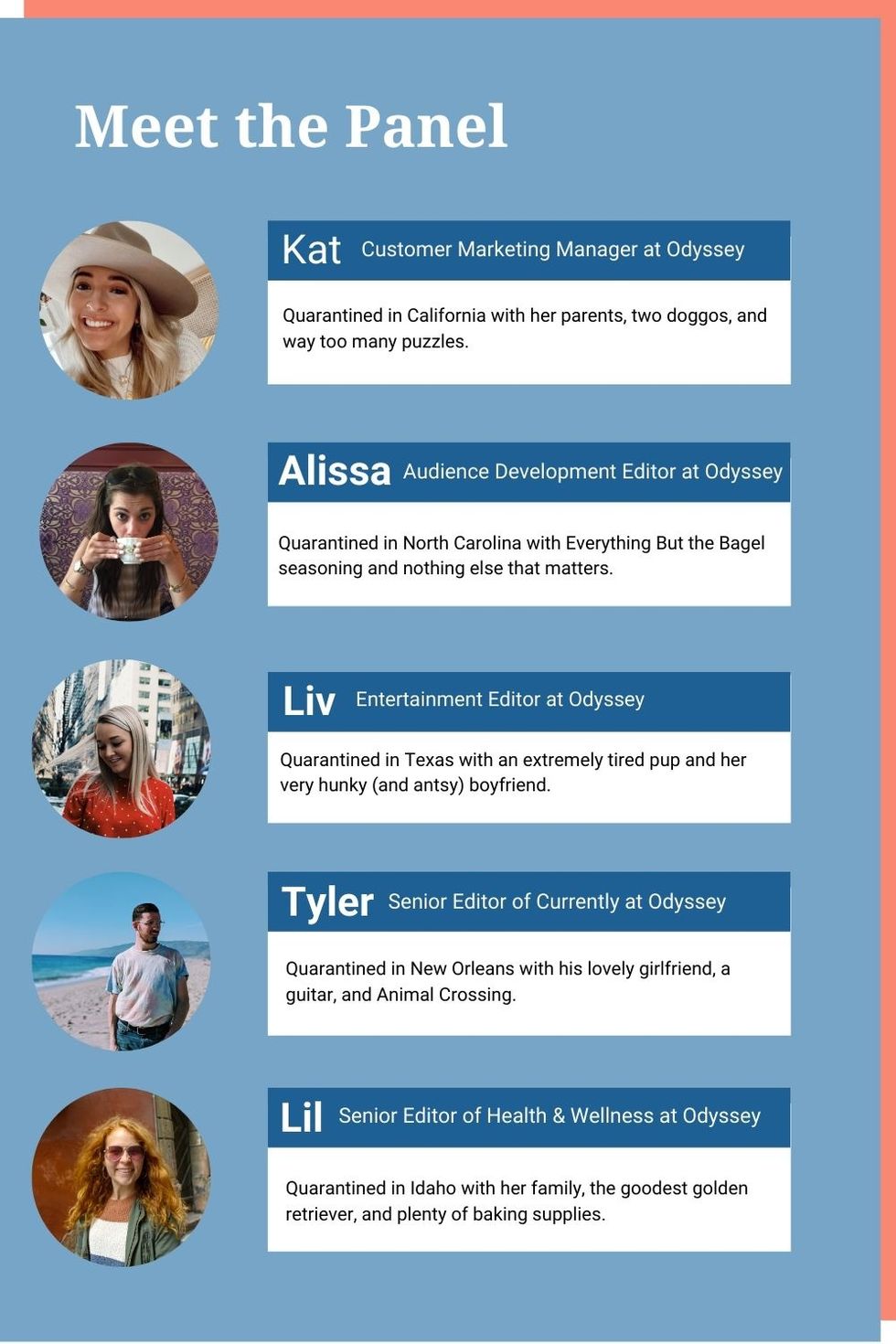 What's the most noteworthy thing to happen to you this week? 
Kat — I got four new plants for my room — it's the little things.
Alissa — I did my first 60-minute barre class post double-lung transplant, and I don't think I've ever had that much adrenaline in my life. Is this what achieving goals is like?
Liv — I found a stray dog and couldn't let him just live outside, so I took care of him for a couple of days and found him a wonderful foster home to live in until he gets adopted.
Tyler — This morning, a fire alarm woke me up three separate times. My partner and I literally jumped into action and got ready to take our most important belongings. There wasn't a fire, but our response was actually hilarious.
Lil — We had some bananas go bad, so banana bread was a MUST.
Have you formed any new habits while in quarantine? 
Kat — I started a jump rope challenge for this month! Each day I increase my jumps by 50 — I'm currently at 550. It has been a fun way to keep me active!
Alissa — I've been really into barre classes lately because I wasn't quite basic enough before the quarantine. I'm one avocado away from the stereotype now.
Liv — Way, WAY too much online shopping. Way too much.
Tyler — Making smoothies and space clearing.
Lil — I take one long walk every day, eat a bowl of strawberry ice cream at 8 p.m., haphazardly deleted my Twitter and Facebook apps because they were annoying me, and fall asleep in the sunshine (resulting in a wicked sunburn). So, actually, my quarantine habits are exactly the same as my pre-COVID habits.
What has been the best internet dog you've seen this week? 
Kat — I saw this cute corgi named Cali on Weratedogs, I DIED.
Alissa — Seventy-five percent of Kaley Cuoco's account is stories with her dogs, and I'm really invested in how Dumpy is getting along with everyone else.
Liv — Cas!!! I love supporting animals in need when I can and he deserves as much love and help as possible!
Tyler — I've gotten so deep on dog searches that my Insta discover feed is like 70 percent Vizlas and Australian Shepherds.
Lil — Just look at Lou Lou and Coco!
What new movie were you most looking forward to watching in theaters? 
Kat — I am really looking forward to seeing the new Marvel movie, "Black Widow."
Alissa — Nothing else matters except that the filming of "Hamilton" IS COMING TO DISNEY+ and I'm very satisfied. It's not until July, but I'm willing to wait for it. I'm not throwing away my shot just because the world's turned upside down. I can't say no to this. This release will blow us all away. More Hamilton puns.
Liv — I'm not really a movie theater person, but I am very excited to see "Black Widow."
Tyler — What are "movie theaters?"
Lil — I was equally crushed at the delay of "In the Heights," "Black Widow," and "A Quiet Place II." But now we get "Hamilton" early, so I can't complain TOO much.
What restaurant are you most excited about visiting once it's safe to do so? 
Kat — I am just so excited to just be able to sit in a restaurant but the place I am most excited to go to is Simmzy's. They have a beautiful patio that overlooks Huntington Beach and the pier. It's so nice!
Alissa — Alice's Tea Cup is like my second home. I can't stress enough how much I've been craving their scones and am very prepared to give them all of my money.
Liv — Texas is already opened up for restaurants, but the one I'm looking forward to going to soon is called Cork & Pig — wonderful happy hours and great burgers!
Tyler — This Vietnamese place in the lower garden district, Lilly's.
Lil — How much time do you have? I cannot wait to eat chicken parm at Frank, get ice cream at Van Leeuwen, eat an absurd amount of Mimi Cheng's dumplings, and stuff my face with all the New York pizza I can get my hands on. I just miss restaurants (and I'm sure they miss me, too).
How many Zoom/Facetime calls did you have this week? 
Kat — Probably seven to 10! Most of them are with my niece or catching up with old friends!
Alissa — It's not about how many, young grasshopper, but how well you get on one. Look, it me!
Liv — Like eight FaceTime calls, I would say. Since I live in Texas and a lot of my friends and family are back up North that's pretty standard for me on a weekly basis.
Tyler — Probably five? I do a weekly game night call with some of my family members every Sunday.
Lil — Three. You have to set boundaries!
Want to be a part of this panel in future weeks? Want to host a panel of your own? Email lily.moe@theodysseyonline.com for more information!
As an Amazon Affiliate partner, Odyssey may earn a portion of qualifying sales.