I think it's fair to say that many of us take the Internet for granted. We often criticize it as a toxic distraction from real experience, or as a dehumanizing force that is upending the natural order. And, I admit, I do feel that way sometimes. It's hard not to look at social media and criticize it for the way it has challenged, and in some ways replaced physical experience. But while it's easy to sit on our high horse and shout at the Internet for what it has taken away from the world, every time I do so, I can't help but feel like I'm taking it for granted.
How can I criticize the same platform that has given our generation such a distinct advantage over any other? How can I criticize it when it has given us a resource like Wikipedia, which compacts so much of our knowledge and understanding, and places it right at our fingertips? How can I criticize it for giving us Facebook, which allows us to find and connect with ordinary people living on opposite ends of the planet? Or for giving us Google Earth and Maps, which lets us visualize, experience, and understand the world in ways once thought impossible?
I could honestly go on and on, shouting away at how incredible the Internet is and how lucky we are to be born in a time where it exists, but I'd just be stating the obvious. Instead, I want to focus my attention on a platform that I think really exemplifies the incredible power of the Internet: YouTube. I hope, in my praise, I can bring back some dignity to the same site that has given us the Paul brothers and endless Minecraft "Let's plays."
YouTube is, simply put, a platform that lets people share videos. In that sense, it's nothing revolutionary; television basically does the same thing. What makes Youtube so brilliant, is that it lets anyone share videos. The result is a constantly expanding database that is visually documenting life, experience, and culture. YouTube puts power into the common masses, giving ordinary people an ability to project themselves that was previously reserved to a select few.
To translate just how powerful of a tool it is, I'd like to show a video I found on YouTube that was filmed in 1896.
I think it's fascinating that I, in 2018, can sit at home and see a snapshot of a generation that existed two centuries prior to the one I grew up in.
To me, the most poignant part of this clip has to be this old man here: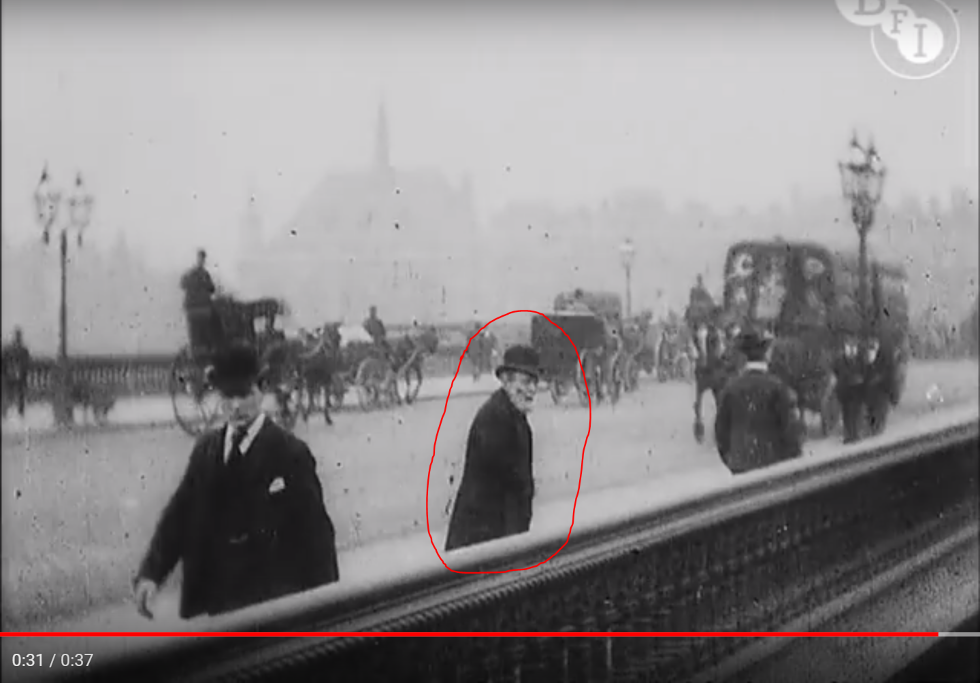 I love the look of bewilderment on his face when he turns his head around to gaze at the camera. It's a look that reads: "What is that strange device?"
Let's say that this guy was born in the 1820's or the 1830's. How could he have guessed that, when he's older, he'd happen upon a big fancy box that would perpetually transport his image into the future? It would have been unfathomable to him that someone in 2018 could still watching him walk across that bridge. Yet here we are.
This man has been gifted with a brand of immortality that not even the greatest figures in history have; while we can read all we want about Caeser or Napoleon, we can never again see them as living and breathing beings in motion. Yet with this man—we can. And through YouTube, our entire generation has that power.
Today, we are all crossing Blackfriar's Bridge. The ubiquity of cameras has made it so that our images are being captured constantly whether we realize it or not. And with YouTube and the Internet, we are seamlessly being cataloged into a massive and growing database of humanity. Imagine, 100 years from today, just how many videos like "Blackfriars Bridge (1896)" will be circulating on YouTube(or whatever other website that may or may not replace it). Everyone, especially historians, will have easy access to a compelling window into our generation.
We may dismiss Jake Paul today as frivolous, but 100 years from now, under an unbiased lens, he might be someone worth studying, simply as a prominent example of a new type of man, someone who was born into and defined by internet culture. Even all those videos that we now think of as "shitposting" may, in the future, gain some merit. After all, they are a manifestation of pop culture and therefore will contain some insight into our generation.
I think of YouTube as a time capsule. Centuries from now, everyone can look back through YouTube and wholly experience our generation: its sights, sounds, issues, and—most importantly—the individual personalities of, not just its Kings and Queens, but its ordinary people.