She has done it again.
I feel like every article written about Ariana Grande starts off with a phrase similar to that. She just keeps going and going and it truly doesn't seem like she is anywhere near stopping.
This past Friday, Grande released a single from her album with the same name, 'positions'. This comes after a year of listening to the two albums she released within months of each other. It has been a crazy decade for the Republic Record recording artist, but she is just getting started.
Her sixth studio album is to release this Friday, October 30th.
A nice Halloweekend treat to thousands of fans across the globe.
Now, let's take a look at 'positions' and its already glowing impact on the Ariana Grande fanbase.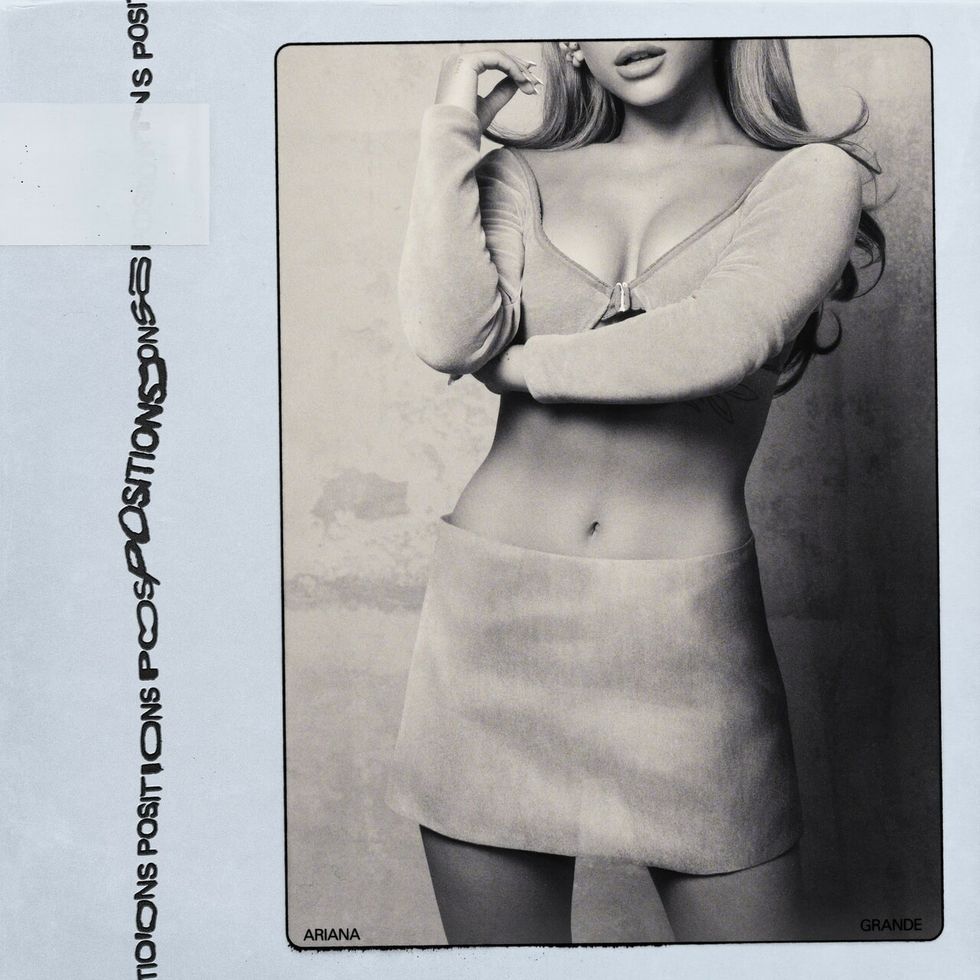 'positions' hits so many notes and innuendo, it is quite impressive. We all know that Grande is known for her tricky lyrical writing. One of her most famous beings, "...wrote some songs about Ricky (Alvarez), now I listen and laugh." In this song, it is the rebound to the rebound.

'thank u, next' was her comeback after her brief engagement to Pete Davidson and the tragic passing of her longtime love, Malcolm Miller. It was the album that assured her fans, she had been through hell and back, but she was going to be okay. Songs such as 'fake smile' and '7 rings' illuminated that more than ever.
Within both the songwriting and the music video to accompany it, 'positions' are jumping higher and running faster than any of the others.
The lyrics are daring and vulnerable, talking a great deal about the intimacy of new relations and her attempts to leave the past in the past. The relationship most likely refers to that of her current love, Dalton Gomez.
A line that fans are really vibing with is, "I'm just hoping I don't repeat history", a play on words and dig at her former flame, Davidson.
Also, the sexual tension of the song in its entirety, specifically in, "Boy I'm tryna meet your mama on a Sunday, then make a lotta love on a Monday (Ah, ah)." The song would give any part-time lover the butterflies. That feeling of utter romance and bliss.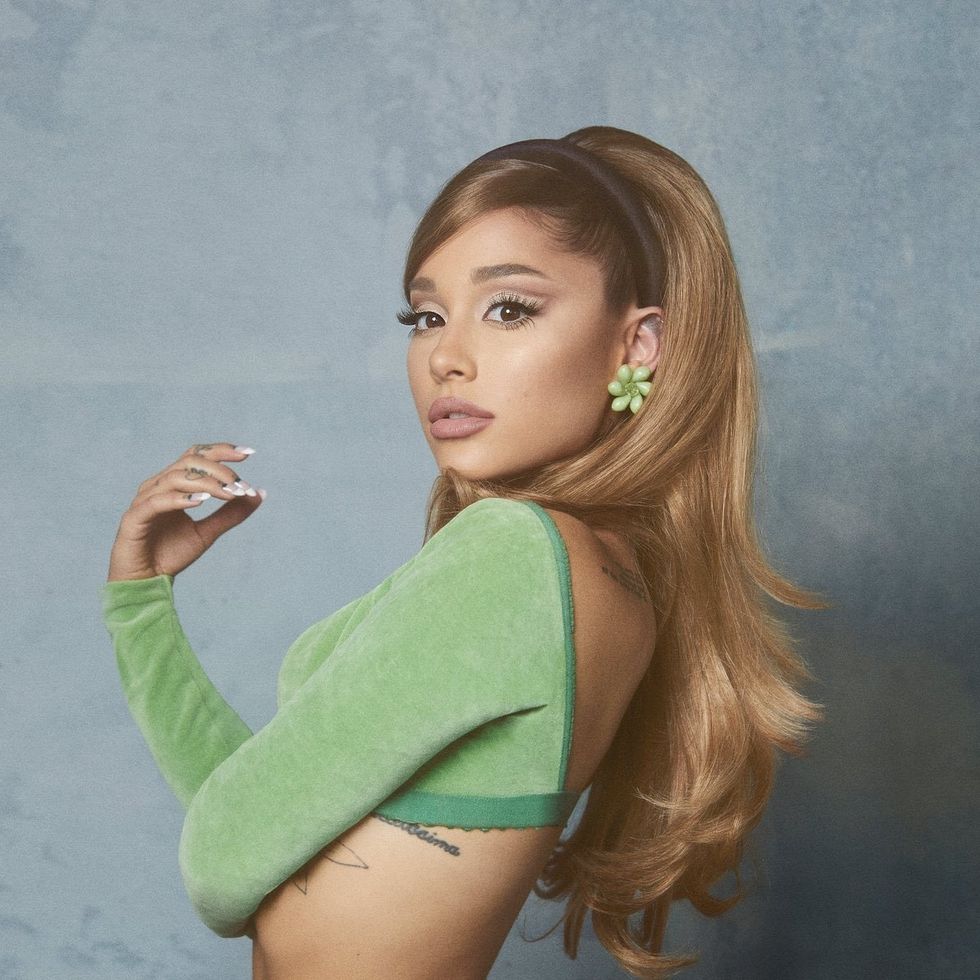 The song is Grande, in every way shape, and form. It is art.

Then comes the music video. Another spectacular piece of art. It is all around Grande being the focal point of the nation, as the President of the United States. Just in time for the election. The uses of her "position" to influence young voters and her fanbase is really a work of genius in and of itself.
The video opens with Grande, the President, in a room with her cabinet. The members include her mother, Joan Grande, her best friend, Victoria Monet, and a beaming portrait of her dog, Toulouse, behind it all. Each easter egg brings the video together.
Then, on theme with the word positions, the frame of the video switches with each scene. First, one of her in the kitchen, making pizza and drinking wine. Another of walking the halls of the White House, perfecting her presidential stance. All of it so powerful and astonishing, I was constantly at a loss for words, personally.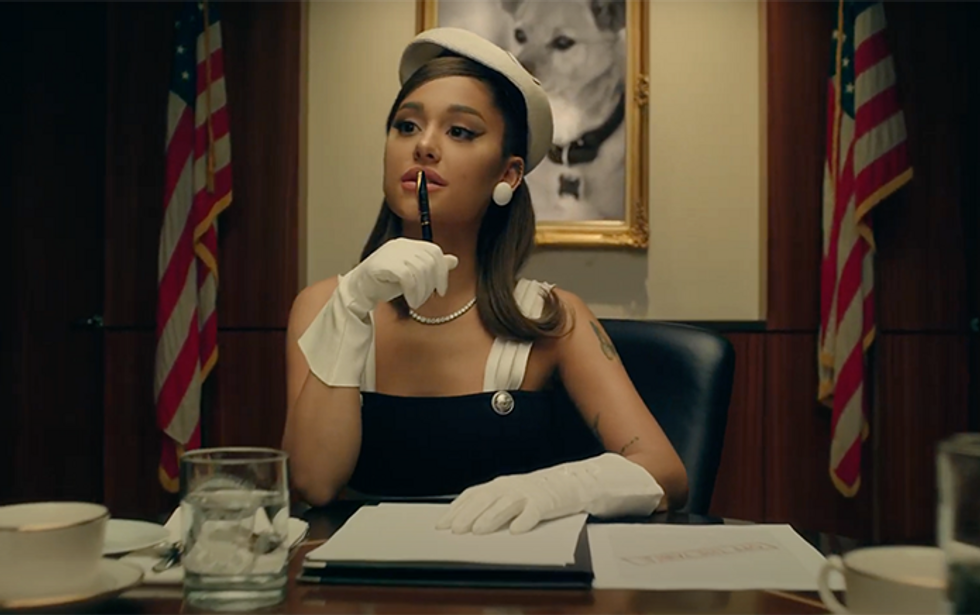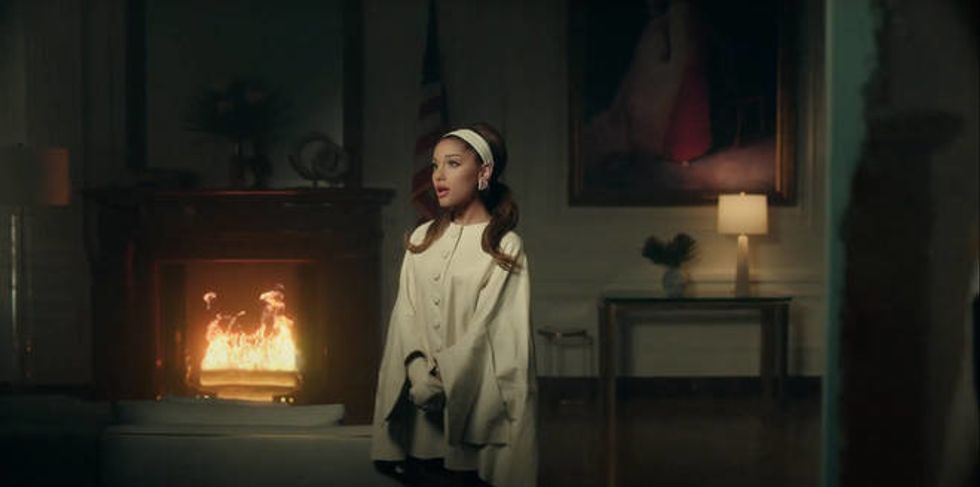 Not only is the video itself a statement, but her outfits also paved the way to history. First, a black and white Balmain dress, in a cabinet meeting. Next, a Mugler dress, strutting down the corridors. These were accompanied by a Lanvin suit with a bow headband and a Pinko, houndstooth coat.

It would make any fashion designer drool.
All I can say is this: October 30th is no longer the day before Halloween. It is 'positions' day.