More than 30 years after the reign of hair bands, metal heads and the hallowed rock-band mockumentary Spinal Tap, the music industry is still as ridiculous as its always been.
Keen to the eternal issues of stage productions, lyrical shortcomings, groupies and egomaniacs, the Berkeley born comedy trio, The Lonely Island, takes on the music industry's absurdities and deliver a hysterical spoof of just about every facet of today's pop world, without treading on their modern day mockumentary's predecessor.
Popstar: Never Stop Never Stopping follows the adventures, or more appropriately, misadventures, of Conner4Real, played by Andy Samberg, an egotistical dimwit who broke out of his hit-trio to pursue a solo career. Having outgrown The Style Boyz, the Beastie Boys-like ensemble that brought Conner his fame, Conner4Real splits the band after a long deserved dispute. Conner employs Owen, Jorma Taccone, to be his DJ and leaves the mildly problematic Lawrence, Akiva Schaffer, to assume a new life as a farmer. As the film begins, just about every major name in hip hop and popular music, from A$AP Rocky to Ringo Starr to Carrie Underwood to Usher, gush in interview-style about Conner4Real. There is no shortage of humor as they describe his inescapable talent and success, as well as his upcoming nationwide tour and second album.
In the style so aptly mastered by The Lonely Island in their Saturday Night Live days, the movie is propelled by faux musical numbers so gloriously satirical that audiences can not help but laugh. At other times though, there is no response more appropriate than a jaw suspended in disbelief as the raunchy absurdities, blatantly inspired by the likes of Justin Bieber and Macklemore, take place on the screen. Within just a few minutes it is clear that the goofy Conner4Real, who boasts of Bieber like tattoos and a lead single that champions for equal rights, while not missing an opportunity to assert that he himself is "not gay!", is no longer the media darling that he used to be (cue reoccurring segment of the Will Arnett led CMZ, a TMZ parody so accurate its painful). Conner's album is failing to sell, his tour is left with empty seats night after night, and the public is calling his decision to insert his songs into mystery speakers in their appliances a breach of privacy. But, of course, Conner only makes matters worse by partaking in a series of doomed media enticers and further distancing the loyal Owen, who was prohibited from contributing his hit-making beats to Conner's second album, by placing a Daft Punk-inspired robotic head on him and reducing his responsibilities to pressing play on an iPod for Conner's live performances.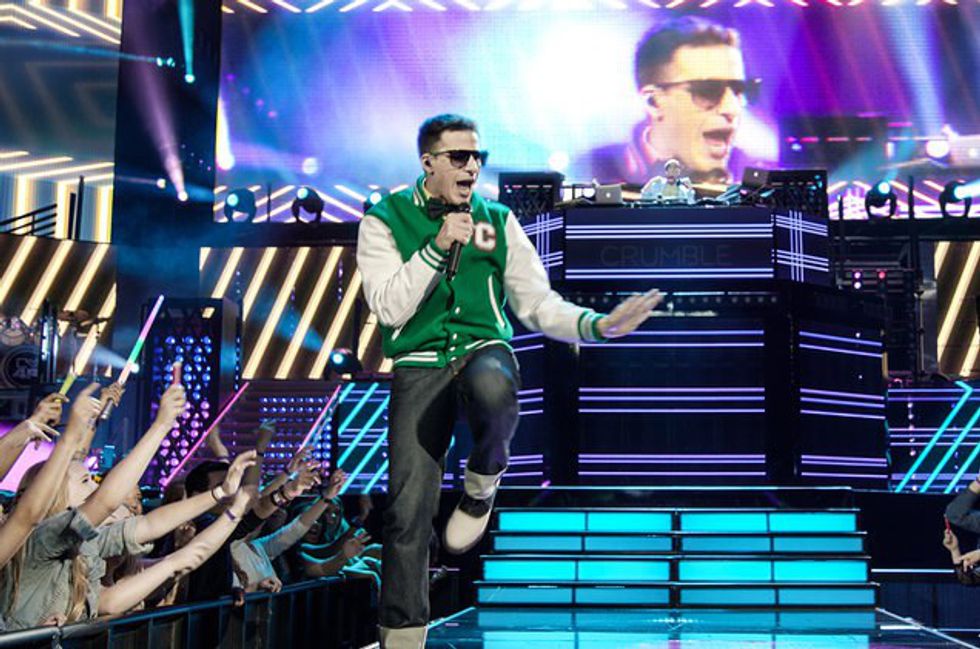 In an effort to save the dying tour, Conner's publicist and manager, played by Sarah Silverman and Tim Meadows respectively, bring on an opening act, Hunter the Hungry, played by the hilarious breakout star Chris Redd. As can be guessed, things only proceed to go wrong for Conner4Real, who's narcissism has left him in the background of his own tour and with a single friend…who happens to be a turtle. In the short time left in the 86-minute flick, Conner continues his journey, but this time on a different trajectory as he seeks redemption and true friendship, with the final few lines of the film being undoubtedly cheesy, but heart warming.
Samberg, Taccone and Schaffer, in the follow up to their debut full length feature, Hot Rod, supersede all expectations and present a side-splitting comedy, which true to their Lonely Island form, is often tasteless, vulgar, and senseless. With a sense of humor that is seemingly universal, jokes that are comical solely because of the sheer number of times they are repeated, one liners that a child could have written, and many more that are nowhere near suitable for young ears, The Lonely Island's Popstar is an acutely aware film that leaves few in the music business unscathed, and manages to deliver a sincere message while capitalizing on every comedic strength the trio has.
Akin to Spinal Tap, there is no doubt that this uproarious comedy will find itself amongst the greatest mockumentaries, and act as a cognizant limelight for the outlandish music world of today.