I have some exciting news to share! One of my dearest friends has published a book! Her name is Mirriam Neal, and the title of this book is "Paper Crowns." You can find it on Amazon.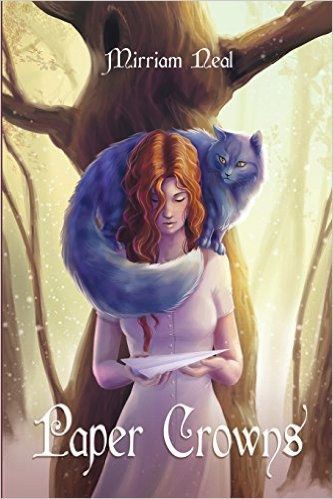 And you can find Mirriam Neal at her blog, here.
I highly recommend checking it out. She's an amazing writer and has insightful, helpful and uplifting blog posts on numerous topics.
Several years ago, I became friends with Mirriam. Initially we bonded over our love of the Scarlet Pimpernel, but soon found out that both of us love to write fiction. At the time, Mirriam was working on her debut novel "Monster." I eagerly asked to read it, and she put me on the beta list. Let me tell you, this girl can turn out chapters as quick as anything. It didn't take long for me to realize what a gem of a writer she was. In fact, the realization was almost instant. Thus, even after "Monster" was finished, I continued to stay on the beta list for anything else she was writing. This was how I came to read "Paper Crowns."
I fell in love with the book instantly. Mirriam has the wonderful and rare ability to write any genre and excel at it. When I opened the first chapter of "Paper Crowns," I realized I had stepped into a whimsical, magical world that I was going to enjoy journeying through with the characters. The book is beautiful, from the enchanting art on the cover, to the final sentence on the last page. I highly recommend moving it to the very top of your reading list immediately. I've read it more than once and each time over gives me more joy than the last. This gal truly is a master of words.
This lighthearted fantasy novel, centers around a young girl named Ginger and her cat, Halcyon. It took almost no time at all for Halcyon to claim his place as my favorite character. However, I can honestly say that I loved every character in this book. Every character is so lifelike and well-written. This runs through every one of Mirriam's stories and never ceaseless to impress me. And though the story starts out with Ginger in the relatively peaceful, secluded life she's led up to this point, everything soon changes for this young girl. The book reels you in very quickly and doesn't let you go until the very end. It's one of those stories you can't seem to put down, even if you've read it several times already.
So head over and check out her book! Your imagination will thank you.