The B1G is undoubtedly the SEC of college wrestling, and the ACC has something to say about it. Maybe it's time the Pac-12 gets in the business as well. As I touched on in "Renaissance", the Pac-12 has recently gone through many head coaching changes, namely Arizona State, Cal Poly-SLO, Boise State, and the soon to return Fresno State. This period of flux may very well be a watershed period for the conference (with any luck, it will be).
Fresno State Selects Troy Steiner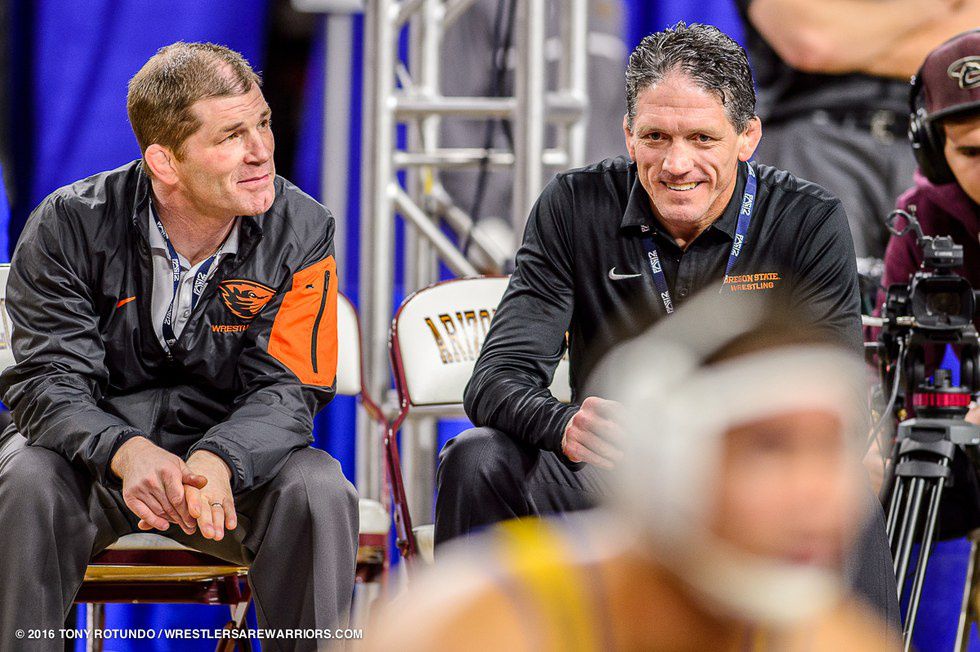 (Coaches Kevin Robert and Troy Steiner, L-R, at the 2016 Pac-12 Wrestling Championships for Oregon State. Photo: Tony Rotundo/WrestlersAreWarriors.com)
A prominent headline in the Fresno Bee May 10th sent ripples through the Pac-12 wrestling landscape as Fresno State hires Oregon State Associate Head Coach Troy Steiner as the new leader of the Fresno State Bulldog Wrestling program, with the first team to hit official competition starting the 2017-2018 season. Steiner (whose twin brother, Terry, is the US National Women's Freestyle Coach) has been on staff at OSU since 2006, coincidentally the same year Fresno State dropped wrestling. This will be his first time as a head coach of a D1 program.

As a competitor, Steiner (Class of '93) was a 4x D1 All-American Iowa Hawkeye for Dan Gable (5th, 2nd, 1st, 3rd according to WrestlingStats.com). Since 1993, Steiner has actively coached in various capacities in the sport from the high school level to Big 10 programs. Steiner also won a Pan American Games Championship for the United States in 1996.
The Recruiting Field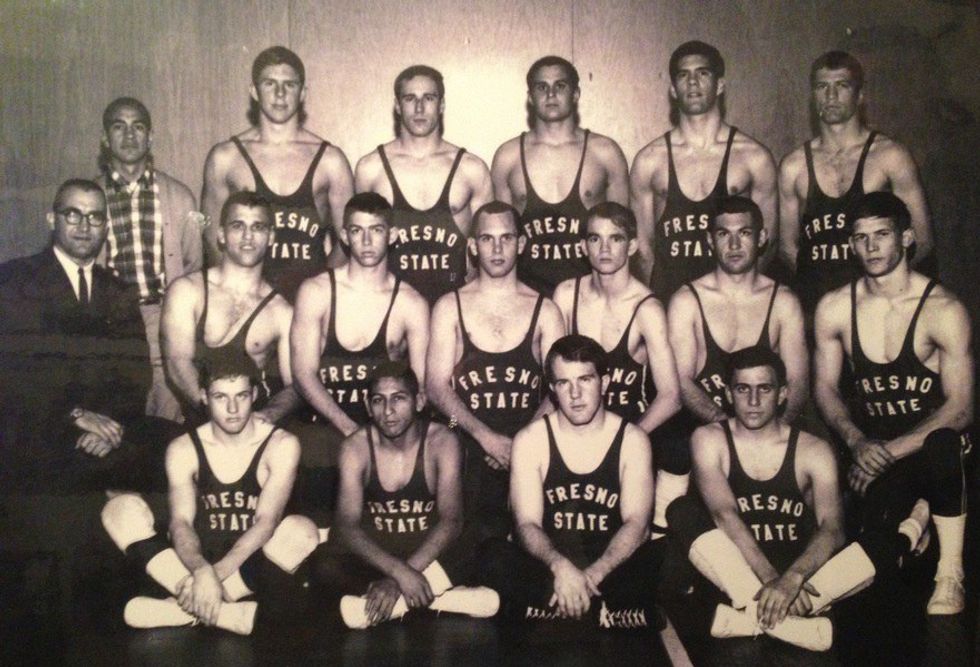 (Photo: Central California Life Magazine)
It's been a long time since Stephen Abas made fools of his opponents on the D1 mat for the Fresno State Bulldogs. Since the D1 landscape thinned during the 2000s (with the loss of the UC Davis, CSU-Fullerton, and Fresno State wrestling programs during the Title IX/ budget crisis era), California preps were left with Cal Poly-SLO, CSU Bakersfield, and Stanford as their D1 options. Recruiting pipelines have since developed that have begun siphoning talent away from CA. Old Dominion (Virginia) has garnered recruits including the State Champion brothers Emilio and Israel Saavedra. This cross-country pipeline is especially salient now that Chris Mecate has proved that California talent gets cultivated in the Monarch wrestling room under Head Coach Steve Martin, with Mecate becoming a 2x All-American this year. North Dakota State University has also developed a recruiting network in California, led by Josh Rodriguez and Nico Colunga (the latter a much-more-talented contemporary of mine).
Mark Perry was able to reinforce the CA to Illinois pipeline when he departed Cal Poly, declining the Head Coaching position in 2011, to accept an associate coaching position for the Illini. Cal Poly recruit Jesse Delgado (eventual 2x NCAA Champion for the University of Illinois) would follow Perry, as would post-grads and NCAA Runner-ups Boris Novachkov and Chase Pami, who would begin training for international wrestling under Perry. Novachkov recently qualified for the Olympic Games. Currently, CA State Champion Isaiah Martinez has recently become a 2x NCAA Champion as only a sophomore for the Fighting Illini. Other examples of talent exporting out-of-state include CA State Champions Nahshon Garrett (eventual 4x All-American and NCAA Champion) and Alex Cisneros (who is now at D2 power Nebraska-Kearney), who went Cornell, and fellow State Champions Morgan McIntosh (NCAA Runner-up), AJ and Nick Nevills, who wrestled for Cael Sanderson at Penn State. It must be noted that California State University, Bakersfield has built a recruiting wall around the talent that comes out of the Bakersfield area. The new coach in the Central Valley will have to traverse (and certainly out-recruit their competitors in) this new extractive California landscape if they are to bring the Bulldogs back to prominence.
Where Troy Steiner benefits, though, is the vast expertise he brings from being a top-2nd man at a Oregon State. Since the 2006-2007 season in which Steiner started his tenure at Oregon State as the Head Assistant Coach to Jim Zalesky (eventually being promoted to Head Associate at the start of the 2012-2013 season), the Oregon State Beavers have won 7 out of the 10 Pac-12 Conference Team Titles including 5 straight in 2012-2016. Steiner's tenure at OSU also coincided with All-Americans Clayton Jack (Vacaville HS), Colby Covington (born in Clovis, CA), and 2x All-American Scott Sakaguchi (Clovis HS). He could use his connections to start to build a strong pilot-squad in Fresno. It'll be interesting to see how the dynamic works with Fresno City College and many top-flight wrestling high schools in California's notorious Central Section all clustered in the Clovis area for the future of recruiting talent. With a rich in-state-only Junior College system in California consistently transferring solid Cali-talent into NCAA prospects, we may soon see a quick consolidation of talent in Fresno State's brand-new roster. It is quite early to predict what the world will look like come winter of 2017, but I'm hopeful for the future with Troy Steiner at the helm for the Bulldogs.