In the Dominican Republic, Virgin Mary is venerated under two distinctive devotions. The first one is celebrated on January 21st, which is the day of Our Lady of Highest Grace, known for being the protectress of all Dominicans. The second is celebrated on September 24th, in honor of Our Lady of all Mercies, known to be the Patroness of the Dominican Republic. Since the celebration of Our Lady of the Highest Grace approaches, I'd like to introduce her story to others.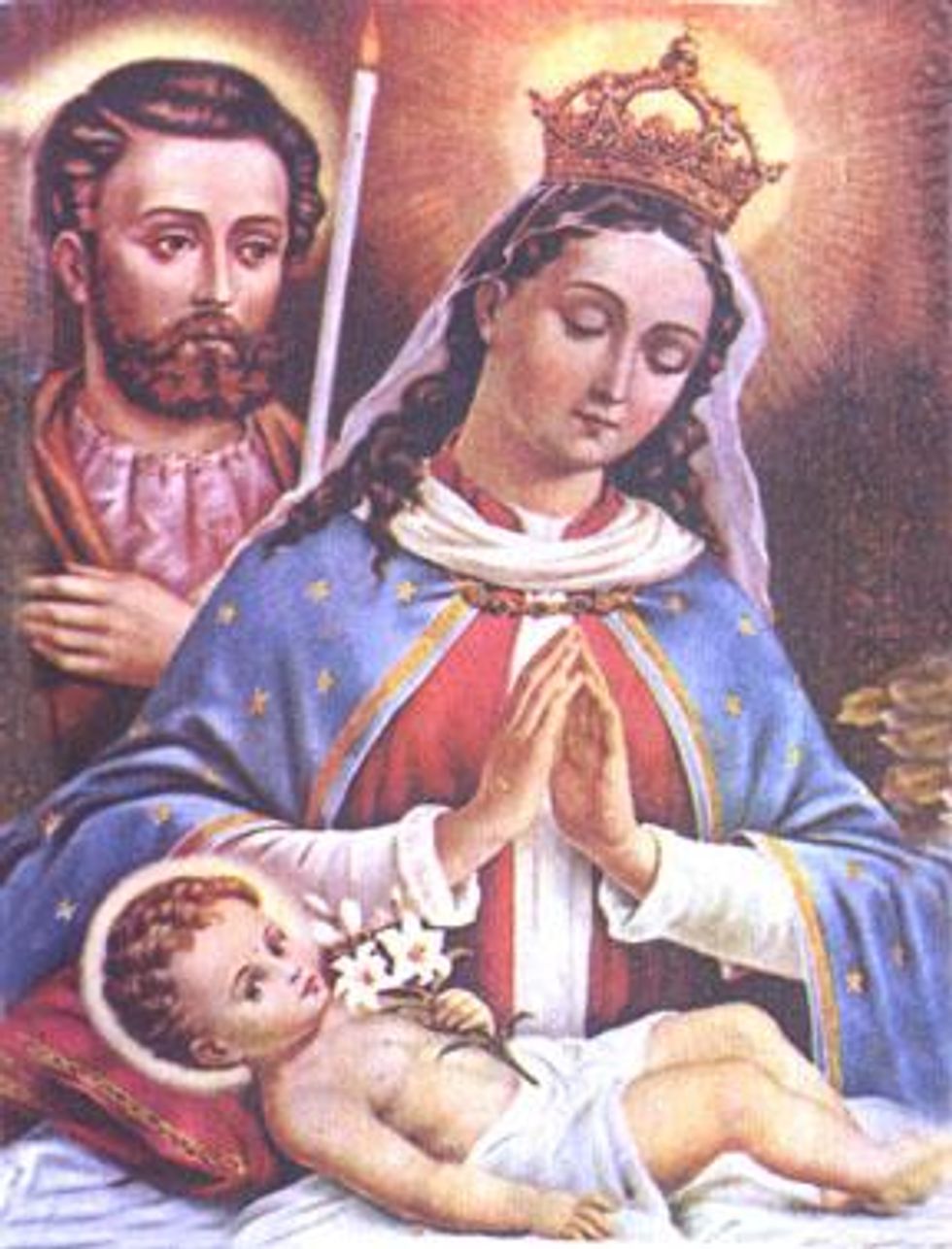 History

Our Lady of Highest Grace also known as Our Lady of Altagracia has been venerated since the 15th century in D.R. It is believed that devotions to Our Lady of Altagracia were rendered by the Spaniards who settled on the island after Columbus' first visit. A Spaniard colonel called Ponce de Leon was a Virgin Mary devotee and so was his youngest daughter. Ponce de Leon, a sweet little girl often referred as La Nina (the little girl) in history was once praying on her home's chapel. During her prayers, Virgin Mary appeared to La Nina and told her to request her father to gift her a painting of Our Virgen of Highest Grace.
Ponce was astonished as he never heard of this title given to Virgin Mary. Ponce asked La Nina how would he identify the Highest Grace lady. La Nina said, "You'll see she has a white robe".Ponce embarked on a three-day trip in search of such painting; to no avail. On his way home, Ponce sought lodge at travelers' inn. While Ponce stayed at the inn, he was introduced to an elderly man with a long white beard by the inn's host. Ponce related to the host and elderly man the story of how his daughter's request for this painting was impossible. Ponce visited the Bishop of Santo Domingo and was told by its priest such painting didn't exist.
While conservating and after hearing this from Ponce, the elderly man excitedly said: "Her painting does not exist indeed". "But, I have brought it forth for you" the elderly man ended up saying while picking out a rolled painting off his bag. The older man unrolled the painting, Ponce and the inn's host kneeled in front of it. "This is a miracle" both exclaimed. Ponce tried to reward the elderly man, but the latter didn't accept. The elderly man told Ponce "Bring the painting to La Nina" while he vanished away.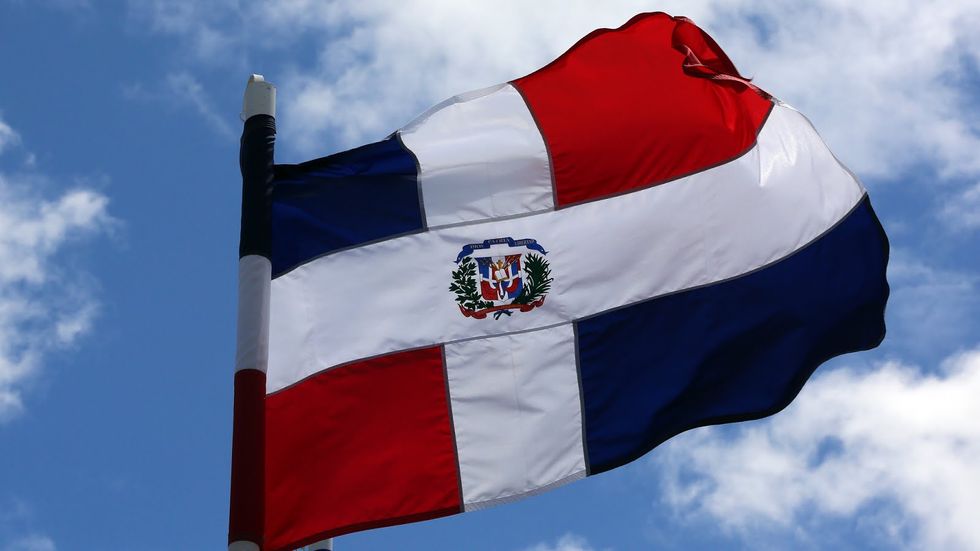 Ponce brought the painting to La Nina, who was waiting for her father sitting under an orange tree. La Nina cried and said, "This is how Virgin Mary looked when she appeared to me". The original painting was placed on Ponce's chapel where it could be venerated by everyone. Many years passed and La Nina died. The painting disappeared three times and was found between the branches of the orange tree, where La Nina received it for the first time and was buried. This was considered a message from Virgin Mary indicating she wanted a Shrine constructed to be venerated as Our Virgin of Highest Grace.
Devotion

La Basilica Our Lady of Altagracia is in the province of Higuey, on the lowest peak of the South East D.R. The original painting was refurbished by Alfonso and Antonio Trejo in 1572. Jesus' Nativity is the showcase on this painting. Virgin Mary is in the center of the painting wearing a blue veil and white scapulary. Virgin Mary has her praying hands on top of Baby Jesus who is in diapers and covered in a hay blanket laying down in a manger. To the right shoulder of Virgin Mary, St. Joseph is watching over his wife and Son wearing a red robe. Through a window, the Yonder Star shines on top of the Holy Family. Virgin Mary is wearing a crown with twelve stars. St. Joseph and Baby Jesus have halos.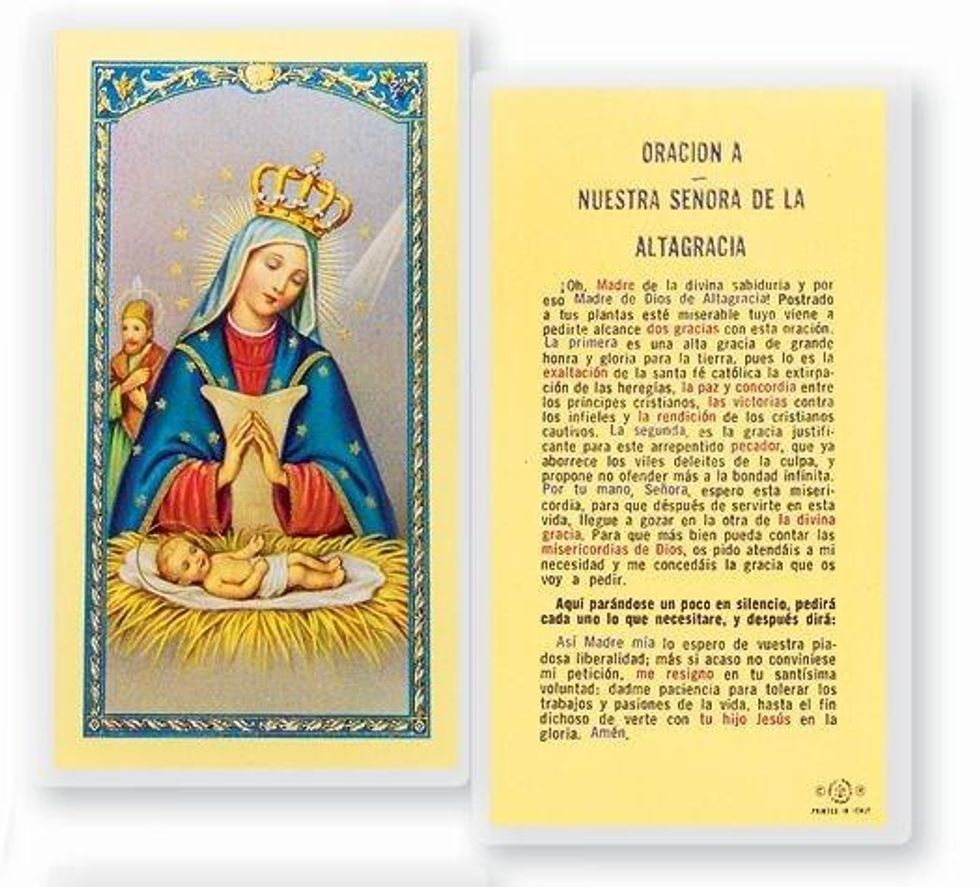 In this painting, Mary of the Highest Grace is wearing the colors of the Dominican flag identifying her as a national legacy. Since she showing how her love to Jesus, is now being born on the land and hearts of all Dominicans. In, D.R. Our Lady of Highest Grace is often called by the nickname La Tatica de Higuey, meaning "Our Mommy from Higuey". Our Lady of Altagracia starts on January 12th and finishes with her celebration on January 21st, when she is venerated as the protectress of all Dominicans living anywhere in the world.