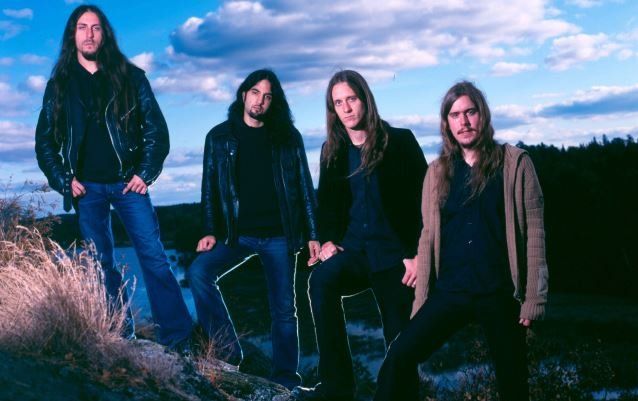 Line-up:
Mikael Åkerfeldt - vocals, guitars
Peter Lindgren - guitars
Martin Lopez - drums
Martín Méndez - bass
Additional info:
Steven Wilson - vocals, guitars, keyboards, mellotron
Recorded at Nacksving Studios and Studio Fredman.
Engineered by Opeth, Fredrik Nordström, Fredrik Reymerdahl & Steven Wilson.
Produced by Opeth and Steven Wilson.
Deliverance is the sixth studio album by Swedish Extreme progressive metal band Opeth. It was released on November 12, 2002, through Music for Nations Records. The album's total length is 61:50. The band originally intended for Deliverance and their following album Damnation to be released as a double album, but the record company decided against this and released them separately, about five months apart from each other in order to promote them each with the proper amount of time and care.
Opeth's last album Blackwater Park is a masterpiece and instead of trying to make a similar album, the band went in a new direction. Deliverance still features Opeth's classic progressive death metal sound, but the band implemented some noticeable changes beginning with a much darker sounding production, heavier guitars, and a more straightforward death metal approach at times. This was a welcome change that added another unique release to the band's already impressive discography.
Favorite Tracks:
Track 5: "Master's Apprentices"
This is one of Opeth's heaviest tracks that they have ever composed. The main guitar riff and blast beating that occurs throughout the first three minutes of this track is ridiculously heavy and catchy. Mikael's ridiculous low growled vocals sets the heavy mood of this track perfectly. When I thought that this song was just going to be pretty straightforward and heavy, Opeth switches it up and the track goes into a more mellow progressive rock sound with beautiful clean singing and instrumentation. The ending to the track is just as heavy and explosive as the beginning.
Track 2: "Deliverance"
The title track is one of the band's best. The riffs are ridiculously catchy and heavy. Yet again, Martin Lopez begins by blast beating on the drums. Mikael's mix of both clean vocals and ferocious growls show off Opeth's dualism that makes them such a special band. The song's sudden shift between soft and heavy moments keeps the listener on the edge throughout the song's entirety. The epic closing instrumental section of this track is one of the best closing sections of all time in progressive music. Every time that I listen to this song I cannot help but smile because of how well written it is.
Track 1: "Wreath"
This song is perfectly placed as the opening track of this album. It is one of Opeth's heaviest and most ferocious tracks that the band has ever done. I have never heard Mikael quite sound as dark and downright scary as he does on this track. It has mostly low growls and very little when it comes to clean vocals. If Opeth needed to appeal more to the straightforward death metal crowd this is the track to do it. Musically, its still progressive in nature though and the track lasts eleven minutes. "Wreath" sets the mood perfectly for what this album is going to sound like.
My Verdict:
This may not be as "perfect" as Blackwater Park, but it contains a different sound that is focused on being heavier and darker than the band has ever been before. This album features Mikael's best low growls, the band's heaviest riffs, and some of Martin Lopez's best drum work to date. I think that if I had to point out one extremely small weakness that the album has is the short instrumental "For Absent Friends" which is wasted space that disrupts the flow of the album slightly. Other than those two minutes, this album is yet another perfect Opeth release that is one of the band's most underappreciated in their entire discography.
Grade: A+